California Prisoners Suspend Hunger Strike After 60 Days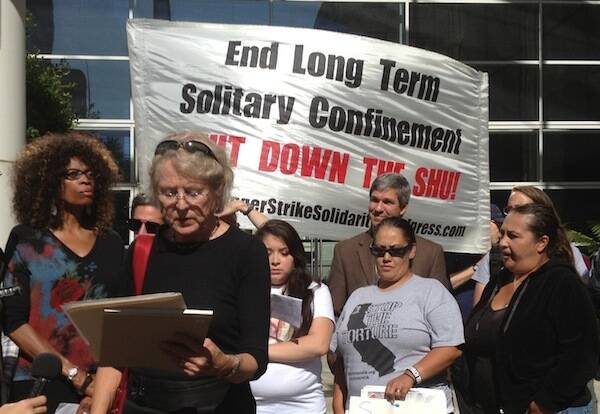 Hunger-strik­ing pris­on­ers in Cal­i­for­nia have announced that they have resumed eat­ing after two months with­out food. Fam­i­ly mem­bers and sup­port­ers of the pris­on­ers gath­ered out­side the State Build­ing in down­town Oak­land this morn­ing to announce the end of the protest. Their deci­sion comes just days after state leg­is­la­tors agreed to hold pub­lic hear­ings on long-term soli­tary con­fine­ment, the main issue pris­on­ers want to see addressed.
Six­teen hunger strik­ers in Pel­i­can Bay State Prison issued a state­ment sus­pend­ing the strike. In it, they said that the strike had ​"gained a lot of pos­i­tive ground towards achiev­ing our goals" but acknowl­edged there was ​"still much to be done." They said that the deci­sion to sus­pend the strike had been ​"espe­cial­ly dif­fi­cult con­sid­er­ing that most of our demands have not been met" but they had been urged to accept food by fam­i­ly mem­bers, and sup­port­ers. ​"Our resis­tance will con­tin­ue to build and grow until we have won our human rights."
Advo­cates said that the call for leg­isla­tive hear­ings by the chairs of both the Sen­ate and Assem­bly com­mit­tees over­see­ing prison pol­i­cy had played a key role in the deci­sion to sus­pend the strike.
​"It was real­ly impor­tant," says Bar­bara Bec­nel, a mem­ber of an out­side team of sup­port­ers try­ing to nego­ti­ate with cor­rec­tions offi­cials. ​"There's rea­son to believe that there is change in the mak­ing — how­ev­er, we are not naïve enough to believe that that change will come if we go back and do nothing."
Last week, Assem­bly Mem­ber Tom Ammi­ano and state Sen. Loni Han­cock called for pub­lic hear­ings ​"about both the imme­di­ate con­di­tions of con­fine­ment and the use of long term soli­tary con­fine­ment as a prison man­age­ment strat­e­gy." Han­cock expects hear­ings to take place in the fall. After­wards, leg­is­la­tors will ​"put togeth­er a pack­et of leg­is­la­tion based on what we have learned," she says. Han­cock adds that she is ​"very relieved and grate­ful" that pris­on­ers have resumed eating.
Offi­cials say the last hun­dred hunger strik­ers had resumed eat­ing on Wednes­day evening, the 59th day of their protest. ​"We are pleased this dan­ger­ous strike has been called off before any inmates became seri­ous­ly ill," said Cor­rec­tions Sec­re­tary Jef­frey Beard in a state­ment. Beard's depart­ment main­tains that the hunger strike was orga­nized by prison gangs, a view Assem­bly Mem­ber Ammi­ano crit­i­cized as ​"sim­plis­tic."
Even though the pris­on­ers have accept­ed food, Bec­nel says they still face a ​"slow death" in soli­tary with­out leg­isla­tive action. While Sen. Han­cock says she was ​"nev­er con­fi­dent of any­thing in Sacra­men­to," she is opti­mistic that oth­er leg­is­la­tors would sup­port changes. Hunger strik­ers said they had asked the Calig­or­nia governor's office to nego­ti­ate with them direct­ly, but with­out suc­cess. ​"There was no response," con­firms Han­cock, but she added lat­er that she believes Gov. Jer­ry Brown is ​"open to many approach­es to improv­ing our prison system."
Ammi­ano agreed, and insist­ed the ​"door was open" to work­ing with Gov. Brown and cor­rec­tions offi­cials. While the hear­ings them­selves ​"are not a panacea," Ammi­ano says, ​"they can shed a lot of light on what is hap­pen­ing and why, and how we can improve it." Sim­i­lar hear­ings were held after the first hunger strike in 2011, but Ammi­ano is hope­ful that new hear­ings will ​"keep people's feet to the fire."
Dana Simas, a spokesper­son for the Cal­i­for­nia Depart­ment of Cor­rec­tions and Reha­bil­i­ta­tion, said her depart­ment would ​"open its doors" to leg­is­la­tors. ​"We wel­come them to come take a look for them­selves at the con­di­tions in our secu­ri­ty hous­ing units" which she insists bal­anced prison secu­ri­ty needs with the needs of prisoners.
This was the third hunger strike by Cal­i­for­nia pris­on­ers in two years, and the longest. Pris­on­er advo­cates say that many par­tic­i­pants have done irre­versible dam­age to their health. Pre­vi­ous strikes end­ed after assur­ances by the Depart­ment of Cor­rec­tions that they would reform a sys­tem that sees thou­sands of peo­ple locked up in iso­la­tion in Secu­ri­ty Hous­ing Units, some­times for decades.
At today's ral­ly out­side the State Build­ing in Oak­land, Melis­sa Guillen, the daugh­ter of one of the main rep­re­sen­ta­tives of the hunger strik­ers, said the pris­on­ers' protest had exposed ​"dirty lit­tle secrets" about California's prison sys­tem. Guillen told the crowd that just because the hunger-strike had end­ed ​"does not mean the fight to end soli­tary con­fine­ment and the fight for the five core demands to be met is over."
Along with the hear­ings in the leg­is­la­ture, pris­on­ers are con­tin­u­ing to pur­sue a fed­er­al-class action law­suit, chal­leng­ing the use of long-term soli­tary con­fine­ment. Speak­ing on behalf of oth­er fam­i­ly mem­bers with loved ones inside, she con­tin­ued, ​"We will be their voic­es, we will make sure they are heard, we will con­tin­ue to put pres­sure on Gov­er­nor Brown and the CDCR to make per­ma­nent changes in the way inmates are being treated."
George Laven­der
is an award-win­ning radio and print jour­nal­ist based in Los Ange­les. Fol­low him on Twit­ter @GeorgeLavender.