Prop 47 Passes: California Wobbles Towards Sentencing Reform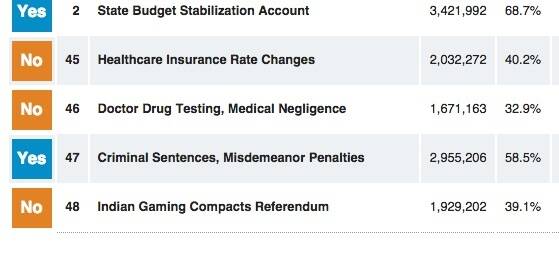 Cal­i­for­nia over­whelm­ing­ly vot­ed to take some of the wob­bles out of its crim­i­nal jus­tice sys­tem on Tuesday.
"Wob­blers" are crimes that can be charged either as felonies or mis­de­meanors. Prop 47, a bal­lot mea­sure requir­ing mis­de­meanors instead of felonies for cer­tain ​"non-seri­ous, non­vi­o­lent" drug and prop­er­ty offens­es, passed with 58.5% of the vote.
The bal­lot mea­sure's sup­port­ers claim the Safe Neigh­bor­hood and Schools Act will save mil­lions of dol­lars which would oth­er­wise be spent on lock­ing up peo­ple on low­er lev­el drug pos­ses­sion and prop­er­ty crimes. Accord­ing to the Yes on 47 cam­paign ​"Cal­i­for­nia coun­ties will save hun­dreds of mil­lions annu­al­ly and state prison reduc­tions will gen­er­ate between $750 mil­lion to $1.25 bil­lion in sav­ings over the next five years alone. Those sav­ings will be shift­ed into K‑12 school pro­grams (25%), vic­tim ser­vices (10%) and men­tal health and drug treat­ment (65%)."
Sup­port­ers of the propo­si­tion includ­ed for­mer San Diego Police Chief William Lans­downe and San Fran­cis­co Dis­trict Attor­ney George Gascón. Cel­e­brat­ing the pas­sage of the bal­lot mea­sure the Yes cam­paign stat­ed ​"we can no longer waste bil­lions on cost­ly and bloat­ed state pris­ons while our com­mu­ni­ties suffer."
The propo­si­tion was opposed by the Cal­i­for­nia Police Chiefs Asso­ci­a­tion who warned it would ​"bur­den our crim­i­nal jus­tice sys­tem." The CPCA warned that Prop 47 would ​"over­crowd jails with dan­ger­ous felons who should be in state prison and jam California's courts with hear­ings to pro­vide ​"Get Out of Prison Free" cards." The Asso­ci­a­tion opposed the loss of dis­cre­tion for pros­e­cu­tors to choose whether to charge some­one with a felony or misdemeanor.
Accord­ing to ThinkProgress' reporter Nicole Fla­tow Prop 47 passed on a night in which vot­ers ​"sent a sig­nal that they are ready to reform a sys­tem that has sent more peo­ple in the Unit­ed States to jail than in any oth­er coun­try in the world." Fla­tow points to bal­lot ini­tia­tives in Alas­ka, Ore­gon, and Wash­ing­ton DC all of which passed mea­sures decrim­i­nal­iz­ing mar­i­jua­na on Tues­day as fur­ther sign of a nation­al shift on crim­i­nal jus­tice issues.
It's the sec­ond time in as many years in which Cal­i­for­nia vot­ers have passed some form of sen­tenc­ing reform by way of bal­lot mea­sure. In 2012 Prop 36 reformed the state's ​"Three Strikes" law, requir­ing the third strike to be ​"seri­ous or vio­lent" for a life sen­tence to be imposed.
"More and more vot­ers are see­ing that pris­ons and jails are not the answers to solv­ing our social prob­lems" says Diana Zuni­ga, statewide field orga­niz­er for Cal­i­for­ni­ans Unit­ed for a Respon­si­ble Bud­get (CURB), ​"I think that the vot­ers have been very much fur­ther ahead than our elect­ed officials."
Under Prop 47, sev­er­al thou­sand peo­ple already con­vict­ed of felonies will be eli­gi­ble to peti­tion the court for reduced sen­tences but Zuni­ga cau­tions that ​"while this is some­thing that will decrease the sen­tences for some folks it does­n't nec­es­sar­i­ly impact every­body." CURB took a neu­tral posi­tion on the proposition.
Under the act, a defen­dant can still be con­vict­ed of a felony if they have a ​"pre­vi­ous con­vic­tion for crimes such as rape, mur­der or child molesta­tion or is a reg­is­tered sex offend­er." Those already con­vict­ed of felonies will also be unable to have their sen­tences reduced if the court finds they are an ​"unrea­son­able pub­lic safe­ty risk."
For Zuni­ga, the act does not go far enough. ​"We also have to under­stand that peo­ple have com­mit­ted vio­lent, seri­ous or sex­u­al crimes also deserve some­thing dif­fer­ent" she says.
While there were ​"some very pos­i­tive things" about Prop 47, Zuni­ga says she is con­cerned about how those mil­lions of dol­lars in sav­ings will be spent. The major­i­ty of the sav­ings from the new act will go to the Board of State and Com­mu­ni­ty Cor­rec­tions, a body made up pre­dom­i­nant­ly of rep­re­sen­ta­tives from law enforce­ment. Zuni­ga says it will be impor­tant to make sure that funds cre­at­ed by the new act ​"goes to com­mu­ni­ty based orga­ni­za­tions and does­n't nec­es­sar­i­ly go back into the jail sys­tem and expand­ing the jail sys­tem through­out the state."
The vic­to­ri­ous Yes on 47 cam­paign state­ment states ​"we are start­ing to imag­ine a Cal­i­for­nia that builds 22 new uni­ver­si­ties over the com­ing decades, instead of 22 new pris­ons." Cal­i­for­nia has one of the largest prison sys­tems in the US, but has seen a reduc­tion in its prison pop­u­la­tion in recent years. It is cur­rent­ly expand­ing capac­i­ty at two of its pris­ons in San Diego and Ione.
George Laven­der
is an award-win­ning radio and print jour­nal­ist based in Los Ange­les. Fol­low him on Twit­ter @GeorgeLavender.