Brooklyn Teachers Strike a Blow Against Excessive Testing with May Day Boycott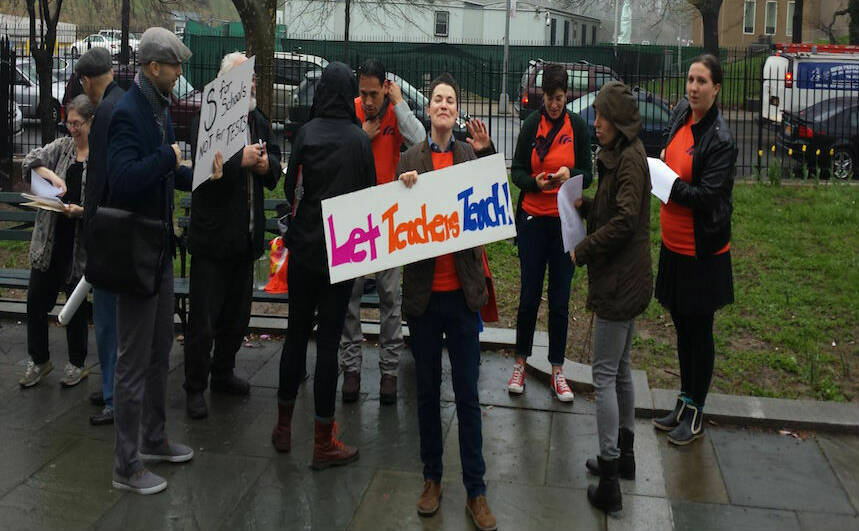 On May Day 2014, a group of teach­ers at the Inter­na­tion­al High School at Prospect Heights (IHSPH) in Brook­lyn stood out­side their school build­ing and informed gath­ered reporters that they would not be admin­is­ter­ing the New York City Eng­lish Lan­guage Arts (ELA) Per­for­mance Assess­ment Exam sched­uled to take place that day. The test, which is part of a new teacher eval­u­a­tion sys­tem imposed by the state last year, exists sole­ly to rate teacher per­for­mance; unlike, for exam­ple the Regents Exam, which dates back to 1866 and deter­mines whether stu­dents grad­u­ate. Thir­ty peo­ple — near­ly all of the teach­ers and staff at the small pub­lic school — signed a state­ment declar­ing they would not participate.
The date was a coin­ci­dence — May Day, the inter­na­tion­al­ly rec­og­nized work­ers' day, hap­pened to be the day the test was sched­uled — but it could not have been bet­ter for the teach­ers' action. Amid grow­ing unrest among teach­ers, par­ents and stu­dents over high-stakes test­ing and the new Com­mon Core edu­ca­tion­al stan­dards, these teach­ers' action is anoth­er step in chal­leng­ing what new Mass­a­chu­setts Teach­ers Asso­ci­a­tion Pres­i­dent Bar­bara Made­loni (whose recent vic­to­ry I cov­er in a forth­com­ing piece) calls ​"preda­to­ry edu­ca­tion reform," dri­ven by pri­vate com­pa­nies that aim to run schools like cor­po­ra­tions and pock­et the profits.
​"This is tak­ing back the whole con­ver­sa­tion around edu­ca­tion," Rosie Fras­cel­la, a 12th grade Eng­lish teacher at IHSPH, tells In These Times. That con­ver­sa­tion has been dom­i­nat­ed by heat­ed rhetoric from ​"reform­ers" and anti-union elect­ed offi­cials about ​"bad" or ​"lazy" teach­ers, but Fras­cel­la and her col­leagues chal­lenged that idea by putting them­selves on the line to do what they believed was right. ​"I'd rather take a zero, you can fail me in my eval­u­a­tions but you are not going to hurt my stu­dents. You can say I'm a bad teacher but I'm stand­ing up for my stu­dents and what I know is right for them."
After their press con­fer­ence, the teach­ers pro­ceed­ed into the build­ing, where, accord­ing to Emi­ly Giles, who teach­es ninth- and 10th-grade sci­ence at IHSPH, they taught class as they would have any oth­er day. Although 50 per­cent of the stu­dents had already been opt­ed out of tak­ing the test by their par­ents, Giles says admin­is­tra­tors still attempt­ed to give the test to a small hand­ful — with lit­tle success.
​"By that point, kids got wind of the fact that oth­er kids did­n't have to take it. There were two rooms of test­ing hap­pen­ing; one room was emp­ty with­in half an hour," she says. ​"Kids just went in, put their name on the test and walked out."
Giles points out that the aban­doned test­ing gave teach­ers the chance to do just that — teach. ​"The school was just func­tion­ing, like it was­n't even hap­pen­ing, which is how it should feel. When kids fin­ish or opt them­selves out, they go back to an edu­ca­tion­al set­ting where they're actu­al­ly using their time to do some­thing mean­ing­ful," she says.
A cry­ing shame
The ELA Per­for­mance Assess­ment Exam has pro­voked stu­dent, teacher and par­ent anger from its first appear­ance in New York City schools this past Octo­ber. Accord­ing to Fras­cel­la, stu­dents were ​"trau­ma­tized" by the test, which requires them to read two short texts and write an essay in Eng­lish. That's not so hor­ri­fy­ing for native Eng­lish speak­ers, but the stu­dents at IHSPH, like oth­er Inter­na­tion­al schools across New York City, are almost all Eng­lish lan­guage learn­ers. To attend the Inter­na­tion­al school, a stu­dent has to have lived in the Unit­ed States for four years or less; accord­ing to Fras­cel­la, stu­dents from more than 30 dif­fer­ent coun­tries who speak more than 20 lan­guages are cur­rent­ly enrolled at IHSPH. The school works on a col­lab­o­ra­tive mod­el — Fras­cel­la explains that new stu­dents are part­nered with an old­er stu­dent who speaks their lan­guage to help them trans­late and make it through the day.
But there's no col­lab­o­ra­tion allowed on stan­dard­ized tests. Instead, Fras­cel­la says, con­front­ed with mate­r­i­al they could­n't read (the tests are writ­ten at a ninth- and 10th-grade read­ing lev­el), stu­dents put their heads down. Some cried.
​"These exams, over­all, what they do is they hurt our com­mu­ni­ty," she says. ​"They stress our stu­dents out, they make them cry. They make them get upset in class because they feel like fail­ures, even though they work so hard."
Stu­dents at IHSPH com­plete port­fo­lios in a vari­ety of sub­jects on which they are grad­ed; like oth­er Eng­lish lan­guage learn­ers, they have to take the New York State Eng­lish as a Sec­ond Lan­guage Achieve­ment Test. And like all oth­er New York pub­lic school stu­dents, they also have to pass Regents Exams. That's already, teach­ers argue, far too much test­ing. In the let­ter that the IHSPH teach­ers sent to Schools Chan­cel­lor Car­men Far­iña, they ask her to remove this test and replace it with an assess­ment that was cre­at­ed by educators.
When the teach­ers real­ized that it was com­ing time for the ELA Per­for­mance Assess­ment Exam to be admin­is­tered again (it is giv­en twice a year), they began talk­ing amongst them­selves about how to han­dle it. Many par­ents, fueled by their chil­dren's bad expe­ri­ences with the fall test, chose to opt their stu­dents out entire­ly. One par­ent, Tere­sa Edwards-Lasose, said, ​"The test is mean­ing­less. [My child] doesn't read and write enough Eng­lish yet to do the test and it doesn't count for his grades. Why should he take it?"
Chan­cel­lor Far­iña told prin­ci­pals that they had to respect the rights of par­ents to opt out, as near­ly 30,000 par­ents have across the state. But the teach­ers felt they had to do more.
For Giles, the test­ing bat­tle is ​"a clear moment where the rights and con­cerns of par­ents and teach­ers, every­thing inter­sects, we agree with each oth­er, we're fight­ing for the same thing."
As teach­ers at a small Inter­na­tion­al school, she says, IHSPH teach­ers occu­py a some­what priv­i­leged posi­tion — though their stu­dents are unique­ly harmed by the exam, they have a tight-knit staff and it's eas­i­er to orga­nize. ​"That means that we have a respon­si­bil­i­ty to be the peo­ple who are will­ing to stick our necks out a lit­tle bit," she says.
Orig­i­nal­ly, just four instruc­tors were in favor of not giv­ing the test. The more they talked, though, the more peo­ple joined in, and even­tu­al­ly they draft­ed their let­ter to the chan­cel­lor. They dis­cussed the risks they would be tak­ing — that their eval­u­a­tions would suf­fer, that the prin­ci­pal and the Depart­ment of Edu­ca­tion might dis­ci­pline them – and decid­ed that it was impor­tant to go for­ward with the refusal.
​"It's not just about this assess­ment," Fras­cel­la says. ​"It's about the larg­er vision against high-stakes test­ing. It was an oppor­tu­ni­ty to real­ly have our voic­es heard in the hopes that the new admin­is­tra­tion would lis­ten to us."
At the press con­fer­ence on May Day morn­ing, Giles says, she felt good. Then dur­ing the school day, things felt even bet­ter. Sup­port poured in at their web­site, where par­ents and edu­ca­tors from around the coun­try left mes­sages. Some­one even sent a fruit bas­ket to the school.
Sup­port was­n't uni­ver­sal, though. The Unit­ed Fed­er­a­tion of Teach­ers, the union to which the IHSPH teach­ers belong, issued a state­ment say­ing that while it believes ​"that our schools have been the vic­tims of a test­ing cul­ture that has focused far too much atten­tion on test prep and too lit­tle on strate­gies that will actu­al­ly lead to stu­dent learn­ing," that "[T]his protest is not a union-spon­sored event."
Giles, who along with Fras­cel­la and two oth­er teach­ers at IHSPH, belongs to a reform cau­cus with­in the union called the Move­ment of Rank-and-file Edu­ca­tors (MORE), was dis­ap­point­ed in this response. Still, she sees their action as an impor­tant rank-and-file orga­niz­ing project that drew the staff clos­er togeth­er. And as Fras­cel­la notes, ​"In this move­ment to save our schools we need to cre­ate as many oppor­tu­ni­ties for teach­ers, for par­ents, and stu­dents to feel that their voice actu­al­ly mat­ters and that they actu­al­ly have power."
The big­ger picture
This year's strug­gle over the ELA Per­for­mance Assess­ment also takes place against the back­drop of a new con­tract between the UFT and New York City that 100,000 teach­ers are set to vote on soon. Passed through the UFT's del­e­gate assem­bly on May 7, the new con­tract spans nine years. Five of those are retroac­tive, cov­er­ing the years for which the union has had no con­tract with the city. Though the con­tract includes retroac­tive pay rais­es, they're spread out across that nine-year peri­od — which comes out to about 2 per­cent a year.
More impor­tant­ly, accord­ing to Fras­cel­la and Giles, the con­tract does­n't appear to change the teacher eval­u­a­tion process away from the heavy focus on test­ing. MORE has begun a ​"Vote No" cam­paign on the con­tract; in their press release, teacher, chap­ter leader and MORE mem­ber Kit Wain­er writes, ​"UFT mem­bers nev­er got to vote on ​'Advance' (the new teacher eval­u­a­tion sys­tem) or the result­ing high stakes tests, but we will all vote on our con­tract this year, so it is impor­tant that each UFT mem­ber makes an informed vote. The con­tract is not just about our ​'bread-and-but­ter' issues. It is a legal doc­u­ment that dic­tates work­ing con­di­tions in our schools."
Teach­ers at IHSPH already use what they call the ​"sol­i­dar­i­ty method" for the 20 per­cent of teacher eval­u­a­tion that is done at the school lev­el (anoth­er 20 per­cent comes auto­mat­i­cal­ly from state tests, and the rest from obser­va­tions by admin­is­tra­tors) — they are all grad­ed on the Regents exams for all of the stu­dents, mean­ing that each teacher at the school receives the same rank­ing. ​"My com­mu­ni­ty of edu­ca­tors, we don't want to be com­pet­i­tive," Fras­cel­la says. ​"As a school we tried to align our assess­ments to be as equal as pos­si­ble so that our scores would be as close as pos­si­ble because we did­n't want to be divid­ed and ranked."
Far­iña and the man who appoint­ed her, new may­or Bill de Bla­sio, have both expressed reser­va­tions about high-stakes test­ing. De Bla­sio told this reporter before his elec­tion that ​"We should use the stan­dard­ized tests to the most min­i­mal lev­el pos­si­ble." Yet as with his attempt to push back on char­ter schools, he runs into the issue of the state require­ments, and Gov­er­nor Cuo­mo has shown him­self to be firm­ly on the side of the preda­to­ry reform crowd.
Still, for a union and a city Depart­ment of Edu­ca­tion who osten­si­bly agree on impor­tant points, that the pro­posed con­tract does lit­tle to change a test-based eval­u­a­tion sys­tem is frustrating.
For now, Giles says, the IHSPH teach­ers have not been dis­ci­plined and are look­ing for­ward to expand­ing on the momen­tum they've built. She expects the test refusal to be dis­cussed at the next Par­ent Teacher Asso­ci­a­tion meet­ing, and wants to talk about what they can do next fall when the test comes around again. She's hop­ing that the oth­er 15 Inter­na­tion­al schools across New York will take action as well; teach­ers at IHSPH had been in con­tact with teach­ers at oth­er Inter­na­tion­als before the action, though none of them man­aged to coor­di­nate refusal. Oth­er pos­si­bil­i­ties include putting out a peti­tion against the test that would not oblig­ate teach­ers to refuse to give it, in hopes that a larg­er num­ber would sign on.
The teach­ers at IHSPH took the step of refus­ing the test in a cli­mate where they were warned against alien­at­ing ​"allies" like Far­iña and de Bla­sio, but they went for­ward any­way. Even so, the cir­cum­stances are very dif­fer­ent now than they were under Bloomberg. ​"I think the ques­tion is, how do we work togeth­er?" Fras­cel­la says. ​"We may not have the mon­ey that the Right has, or the reform­ers or pri­va­teers have, but we have very good orga­niz­ers, we have very smart peo­ple, and we have a lot of peo­ple on our side, so how do we use that both to hold de Bla­sio account­able and to sup­port him in keep­ing the promis­es that he makes?"
​"Actions, col­lec­tive actions, they hold peo­ple account­able. And they inform the pub­lic," she adds.
Sarah Jaffe
is a for­mer staff writer at
In These Times
and author of
Nec­es­sary Trou­ble: Amer­i­cans in Revolt
, which Robin D.G. Kel­ley called ​
"
The most com­pelling social and polit­i­cal por­trait of our age." You can fol­low her on Twit­ter
@sarahljaffe
.