Interviews for Resistance: Protests Show Immigrants' Economic Power Cannot Be Ignored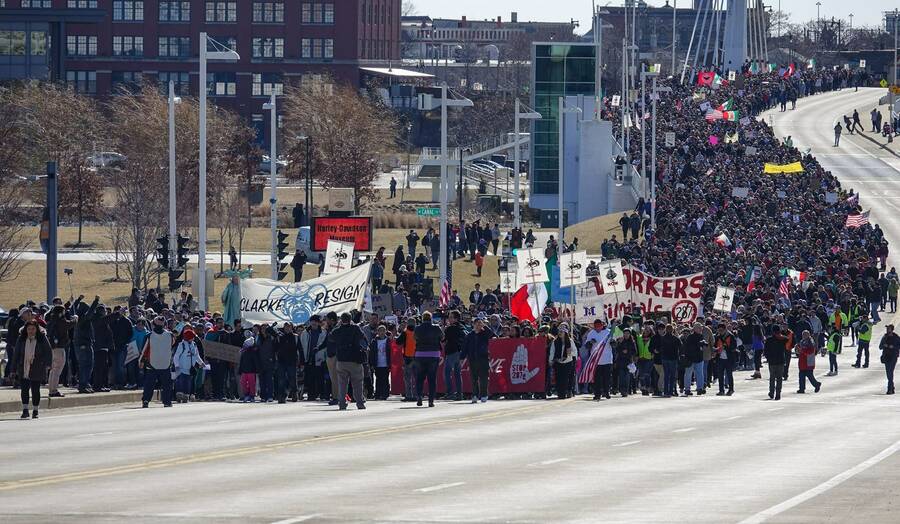 Wel­come to Inter­views for Resis­tance. Since elec­tion night 2016, the streets of the Unit­ed States have rung with resis­tance. Peo­ple all over the coun­try have wok­en up with the con­vic­tion that they must do some­thing to fight inequal­i­ty in all its forms. But many are won­der­ing what it is they can do. In this series, we'll be talk­ing with expe­ri­enced orga­niz­ers, trou­ble­mak­ers, and thinkers who have been doing the hard work of fight­ing for a long time. They'll be shar­ing their insights on what works, what does­n't, what has changed and what is still the same.
Across the coun­try last week, immi­grants went on strike to demon­strate what the coun­try would be like if Don­ald Trump actu­al­ly fol­lowed through on his promised depor­ta­tions. The ​"Day With­out Immi­grants" actions kicked off in Wis­con­sin on Mon­day, Feb­ru­ary 13, where Voces de la Fron­tera and part­ner orga­ni­za­tions held a ​"Day With­out Lati­nos, Immi­grants and Refugees" to protest Mil­wau­kee Sher­iff David Clarke's plans to col­lab­o­rate with the Trump admin­is­tra­tion to deport peo­ple. Ger­man Sanchez was one of the work­ers who went on strike that day. I also spoke with Chris­tine Neu­mann-Ortiz, exec­u­tive direc­tor of Voces de la Fron­tera, for some back­ground on the day's actions. Their inter­views have been edit­ed for length and clarity.
Ger­man Sanchez: I'm a farm­work­er and also I am a vol­un­teer and mem­ber from some orga­ni­za­tions, like Voces de la Fron­tera Mil­wau­kee, Unit­ed for a Bet­ter Future from Fox Cities and Esther in Wisconsin.
Sarah Jaffe: Tell us about the big ​"Day With­out an Immi­grant" last Monday.
Ger­man: It was a big, big day, for all immi­grants in the state. We orga­nized our com­mu­ni­ty to be ready to go against this 287(g), the pro­gram that Sher­iff Clarke wants to run in Mil­wau­kee. It was impor­tant to edu­cate our com­mu­ni­ty and the rest of the state that this issue is not just for Mil­wau­kee, it can be brought up in the rest of the state so that's why it was so impor­tant for the peo­ple to sup­port and help our peo­ple in Milwaukee.
Every­thing was clean, no arrests, so we had a big, big day to show the state and the coun­try that in Wis­con­sin we are orga­nized and ready to fight if we have to.
Sarah: Tell us about 287(g). What would it do?
Ger­man: 287(g) is the Secure Com­mu­ni­ties. It is the same pro­gram that Sher­iff Joe Arpaio used in Ari­zona, that's why the peo­ple are so con­cerned about it, because every­body knows the his­to­ry about Arpaio.
Sarah: Obvi­ous­ly this was a local issue but can you talk about how things have changed with Don­ald Trump as president?
Ger­man: A lot of things changed. Like I say as a farm­work­er, before that — the work is the same, the same hard work, but right now we got this motor out there for exec­u­tive orders and polit­i­cal issues so some things are true, some things are false, some TV chan­nels use dif­fer­ent infor­ma­tion and it's not clear for the com­mu­ni­ty, so right now, it was real­ly hard, and I'm not talk­ing about the job, I'm talk­ing about emo­tions you can feel, you can smell.
Sarah: Tell me about last Mon­day's action. How long did that take to come together?
Ger­man: Maybe eight or nine days. The thing that I do, I use social media to edu­cate my com­mu­ni­ty on what's wrong, we spread out the mes­sage, we try to be as clear as we can so they under­stand the con­se­quences, and of course for them to under­stand our options also.
Sarah: Talk a bit more about the orga­niz­ing you do on the farms.
Ger­man: It's hard. Of course I have to do my work too. Let's say in my lunch break I make emails or text mes­sage, when I'm done [with] my day I make a video. A lot of peo­ple don't know how the Capi­tol in Madi­son works, a lot of peo­ple don't know how the law works, even some Amer­i­can peo­ple don't know. The point is I edu­cate myself, I talk to some lawyers, I talk to some per­son about Assem­bly Bill 450, what does it mean, SB533. All those things that I'm learn­ing about it I send out, of course, in Span­ish for my com­mu­ni­ty, so they under­stand the lev­els a law moves on in the Capi­tol, what our options to do against those bills as immi­grants are. This is the hard part, to edu­cate peo­ple and under­stand those bills. I do videos maybe twice a day to talk about that and of course I text mes­sage back, I answer emails, a lot of ques­tions, a lot of con­cerns. Of course a lot of peo­ple are con­cerned about the con­se­quences if they don't go to work.
But with those anti-immi­grant bills mov­ing, it's easy. You can miss one day of work, but if those bills move you can lose everything.
Sarah: What are some lessons that oth­er peo­ple can take from the work you've been doing under Scott Walker?
Ger­man: This is the thing. Obvi­ous­ly the politi­cians they do their job. So if you do not agree with some­thing you have to orga­nize, you have to show what­ev­er is in your hands to ask for a change and make a dif­fer­ence. A lot of peo­ple are not able to be real­ly part of pol­i­tics but that does­n't mean that I'm not able to edu­cate myself on polit­i­cal issues, of course I can. I live in Wis­con­sin, I live here for the last 10 years, I love this state, I love my neigh­bors, I love what I'm doing on the farm. The 10 years I have been here, I'm work­ing on the same farm, that should tell you something.
Sarah: Final­ly, peo­ple are now plan­ning for a nation­wide ​"Day With­out an Immi­grant" [on] May 1. Can you tell us about the orga­niz­ing you are doing going forward?
Ger­man: Actu­al­ly we talked about that last Mon­day in Mil­wau­kee. We had a meet­ing that night in Mil­wau­kee, and I had some meet­ings with some peo­ple here in the Fox Val­ley, in Green Bay. Def­i­nite­ly we have to show our pow­er in the econ­o­my, again, we are unable to make a dif­fer­ence in politi­cians' deals but we live here, we make mon­ey here and we spend mon­ey here. So we are going to spread out the mes­sage for the com­mu­ni­ty and be ready in the best way pos­si­ble. We are not going to go out and make nois­es for noth­ing. No, we've got ideas, we've got the logistics.
Last year it was the same as this year, no prob­lems, no issues, every­body goes back home safe. Last year, the Capi­tol was clean after we leave. Last Mon­day in Mil­wau­kee, the cour­t­house, it was clean when we leave. That is the mes­sage that we try to send around to the coun­try and the state. We're hard work­ers, we're fam­i­ly-ori­ent­ed too, we share a lot of the same val­ues as Amer­i­cans. This is our big chal­lenge, let the peo­ple know that we are part of the community.
Sarah: Any­thing else that you want peo­ple to know?
Ger­man: Just know that every time you drink milk, if it comes from Wis­con­sin, any peo­ple work­ing on those farms where that milk comes from, they're work­ing hap­py and they love what they do but that does­n't mean they are not orga­niz­ing. That does­n't mean we are not real­ly con­cerned about what's wrong with the coun­try. We are con­cerned about it! And we take care of our fam­i­lies as best as we can and we appre­ci­ate our neigh­bors and we'll keep work­ing on it.
Chris­tine Neu­mann-Ortiz: Hel­lo, my name is Chris­tine Neu­mann-Ortiz, exec­u­tive direc­tor of Voces De La Frontera.
Sarah: Voces de la Fron­tera had a mas­sive ​"Day With­out an Immi­grant" last week. Can you tell us a lit­tle bit about it?
Chris­tine: We had on Mon­day, Feb­ru­ary 13th, a ​"Day With­out Lati­nos, Immi­grants and Refugees." It was a statewide event where we called a com­mu­ni­ty-wide gen­er­al strike that involved work stop­page, small busi­ness clo­sures, con­sumer day of boy­cott, and mass protest and mobi­liza­tion that con­vened in Mil­wau­kee. The rea­son for that was to demon­strate our deep oppo­si­tion to the 287(g) pro­gram. Sher­iff Clarke from Mil­wau­kee Coun­ty had declared that he wants to enter into this pro­gram, a key piece of Trump's exec­u­tive order on immi­gra­tion set­ting up a mass depor­ta­tion pro­gram and legal­iz­ing dis­crim­i­na­tion in the Unit­ed States. This pro­gram would allow local law enforce­ment to become immi­gra­tion agents. They would be able to pro­file some­one with­out any basis of hav­ing com­mit­ted any­thing, and stop and inter­ro­gate them and put them in depor­ta­tion pro­ceed­ings. It's a pro­gram that can be quick­ly lift­ed up and Trump's plan is to get 70 dif­fer­ent local enti­ties to buy into that pro­gram in his first year. It is a pro­gram that was high­ly dis­cred­it­ed, famous­ly by Sher­iff Arpaio in Mari­co­pa Coun­ty. It has been found to vio­late people's con­sti­tu­tion­al rights and civ­il rights. It also was a mass protest against the exec­u­tive order on the whole, real­ly using our col­lec­tive eco­nom­ic pow­er to demon­strate the pos­i­tive eco­nom­ic con­tri­bu­tions immi­grants make to our economy.
We had done sim­i­lar actions in the past. The first ​"Day With­out Lati­nos and Immi­grants," if peo­ple recall, was in 2006. Mil­wau­kee in that case was the third city to go out in a mass wave of mass protests and mass gen­er­al strikes and busi­ness clo­sures. That was the first one that real­ly burst the mod­ern immi­grants' rights move­ment. At the time, the protests were direct­ed against a pend­ing bill by Con­gress­man [Jim] Sensen­bren­ner from Wis­con­sin. It was quick­ly mov­ing through Con­gress and was going to be signed by Pres­i­dent Bush — it would have turned an immi­grant being undoc­u­ment­ed into an aggra­vat­ed felony and any­one who knew some­one who didn't turn them in would also face crim­i­nal charges. That first action real­ly defeat­ed that and brought us back to a dis­cus­sion on immi­gra­tion reform.
That was the first one, this last one was real­ly our sixth gen­er­al strike. It is some­thing that we don't call all the time. There is great sac­ri­fice that goes with this, great finan­cial sac­ri­fice. The poten­tial threat of retal­i­a­tion. You have moms who have chil­dren who depend on their pay­check who par­tic­i­pate in these actions. This will be the sixth time that we have used it and it has been an impor­tant tool of the immi­grant rights move­ment to defend itself at a very crit­i­cal junc­ture. What was unique about this year, we only orga­nized it 10 days out from the time that Clarke declared that he was going to bring this in, because it is a pro­gram that can be set up so quick­ly. We did that through dif­fer­ent chap­ters, through online orga­niz­ing, through flyers.
The most crit­i­cal step on any of these occa­sions has been that we actu­al­ly bring that pro­pos­al, that call to action to our own mem­ber­ship and, in some cas­es, to a much broad­er com­mu­ni­ty­wide pres­ence so that peo­ple can inform us — it is like a tem­per­a­ture check. It is like, ​"Do we believe the threat is high enough that it would war­rant such a strong action?" It has only been on that basis that we move forward.
We know that on Feb­ru­ary 16th, through a very spon­ta­neous online call to action we saw that strat­e­gy roll out in oth­er cities. I would say that immi­grant work­ers have an inher­ent under­stand­ing of what their pow­er is as part of the work­force and small immi­grant busi­ness own­ers know how much they con­tribute to tax­es and in job cre­ation and peo­ple. The way they are being char­ac­ter­ized is dis­crim­i­na­to­ry and it actu­al­ly is a lie. Immi­grants con­tribute more and should be treat­ed with respect and be thanked for their con­tri­bu­tions. We should be mak­ing life eas­i­er for them. There is that inher­ent under­stand­ing and when peo­ple act in a very col­lec­tive way, we have seen that it actu­al­ly can make an impact through demon­strat­ing the force of our col­lec­tive eco­nom­ic power.
Sarah: I want to actu­al­ly go back to the Sensen­bren­ner bill because, of course, as you said, Sensen­bren­ner is from Wis­con­sin. That prob­a­bly made it kind of personal.
Chris­tine: I would say there have been four exam­ples where we have used the ​"Day With­out Lati­nos and Immi­grants." It has been six times, but I would say four times where you could real­ly see the weight of it had a direct impact. Obvi­ous­ly, in 2006, as part of that whole nation­al wave of strikes and mass protests, the Sensen­bren­ner bill was defeat­ed. Sensen­bren­ner was demot­ed. Only now recent­ly in the Trump admin­is­tra­tion has he got­ten pro­mot­ed again. He is now on the Immi­gra­tion Sub-Committee.
Obvi­ous­ly, that was a huge vic­to­ry not just for immi­grants so much, but for democ­ra­cy itself. Undoc­u­ment­ed work­ers have legal rights, for exam­ple. If some­one tries to cheat you out of your wages, under nation­al labor law, it doesn't mat­ter if an employ­er tries to use immi­gra­tion sta­tus against you as a way to not pay you, because obvi­ous­ly that incen­tivizes hir­ing more undoc­u­ment­ed peo­ple and tak­ing advan­tage of them. That is where the law is very strong. Labor attor­neys, that law would have said if they don't turn some­body in [they would face charges]. It was real­ly a dra­con­ian bill, very Trump-like, that threat­ened our democ­ra­cy itself.
The sec­ond one where I would say we also had a big impact was lat­er on in 2011. It was in the con­text of the Act 10 when there was the very spon­ta­neous upswell of rank and file union mem­bers against the repeal of col­lec­tive bar­gain­ing rights for pub­lic employ­ees. There was the sit-in at the Capi­tol. Part of that whole attack on work­ers was direct­ed at immi­grants, too. That includ­ed a repeal of tuition equi­ty and a bill that was intro­duced that would have been a copy­cat bill of the ​"Show me your papers" bill in Arizona.
We joined with labor union allies on May 1st, which ever since 2006 has now become a tra­di­tion with mass protests. At that point, we had also made that deep com­mit­ment to con­tin­ue to use the gen­er­al strike. I think that con­text and the threat of things even esca­lat­ing fur­ther were help­ful in defeat­ing the Ari­zona copy­cat bill. Last year in the state Capi­tol, there was a ​"Day With­out Lati­nos and Immi­grants" orga­nized in 11 days with tens of thou­sands of peo­ple through­out the state con­verg­ing at the state Capi­tol. Because of that, we were able to suc­cess­ful­ly defeat an anti-sanc­tu­ary city bill, which would have been very sim­i­lar to 287(g). It would have turned local law enforce­ment into an arm of ICE [Immi­gra­tion and Cus­toms Enforce­ment]. That was defeat­ed because of eco­nom­ic pres­sure, includ­ing a sec­tor that is very much a part of the Repub­li­can Par­ty base, which is the dairy indus­try and agri­cul­ture. Because of the lead­er­ship on the part of immi­grant work­ers and their fam­i­lies and sup­port­ers, it cre­at­ed the polit­i­cal pres­sure to defeat that bill from being signed into law.
We real­ize that now it is going to have to be more sus­tained and pro­longed, but the strat­e­gy to go deep­er and to use our col­lec­tive eco­nom­ic pow­er through boy­cotts, through strikes, is crit­i­cal under the Trump admin­is­tra­tion to defeat the immi­gra­tion exec­u­tive order and to push back against this broad­er anti-civ­il rights, anti-work­er agenda.
Sarah: One of the con­ver­sa­tions that hap­pens a lot around pol­i­tics in this coun­try is this urban/​rural split. But a lot of the immi­grant work­ers in this coun­try are work­ing on farms, they are work­ing in rur­al com­mu­ni­ties that are oth­er­wise real­ly white. Talk about orga­niz­ing in rur­al parts of Wis­con­sin and how you can break down the divi­sions in those communities.
Chris­tine: We were able to, real­ly through social media and radio and then, just through local con­nec­tions we have made as we have built chap­ters out of last year's ​"Day With­out Lati­nos," we inten­tion­al­ly built chap­ters in the dif­fer­ent cities. We were able to use that as a foun­da­tion to quick­ly respond to the cur­rent threat. There has been a lot of self-orga­niz­ing, actu­al­ly, going on in numer­ous dif­fer­ent work­places, includ­ing the dairy farms.
One thing that has been very help­ful for us is that we had also estab­lished a rela­tion­ship at a dif­fer­ent lev­el with dif­fer­ent employ­er asso­ci­a­tions. We have been engag­ing the Dairy Busi­ness Asso­ci­a­tion over the years on dif­fer­ent ini­tia­tives like try­ing to secure driver's licens­es in Wis­con­sin, which is some­thing that is very impor­tant in rur­al areas when there is even less pub­lic trans­porta­tion and dri­ving is a neces­si­ty. Or, more recent­ly, around com­mu­ni­cat­ing with DBA to coor­di­nate com­mu­ni­ca­tion with farm­ers. Fig­ur­ing out ways that the farm­ers could sup­port their work­force in advo­cat­ing against these bad bills, because for the dairy indus­try, which is a very key indus­try for Wis­con­sin, if you elim­i­nate the immi­grant work­force, that whole indus­try col­laps­es and with it, a whole domi­no effect, a whole series of jobs that would also drop. But in farms where it is not like a fac­to­ry where you can just stop the work, but you would actu­al­ly kill the cows. Peo­ple were able to coor­di­nate mak­ing sure there is a skele­ton crew avail­able. Farm­ers, in turn, were an impor­tant voice with­in the Repub­li­can Par­ty to call for the defeat of these bad bills.
We believe that there needs to be deep­er engage­ment and a strength­en­ing of net­works so that we can sus­tain sim­i­lar actions. Voces has always been there to sup­port peo­ple in the build-up and in the after­math of any cas­es of retal­i­a­tion, we have sent del­e­ga­tions to meet with employ­ers. We have giv­en peo­ple a chance to under­stand and take back peo­ple if there were any dis­missals or any kind of retal­i­a­tion to make good on that and to not go pub­lic. Oth­er­wise, we do believe there should be a pub­lic account­abil­i­ty of busi­ness­es that are not sup­port­ing their work­force. Espe­cial­ly when their work­force is so crit­i­cal to their well­be­ing. By and large, we have had a strong record of suc­cess and I do believe the orga­ni­za­tion­al sup­port for work­ers and their fam­i­lies should be some­thing that accom­pa­nies all of these calls to action. It is impor­tant that is a com­mit­ment that is made there, ide­al­ly, in any city, that there is that lev­el of sup­port for peo­ple to back peo­ple up.
Sarah: Obvi­ous­ly, depor­ta­tions and attacks on immi­grants are not a new prob­lem, but a lot of peo­ple are real­ly wak­ing up to the scale of this prob­lem now. How would you say that peo­ple who are not in dan­ger of being deport­ed can get involved and sup­port immi­grant work­ers in their communities?
Chris­tine: We have an online peti­tion direct­ed to Sher­iff Clarke that we are ask­ing peo­ple to sign that says we do not want Mil­wau­kee Coun­ty to become Mari­co­pa Coun­ty. We don't want to nor­mal­ize these pol­i­tics. Sher­iff Clarke is some­one of equal tem­pera­ment to Trump or Arpaio. In the case of Clarke, despite being African-Amer­i­can, he has become a mouth­piece for white nation­al­ists, char­ac­ter­iz­ing African-Amer­i­cans as ISIS, call­ing them sub-human. In City of Mil­wau­kee, the major­i­ty of the res­i­dents are African-Amer­i­cans. He has char­ac­ter­ized, for many years, now all immi­grants as tar­gets for depor­ta­tion, which, again, flies in the face of immi­gra­tion law because to be undoc­u­ment­ed is a civ­il infrac­tion. He has become a nation­al fig­ure as part of these kinds of politics.
We ask for peo­ple at a nation­al lev­el to help make con­tri­bu­tions to Voces because one of our goals is to engage sim­i­lar mind­ed orga­ni­za­tions who want to go deep­er on eco­nom­ic strat­e­gy, using that as a way to fight back against the poli­cies that are being imple­ment­ed or that they are try­ing to imple­ment to the Trump admin­is­tra­tion. Last­ly, there are local coali­tions that can be formed in the build-up to May 1st. May 1st will be not just a nation­al protest, but anoth­er nation­al day of strike. There are already con­ver­sa­tions going on with larg­er net­works to see if the poten­tial of fold­ing in this action under a broad­er plat­form with dif­fer­ent groups, with cli­mate change, with women's, immi­grant rights. That stuff is in process, but in terms of immi­grant rights, I know that is cer­tain­ly a day that has been set.
There are ways to sup­port immi­grant rights orga­niz­ing that is tied around pre­vent­ing local stuff from get­ting imple­ment­ed –"Does your local sher­iff want to imple­ment this 287(g) pro­gram or not?" Most Nation­al Asso­ci­a­tion of Chiefs of Police are total­ly against it. They have already said so. But it is good to have the com­mu­ni­ty come out and say, ​"We don't want that in our com­mu­ni­ty. We want you to take a pub­lic stance and say, ​'As a local law enforce­ment offi­cial, we do not want 287(g).'" The more peo­ple that stand up and say that, the more mar­gin­al those pol­i­tics become.
A lot of the resis­tance is local in nature, espe­cial­ly around immi­gra­tion work. I think in the build-up to May 1st in what­ev­er way peo­ple can con­tribute to help­ing at a local lev­el and just get more informed around the facts ver­sus the fic­tion around immi­gra­tion. It is always good to have many dif­fer­ent mes­sen­gers car­ry that mes­sage. We do need to hold our elect­ed offi­cials account­able to not being enablers to the kind of real­ly far-right pol­i­tics that are aggres­sive­ly being shoved down our throats. Hav­ing the voice of peo­ple who have the right to vote, who are com­fort­able going to town halls and pick­ing up the phone. That is some­thing that immi­grants are not as com­fort­able with. It actu­al­ly is a very impor­tant way to stand in sol­i­dar­i­ty with new­er immi­grants to the Unit­ed States.
Sarah: How can peo­ple keep up with you and your organization?
Chris­tine: We ask peo­ple to like our Face­book, which is Voces de la Fron­tera and our less­er known Voces de la Fron­tera Action, which is our [501]c4 arm, which allows us to have a voice in elec­tions and do more advo­ca­cy against bad laws. We have a web­site called www​.vdlf​.org. Peo­ple can click there and get updates through email.
Inter­views for Resis­tance is a project of Sarah Jaffe, with assis­tance from Lau­ra Feuille­bois and sup­port from the Nation Insti­tute. It is also avail­able as a pod­cast. Not to be reprint­ed with­out permission.
Sarah Jaffe
is a for­mer staff writer at
In These Times
and author of
Nec­es­sary Trou­ble: Amer­i­cans in Revolt
, which Robin D.G. Kel­ley called ​
"
The most com­pelling social and polit­i­cal por­trait of our age." You can fol­low her on Twit­ter
@sarahljaffe
.