Public Banking Can Fund the Zero-Carbon Economy
Private banks have been underwriting the expansion of the fossil fuel industry for years. It's time for a public model.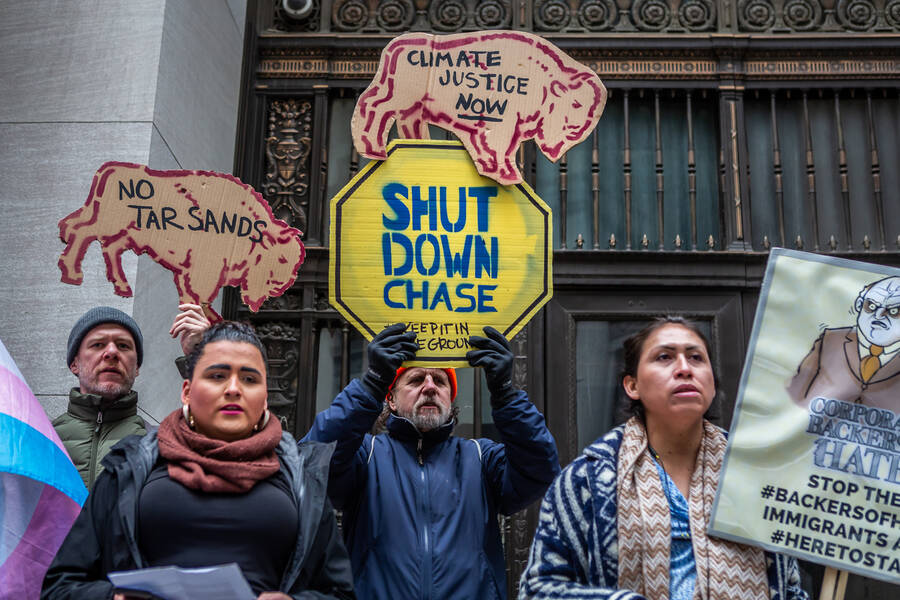 NEW YORK CITY—Wall Street bankers in expen­sive suits stopped and snick­ered on their lunch breaks June 5, 2018, as an eclec­tic group of New York­ers with mega­phones and ban­ners called them out for invest­ing in social­ly destruc­tive indus­tries — includ­ing pri­vate pris­ons, preda­to­ry lend­ing, weapons man­u­fac­tur­ing and, of course, fos­sil fuels.
Major world banks have issued $1.9 trillion in loans for fossil fuel projects since the Paris agreement was adopted in 2016.
This ral­ly marked the launch of the Pub­lic Bank NYC coali­tion, more than 20 grass­roots groups seek­ing a bank­ing alter­na­tive. Because pub­lic banks are not run for the ben­e­fit of pri­vate share­hold­ers, the banks can offer low­er rates and fees, and prof­its can be rein­vest­ed into the com­mu­ni­ty rather than trick­ling up to the already-wealthy. The banks can also be struc­tured to make only social­ly and envi­ron­men­tal­ly respon­si­ble investments.
Big banks, mean­while, are essen­tial­ly under­writ­ing the expan­sion of the fos­sil fuel industry.
"There is no ques­tion that the big banks are a key dri­ver of cli­mate destruc­tion," says Andy Mor­ri­son, cam­paigns direc­tor for the NYC-based New Econ­o­my Project, a mem­ber and co-founder of Pub­lic Bank NYC.
A 2019 Rain­for­est Action Net­work report found that major world banks have issued $1.9 tril­lion in loans for fos­sil fuel projects since the Paris agree­ment was adopt­ed in 2016, with U.S. banks JPMor­gan Chase, Wells Far­go, Citi and Bank of Amer­i­ca lead­ing the pack. The amount the banks invest­ed in clean ener­gy was ​"swamped by the vol­umes they fun­nel into fos­sil fuels."
But with­out pub­licly owned alter­na­tives, our cities and states have no option but to hand over the man­age­ment of pub­lic resources to these for-prof­it institutions.
New York City's ​"short-term deposits are sit­ting in big Wall Street banks mak­ing low returns," says Stephan Edel, project direc­tor of New York Work­ing Fam­i­lies, a mem­ber of Pub­lic Bank NYC. In a pub­lic bank, that mon­ey could reap high­er returns at low­er fees and go to work for the com­mon good. Edel adds that a pub­lic bank could even­tu­al­ly take invest­ments from the city's $200 bil­lion pen­sion fund, and even help fund the tran­si­tion to a zero-car­bon econ­o­my — which will require bil­lions in pub­lic invest­ment — with­out rais­ing tax­es or adding on more gov­ern­ment debt.
This is because of the unique abil­i­ty of banks, under our finan­cial sys­tem, to mul­ti­ply their deposit mon­ey, explains Edel: ​"If a bank has an aver­age of $30 mil­lion in cap­i­tal, the bank can lend out sev­er­al times that amount."
Pub­lic bank­ing has already been imple­ment­ed to great suc­cess in Ger­many, where the third-largest bank is state-owned and has under­writ­ten ener­gy effi­cien­cy upgrades for more than 3.5 mil­lion homes. Rep. Alexan­dria Oca­sio-Cortez (D‑N.Y.) and Sen. Ed Markey's (D‑Mass.) Green New Deal res­o­lu­tion draws from this mod­el in its pro­pos­al for the for­ma­tion of a sys­tem of new pub­lic banks. A 2011 report by pub­lic pol­i­cy research orga­ni­za­tion Demos exam­ined the effects of the Bank of North Dako­ta, the sole pub­lic bank in the con­ti­nen­tal Unit­ed States (estab­lished 1919), and found the bank's low­er-cost loans and munic­i­pal financ­ing not only saved mon­ey for the state but helped small busi­ness­es and spurred eco­nom­ic and job growth.
In New York City, ​"financ­ing is a big bar­ri­er" for solar con­ver­sions, says Noah Gins­burg, direc­tor of the Here Comes Solar pro­gram at Solar One, a non­prof­it provider of tech­ni­cal assis­tance for local solar projects. This is because of the ​"short­age of mis­sion-aligned finan­cial insti­tu­tions." Tran­si­tion­ing a mul­ti-fam­i­ly build­ing to solar can still cost as much as $100,000, Gins­burg says, more than an afford­able hous­ing provider may be able to finance, even if the sys­tem pays for itself in five years.
Pub­lic bank­ing ini­tia­tives offer a next step for the pow­er­ful divest­ment move­ment that began in 2011 on U.S. col­lege cam­pus­es — which has suc­cess­ful­ly pres­sured some insti­tu­tion­al funds to with­draw their mon­ey from destruc­tive indus­tries and the banks that prop them up — and they're gain­ing steam.
The U.S. ter­ri­to­ry of Amer­i­can Samoa estab­lished a pub­lic bank in 2016. Rev­o­lu­tion LA, a group that start­ed as just five orga­niz­ers in 2014, grew into a siz­able force that con­vinced the city of Los Ange­les to divest from Wells Far­go and then, on a shoe­string bud­get of $44,000, near­ly passed a 2018 bal­lot mea­sure to cre­ate a city-owned bank (with 42 per­cent of the vote). Now, Rev­o­lu­tion LA is join­ing the Cal­i­for­nia Pub­lic Bank­ing Alliance (CPBA), a coali­tion of nine oth­er Cal­i­for­nia cities com­mit­ted to fund­ing a Green New Deal and end­ing tax­pay­er-facil­i­tat­ed financ­ing of the fos­sil fuel indus­try. In March, two Cal­i­for­nia leg­is­la­tors intro­duced an assem­bly bill backed by the CPBA that would enable cities and regions to char­ter their own banks.
Pub­lic Bank NYC is gath­er­ing input to shape a pub­lic bank­ing pro­pos­al to be intro­duced this year. ​"Our effort is root­ed in racial jus­tice and com­mu­ni­ty orga­niz­ing and base-build­ing," Mor­ri­son says. ​"We're fight­ing for a bank that would pro­mote com­mu­ni­ty-led devel­op­ment and demo­c­ra­t­ic par­tic­i­pa­tion. And we think that's per­fect­ly in sync with the aims of the Green New Deal."
Aaron Fer­nan­do
is a writer based in Itha­ca, N.Y., cov­er­ing alter­na­tive eco­nom­ics initiatives.