100 Years of Colonialism: How Puerto Rico Became Easy Prey for Profiteers
From U.S. policies to cronyism to vulture finance, the real disaster is human made.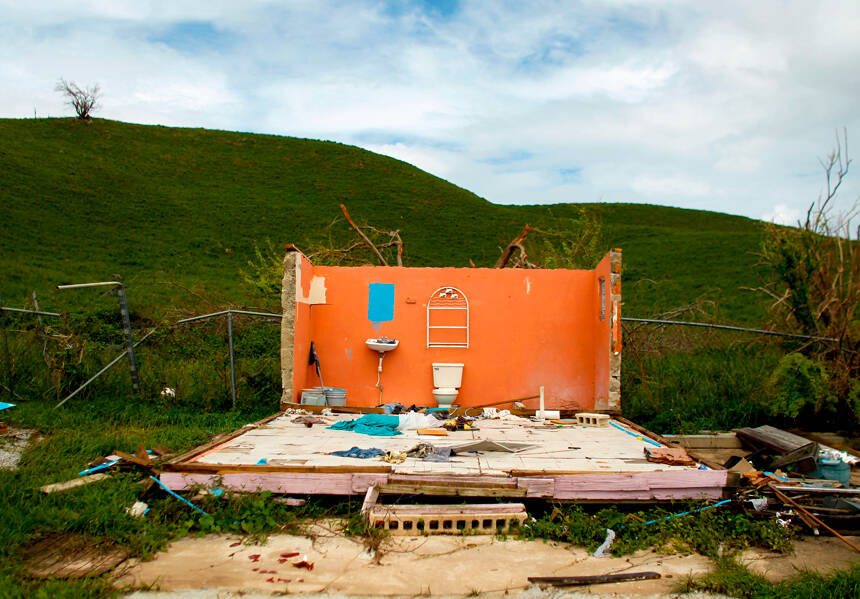 White men in dark suits stand and fall silent when a black woman enters hear­ing room No. 3 of the U.S. Dis­trict Court in San Juan. Fed­er­al judge Lau­ra Tay­lor Swain greets them in Span­ish, and the hear­ing begins, in English.
To understand how the island fell so deeply into debt, one must follow a century of colonialism, cronyism and finance capitalism.
This August 9 ses­sion is the third since May, when the gov­ern­ment of Puer­to Rico began an attempt to restruc­ture its $74.8 bil­lion in bond debt. A fis­cal con­trol board appoint­ed by the U.S. gov­ern­ment ini­ti­at­ed the process, sim­i­lar to bank­rupt­cy, under Title III of the 2016 Puer­to Rico Over­sight, Man­age­ment and Eco­nom­ic Sta­bil­i­ty Act (aka Prome­sa), signed by Pres­i­dent Barack Oba­ma. Because of its unique colo­nial his­to­ry, the U.S. ter­ri­to­ry may not offi­cial­ly declare bank­rupt­cy and is required to ser­vice its debt above all else. The very exis­tence of Puer­to Rico as we know it may be at stake.
None of the more than 100 lawyers in the hear­ing room direct­ly rep­re­sent the so-called ​"indi­vid­ual bond­hold­ers," rook­ie investors who bought bonds through bro­ker­ages. Instead, they rep­re­sent spe­cial­ized investors, such as mutu­al fund com­pa­nies, insur­ance com­pa­nies and hedge funds with experts in debt collection.
With hun­dreds of mil­lions on the line, the lawyers jock­ey for rank. ​"I'm from Queens and I remem­ber that when you don't pay, there are con­se­quences," says Susheel Kir­palani, attor­ney for a coali­tion of invest­ment firms.
Sev­en hours after the hear­ing begins, a black SUV with a slid­ing door and dark­ened win­dows shut­tles groups back to the air­port and hotels.
A month lat­er, Hur­ri­canes Irma and Maria dev­as­tate the island. Judge Swain can­cels an Octo­ber 4 hear­ing cit­ing a ​"human­i­tar­i­an cri­sis." With hur­ri­cane dam­age esti­mat­ed at $45 bil­lion to $95 bil­lion, mar­ket ana­lysts say debt repay­ment is unre­al­is­tic. Through­out both storms, the finan­cial firms con­tin­ue fil­ing motions remote­ly in the court's dig­i­tal docket.
A pub­lic list of Puer­to Rico's debthold­ers does not exist. Since 2014, the Gov­ern­ment Devel­op­ment Bank of Puer­to Rico, which issued the bonds, has denied requests for their iden­ti­ties — includ­ing one from a gov­er­nor-appoint­ed over­sight com­mis­sion — cit­ing trade secrets and privacy.
For five months, In These Times and Cen­tro de Peri­odis­mo Inves­tiga­ti­vo (CPI) have been work­ing togeth­er to track down those identities.
Our first set of find­ings was released Octo­ber 17. Of the more than 30 known finan­cial firms vying for Puer­to Rico's debt, at least 24 are hedge funds known as vul­ture firms, which spe­cial­ize in risky assets and cater to wealthy investors.
This activ­i­ty con­tin­ues the cen­tu­ry-long cycle in which out­side investors extract prof­it from Puer­to Rico and send it off the island, aid­ed by Puer­to Rico's colo­nial sta­tus and spe­cial tax breaks. The vul­ture firms and mutu­al fund com­pa­nies involved knew the island was wild­ly over­com­mit­ted, but they trust­ed the pow­er of their out­size legal and lob­by­ing efforts to squeeze out pay­ments, no mat­ter the cost to Puer­to Ricans. As firms bat­tle in court, they smell fresh oppor­tu­ni­ties after the storms.
BLOOD FROM A STONE
Even before the hur­ri­canes, it appeared unlike­ly that Puer­to Rico could pay up. In 2015, then-Gov. Gar­cía Padil­la warned the debt was ​"not payable." The cur­rent gov­er­nor, Ricar­do Rossel­ló, pro­ject­ed this sum­mer that the island might run out of mon­ey in Novem­ber, despite aus­ter­i­ty mea­sures and mas­sive school closures.
To under­stand how the island fell so deeply into debt, one must fol­low a cen­tu­ry of colo­nial­ism, crony­ism and finance cap­i­tal­ism. Soon after Puer­to Ricans became U.S. cit­i­zens in 1917, the Unit­ed States imposed high ship­ping costs that hob­bled the island's econ­o­my. Con­gress then spurred out­side invest­ment by turn­ing the island into a U.S. tax haven, lur­ing in man­u­fac­tur­ing and phar­ma­ceu­ti­cal com­pa­nies. The boom did pro­vide mid­dle-class jobs, but it nev­er cre­at­ed an own­er­ship class. Assets and prof­its flowed away.
As part of a deal to bal­ance the U.S. bud­get in 1996, Pres­i­dent Bill Clin­ton agreed to phase out the loop­hole that allowed busi­ness­es to oper­ate in Puer­to Rico tax-free. Com­pa­nies left the island in droves, tak­ing thou­sands of jobs. Then-gov­er­nor (and the cur­rent governor's father), Pedro Rossel­ló, was crit­i­cized for not push­ing back, but, accord­ing to a 1999 Orlan­do Sen­tinel arti­cle, he argued the mea­sure would help the island be ​"treat­ed the same as the [U.S. main­land] states."
With that exemp­tion gone, Puer­to Rico's gov­ern­ment turned to a spe­cial tax break that remained in place from the 1917 Jones-Shafroth Act. As a U.S. com­mon­wealth, Puer­to Rico can issue bonds that are ​"triple tax-free" — exempt from tax­a­tion by Puer­to Rico, the U.S. gov­ern­ment, and any U.S. state or municipality.
With the econ­o­my stag­nat­ing, Puer­to Rico increas­ing­ly sold these bonds to pay for infra­struc­ture projects. ​"Friends" of Puer­to Rico's cur­rent admin­is­tra­tion often got first dibs, and many of the projects were white ele­phants, unlike­ly to ever raise enough rev­enue to com­pen­sate their backers.
One infa­mous exam­ple is the Trump Inter­na­tion­al Golf Club Puer­to Rico. Puer­to Rico's Gov­ern­ment Devel­op­ment Bank grant­ed devel­op­ers $25 mil­lion in the ear­ly 2000s to build a golf course and hotel. The golf course strug­gled to pay its debt, and the gov­ern­ment reis­sued $26 mil­lion in bonds after Don­ald Trump agreed to license his name to the project in 2008. The own­ers declared Chap­ter 11 bank­rupt­cy in 2015 and nev­er paid back the loan.
In 2006, these prac­tices caught up with the Puer­to Rican gov­ern­ment. The island ran out of mon­ey and shut down for two weeks, fur­lough­ing 95,762 employ­ees and tem­porar­i­ly shut­ter­ing 1,600 pub­lic schools.
With the 2008 glob­al finan­cial col­lapse, Puer­to Rico's econ­o­my went into a tail­spin. Ten per­cent of its pop­u­la­tion emi­grat­ed between 2006 and 2016. Today, 46 per­cent of the pop­u­la­tion lives below the fed­er­al pover­ty line (com­pared to a nation­al aver­age of 14.7 per­cent) with a 40 per­cent labor force par­tic­i­pa­tion rate.
"There is a whole gen­er­a­tion that knows that we are not going to live the life that our par­ents lived," says Veróni­ca Rivera Tor­res, who con­vened a gath­er­ing of Puer­to Rican women in a pub­lic park in San Juan in Sep­tem­ber 2015 to dis­cuss the toll of aus­ter­i­ty. ​"There are no retire­ment plans, the rights of pub­lic employ­ees are pre­car­i­ous, there is no work.
"The major­i­ty [of the women who came] were doc­tors, lawyers, pro­fes­sion­als," Rivera Tor­res recalls. ​"Some were in a state of shock. For exam­ple, a woman with a doc­tor­ate, with the oppor­tu­ni­ty to leave, did not, because of loy­al­ties to her fam­i­ly and her coun­try. Now she is in a sit­u­a­tion of inse­cu­ri­ty. Some women have secu­ri­ty, but their chil­dren or grand­chil­dren are fac­ing precariousness."
NO SHORT­AGE OF BUYERS
Even as Puer­to Rico was rack­ing up enor­mous debt, finan­cial firms were hoover­ing up its bond offer­ings and clam­or­ing for more. A num­ber of the bonds were what Saqib Bhat­ti, co-author of a 2016 report from the ReFund Amer­i­ca Project on Puer­to Rico's debt, describes as ​"the munic­i­pal ver­sion of a pay­day loan," with astro­nom­i­cal inter­est rates. About half of Puer­to Rico's cur­rent debt is deferred inter­est on these loans. Mean­while, Gold­man Sachs, Cit­i­group and oth­er Wall Street firms have raked in more than $1.6 bil­lion in fees to struc­ture the deals.
As Puer­to Rico's debt grew riski­er, vul­ture funds grew more inter­est­ed. ​"There is tremen­dous demand [for Puer­to Rican bonds]," one mar­ket ana­lyst told the New York Times after Stan­dard & Poor's down­grad­ed Puer­to Rico's bonds to junk sta­tus in Feb­ru­ary 2014. The Times not­ed that hedge funds ​"see ways of pro­tect­ing them­selves" in case ​"Puer­to Rico's oth­er debt will have to be restruc­tured at some point." That pro­tec­tion entailed an army of lawyers and lob­by­ists who banked on sev­er­al pecu­liar­i­ties of Puer­to Rico's colo­nial sta­tus: its inabil­i­ty to declare bank­rupt­cy and a clause in its con­sti­tu­tion, from 1952, stip­u­lat­ing that the coun­try must hon­or debt from gen­er­al oblig­a­tion bonds before pay­ing any oth­er expenses.
The strat­e­gy has been effec­tive. The Puer­to Rican gov­ern­ment passed a bill to restruc­ture its debt in 2014, but two mutu­al fund com­pa­nies, Oppen­heimer­Funds and Franklin Tem­ple­ton Invest­ments, sued and a fed­er­al court declared the bill uncon­sti­tu­tion­al. Now, thanks to Prome­sa, the firms are deploy­ing their legal might in court to ensure that, should there be a hair­cut on Puer­to Rico's debt, they get paid first.
The claims made in court amount to only about $17 bil­lion of the total $74.8 bil­lion the island owes. The iden­ti­ties of many of Puer­to Rico's oth­er debthold­ers remain unknown. On August 30, the gov­ern­ment pub­lished an offi­cial 15,000-page list con­tain­ing the names of ​"poten­tial cred­i­tors," although it does not iden­ti­fy bond­hold­ers. Some on the list may be gov­ern­ment sup­pli­ers and con­trac­tors, for exam­ple, or an indi­vid­ual investor in a mutu­al fund.
CPI and In These Times spoke with one Puer­to Rican agri­cul­tur­al work­er whose fam­i­ly bought some of Puer­to Rico's bonds. ​"I bought them from Pop­u­lar Secu­ri­ties," he explains. ​"I liked them because they are from here."
THE SUN­NY SIDE
Of the mutu­al fund com­pa­nies now in court, the largest claim — rough­ly $4.9 bil­lion — comes from Oppen­heimer­Funds, a sub­sidiary of the For­tune 500 life insur­ance com­pa­ny Mass­Mu­tu­al. Ear­li­er this year, Mass­a­chu­setts Sec­re­tary of the Com­mon­wealth William Fran­cis Galvin opened an inves­ti­ga­tion into Oppen­heimer and oth­er Puer­to Rican bond sell­ers to deter­mine if small investors had been informed of the risks. ​"The peo­ple who invest­ed in mutu­al funds, gen­er­al­ly, are not ter­ri­bly sophis­ti­cat­ed," Galvin says. ​"They don't get into the detail of what that con­sists of. So there­fore they are rely­ing upon the peo­ple who put the funds togeth­er to pro­tect them."
A review of records of the nation's two largest finance reg­u­la­to­ry bod­ies — the Secu­ri­ties and Exchange Com­mis­sion and the industry's self-reg­u­la­tor, the Finan­cial Indus­try Reg­u­la­to­ry Author­i­ty (FIN­RA) — reveals that sev­er­al of the largest mutu­al fund com­pa­nies involved in Puer­to Rico's debt have a long paper trail of ille­gal behavior.
Oppen­heimer, San­tander and UBS, which col­lec­tive­ly claim more than $6.7 bil­lion in Puer­to Rico's Prome­sa case, have paid more than $450 mil­lion in fines for fraud and rules vio­la­tions since 2011. More than $85 mil­lion of those fines relate to the sale of Puer­to Rican bonds.
Through­out Puer­to Rico's debt cri­sis, Oppen­heimer has main­tained a sun­ny out­look: ​"We believe that the media's cov­er­age of devel­op­ments in and relat­ed to the Com­mon­wealth of Puer­to Rico could best be described as ​'par­tial news,'" it wrote in a state­ment to bond­hold­ers in March, tout­ing high returns on Puer­to Rican secu­ri­ties in 2016. After Puer­to Rico declared itself bank­rupt, Oppen­heimer reas­sured, ​"the mar­ket for bonds issued by the Com­mon­wealth remains liq­uid, and Puer­to Rico's rev­enues stand at an all-time high."
Enti­ties from Con­gress to Judge Swain have dif­fer­ent lev­els of pow­er to restruc­ture the debt. Pres­i­dent Don­ald Trump pledged on Octo­ber 3 to ​"wipe it out," but his bud­get direc­tor quick­ly reversed course. (Trump made an odd ref­er­ence to Gold­man Sachs, which bought $120 mil­lion in bonds in 2014 — and whose exec­u­tives pop­u­late Trump's admin­is­tra­tion — but has not offi­cial­ly filed a claim.) Oth­ers are call­ing for the Unit­ed States to buy out the debt or for an equi­table restructuring.
After Hur­ri­cane Maria, Oppen­heimer pub­lished an arti­cle not­ing, ​"Longer-term solu­tions in Texas, Louisiana, Puer­to Rico, the U.S. Vir­gin Islands, Flori­da and else­where will require sig­nif­i­cant financing."
With­out sig­nif­i­cant change, we should expect more of the same: aus­ter­i­ty mea­sures to muster the funds to ser­vice that debt, and tax incen­tives to attract out­side investors, cronies first. One con­tract to rebuild Puer­to Rico has already caused con­tro­ver­sy. White­fish Ener­gy in White­fish, Mont., won a $300 mil­lion bid Sep­tem­ber 26 to rebuild the ener­gy grid. The two-year-old firm has two full- time employ­ees. Its pri­ma­ry backer is HBC Invest­ments, a pri­vate equi­ty firm run by Joe Colon­net­ta, a major Trump donor.
As recent­ly as 2012, Puer­to Rico passed tax breaks aimed at lur­ing wealthy investors and hedge fund man­agers to move to the island. ​"Spend six months of the year on an island with beau­ti­ful beach­es and sun­shine [and] you could come away not only with a tan, but with almost 100 per­cent of your income still in your pock­et," the Cay­man Finan­cial Review not­ed. Mean­while, in the after­math of the storms, the Cen­ter for Puer­to Rican Stud­ies esti­mates that 14 per­cent of Puer­to Rico's pop­u­la­tion will leave with­in a year.
Saqib Bhat­ti says the com­bi­na­tion of aus­ter­i­ty and tax breaks is a dan­ger­ous cock­tail. ​"Cuts are speed­ing up the exo­dus of Puer­to Ricans from the island, while they are cre­at­ing tax incen­tives for rich white peo­ple to buy up lots of real estate there," he says. ​"This could very well lead us to a Puer­to Rico with­out Puer­to Ricans."
"The sit­u­a­tion depress­es us as a coun­try and as a peo­ple," says Rivera Tor­res. ​"But they will not defeat us now. I am con­vinced that as a coun­try we can orches­trate a strong resis­tance. We start from hope and from our humanity."
Joel Cin­trón Arbaset­ti and Car­la Minet, Cen­tro de Peri­odis­mo Inves­tiga­ti­vo and Alex V. Her­nan­dez and Jes­si­ca Stites, In These Times