"These Disasters Aren't Natural Anymore": A Dispatch from Puerto Rico After Maria
A conversation with Xiomara Caro Diaz of the Center for Popular Democracy about the devastation wrought by climate change and austerity.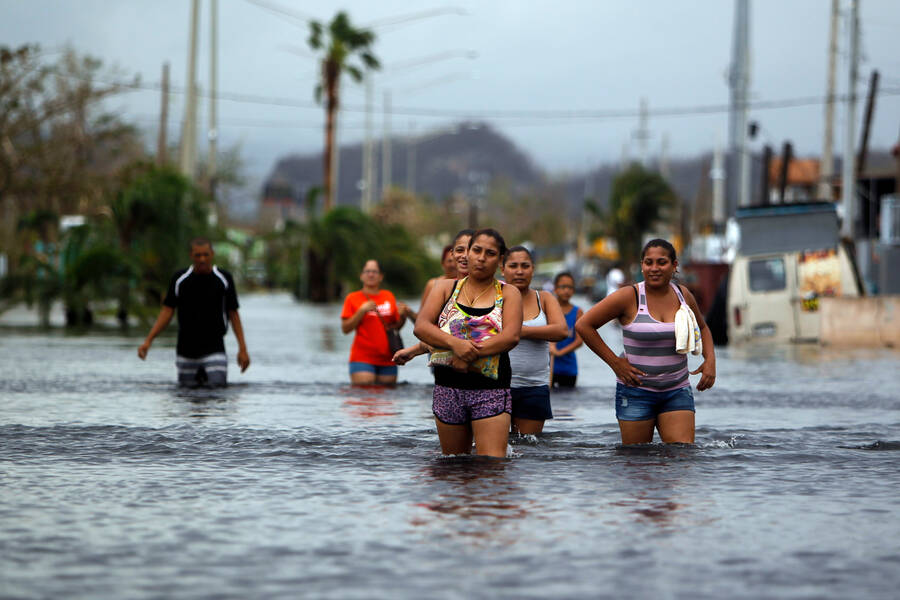 Sev­er­al weeks ago, Puer­to Rico avoid­ed a direct hit from Hur­ri­cane Irma, which shift­ed north at the last minute. But Hur­ri­cane Maria hit head on, and has left a human­i­tar­i­an cri­sis in its wake. Pow­er on the island could be out for as long as six months, and many parts of the island have yet to be contacted.
This is going to be the reality under which we fight against austerity for years.
Com­pound­ing Maria's wreck­age is the dev­as­ta­tion brought about by ongo­ing aus­ter­i­ty and an eco­nom­ic cri­sis in Puer­to Rico. Last sum­mer, Con­gress appoint­ed a fis­cal over­sight board to reign in the island's spend­ing — and break union con­tracts and sell off pub­lic assets in the process. Just one of the board's sev­en mem­bers is required to main­tain a pri­ma­ry res­i­dence in Puer­to Rico, and many see the body as the most bla­tant expres­sion of the U.S. colo­nial pres­ence in the commonwealth.
This real­i­ty com­pli­cates the ques­tion of what relief will look like in the com­ing days and months: How fast will lights get turned on? Will pri­va­tiz­ers treat Maria as an excuse to push through their pet projects? Will the U.S. gov­ern­ment release funds? What role — if any — will Puer­to Ricans play in rebuild­ing their lives on the island?
To hear about this and more, I spoke by phone with Xiomara Caro Diaz, a San Juan native and the direc­tor of New Orga­niz­ing Projects at the Cen­ter for Pop­u­lar Democ­ra­cy (CPD). In the days before the storm, she helped set up the Hur­ri­cane Maria Relief and Recov­ery Fund ("the Maria Fund"), housed orga­ni­za­tion­al­ly with­in CPD and intend­ed to sup­port recov­ery efforts specif­i­cal­ly in Puer­to Rico's low-income com­mu­ni­ties and com­mu­ni­ties of col­or. We talked about that effort, what she's seen on the ground and what a just, demo­c­ra­t­ic recov­ery might look like.
Kate Aronoff: Could you give me a sense of what's hap­pen­ing on the ground?
Xiomara Caro Diaz: I don't know if I have the words to describe it. It's a mix of com­plete dev­as­ta­tion and know­ing that Puer­to Rico is a coun­try that's incred­i­bly resilient and has sur­vived oth­er hur­ri­canes, metaphor­i­cal­ly speak­ing: colo­nial­ism and aus­ter­i­ty. This is not even com­pa­ra­ble, but I'm try­ing to hold onto that idea.
More con­crete­ly, we're 100 per­cent out of pow­er. Most peo­ple have no phones. Because cell phones are so wide­spread, most peo­ple don't have a house line any­more. I would say the major­i­ty of the coun­try is incom­mu­ni­ca­do, local­ly. The day the hur­ri­cane passed, there was a moment when there were no radio sta­tions. It's sur­re­al. Now there are two radio sta­tions that are on, so those are the main forms of com­mu­ni­ca­tion. That's where the gov­er­nor speaks and gives updates. That's where fam­i­ly mem­bers call to say either, ​"I'm okay" or ​"I can't find my fam­i­ly." Peo­ple have gone to the radio sta­tion phys­i­cal­ly to give information.
There are towns that up to a cou­ple hours ago had­n't issued any updates. Updates are an hourly thing, not a minute-by-minute thing. As of the most recent one, there are still towns that haven't been con­tact­ed yet. There are still peo­ple wait­ing to be res­cued on rooftops in the area around Lake Gua­jat­a­ca. It was men­tioned today that close to 500 to 700 peo­ple were res­cued Friday.
Gua­jat­a­ca, in par­tic­u­lar, has been a top­ic of con­ver­sa­tion, because the water dam there was breached. But the alarm that announces to the com­mu­ni­ties around it that it will be opened up did not go off. There have been reports that eight peo­ple have drowned so far. There are munic­i­pal­i­ties where not even the gov­ern­ment of Puer­to Rico knows what's going on, and today there are going to be sev­er­al offi­cial heli­copter rides to con­nect with dif­fer­ent places. The death toll offi­cial­ly is 13, with esti­mates that pow­er will be out for four to six months. Peo­ple are being urged not to leave their homes unless there's an emer­gency. Oth­er peo­ple have assumed a respon­si­bil­i­ty to help clean up trees and debris from the streets and help open up streets and highways.
I don't think any­body alive has ever lived through some­thing like this. I heard a grand­moth­er on the radio the oth­er day say­ing she lived through San Felipe II, and she said this doesn't even compare.
Today we drove to Las Piedras to see our fam­i­ly and see how they are doing. The moun­tains looked like they were burned; trees have no leaves on them, it's just bare wood. This just reveals how the peo­ple of Puer­to Rico have been for­got­ten and left behind, but also have an amaz­ing amount of resilience to live under the cur­rent polit­i­cal, oppres­sive rela­tion­ship it has with the Unit­ed States, and decades of eco­nom­ic exploita­tion by indus­try, like the phar­ma­ceu­ti­cal indus­try. Most recent­ly, one big force on that front has been the mar­ket for lux­u­ry tourism and mil­lion­aires who are mov­ing to Puer­to Rico. But none of that mon­ey com­ing in is being invest­ed in com­mu­ni­ties here. Dri­ving back and look­ing at the moun­tains — where you can sud­den­ly see things you couldn't see before — felt like a metaphor.
We're now see­ing what it means to be eco­nom­i­cal­ly poor and what it means to be resilient at the same time. There are already peo­ple in the streets. Hun­dreds of peo­ple are get­ting on calls every night to orga­nize relief in the dias­po­ra. There are already lists of 2,000 peo­ple who have signed up to come to Puer­to Rico to help rebuild.
I've got­ten some per­spec­tive, because I've had the priv­i­lege of hav­ing inter­net, and I am in an area that has sig­nal in the cap­i­tal, San Juan. There are hun­dreds of peo­ple still try­ing to con­nect to fam­i­ly mem­bers who haven't heard from them in days. I don't know if we'll even grasp the mag­ni­tude of this for days or even weeks.
Kate: Have you got­ten any sig­nals from the gov­ern­ment or from the Finan­cial Over­sight and Man­age­ment Board about how they intend to respond?
Xiomara: The fis­cal con­trol board has said two things which seem pret­ty obvi­ous choic­es: They're revis­ing the aus­ter­i­ty mea­sures and approv­ing us to use $1 bil­lion from our own bud­get for relief. Under­stand­ably, the gov­er­nor has been focused on the very imme­di­ate recov­ery tasks at hand. There's lit­er­al­ly one chan­nel of com­mu­ni­ca­tion for the major­i­ty of Puer­to Ricans, which is these two radio sta­tions, so in terms of what they're say­ing, they're talk­ing about res­cue trips and things like that. I think it's obvi­ous that there should be a mora­to­ri­um on the debt. There's going to be a great need to look into deep­er issues and struc­tur­al inequal­i­ties that led us to here. But in the short-term, there's a need to rec­og­nize that we need to put a stop on debt pay­ments at a nation­al and indi­vid­ual lev­els. We don't vote. We don't par­tic­i­pate. We are a colony, and we've been a U.S. colony for 120 years. Puer­to Rico has been used for a very long time to make mon­ey, and cre­ate tax­es that allow indus­tries to make money.
There are sev­er­al con­ver­sa­tions to be had that have to do with pol­i­cy. All of these peo­ple who live in areas that were built up mas­sive­ly dur­ing the 1990s in places have been destroyed. Who banked on build­ing hous­ing in areas where they should not have been built, and which pub­lic offi­cial signed the per­mit on that?
There are peo­ple who lost their homes because they were wood­en homes, peo­ple who stayed in their homes either because they don't have the resources or thought they'd be okay there. Many peo­ple who live in hous­es that are built from cement prob­a­bly suf­fered a lot of dam­age out­side, but that's a steady struc­ture that can sur­vive some­thing like that. Of the at least 13 peo­ple who have passed away, three of them were sis­ters, all old­er than 60. Their house was tak­en with a mud­slide, and they died inside the house. One sis­ter sur­vived. She left try­ing to get help.
For the past sev­er­al years, Puer­to Rico has been in a state of cri­sis because of its polit­i­cal and eco­nom­ic sit­u­a­tion. But it is also a place of pos­si­bil­i­ty, of a lot of peo­ple doing things for them­selves. It just feels like it's been the prac­tice field for so many neolib­er­al poli­cies for the last decade. This event mag­ni­fies that. It forces the ques­tion: What are the impli­ca­tions of aus­ter­i­ty? This was always going to be a destruc­tive hur­ri­cane, but peo­ple los­ing their lives because their house was built in a place where hous­es shouldn't be built are things that could have been pre­vent­ed with just poli­cies — poli­cies that are for peo­ple and not for profit.
Kate: How will mon­ey from the Maria Fund be spent?
Xiomara: Our affil­i­ate in Puer­to Rico is called Taller Salud, a com­mu­ni­ty orga­ni­za­tion, a fem­i­nist orga­ni­za­tion that does work in sev­er­al towns. The main town is Loíza. The work of Taller Salud for the last 40 years has been around repro­duc­tive rights, sex­u­al health and vio­lence inter­rup­tion, and they've always been polit­i­cal. The women who cre­at­ed Taller Salud were the women who cre­at­ed the pro­to­col for giv­ing rights to women who were vic­tims of domes­tic vio­lence. They have a suc­cess­ful pro­gram called Acuer­do de Paz ("Peace Agree­ment"), and have done work with com­mu­ni­ties to inter­rupt vio­lence before it esca­lates to death.
When I joined CPD and start­ed con­nect­ing them with orga­ni­za­tions in Puer­to Rico, I saw Taller Salud as an orga­ni­za­tion that had been doing this work for a very long time in spite of the fact that pro­gres­sive pol­i­cy work was not being sup­port­ed eco­nom­i­cal­ly. To give you some con­text, some 90 to 95 per­cent of non-prof­its in Puer­to Rico are direct-ser­vice orga­ni­za­tions. So orga­niz­ing is not some­thing that falls with­in the insti­tu­tion­al sec­tor, but that hap­pens out­side the insti­tu­tion­al sec­tor in a more vol­un­teer capac­i­ty. That's for his­tor­i­cal rea­sons: It's a colony. A lot of foun­da­tions don't have Puer­to Rico on the map. And being about social jus­tice in Puer­to Rico means talk­ing about lib­er­a­tion and our capac­i­ty to pro­vide for our­selves as a coun­try that has all the resources nec­es­sary to cre­ate rela­tion­ships with oth­er coun­tries that are based in dig­ni­ty. There's a rea­son why that work isn't nec­es­sar­i­ly fund­ed the same way.
Anoth­er orga­ni­za­tion that isn't an affil­i­ate of CPD, but that is includ­ed in the Maria Fund, is Caño 3.7. That's also an orga­ni­za­tion that has been doing work for decades, and got­ten inter­na­tion­al recog­ni­tion for the envi­ron­men­tal jus­tice work. It start­ed because there were pri­vate com­pa­nies inter­est­ed in gen­tri­fy­ing an area very close to the busi­ness sec­tor sev­er­al decades ago. Com­mu­ni­ties start­ed orga­niz­ing to talk about how to guar­an­tee their own per­ma­nence — and have a whole plan of relo­cat­ing fam­i­lies and rebuild­ing the area, because it was an area where fam­i­lies had built in places that have a high propen­si­ty to flood. They've even done advo­ca­cy at the fed­er­al lev­el. The work of Caño 3.7 has been heav­i­ly impact­ed by Hur­ri­cane Maria.
Kate: Why is it impor­tant to donate to the kind of grass­roots work that the Maria Fund is sup­port­ing, as opposed to some­thing like the Red Cross?
Xiomara: When I start­ed talk­ing to peo­ple about set­ting up the Maria Fund with Taller Salud, we start­ed this con­ver­sa­tion about the need to sup­port grass­roots orga­ni­za­tions in Puer­to Rico. Besides the imme­di­ate rebuild­ing, there's a need to have an under­stand­ing about the impact of ​"nat­ur­al" dis­as­ters — these dis­as­ters aren't nat­ur­al any­more, these dis­as­ters have been cre­at­ed by the pol­i­tics of cap­i­tal­ism. We need to under­stand the dis­pro­por­tion­ate impacts these events have on pop­u­la­tions that are already vul­ner­a­ble because they have been exclud­ed from poli­cies or — real­ly — tar­get­ed by policies.
Set­ting up the Maria Fund was a way of say­ing that rebuild­ing Puer­to Rico is not just about putting up homes. First, it's about guar­an­tee­ing that there will be relief. The next stage is just as impor­tant: rebuild­ing. What does it mean to rebuild with jus­tice for peo­ple in Puer­to Rico? There are com­pa­nies that are going to try and make mon­ey off of Maria. There are indus­tries that are going to see this as an oppor­tu­ni­ty. A lot of peo­ple are going to take advan­tage of the fact that there aren't a lot of watch­dogs mon­i­tor­ing what gets rebuilt and how. The Maria Fund is going to go to grass­roots orga­ni­za­tions in Puer­to Rico that have a pres­ence in those com­mu­ni­ties that have been work­ing there already, and who we know and trust under­stand the struc­tur­al inequal­i­ties those com­mu­ni­ties have faced for years.
It's not enough to talk about the amount of peo­ple who have lost their homes in Loíza. There were 80 or 90 fam­i­lies there who lost their homes because of Hur­ri­cane Irma. When we talk about rebuild­ing Loíza, we have to ask: What do the peo­ple of Loíza real­ly want? What does it mean to rebuild Loiza not just to be the way it was before Hur­ri­cane Maria, because — before Maria — res­i­dents were strug­gling with many of these issues, and were invis­i­ble to a lot of peo­ple in Puer­to Rico and to the gov­ern­ment. Ask­ing that ques­tion requires us to pro­vide resources to orga­ni­za­tions that have already been lis­ten­ing to the peo­ple of Loíza. Taller Salud is one of them. There are oth­ers, and sim­i­lar orga­ni­za­tions in oth­er communities.
Final deci­sions on how the fund is spent will be led by those local groups: Taller Salud, Caño 3.7 and any oth­er groups we add as we start to assess where was hard­est hit and what orga­ni­za­tions can man­age and help with rebuild­ing efforts.
Kate: What would you say are the biggest things to be look­ing out for in the com­ing days and weeks in Puer­to Rico?
Xiomara: Num­ber one, efforts to pri­va­tize Puer­to Rico's elec­tric util­i­ty, the Puer­to Rico Elec­tric Pow­er Author­i­ty (PREPA). It is one of the most indebt­ed pub­lic agen­cies, and we don't have a lot of col­lec­tive clar­i­ty about how much mon­ey in loans was tak­en out in the name of the util­i­ty that wasn't rein­vest­ed in infra­struc­ture or work­ing con­di­tions. The pri­va­ti­za­tion of PREPA is a con­ver­sa­tion that was hap­pen­ing before now, and I'm sure it's going to be at the top of the agen­da of the Fis­cal Con­trol board. I think that peo­ple in Puer­to Rico need more infor­ma­tion to under­stand the impor­tance of main­tain­ing cap­i­tal. We lost our hos­pi­tals to pri­va­ti­za­tion through­out the 1990s and ear­ly 2000s. Peo­ple know what that means, and I think it'll be a top item on the agenda.
Before Maria hit, a lot of prop­er­ties were being repos­sessed, and we were hav­ing con­ver­sa­tions about who had an inter­est in homes in Puer­to Rico being repos­sessed. A cou­ple years ago, banks were not crazy about get­ting rid of their homes. But now it feels like there's some­one in the mar­ket offer­ing mon­ey to local banks and just buy­ing out homes in Puer­to Rico. Because of the num­bers of hous­es being repos­sessed, the leg­is­la­ture is con­sid­er­ing approv­ing a law to cre­ate a spe­cial court­room just to man­age evic­tion pro­ceed­ings. Hous­ing was already an issue in Puer­to Rico — qual­i­ty of hous­ing, acces­si­bil­i­ty of decent qual­i­ty hous­ing and a huge inter­est in buy­ing up the homes of peo­ple who have left. I won­der how this storm is going to change that.
This is going to be the real­i­ty under which we fight against aus­ter­i­ty for years. Now it will be crit­i­cal to devel­op a lens of what it will it look like to still orga­nize peo­ple — maybe even with more urgency — to real­ly fight for the idea that this can be a place that we can build, and that we have the capac­i­ty to rebuild. We must demand the polit­i­cal space to be heard, to par­tic­i­pate in mak­ing the deci­sions that influ­ence our coun­try and to fight for eco­nom­ic poli­cies that are cre­at­ed and designed by us and for us.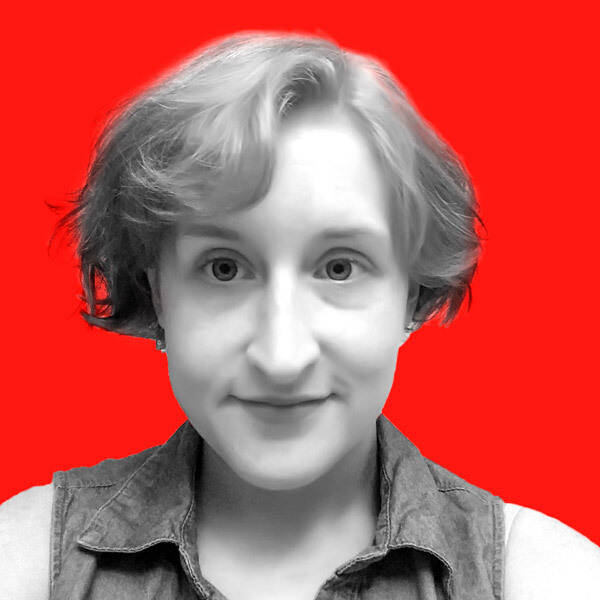 Kate Aronoff
is a Brook­lyn-based jour­nal­ist cov­er­ing cli­mate and U.S. pol­i­tics, and a con­tribut­ing writer at The Inter­cept. Fol­low her on Twit­ter @katearonoff.