The Left Needs Its Own Shock Doctrine for Puerto Rico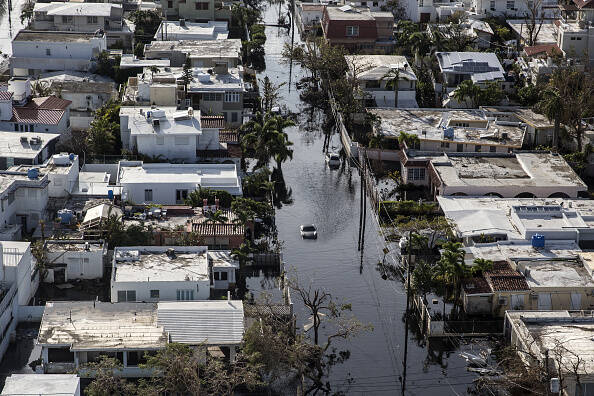 Wel­come to Inter­views for Resis­tance. We're now sev­er­al months into the Trump admin­is­tra­tion, and activists have scored some impor­tant vic­to­ries in those months. Yet there is always more to be done, and for many peo­ple, the ques­tion of where to focus and how to help remains. In this series, we talk with orga­niz­ers, agi­ta­tors and edu­ca­tors — not only about how to resist, but how to build a bet­ter world.
Javier Moril­lo: My name is Javier Moril­lo, and I live in Min­neso­ta. I am the pres­i­dent of Ser­vice Employ­ees Inter­na­tion­al Union (SEIU) Local 26, and I am orig­i­nal­ly from Puer­to Rico. That is where I grew up.
Sarah Jaffe: Things were not great in Puer­to Rico before the hur­ri­cane flat­tened it. Give us a lit­tle back­ground on the so-called ​"debt cri­sis," the PROME­SA bill and U.S.-imposed aus­ter­i­ty in Puer­to Rico.
Javier: The sit­u­a­tion was so pre­car­i­ous before the hur­ri­cane hit, and it was pre­car­i­ous for com­plete­ly human-made rea­sons. Puer­to Rico is in a debt cri­sis. When Don­ald Trump final­ly start­ed tweet­ing about Puer­to Rico, he men­tioned the debt twice.
I think your read­ers are famil­iar with the fore­clo­sure cri­sis and how that was caused by Wall Street's preda­to­ry loans. It was a very sim­i­lar sit­u­a­tion in Puer­to Rico. Munic­i­pal bonds in Puer­to Rico are triple tax free. That means there are no local, state or fed­er­al tax­es on them, so they are very attrac­tive to a lot of investors. Wall Street, Gold­man Sachs and the invest­ment firms had been push­ing investors to buy these. Because of Puer­to Rico's colo­nial sta­tus, Puer­to Rican munic­i­pal­i­ties can­not declare bank­rupt­cy. They were, essen­tial­ly, bet­ting on the island's inabil­i­ty to pay-and that is what happened.
Then, what made things worse was that, in 2016, Con­gress passed the PROME­SA bill. It is the Puer­to Rico Over­sight Man­age­ment Eco­nom­ic Sta­bil­i­ty Act. In the grand tra­di­tion of Con­gress giv­ing acronyms that mean the oppo­site of what they do, ​"prome­sa" means ​"promise" in Span­ish. One of my con­gress­men here in Min­neso­ta is Kei­th Elli­son, a pro­gres­sive stal­wart. He is on the Finan­cial Ser­vices Com­mit­tee, a won­der­ful ally. I spoke with him quite a bit about this. The Oba­ma admin­is­tra­tion pitched PROME­SA by argu­ing that the bill is the only thing that can res­cue the island. It sets up the Finan­cial Over­sight Board, which has been impos­ing austerity.
The thing to do at that moment, rather than pass PROME­SA, was to default: real­ly call the colo­nial ques­tion and point out that Puer­to Rican munic­i­pal­i­ties can­not declare bankruptcy.
Instead, they have been impos­ing aus­ter­i­ty. There is an unelect­ed jun­ta. It is called an over­sight board in Eng­lish, but peo­ple on the island refer to it as the jun­ta, which I think is more appro­pri­ate. We should all call it that, because it sounds like the mil­i­tary dic­ta­tor­ships of Latin Amer­i­ca, and that is essen­tial­ly what it is like. The gov­er­nor has to sub­mit to the jun­ta, and they are impos­ing austerity.
At the cen­ter of the debt cri­sis is the elec­tric power com­pa­ny. The hur­ri­cane has knocked out pow­er over the whole island and, on top of that, this is a util­i­ty com­pa­ny that last year was lit­er­al­ly cut­ting off the elec­tric­i­ty in hos­pi­tals and endan­ger­ing the lives of peo­ple because the hos­pi­tals were in debt to them. And they are in debt to Wall Street creditors.
Sarah: Before we dig into what can be done, what are you hear­ing from peo­ple on the ground in Puer­to Rico right now, after the hur­ri­cane? It looks Puer­to Rico could be with­out pow­er for months. Trump seems like he is in no hur­ry to do any­thing. And a lot of peo­ple in the Unit­ed States don't even seem to real­ize that Puer­to Ricans are U.S. citizens.
Javier: My par­ents are on the island. For the first few days after the hur­ri­cane, it was near impos­si­ble to get in touch with any­one. I had spo­radic texts and con­tact. I was just able to speak to my par­ents in the last cou­ple of days on the phone. They were pre­pared for the worst. Based on what I am hear­ing, it feels worse than any­thing any­one could have imag­ined. There is no pow­er any­where. I com­mu­ni­cate with my sis­ter through What­sApp or text when she has a sig­nal. She is ask­ing us to send her news sto­ries, because they have such lit­tle access to the media. They have no pow­er. I am frankly terrified.
A cou­ple of days ago, the gov­er­nor of Puer­to Rico had a press con­fer­ence where he was giv­ing a pret­ty pos­i­tive face to every­thing that was hap­pen­ing. But he also men­tioned that there were eight munic­i­pal­i­ties that they had not had any con­tact with, at least as of two days ago. The island is 100 miles by 35 miles. It is a very small island. When I hear that eight munic­i­pal­i­ties have no con­tact with the cen­tral gov­ern­ment, that sounds very sus­pi­cious and terrifying.
Sarah: Before the hur­ri­cane, you were involved in orga­niz­ing around PROME­SA and the debt cri­sis. Look­ing at this now, peo­ple are orga­niz­ing to call Con­gress just to say, ​"Get them some aid." But what are the short, medi­um and long-term goals for pres­sure on this administration?
Javier: I have been think­ing about this a lot. One of the things I am real­ly strug­gling with right now is that we don't have a pro­gres­sive or a Left shock doc­trine, as Nao­mi Klein calls it. The Right has a pro­gram in place for how to take advan­tage of moments like this. When you look at what the jun­ta has done and every­thing else, this is an oppor­tu­ni­ty for the wealthy 1 per­cent of the Unit­ed States and world to make Puer­to Rico into a play­ground the way Cuba was in the 1940s and 1950s for the U.S. rich. I am ter­ri­fied we will have an island of Puer­to Rico with­out Puer­to Ricans.
To me, the ques­tion is: What do we do in the short and medi­um term that offers some sem­blance of a shock doc­trine for our side? If we are going to rebuild Puer­to Rico, how do we do it in a way that is right for the peo­ple of Puer­to Rico? I have to weigh that with the very imme­di­ate con­cern of need­ing to get car­go con­tain­ers with food and neces­si­ties that peo­ple have. Unfor­tu­nate­ly, I don't have a very good answer for how we meet the short-term need a way that sets up for the future.
There are orga­niz­ers on the ground. One affil­i­at­ed with the Cen­ter for Pop­u­lar Democ­ra­cy in the Unit­ed States, which has set up a fund. It is Mari​a​Fund​.org. They have been doing base-build­ing work on the island for some time, espe­cial­ly in the poor­er areas and the coastal areas that have been dev­as­tat­ed by Irma and now Maria. That is who I have been encour­ag­ing peo­ple to donate mon­ey to, because I trust the work they do. It is direct­ed at social trans­for­ma­tion on the island, with a focus on the most vul­ner­a­ble com­mu­ni­ties and the com­mu­ni­ties of African descent on the island.
My hope had been that the finan­cial cri­sis would be a moment on the island when we would tran­scend the pol­i­tics of sta­tus. Every­thing on the island, includ­ing mem­bers of the polit­i­cal par­ties, is defined by the polit­i­cal sta­tus of the island. You are either a state­hood per­son, a com­mon­wealth per­son, or a pro-inde­pen­dence per­son. That is the dia­logue that has been hap­pen­ing for decades.
My father is much more con­ser­v­a­tive polit­i­cal­ly than I am. But he has a very keen anti-Wall Street analy­sis of what has been hap­pen­ing on the island. I think we have an oppor­tu­ni­ty to unite peo­ple on the island across the polit­i­cal spec­trum with regards to sta­tus, on a mes­sage of how Wall Street has screwed the island until now. And now we have to fight back beyond the par­ti­san divi­sions on the island.
Sarah: Is there any­thing else that peo­ple should be think­ing about right now?
Javier: The way FEMA nor­mal­ly works just will not work on the island. When there is a dis­as­ter in Texas or Flori­da, FEMA frees up mon­ey. But what it frees up is local munic­i­pal­i­ties, local gov­ern­ments, coun­ties or cities to put out con­tracts for pri­vate con­trac­tors to come in and remove debris, for exam­ple. Then, FEMA reim­burs­es the munic­i­pal­i­ties. In Puer­to Rico, that is not going to work for mul­ti­ple rea­sons. In Texas and in Flori­da, you had peo­ple dri­ving from all over the coun­try with trucks. Any­body who had this kind of a busi­ness could go down and do that. Peo­ple can't get to Puer­to Rico to do that.
Fur­ther­more, the munic­i­pal­i­ties are bank­rupt. They are lit­er­al­ly bank­rupt. They can't reim­burse folks. There is going to have to be an actu­al com­plete rethink­ing of how FEMA works in Puer­to Rico for this crisis.
Sarah: Because Puer­to Rico doesn't have the same kind of rep­re­sen­ta­tion in the Unit­ed States that oth­er U.S. cit­i­zens have, are there any mem­bers of Con­gress who have tak­en inter­est in this and could be looked at to be push­ing for some sort of solu­tion here?
Javier: The mem­bers of con­gress who are Puer­to Rican by descent have obvi­ous­ly led on all kinds of issues. There is Nydia Velazquez in New York. Con­gress­man Luis Gutier­rez has been par­tic­u­lar­ly good from a pro­gres­sive, left per­spec­tive. For exam­ple, he opposed PROME­SA. So we are look­ing to his leadership.
Regard­less of who you are rep­re­sent­ed by, it is good for law­mak­ers to hear from U.S. cit­i­zens on the main­land that they are con­cerned that U.S. cit­i­zens in Puer­to Rico are not get­ting prop­er assis­tance. It is good to raise the lev­el of alarm in Wash­ing­ton, D.C. about this. Be indis­crim­i­nate about talk­ing to your elect­ed rep­re­sen­ta­tives about it.
Inter­views for Resis­tance is a project of Sarah Jaffe, with assis­tance from Lau­ra Feuille­bois and sup­port from the Nation Insti­tute. It is also avail­able as a pod­cast on iTunes. Not to be reprint­ed with­out permission.
Sarah Jaffe
is a for­mer staff writer at
In These Times
and author of
Nec­es­sary Trou­ble: Amer­i­cans in Revolt
, which Robin D.G. Kel­ley called ​
"
The most com­pelling social and polit­i­cal por­trait of our age." You can fol­low her on Twit­ter
@sarahljaffe
.