Tiffany Cabán—A Queer, Millennial, DSA-Backed Latina—Has Made History in Queens
Meet Tiffany Cabán, the 31-year-old queer Latina public defender who earned Queens DSA's endorsement.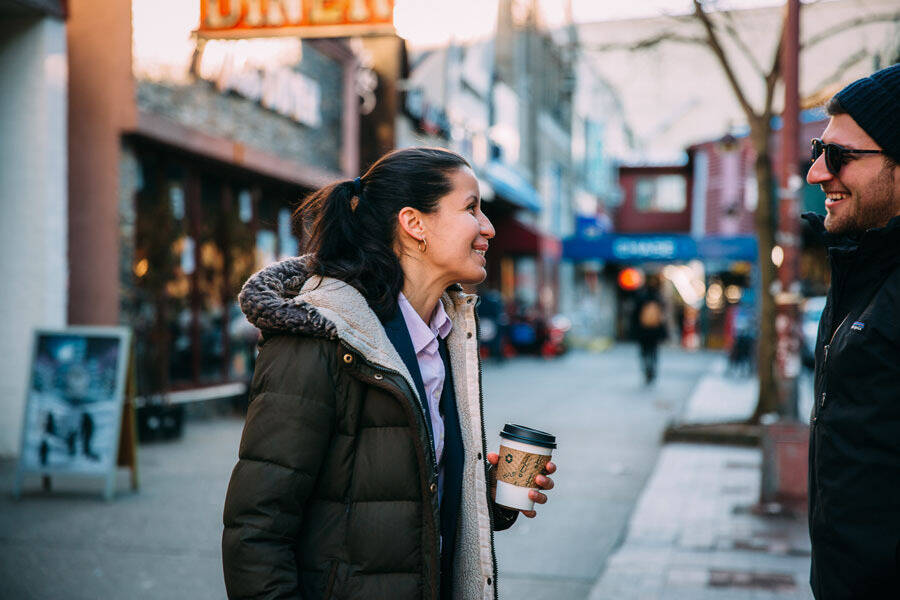 Update: In a close race, Tiffany Cabán declared vic­to­ry over her clos­est oppo­nent Melin­da Katz on Tues­day night.
'When DSA endorses in New York, we bring an army.'
QUEENS, NEW YORK — A city coun­cil­man, a state pros­e­cu­tor and a pub­lic defend­er walk into a forum, seek­ing the social­ist vote. This is not a joke; this is the new Queens. Since U.S. Rep. Alexan­dria Oca­sio-Cortez (D‑N.Y.) top­pled the old order last year, can­di­dates for the borough's top law-enforce­ment office — even those with war chests top­ping $1 mil­lion — now come call­ing for an endorse­ment from the Demo­c­ra­t­ic Social­ists of Amer­i­ca (DSA).
In the first Queens dis­trict attor­ney elec­tion up for grabs in a gen­er­a­tion, can­di­dates have tak­en notice of the move­ment to end mass incar­cer­a­tion and are plac­ing reform at the top of their agen­das. In what was once a law-and-order bas­tion, can­di­dates race to empha­size the crimes they won't prosecute.
The 60 or so social­ists sit­ting in met­al fold­ing chairs at the forum are not an easy crowd. Coun­cil­man Rory Lanc­man (whom the New York Times has dubbed a reform can­di­date in the vein of Philadel­phia Dis­trict Attor­ney Lar­ry Kras­ner) draws eye rolls for repeat­ed­ly begin­ning his answers, ​"This isn't aca­d­e­m­ic…" as he delves into policy.
When Tiffany Cabán, a 31-year-old queer Lati­na pub­lic defend­er and Rich­mond Hill, Queens, native, speaks, the mood shifts. Cabán promis­es to end cash bail, close Rik­ers Island, place a mora­to­ri­um on new jails and decline to pros­e­cute low-lev­el offens­es, such as dis­or­der­ly con­duct and tres­pass­ing. To pub­lic safe­ty con­cerns, Cabán empha­sizes alter­na­tives to incar­cer­a­tion that address root caus­es of crime, includ­ing men­tal health dis­or­ders, trau­ma, pover­ty and sub­stance abuse.
After the mod­er­a­tor-led ques­tion­ing, DSA mem­bers line up at the mic. Should the police over­sight agency, the Civil­ian Com­plaint Review Board, include elect­ed rep­re­sen­ta­tives? (Absolute­ly, says Cabán.) Should Ama­zon HQ2 pro­test­ers face charges if arrest­ed? (No, says Cabán, who holds ​"know your rights" sem­i­nars for activists.)
The Queens DSA elec­toral work­ing group, the Queens DSA branch and the city­wide lead­er­ship com­mit­tee then con­sid­ered both the forum and a lengthy ques­tion­naire in decid­ing which can­di­date, if any, to endorse. Cabán, daugh­ter of an ele­va­tor mechan­ic and a day­care provider, over­whelm­ing­ly won each round of vot­ing. The only hold­outs were those opposed to any endorse­ment in the dis­trict attor­ney race.
Whether move­ment groups should endorse can­di­dates for dis­trict attor­ney has been the sub­ject of debate. Some pros­e­cu­tors who run as pro­gres­sives dis­ap­point once in office. In Illi­nois, Cook Coun­ty State's Attor­ney Kim Foxx has been chas­tised by pro­gres­sive groups for fail­ing to ful­fill promis­es on pre­tri­al release and reduc­tion of pet­ty drug cas­es. ​"Wes­ley Bell in St. Louis Coun­ty is ​'pro­gres­sive' because he won't pros­e­cute lowlev­el mar­i­jua­na cas­es, and Lar­ry Kras­ner in Philadel­phia is ​'pro­gres­sive' because he won't pros­e­cute any mar­i­jua­na cas­es," says Derec­ka Pur­nell, a lawyer and prison abo­li­tion­ist. ​"Is this a pro­gres­sion from the types of pros­e­cu­tion that we saw dur­ing the War on Drugs? Yes. Is it enough to com­bat the inher­ent­ly racist and clas­sist every­day job of pros­e­cu­tors, which is to put peo­ple in jails and prison? Absolute­ly not."
"[DSA] mem­bers wor­ry about giv­ing cred­i­bil­i­ty to any part of the carcer­al state," says Sasha Wein­stein of the Queens DSA elec­toral orga­niz­ing com­mit­tee. ​"But we respect the goal of harm reduc­tion, and at the end of the­day, we rec­og­nized the duty to use the tools at our dis­pos­al to fight the exist­ing system."
Cabán says she puts ​"the col­lat­er­al con­se­quences of incar­cer­a­tion at the fore­front of deci­sion-mak­ing," cit­ing hous­ing dis­crim­i­na­tion, dimin­ished employ­ment prospects and trau­ma to fam­i­lies. ​"We should be doing every­thing we can to keep peo­ple in their com­mu­ni­ties," she says.
Over the past five years, places as far-flung as Cor­pus Christi, Texas, and Kansas City, Mo., have elect­ed reform pros­e­cu­tors. In Philadel­phia, Kras­ner swept into office in 2017 on a cam­paign to end mass incar­cer­a­tion and fired 31 pros­e­cu­tors in his first week. Under his reforms, Philadelphia's jail pop­u­la­tion has dropped by about 30 per­cent. In Boston, Rachael Rollins won office in Novem­ber 2018 on a promise to stop pros­e­cut­ing 15 low-lev­el crimes. In San Fran­cis­co, Chesa Boudin, a pub­lic defend­er and the son of Weath­er Under­ground rad­i­cals, is mak­ing a run for dis­trict attorney.
When Kras­ner announced his run to his civ­il rights law firm's staff, they laughed. The police union pres­i­dent deemed the idea ​"hilar­i­ous." That's not hap­pen­ing in Queens.
"When DSA endors­es in New York, we bring an army," says Aaron Taube, a vol­un­teer DSA orga­niz­er. That army helped pow­er the vic­to­ries of Oca­sio- Cortez in parts of the Bronx and Queens, and state Sen. Julia Salazar in Brook­lyn. But a bor­ough-wide cam­paign pos­es a new chal­lenge. ​"It's going to be tough," Taube says. ​"It's a huge bor­ough. … The chal­lenge is not con­vinc­ing peo­ple that it would be good if can­di­dates like Cabán won, but that they can win."
In advance of the June pri­ma­ry, the field has grown to sev­en can­di­dates. The Queens Coun­ty Democ­rats — led by for­mer U.S. Rep. Joe Crow­ley, whom Oca­sio-Cortez oust­ed — endorsed bor­ough pres­i­dent Melin­da Katz. Street out­reach by DSA began Feb­ru­ary 26, as vot­ers head­ed to the polls for New York City's pub­lic advo­cate race. DSA vol­un­teers used the oppor­tu­ni­ty to col­lect sig­na­tures to get Cabán on the ballot.
Cabán sees a par­tic­u­lar val­ue in hav­ing DSA's ​"army" on her side: ​"One thing I have learned over my time with them is they mobi­lize. Not just try­ing to share their knowl­edge, but more impor­tant­ly, learn­ing — ask­ing the com­mu­ni­ty what it wants and engag­ing in a dialogue."
DOU­GLAS GRANT is a Brook­lyn-based writer and a mem­ber of the North Brook­lyn DSA (and was not involved in Queens DSA's endorse­ment decisions).