Revisiting 1990s Critical Race Theorists
To understand America, we must listen to what Black scholars have been saying about what it means to be white.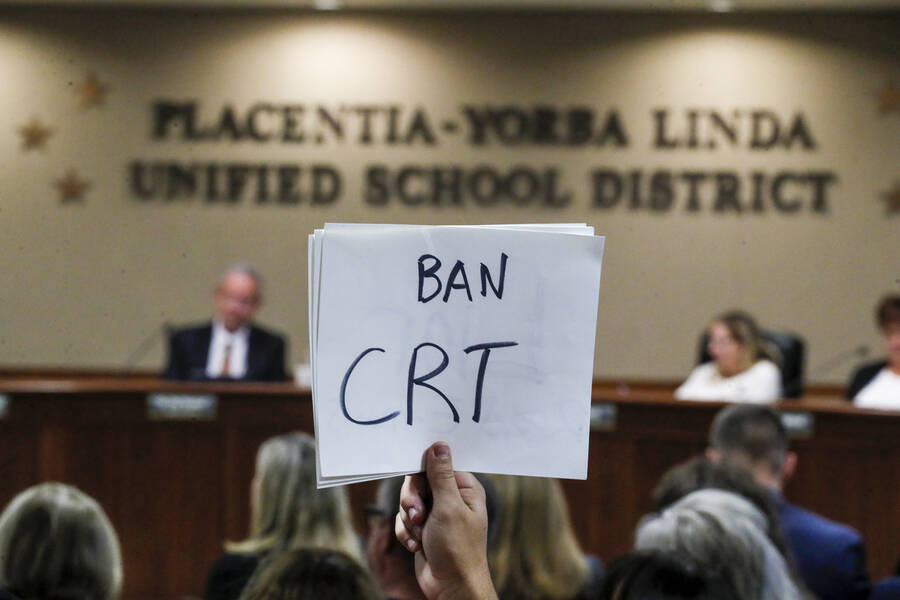 Right-wing censors, interested in hindering honest conversations in schools, are using critical race theory as a scapegoat. Books by marginalized people discussing race, ethnicity and gender are being banned or challenged by local school boards at an alarming rate — including Art Spiegelman's Maus and Toni Morrison's Beloved, Pulitzer Prize-winning books that reckon with the Holocaust and U.S. slavery, respectively.
Long before critical race theory attracted popular attention, In These Times reviewed the anthology Black on White, in which James North concludes, ​"The study of whiteness should continue to help us interpret America, past and present."
In 1998, James North wrote:
Labor historian David Roediger is one of the most exciting thinkers of our time. He is one of the leaders in ​

"

whiteness" studies, an approach that over the past decade has prompted a major reinterpretation of American history. …

Black on White, a compilation that draws on

40

Black writers from Frederick Douglass to Toni Morrison … ranges across more than

150

years of American history. It is Roediger's tribute to what he calls ​

"

the long, rich, varied and unsurpassed tradition of Black thought about white people and whiteness."

… Throughout American history, whites have endlessly analyzed Blacks. Presumptuously, condescendingly, ignorantly and with sometimes blatantly racist motivations. …

All along, Black Americans have been observing and writing about white people, with far more perception. … So why isn't the civil rights leader and sociologist W.E.B. Du Bois a central part of the high school curriculum? Why is the writer James Baldwin fading from view, just

10

years after his death? Why aren't Toni Morrison's thoughts on race on Newsweek​

'

s cover? …

This anthology proves that Black writers have long understood the ambivalence and volatile concept of whiteness. … Even as the contributors to Black on White condemn whiteness, they understand how it damages the people who are imprisoned by it. Du Bois, in a stunning chapter from his

1920

book, Darkwater, makes a convincing case that white supremacy contributed to the horror of World War I. He argues that Europe and America, after first arrogantly seizing vast stretches of Africa and Asia, turned the same machine guns on each other. …

The contemporary contributors to Black on White prove that the idea of whiteness is just as useful today. Nelson George's essay on Elvis and bell hooks' piece on Madonna prove that these cultural icons are incomprehensible without looking into the complexities of white racial identity. Noting that Madonna wanted to be Black as a child, hooks warns us not to romanticize ​

"

Blackness." ​

"

It is a sign of white privilege," she writes, ​

"

to be able to ​

'

see' Blackness and Black culture from a standpoint where only the rich culture of opposition Black people have created in resistance marks and defines us. … White folks who do not see Black pain never really understand the complexity of Black pleasure."

… The study of whiteness should continue to help us interpret America, past and present. … The work of Roediger and his colleagues show[s] that race is too central to be easily disregarded. As Ralph Ellison once asked, ​

"

What, by the way, is one to make of a white youngster who, with a transistor radio screaming a Stevie Wonder tune glued to his ear, shouts racial epithets at Black youngsters trying to swim at a public beach?" That contradiction is painful, but Stevie offers us some leverage. Any genuine movement for change must confront that kid, politely but firmly.