Racism, the U. S. Justice System, and the Trayvon Martin Verdict
What happens when African Americans don't get a jury of their peers?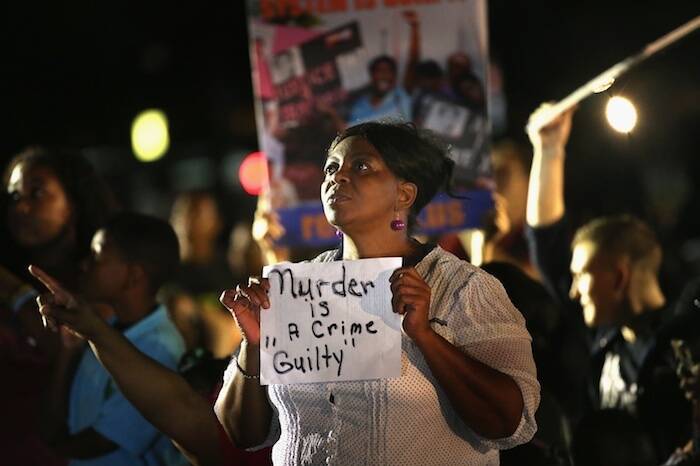 While the unques­tion­ably unfair ver­dict in the Trayvon Mar­tin case, ren­dered in Flori­da by five whites and one Lati­na, should be deeply trou­bling to per­sons of all races who care about racial jus­tice, U. S. his­to­ry, as well as the cur­rent racial real­i­ty in this coun­try, teach­es that it should not come as a surprise.
The jury, simply put, decided that a white police wannabe could justifiably profile an unarmed African-American 17-year-old as a criminal, hunt him down, and fatally shoot him.
The jury, sim­ply put, decid­ed that a white police wannabe could jus­ti­fi­ably pro­file an unarmed African-Amer­i­can 17-year-old as a crim­i­nal, hunt him down, and fatal­ly shoot him.
Mar­tin fam­i­ly attor­ney Ben­jamin Crump likened the case to that of Emmett Till, the 14-year-old Chica­go boy who was kid­napped and bru­tal­ly mur­dered in Mis­sis­sip­pi in 1955. Oth­ers have posit­ed the ques­tion: What would the result have been if the accused was African-Amer­i­can and the vic­tim was white? The Scotts­boro case—nine black boys wrong­ful­ly accused of rap­ing a white woman in Alaba­ma in the 1930s — comes to mind. In both cas­es all-white juries deliv­ered clear­ly racist ver­dicts, acquit­ting Till's mur­der­ers and con­vict­ing the Scotts­boro Boys.
To be sure, those cas­es arose in the Deep South dur­ing the vio­lent­ly racist Jim Crow era more half a cen­tu­ry ago. But the ver­dict in the Mar­tin case once again expos­es that the jus­tice sys­tem in this coun­try is still fun­da­men­tal­ly racist. Black pres­i­dent or not, juries will con­tin­ue to set white per­pe­tra­tors free while wrong­ful­ly con­vict­ing African Amer­i­cans so long as a ​"jury of your peers" means an exclu­sive­ly or pre­dom­i­nate­ly white jury.
Here in Chica­go, in 1969, Black Pan­ther Par­ty lead­ers Fred Hamp­ton and Mark Clark were slain in a hail of gun­fire. It was lat­er con­clu­sive­ly shown that the pre­dom­i­nant­ly white raid­ing police fired more than 90 bul­lets, while the Pan­thers fired just one. Yet no mur­der charges were ever brought, the raiders were acquit­ted by a Demo­c­ra­t­ic-machine judge, and a civ­il jury, com­prised of five whites and one black, hung, with the black juror, along with one white, hold­ing out for the Pan­ther victims.
In Greens­boro, North Car­oli­na in 1979, a car­a­van of Klans­men and Nazis drove into town and mas­sa­cred five anti-Klan demon­stra­tors, wound­ing at least 10 more. Much of the cold-blood­ed attack on this mil­i­tant mul­ti-racial group was cap­tured on video tape, yet all-white juries twice acquit­ted the white suprema­cist per­pe­tra­tors — first of mur­der, then, in a sub­se­quent fed­er­al tri­al, of crim­i­nal civ­il rights vio­la­tions. A six-per­son civ­il jury lat­er brought back a com­pro­mise ver­dict against some of the defen­dants, dri­ven by the only black juror over the resis­tance of the four south­ern white jurors.
In Chica­go in 1982, Andrew Wil­son, an African Amer­i­can who was charged with mur­der­ing two white Chica­go police offi­cers, was bru­tal­ly tor­tured with elec­tric shock and burn­ing by Chica­go police Lieu­tenant Jon Burge and sev­er­al of his ​"ass­kick­ers." Then Cook Coun­ty State's Attor­ney Richard M. Daley refused to pros­e­cute Burge, so Wil­son pur­sued a civ­il suit. Although Wil­son stood con­vict­ed of the mur­ders when his civ­il case went to tri­al in 1989, a racial­ly mixed six-per­son jury hung, three to three along racial lines. On retri­al, an all-white jury found Burge and his asso­ciates not liable for the tor­ture they committed.
In Los Ange­les in 1991, Rod­ney King, an African Amer­i­can motorist, was bru­tal­ly beat­en by sev­er­al white cops, with the beat­ing cap­tured on video­tape. Nonethe­less, a state court jury that had no black rep­re­sen­ta­tion acquit­ted the offi­cers of state crim­i­nal charges. The acquit­tal so out­raged the African-Amer­i­can com­mu­ni­ty that riots ensued. Sub­se­quent­ly a racial­ly mixed fed­er­al jury con­vict­ed two of the four charged offi­cers of crim­i­nal civ­il rights violations.
More recent­ly, aid­ed by DNA evi­dence and the rev­e­la­tion of ram­pant police and pros­e­cu­to­r­i­al mis­con­duct, hun­dreds of African-Amer­i­can men who were wrong­ful­ly con­vict­ed by pre­dom­i­nant­ly white juries have been freed. Just last month, in Chica­go, Daniel Tay­lor was exon­er­at­ed after two decades in prison. At 17, Tay­lor was con­vict­ed of mur­der on the basis of a coerced con­fes­sion, despite the fact that the jury was pre­sent­ed with uncon­tro­vert­ed evi­dence that Tay­lor was in police lock­up at the exact time of the mur­der. Only one African Amer­i­can sat on Taylor's 12-per­son jury. In stark con­trast, an all-white jury in Joli­et, Illi­nois last month acquit­ted a white police offi­cer whose wan­ton beat­ing of Shan­tique Jack­son, an African-Amer­i­can woman, was record­ed on videotape.
The para­mount rea­son that few or no blacks served on these juries is that, his­tor­i­cal­ly and today, under­rep­re­sen­ta­tion of blacks is built into the selec­tion sys­tem from start to fin­ish. Until the 1960s and the pas­sage of the Vot­ing Rights Act, jury pools, which were drawn from vot­er lists, were vir­tu­al­ly all white in the Jim Crow South. And in many of the infa­mous ver­dicts since then, the demo­graph­ics of the juris­dic­tion made the pool of blacks small to begin with. In the Rod­ney King case, for instance, the venue in the state crim­i­nal case was moved from Los Ange­les to the vir­tu­al­ly all-white Simi Valley.
Addi­tion­al­ly, tri­al judges con­trol who is excused for cause, and often reflect both their own and the sys­tem's bias­es. Some­one with a crim­i­nal back­ground is vul­ner­a­ble to being excused for cause by the judge, par­tic­u­lar­ly in crim­i­nal cas­es, as is a per­son who has been a vic­tim of a crime, has a fam­i­ly mem­ber in prison, or has a bias against police or law enforce­ment. These con­di­tions dis­pro­por­tion­ate­ly affect black Amer­i­cans. Tri­al judges also con­trol the ques­tion­ing of prospec­tive jurors, and they all too often avoid or lim­it prob­ing ques­tion­ing that could expose a juror's racial bias in order to pro­tect jurors from embar­rass­ment. (Of course, judges can also have a pos­i­tive effect: In the Greens­boro civ­il case, a lib­er­al judge brought in from Vir­ginia was bound and deter­mined not to have a third all-white jury, so, after con­duct­ing exten­sive ques­tion­ing and excus­ing more than 200 white jurors because of their declared racial bias­es, he forced the lawyers for the City and the KKK to let a black per­son sit; it was that juror who was respon­si­ble for there not being a third not guilty verdict.)
Then there are the pre-emp­to­ry chal­lenges exer­cised by the lawyers. Although, since the U.S. Supreme Court's deci­sion in Bat­son, pros­e­cu­tors — and lawyers defend­ing police, white suprema­cists, and the like — can­not overt­ly use race as a rea­son to chal­lenge a juror, they still work very hard to exclude the few blacks who make it onto the venires in racial­ly polar­ized cas­es because they know that the more white the jury is, the bet­ter chance they have to win. It is also impor­tant to note that the blacks who do sit, par­tic­u­lar­ly if they are the only one, are under a tremen­dous amount of pres­sure to go along with the dom­i­nant white major­i­ty — a pres­sure that they have his­tor­i­cal­ly been sub­ject­ed to since birth — and it takes a par­tic­u­lar­ly strong indi­vid­ual, like the juror in Greens­boro, to resist that pres­sure and main­tain his or her beliefs.
The deci­sion by the pre­dom­i­nate­ly white Zim­mer­man jury, like all those that have come before it, demon­strates once again that jurors are swayed by their racial bias­es. This is par­tic­u­lar­ly true in cas­es where the evi­dence pits whites against blacks, where the stan­dard is ​"rea­son­able doubt" as in all crim­i­nal cas­es, and where racial stereo­types are per­mit­ted to go unchal­lenged by oper­a­tion of the legal fic­tion that race is not an legit­i­mate issue in the case and there­fore can­not be men­tioned. Sad­ly, until the jus­tice sys­tem and its juries reflect the actu­al diver­si­ty of this coun­try, and the pow­er­ful issue of race is open­ly and fair­ly dealt with in racial­ly charged cas­es, we can expect this racial­ly dri­ven dou­ble stan­dard of ​"jus­tice" to con­tin­ue unabat­ed with the pre­dictable result of more jar­ring­ly unfair ver­dicts like the one that was so quick­ly and cold­ly ren­dered in the Trayvon Mar­tin case.
Flint Tay­lor
is a found­ing part­ner of the People's Law Office in Chica­go. He is one of the lawyers for the fam­i­lies of slain Black Pan­ther lead­ers Fred Hamp­ton and Mark Clark, and togeth­er with his law part­ner Jef­frey Haas was tri­al coun­sel in the marathon
1976
civ­il tri­al. He has also rep­re­sent­ed many sur­vivors of Chica­go police tor­ture, was involved in the strug­gle for repa­ra­tions, and has done bat­tle with the Chica­go Police Depart­ment — and the Fra­ter­nal Order of Police — on numer­ous occa­sions over his
45
year career as a people's lawyer