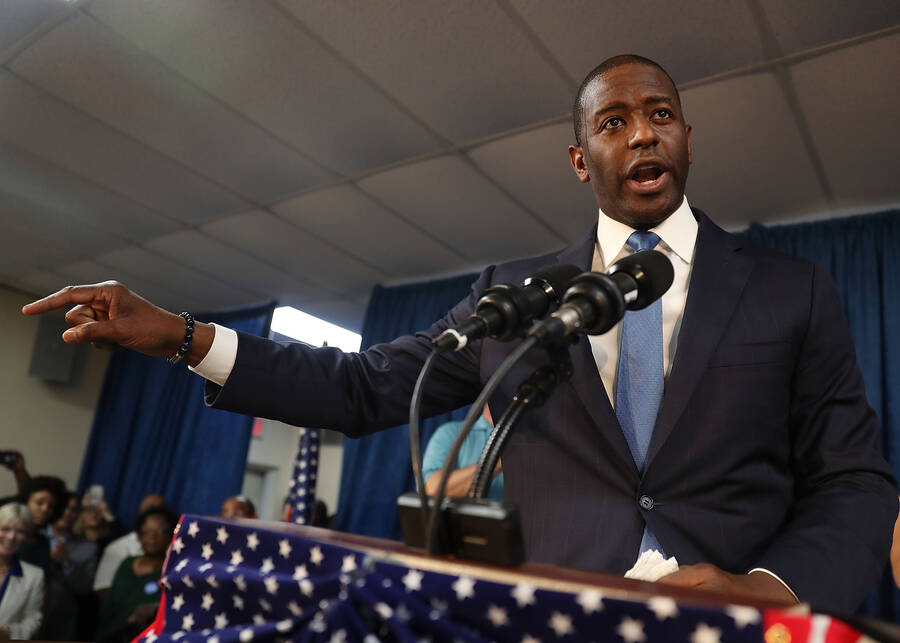 In the glow of his under­dog vic­to­ry in Florida's Demo­c­ra­t­ic guber­na­to­r­i­al pri­ma­ry last month, Andrew Gillum was pounced on by his Repub­li­can oppo­nent for threat­en­ing to upend the econ­o­my as we know it. In what's like­ly to become a bar­rage of sim­i­lar­ly themed attacks, GOP Rep. Ron DeSan­tis launched an oafish­ly racist warn­ing about Gillum, the pro­gres­sive Tal­la­has­see may­or who would be the state's first black gov­er­nor. ​"The last thing we need to do is to mon­key this up," DeSan­tis said in a charge that even made Fox News blink, ​"by try­ing to embrace a social­ist agen­da with huge tax increas­es and bank­rupt­ing the state…That's not going to be good for Florida."
While they have yet to call for the total overthrow of corporate power, each of these candidates has drawn from the political and intellectual firepower of those who have.
It remains to be seen whether the peo­ple of Flori­da agree. Nation­al polls have found over­whelm­ing major­i­ty sup­port for poli­cies like Medicare for All, (includ­ing a major­i­ty of Repub­li­cans), rais­ing the min­i­mum wage, and ratch­et­ing up cor­po­rate tax­es, all touch­stones of the pro­gres­sive left that Gillum vocal­ly cham­pi­oned dur­ing the pri­ma­ry in which he railed against an eco­nom­ic sys­tem that pro­duces ​"dev­as­tat­ing inequality."
With such a strong empha­sis on eco­nom­ic jus­tice, Gillum joins a grow­ing cho­rus of pro­gres­sive black can­di­dates who are chal­leng­ing estab­lish­ment-friend­ly Democ­rats up and down the bal­lot. Along with oth­er insur­gents like Georgia's Stacey Abrams and Mass­a­chu­setts' Ayan­na Press­ley, Gillum has offered vot­ers a vision of a more fear­less pol­i­tics that promis­es head-on con­fronta­tion with racial and eco­nom­ic injustice.
None of these can­di­dates have explic­it­ly called them­selves social­ists. And sim­ply ask­ing cor­po­rate titans to return some of their extrav­a­gant pub­licly-financed wel­fare hard­ly threat­ens the foun­da­tions of cap­i­tal­ism. But we also should­n't erase the fact that each is run­ning with the winds of pop­u­lar pro­gres­sive move­ments at their backs. And those move­ments have inher­it­ed the momen­tum of count­less rad­i­cal black orga­niz­ers who came before them, many of whom were indeed social­ists. So while they have yet to call for the total over­throw of cor­po­rate pow­er, each of these can­di­dates has drawn from the polit­i­cal and intel­lec­tu­al fire­pow­er of those who have.
Many active orga­ni­za­tions, like the Move­ment for Black Lives, Black Youth Project 100, and Florida's own Dream Defend­ers, are part of this larg­er move­ment. Each has released detailed pol­i­cy agen­das that argue free­dom for black peo­ple must include throw­ing off the shack­les of both racial and eco­nom­ic bondage.
Take the Dream Defend­ers, which was formed in the after­math of Trayvon Martin's hor­rif­ic mur­der and helped fuel Gillum's vic­to­ry. It's Free­dom Papers doc­u­ment states defi­ant­ly: ​"By virtue of being born, each of us has the absolute right to ade­quate food, shel­ter, cloth­ing, water, health­care, effec­tive pub­lic trans­porta­tion, dig­ni­fied work, liv­ing wages, and the right to form unions to pro­tect them­selves in the work­place." The Papers share a lin­eage with an ear­li­er gen­er­a­tion of black activism. In 1967, the Black Pan­thers released its Ten Point Pro­gram, a doc­u­ment of extra­or­di­nary eco­nom­ic pro­gres­sivism. In it, they called for poli­cies like full employ­ment, ​"an end to the rob­bery by the cap­i­tal­ists of our black and oppressed com­mu­ni­ties," qual­i­ty pub­lic hous­ing and pub­lic edu­ca­tion, and ​"com­plete­ly free health­care for all black and oppressed people."
These demands were cen­ter stage even in the more estab­lished cor­ners of the civ­il rights strug­gle. The 1966 Free­dom Bud­get, released a year before the Ten Point Pro­gram, put forth its own ambi­tious vision. Draft­ed by the black pro­gres­sives and social­ists who had orga­nized 1963's March on Wash­ing­ton for Jobs and Free­dom, the doc­u­ment sketched a prac­ti­cal plan for ​"wip­ing out pover­ty in Amer­i­ca." Among oth­er things, it called for a ​"nation­wide, uni­ver­sal sys­tem of health insur­ance" and a fed­er­al jobs guarantee.
The cast of trou­ble­mak­ers includ­ed Dr. Mar­tin Luther King who began his ​"pil­grim­age to Chris­t­ian social­ism," as his­to­ri­an Thomas F. Jack­son calls it, at an ear­ly age, writ­ing in 1958 of his boy­hood real­iza­tion that ​"the insep­a­ra­ble twin of racial injus­tice was eco­nom­ic injus­tice." Nev­er far behind, and often out in front, was King's always instru­men­tal co-con­spir­a­tor — the open­ly gay black social­ist and lead orga­niz­er of the 1963 march, Bayard Rustin. And last­ly, there was one of the great giants of labor his­to­ry, leader of the Broth­er­hood of Sleep­ing Car Porters and long­time Social­ist Par­ty mem­ber, A. Philip Ran­dolph.
Charg­ing that the poor were ​"not get­ting their just share of our nation­al wealth," the authors began by diag­nos­ing what ailed the coun­try and then laid out a pre­scrip­tion of rad­i­cal wealth redis­tri­b­u­tion. These demands and more were also echoed less promi­nent­ly, though no less fero­cious­ly, by black fem­i­nist activists like Fan­nie Lou Hamer and Ella Baker.
That lega­cy is being chan­neled by a new gen­er­a­tion of activists who face a sim­i­lar set of chal­lenges. More than fifty years lat­er, the Eco­nom­ic Pol­i­cy Insti­tute finds that on issues from wages to income to fam­i­ly wealth, the eco­nom­ic land­scape for black peo­ple remains bleak, and their chances for catch­ing up to their white coun­ter­parts are almost unimag­in­able. Jaw-drop­ping reports from the Insti­tute for Pol­i­cy Stud­ies have found that ​"medi­an Black house­hold wealth is on a path to hit zero by 2053," and that with­out an inter­ven­tion of some sort, it would take the aver­age black fam­i­ly 228 years to build the wealth of today's aver­age white family.
What black left­ists past and present have found is that Mil­ton Fried­man was dead seri­ous when he wrote that ​"the social respon­si­bil­i­ty of busi­ness is to increase its prof­its." From slav­ery to slav­ery by anoth­er name in the form of share­crop­ping and con­vict-leas­ing, to the offi­cial apartheid of the South and the cloaked apartheid of the North, to the mar­riage of prof­it and pun­ish­ment in the crim­i­nal jus­tice sys­tem, indus­try will squeeze prof­it from wher­ev­er it's eas­i­est to do so. In a coun­try where black peo­ple sit on the bot­tom of pret­ty much every­thing, cap­i­tal­ism oper­ates as a sys­tem of sav­age racism.
But what many black peo­ple across the coun­try have real­ized is that there's noth­ing nat­ur­al about these arrange­ments. Each is the prod­uct of human choic­es — and we can choose dif­fer­ent­ly. One way is to har­ness the already mas­sive pow­er of pub­lic insti­tu­tions to deep­en the promis­es of democ­ra­cy by free­ing peo­ple from eco­nom­ic misery.
This con­tin­ues to be a rad­i­cal propo­si­tion. The issue of health­care is a good place to pause and exam­ine where past and present strug­gles meet. It's easy to for­get, but before it was a lit­mus test for aspir­ing Demo­c­ra­t­ic pres­i­dents, Medicare for All was a demand ema­nat­ing from the streets, with black-led, hell­rais­ing orga­ni­za­tions often at the front.
As recent­ly as 2016, when the Move­ment for Black Lives released its pol­i­cy agen­da, includ­ing detailed plans for a nation­al health insur­ance sys­tem, they were at odds with promi­nent fig­ures in the Demo­c­ra­t­ic Par­ty. Just months before its release, Hillary Clin­ton had pro­nounced Medicare for All would ​"nev­er, ever come to pass." And to this day, a crew of estab­lish­ment par­ty oper­a­tives are dis­miss­ing the idea as the equiv­a­lent of can­di­dates light­ing their own cam­paigns on fire, facts to the con­trary be damned.
The same can be said of a $15 min­i­mum wage, paid sick leave, and free col­lege. These poli­cies may seem like uncon­tro­ver­sial no brain­ers if you restart the clocks of his­to­ry from 2018. But each took mas­sive pub­lic pres­sure to become ascen­dant in the Demo­c­ra­t­ic Party.
So while it's cer­tain­ly true that these sorts of poli­cies aren't con­sid­ered ​"rad­i­cal social­ism," as the Wash­ing­ton Post claims, this was not always so, and there was no guar­an­tee that their day in the sun would inevitably come to pass. The demand that the prof­it motive be torn from the country's sys­tem of health­care deliv­ery was rad­i­cal enough to keep it locked out of polite con­ver­sa­tion for decades. It's road — out of the polit­i­cal wilder­ness and into con­sid­er­a­tion in the halls of pow­er — was paved, as polit­i­cal sci­ence pro­fes­sor Corey Robin describes, by ​"move­ments of lib­er­a­tion that seek to undo hierarchy."
The activists that pop­u­late these move­ments under­stand this bet­ter than any­one. As BYP100's Found­ing Nation­al Direc­tor Char­lene Car­ruthers recent­ly said on Democ­ra­cy Now!, today's move­ment builders are less inter­est­ed in the promis­es of charis­mat­ic lead­ers than they are in build­ing an agen­da that they can hold offi­cials account­able to. ​"What we do in BYP100, what we do in mul­ti­ple orga­ni­za­tions across the Move­ment for Black Lives, is we focus on issues, not can­di­dates. And if the can­di­date is not about the busi­ness of the plat­form that we need to move for our peo­ple, then we're not going to sup­port that candidate."
This his­to­ry makes unsur­pris­ing the fact that DeSan­tis locked in on crit­i­ciz­ing Gillum as a social­ist bogey­man. How­ev­er clown­ish­ly racist his deliv­ery, he was mere­ly echo­ing one of the old­est attacks aimed at even the mildest expres­sion of rad­i­cal black opin­ion: That to enter­tain their demands was no dif­fer­ent from weigh­ing the demise of the repub­lic itself.
These move­ments, to be fair to their crit­ics past and present, would have cer­tain­ly wel­comed the anni­hi­la­tion of cer­tain aspects of Amer­i­can life, name­ly its rigid hier­ar­chies of race and class. The rea­son is plain: Many black thinkers, activists, and every­day labor­ers across his­to­ry have under­stood that free­dom is incom­plete with­out a full-frontal assault on the alliance of pri­vate and state pow­er that stran­gles the oppor­tu­ni­ty to lead a decent life.
DeSan­tis' fear, then, is at least par­tial­ly well-ground­ed. Not because Gillum, for how­ev­er long he holds the nation­al polit­i­cal spot­light, is the inher­i­tor of this lega­cy, but because the move­ments that pro­pelled him are.
ELI DAY was an inves­tiga­tive fel­low with In These Times' Leonard C. Good­man Insti­tute for Inves­tiga­tive Report­ing. He's also a Detroi­ter, where he writes about pol­i­tics, pol­i­cy, racial and eco­nom­ic jus­tice. His work has appeared in Vox, Cur­rent Affairs, Moth­er Jones, and the New Repub­lic, among others.