Since the begin­ning of the Indus­tri­al Rev­o­lu­tion, mate­r­i­al progress and envi­ron­men­tal destruc­tion have gone hand in hand. To begin to under­stand the extent of the dam­age, dri­ve to the end of a road in the moun­tains and walk until you come to a high point from which to look over the land. Then imag­ine the road reced­ing, tak­ing with it the bill­boards and cities it pass­es, eras­ing strip mines and strip malls, extin­guish­ing street­lights and frack­ing flares, until it and all oth­ers van­ish back into the dis­tant ocean and the stars shine again bright and clear over wild (not to say unin­hab­it­ed) coun­try — as if his­to­ry itself were rapid­ly rewound to a time before col­o­niza­tion. Look out again from your wilder­ness perch and, in the gap between the world in your mind and the world that is, catch a glimpse of how much has been lost.
Most of us live some­where in those lost lands, those con­quered and dam­aged places between the remain­ing scraps of wilder­ness. Trebbe John­son has made it her work to help peo­ple come to terms with this life on a dam­aged plan­et. As she puts it: ​"How do we live with these places and find their beau­ty with­out going nuts?"
For more than 20 years, she says, she searched for an answer. In 2008 she found­ed Rad­i­cal Joy for Hard Times, a non­prof­it orga­ni­za­tion ded­i­cat­ed to con­nect­ing peo­ple with ​"wound­ed places" around the world. Every year, Rad­i­cal Joy mem­bers gath­er for what are called Glob­al Earth Exchanges. The group's web­site describes the Exchanges this way: ​"expe­ri­en­tial gath­er­ings in which we vis­it wound­ed places, get to know them as they are now, share our sto­ries of what they mean to us, and make a sim­ple, spon­ta­neous work of art there."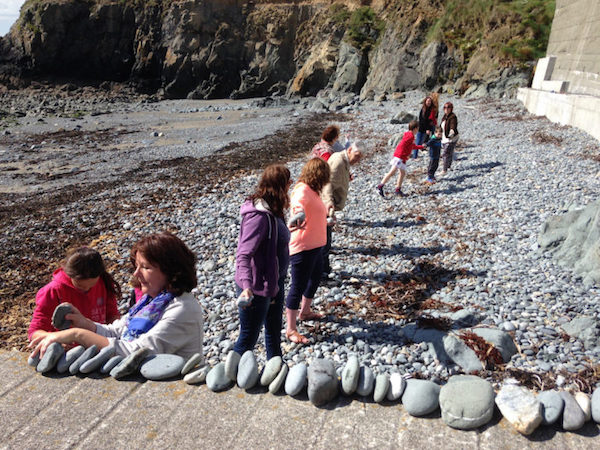 Rad­i­cal Joy mem­bers par­tic­i­pate in a Glob­al Earth Exchange on a river­bank. (Pho­to: Rad­i­cal Joy for Hard Times)
Last year, Exchanges took place in about half of U.S. states and more than 20 coun­tries world­wide, says John­son. They have been held by peo­ple in Kab­ul, Afghanistan, by indige­nous Ama­zon­ian com­mu­ni­ties rav­aged by gold min­ing, by West Vir­gini­ans affect­ed by moun­tain­top-removal coal min­ing. This year, Exchanges are sched­uled for June 17.
"Some­times peo­ple say ​'I'd love to par­tic­i­pate, but I don't have any wound­ed places,' " says John­son, who lives in an area of nat­ur­al gas frack­ing in east­ern Penn­syl­va­nia. ​"Well, we all do. And if you don't think you have a wound­ed place near you, just think of the cli­mate. You know, we're liv­ing in a world that is increas­ing­ly under assault — par­tic­u­lar­ly under the new administration."
"

The pow­er of fac­ing unpleas­ant facts"

The orga­ni­za­tion fol­lows a sim­ple prac­tice that occurred to John­son years ago on a back­pack­ing trip in south­ern Utah: Face a beloved place that has been dam­aged, accept it as it is now, and make a sim­ple gift to the place in appre­ci­a­tion for what it has giv­en you. The ​"gifts" are imper­ma­nent works of art cre­at­ed using mate­ri­als found onsite — sticks, rocks, sand, even garbage.

For exam­ple, take a riv­er that has been pol­lut­ed. ​"When you go and face this dark­ness and not try to avoid it," she says, ​"it opens you up … and you come to this lev­el of accep­tance … and this amaz­ing joy bursts through." As John­son sees it, this joy stems in part from the real­iza­tion of nature's tremen­dous pow­er to endure on a timescale that dwarfs that of human expe­ri­ence: ​"You see the riv­er keep­ing on flow­ing," says Johnson.

In his poem ​"Carmel Point," the ear­ly 20th cen­tu­ry writer and self-described ​"inhu­man­ist" Robin­son Jef­fers mar­vels at this phe­nom­e­non: ​"The extra­or­di­nary patience of things!" He con­tin­ues: ​"Now the spoil­er has come: does [the place] care?/Not faint­ly. It has all time. It knows the peo­ple are a tide/​That swells and in time will ebb, and all/​Their works dissolve."

The idea of giv­ing gifts of grat­i­tude to places was inspired in part by Nava­jo fam­i­lies John­son spent time with in the 1980s and 1990s. In a 2015 essay pub­lished in Ori­on Mag­a­zine— ​"Uncom­mon Grat­i­tude" — she writes:
"The Nava­jo fam­i­lies I vis­it­ed would make a sim­ple prayer to the plants they wished to har­vest, the sheep they were about to butch­er, explain­ing that they intend­ed to take from them. They assured those liv­ing beings that what they were doing was nec­es­sary for the good of the human inhab­i­tants of the place, and expressed their hope that the plant or sheep peo­ple might con­tin­ue to flour­ish as well. Only then would they har­vest the plant, draw the knife across the throat of the sheep. The reci­procity in this sim­ple cer­e­mo­ny was implicit."
John­son hopes the Earth Exchanges can inspire in par­tic­i­pants this sense of reci­procity and immutable con­nec­tion to the nat­ur­al world.
In addi­tion to Native tra­di­tions and to the Bud­dhist con­cept of ​"accep­tance," the Rad­i­cal Joy prac­tice seems also to require what George Orwell called the ​"pow­er of fac­ing unpleas­ant facts." The orga­ni­za­tion is ded­i­cat­ed not to fer­ry­ing peo­ple quick­ly past dam­aged places en route to cel­e­brate or defend the yet unspoiled nat­ur­al splen­dors, but to bring­ing peo­ple face to face with what the spoil­er leaves in its path — a prac­tice that has the pow­er to drag eco­log­i­cal destruc­tion out of abstraction.
John­son also hopes the prac­tice will res­cue dam­aged places from obliv­ion. ​"Places that are dam­aged tend to be over­looked by peo­ple," she explains. ​"They sort of die in people's minds." And with these deaths, the men­tal map of places that are ​"nat­ur­al" or ​"wild" shrinks small­er and small­er. The Rad­i­cal Joy web­site puts it this way: ​"Cre­at­ing a sus­tain­able, thriv­ing future on Earth, depends upon open­ing our hearts to the nat­ur­al world in its bro­ken­ness as well as its splendor."
Such sen­tences would be at home in William Cronon's 1995 essay ​"The Trou­ble with Wilder­ness," an influ­en­tial cri­tique of the envi­ron­men­tal move­ment. Cronon calls for an end to the destruc­tive dual­i­ty of ​"Nature" and ​"Human­i­ty" that he argues is often con­tained in the con­cept of ​"Wilder­ness." He writes:
Wilder­ness gets us into trou­ble only if we imag­ine that this expe­ri­ence of won­der and oth­er­ness is lim­it­ed to the remote cor­ners of the plan­et, or that it some­how depends on pris­tine land­scapes we our­selves do not inhab­it. Noth­ing could be more mis­lead­ing. The tree in the gar­den is in real­i­ty no less oth­er, no less wor­thy of our won­der and respect, than the tree in an ancient for­est that has nev­er known an ax or a saw.
Cronon urges peo­ple to under­stand their rec­i­p­ro­cal rela­tion­ship with the nat­ur­al world — a rela­tion­ship that he, like John­son, hopes will lead to a prac­tice of ​"deep reflec­tion and respect" and ​"remem­brance and grat­i­tude" to ​"accom­pa­ny each act of use."
A start­ing point
To John­son, Rad­i­cal Joy is a start­ing point from which fur­ther action may grow. She thinks the envi­ron­men­tal move­ment has ignored the vital ques­tion at the heart of her orga­ni­za­tion: ​"How am I going to live with what's here in the moment — as I work toward some­thing that's bet­ter in the future?"
The obvi­ous prob­lem, how­ev­er, is that mak­ing an offer­ing of grat­i­tude to a place with which you have a rec­i­p­ro­cal rela­tion­ship of giv­ing and tak­ing is a dif­fer­ent thing than mak­ing an offer­ing to a place destroyed by a cul­ture of lim­it­less extrac­tion and waste. Rad­i­cal Joy for Hard Times is con­cerned almost exclu­sive­ly with rec­on­cil­ing the present with the past and cel­e­brat­ing the beau­ty that endures — a wor­thy and dif­fi­cult under­tak­ing. But in itself a gift does noth­ing to stop the ongo­ing destruction.
Many of the ideas behind Rad­i­cal Joy's prac­tice are ancient, but an orga­ni­za­tion ded­i­cat­ed to help­ing peo­ple find accep­tance for and beau­ty in a dam­aged world — a world in which undam­aged places are shrink­ing toward dis­ap­pear­ance — is dis­tinct­ly mod­ern. The orga­ni­za­tion acts as a sort of mass sup­port group for those of us liv­ing in the length­en­ing shad­ow of envi­ron­men­tal cat­a­stro­phe, whose so-called lead­ers seem not only unable to avert the cri­sis but unwill­ing to acknowl­edge it.
But learn­ing to live on a dam­aged earth need not be divorced from actions to pre­vent fur­ther dam­age. The Lako­ta tribes and oth­er natives fight­ing the Dako­ta Access Pipeline at Stand­ing Rock, for exam­ple, have taught us that accept­ing and lov­ing a dam­aged place can and should include fight­ing to pro­tect it. Since they signed the Fort Laramie Treaty of 1868, which cre­at­ed the Great Sioux Reser­va­tion, the Lako­ta have seen their treaty lands repeat­ed­ly stolen and des­e­crat­ed for resource extrac­tion: gold min­ing in the sacred Black Hills, ura­ni­um min­ing in the Cave Hills of present-day South Dako­ta, coal min­ing in the once great buf­fa­lo hunt­ing grounds of the Pow­der Riv­er coun­try of present-day Montana.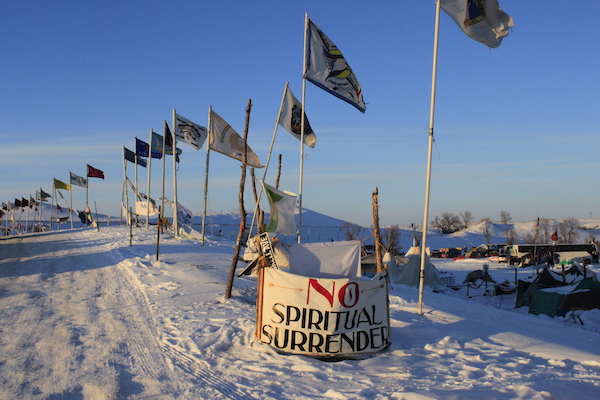 Signs and flags from the Native tribes who pledged their sup­port for water pro­tec­tors at Stand­ing Rock line the entrance to the main Oceti Sakowin camp in Decem­ber. (Pho­to: Joseph Bullington)
The pipeline resis­tance camps them­selves were built on the banks of the Can­non­ball Riv­er — so named for the large, round rocks that were turned up by the rough water where that riv­er con­verged with the Mis­souri. In the 1960s, how­ev­er, the Army Corps of Engi­neers built the Oahe Dam, which flood­ed much of the best land and most of the tim­ber on the Stand­ing Rock Reser­va­tion. Now, the riv­er flows qui­et­ly into the man-made reser­voir and the stones are gone.
When I was at the main anti-pipeline camp in Novem­ber and ear­ly Decem­ber, Native elders held a water cer­e­mo­ny before dawn every morn­ing in which dozens of peo­ple offered prayers and gifts of tobac­co to the riv­er. These prayers were not sep­a­rate from what­ev­er else might hap­pen that day — they were the foun­da­tion for it. For many peo­ple at Stand­ing Rock, prayer and grat­i­tude to the land were the source of the spir­i­tu­al strength and courage nec­es­sary to take direct actions that slowed pipeline con­struc­tion and to stand their ground in the face of police violence.
Not quite sat­is­fied with Rad­i­cal Joy's dis­tinc­tion between giv­ing gifts to dam­aged places and act­ing to pre­vent fur­ther dam­age, I emailed John­son with one last ques­tion: Couldn't the act of defend­ing a place con­tain a gift of grat­i­tude? Hypo­thet­i­cal­ly, if a per­son were to find a place he or she loved being lev­eled and the trees uproot­ed to build a strip mall or a drill pad for an oil well, would­n't it be a beau­ti­ful gift to that place if he or she made a sculp­ture of a tree there — say, from the engine parts of a near­by bulldozer?
"Beau­ty from bull­doz­er parts?" John­son wrote back. ​"That's a great idea."
Trebbe John­son, founder of Rad­i­cal Joy for Hard Times. (Pho­to: rad​i​caljoy​forhard​times​.org)
[If you like what you've read, help us spread the word. ​

"

Like" Rur­al Amer­i­ca In These Times on Face­book. Click on the ​

"

Like Page" but­ton below the bear on the upper right of your screen. Also, fol­low RAITT on Twit­ter @RuralAmericaITT]