I Can't Stop Watching This Guy Disdainfully Refuse To Shake Rahm Emanuel's Hand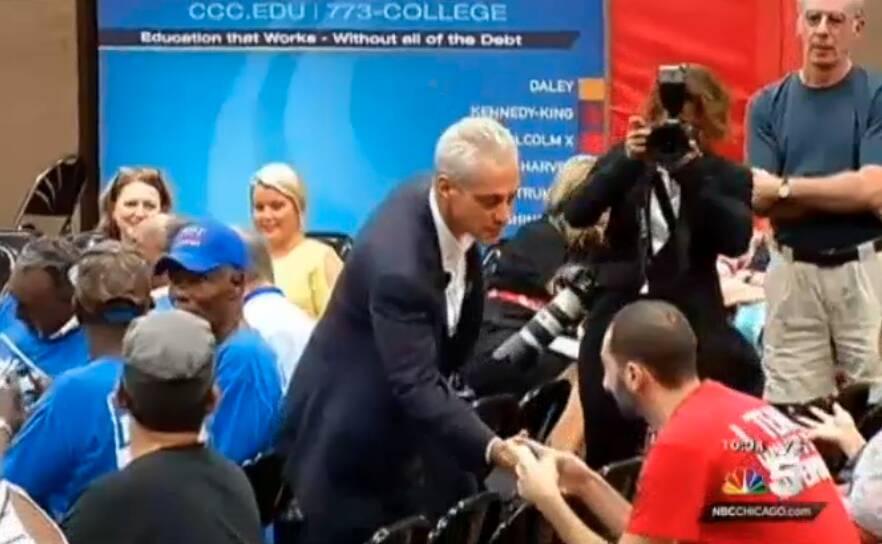 Last night, Chicago Mayor Rahm Emanuel attended a public hearing on the city's 2016 budget, the first such meeting he has held since 2011. For a mayor who is known for holding few public events or meetings with ordinary Chicagoans, this was a unique opportunity for residents to be heard in person by Emanuel. And the opportunity was seized by a dedicated group of parents currently out on hunger strike, demanding the reopening of Dyett High School in the city's Bronzeville neighborhood on the South Side.
The activists, many of whom included members of the Chicago Teachers Union (CTU) and the Kenwood-Oakland Oakland Community Organization (KOCO), are demanding that Chicago Public Schools reopen Dyett as a district-run school rather than a ​"contract school" like a charter and accept the hunger strikers' proposal to reopen the school with a focus on green technology, as Yana Kunichoff explained for In These Times last week. They are now on day 16 of their hunger strike, and two participants have been hospitalized as a result of not eating.
One protester at the forum, Isaac Krantz-Perlman, a special education classroom assistant at Hanson Park Elementary, can be seen in a particularly memorable video refusing to shake the mayor's hand.
(GIF by Simon Swartzman / Imgur)
Krantz-Perlman was sitting in the audience for the hearing. He can be seen casually hunched over with both hands on his phone — ​"posting photos on Facebook," he says in an interview — when the mayor approached him and reached out to shake his hand.
Krantz-Perlman's head moves slightly to look at Emanuel, but the rest of his body stays perfectly still. He shakes his head and says, as he remembers it, ​"I don't want to shake your hand" before returning to his phone, turning down a handshake with the mayor of the third largest city in America with the kind of casual disdain I usually reserve for fundamentalist preachers hawking religious tracts on the street.
Krantz-Perlman, who is a member of the Caucus of Rank-and-File Educators, the left-wing caucus currently in the union's leadership, says he was at the hearing because he sees a ​"connection between Dyett, the defunding of public education in communities of color, and the broader project to displace these communities" through gentrification, as he says has happened in Bronzeville. The hunger strike is part of a larger effort ​"of community resistance to these policies" that he supports, he says.
KOCO, a close community ally of the CTU, has long organized around education justice in the neighborhood. The group played a key role in fighting the 49 school closures in 2013 as well as similar school closures and ​"restructurings" over the past decade in Chicago. Krantz-Perlman says the group's hunger strike inspires him. ​"Hearing them talk and strategize makes you know they're going to win."
Though Emanuel spoke derisively of the protesters during the meeting — at one point, he says, ​"It's okay. I have three teenagers at home — I'm really okay with this," implying the activists were childish — he did agree to meet with them after the hearing. According to the Chicago Tribune, both the mayor's office and the activists indicated that he made no formal commitments during the meeting.
The refused handshake was not the first time Mayor Emanuel has been snubbed or derided publicly by Chicago's electorate. A photo of Emanuel grinning widely while standing alongside a South Side man, ​"GQ," who remains stone-faced went viral after the man posted the photo on Instagram and wrote ​"The Mayor of Chicago Rahm Emanuel came by my job, still can't stand this muthafucka tho." (He also accused the mayor of once leaving a 37-cent tip on a $7 bill at a cafe where he works.)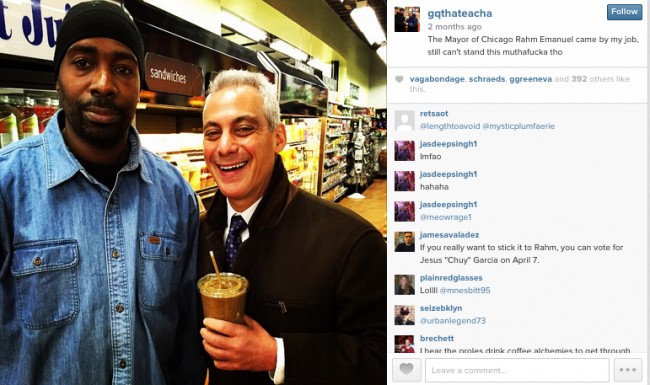 Another widely-circulated photo shows Emanuel extending a hand to a woman at a city train station; she appears to refuse to shake his hand.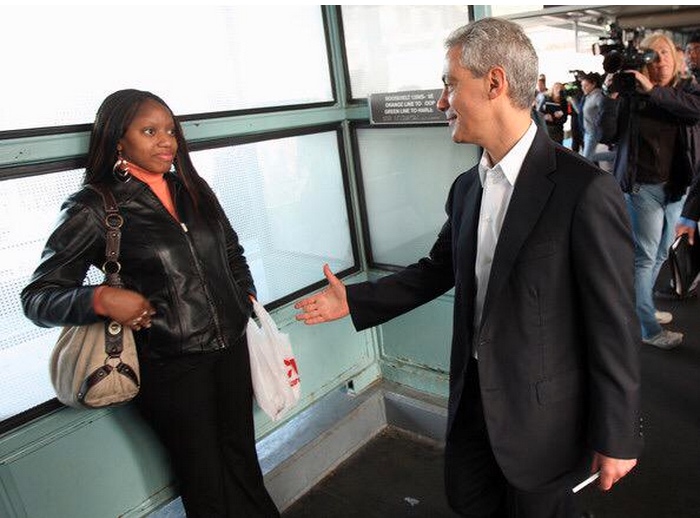 Photographer unknown / First seen by Nate Rasmussen on Twitter
Krantz-Perlman says he doesn't think Mayor Emanuel's feelings were hurt by his refused handshake.
"I think every time he walks around shaking the hands of the people whose lives he is intentionally trying to ruin, he is wondering how soon he can wash the working-class sweat and grease off his hands," he says. ​"He was probably happy he had one less person's hand to shake."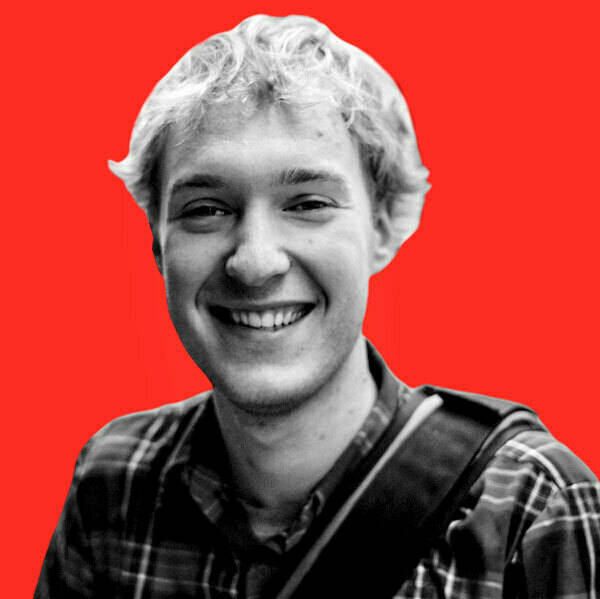 Micah Uetricht is an editor at Jacobin magazine. He is a con­tribut­ing edi­tor and former associate editor at In These Times, and the author of Strike for Amer­i­ca: Chica­go Teach­ers Against Aus­ter­i­ty and coauthor of Bigger Than Bernie: How We Go From the Sanders Campaign to Democratic Socialism, and is currently at work on a book on New Leftists who took jobs in industries like steel and auto to organize on the shop floor.