Rahm Emanuel Evades Questions Over Mob Ties in Non-Union Deal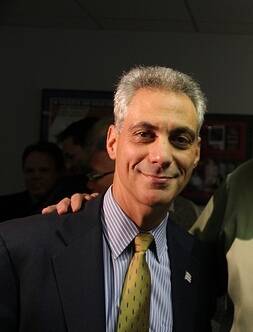 NBC Chicago reports that Mayor Rahm Emanuel evaded questions over alleged mob ties in a $
99
million custodial contract awarded for O'Hare International Airport.
&
nbsp;The contract went to the non-union employer
&
nbsp;United Maintenance, a subsidiary of
&
nbsp;United Services Co., which has connections to several prominent Chicago mob families.
&
nbsp;United Services' executive vice president, Paul Fosco, was convicted and imprisoned in
1987
for a ​
"
racketeering…scheme to swindle the Laborers Union through manipulations of lucrative benefit plans,"
&
nbsp;the
&
nbsp;Chicago Tribune
&
nbsp;reports. Fosco's father, Angelo Fosco, and the infamous Anthony ​
"
Big Tuna" Accardo were also tried for their involvement, although both were ultimately acquitted.
&
nbsp;United Services' owner, Richard Simon,
&
nbsp;previously ran National Maintenance Facilities with partner William Daddano, Jr., whose father was a notorious enforcer and loan shark for the Chicago mob.
In a press conference last
&
nbsp;Tuesday, Emanuel insisted that the contract was awarded via a ​
"
competitive process," but skirted the issue of mob connections.Unions were already outraged over the deal; the new contractor, United Maintenance will replace the unionized employees of its predecessor, Scrub, Inc., with low-wage employees.
&
nbsp;"This is about the mayor taking care of his millionaire friends," SEIU Local
1
secretary-treasurer Laura Rueda
&
nbsp;told NBC Chicago,
&
nbsp;"and this is about the mayor taking away middle-class jobs."On November
29
, the mayor's birthday, dozens of angry janitorial employees gathered outside his house in protest, lighting candles and singing Happy Birthday in English, Spanish and Polish.
&
nbsp;SEIU Local
1
, which has spearheaded a campaign on behalf of O
&
rsquo;Hare's custodial workers, will be sponsoring a City Hall demonstration at
3
:
30
pm on December
11
&
nbsp;to
&
nbsp;protest ​
"
Rahm Emanuel
&
rsquo;s War on Wages."
&
nbsp;
Anthony Mangini
is an editorial intern at
In These Times
. He holds a master's degree from the University of Minnesota and a bachelor's degree from New York University. He currently resides in Chicago.