Rahm Emanuel Evades Questions Over Mob Ties in Non-Union Deal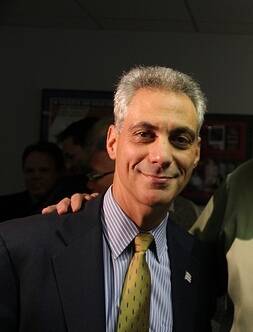 NBC Chicago reports that Mayor Rahm Emanuel evaded questions over alleged mob ties in a $
99
million custodial contract awarded for O'Hare International Airport.
&
nbsp;The contract went to the non-union employer
&
nbsp;United Maintenance, a subsidiary of
&
nbsp;United Services Co., which has connections to several prominent Chicago mob families.
&
nbsp; United Services' executive vice president, Paul Fosco, was convicted and imprisoned in
1987
for a ​
"
racketeering…scheme to swindle the Laborers Union through manipulations of lucrative benefit plans,"
&
nbsp;the
&
nbsp;Chicago Tribune
&
nbsp;reports. Fosco's father, Angelo Fosco, and the infamous Anthony ​
"
Big Tuna" Accardo were also tried for their involvement, although both were ultimately acquitted.
&
nbsp;United Services' owner, Richard Simon,
&
nbsp;previously ran National Maintenance Facilities with partner William Daddano, Jr., whose father was a notorious enforcer and loan shark for the Chicago mob.
In a press conference last
&
nbsp;Tuesday, Emanuel insisted that the contract was awarded via a ​
"
competitive process," but skirted the issue of mob connections. Unions were already outraged over the deal; the new contractor, United Maintenance will replace the unionized employees of its predecessor, Scrub, Inc., with low-wage employees.
&
nbsp;"This is about the mayor taking care of his millionaire friends," SEIU Local
1
secretary-treasurer Laura Rueda
&
nbsp;told NBC Chicago,
&
nbsp;"and this is about the mayor taking away middle-class jobs." On November
29
, the mayor's birthday, dozens of angry janitorial employees gathered outside his house in protest, lighting candles and singing Happy Birthday in English, Spanish and Polish.
&
nbsp;SEIU Local
1
, which has spearheaded a campaign on behalf of O
&
rsquo;Hare's custodial workers, will be sponsoring a City Hall demonstration at
3
:
30
pm on December
11
&
nbsp;to
&
nbsp;protest ​
"
Rahm Emanuel
&
rsquo;s War on Wages."
&
nbsp;
Be one of the first
Help kick off the new era of In These Times! Without a media that brings people together and creates a written record of the struggles of workers, their voices will be fragmented and forgotten.
The mission of In These Times is to be that written record, and to guide and grow those movements.
We have a lot of work ahead of us, and that work starts today. Early support is the most valuable support, and that's why we're asking you to pitch in now. If you are excited for this new era of In These Times, please make a donation today.
Anthony Mangini
is an editorial intern at
In These Times
. He holds a master's degree from the University of Minnesota and a bachelor's degree from New York University. He currently resides in Chicago.