Mariame Kaba: Social Movements Brought Down Rahm—Now They Can Transform Chicago
A conversation with writer and organizer, Mariame Kaba.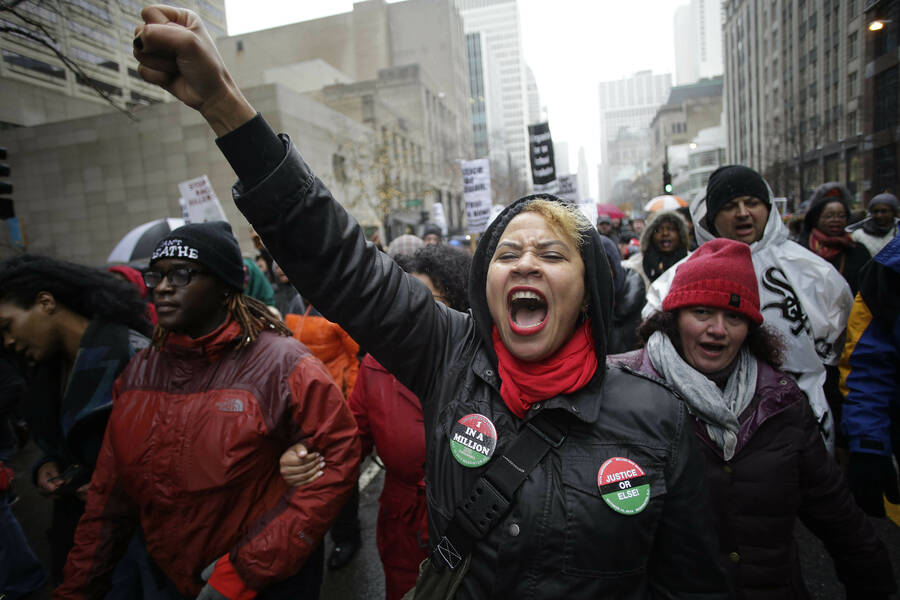 Rahm Emanuel's Sep­tem­ber 4 announce­ment that he will not seek a third term as Chicago's may­or inspired instant cel­e­bra­tion from the activists who have spent near­ly eight years fight­ing — and try­ing to sur­vive — his bru­tal poli­cies. Emanuel's res­ig­na­tion also pro­voked angry attempts to tal­ly the harm he has done, from orches­trat­ing the largest school clo­sure in U.S. his­to­ry to shut­ter­ing half the city's men­tal health clin­ics to over­see­ing a police depart­ment guilty of racist vio­lence and ​"unrea­son­able killings," as the Depart­ment of Jus­tice deter­mined in 2017. In a city run by Democ­rats, Emanuel turned Chica­go into a petri dish for neolib­er­al pro­grams — show­ing the rest of the coun­try you don't have to be a Repub­li­can to enforce ruth­less cap­i­tal­ist policies.
"We need to care for each other in real ways. We need to ensure that the commons are built up so that we can actually use the commons for addressing the needs of the most marginalized within our community, so that becomes a part of our culture."
Fol­low­ing Emanuel's announce­ment, orga­niz­er, edu­ca­tor and writer Mari­ame Kaba — who lived in Chica­go for many years — imme­di­ate­ly took to Twit­ter to declare, ​"I need our peo­ple TO ORGA­NIZE IMME­DI­ATE­LY." Kaba knows a thing or two about orga­niz­ing. She found­ed and directs Project Nia, which aims to end youth incar­cer­a­tion, and she has co-found­ed numer­ous orga­ni­za­tions and projects over the years, from We Charge Geno­cide to Sur­vived and Pun­ished. Kaba has been instru­men­tal to the pop­u­lar­iza­tion of abo­li­tion­ist orga­niz­ing which pur­sues a world beyond police and pris­ons in which social well-being — not pun­ish­ment — is the goal. In Chica­go, she's seen as a men­tor and co-con­spir­a­tor to many of the orga­niz­ers who have been going head-to-head with Emanuel through­out his tenure. In These Times spoke with Kaba about Emanuel's lega­cy as may­or and what social move­ments can do next.
Accord­ing to Kaba, Emanuel's res­ig­na­tion was won, in part, by social move­ments — and now it is up to these move­ments to seize on the open­ing. Doing so requires a full account­ing of the destruc­tion wrought by Emanuel's poli­cies, she says, as well as a high­ly orga­nized base to put Chica­go on a new course to ​"ensure the com­mons are built up." Kaba empha­sizes, ​"Those who are on the side­lines now should come into the fight. They're need­ed and they're want­ed." The fol­low­ing inter­view has been edit­ed for length and clarity.
Sarah Lazare: I was hop­ing to start by get­ting your gut reac­tion to the news that Chica­go May­or Rahm Emanuel is not going to seek reelection.
Mari­ame Kaba: I was sur­prised, to be hon­est, that he's not going to go for a third term. He's been rais­ing all this mon­ey, and it appears that he's been mak­ing plans to go ahead and run, so it was def­i­nite­ly a sur­prise that he chose not to run. It wasn't shock­ing, but I was sur­prised. It is a dif­fi­cult job that he does very poor­ly. If he did go for a third term, he wouldn't go for a fourth. That would be almost unimag­in­able. And so this would be a third term where his pow­er would be sig­nif­i­cant­ly dimin­ished. He's already los­ing power.
Sarah: Do you think social move­ments deserve par­tial cred­it for Rahm not seek­ing anoth­er term?
Mari­ame: Yes. There's no ques­tion. I said at the begin­ning I'm sur­prised that he's not run­ning, but not shocked. He was under relent­less pres­sure from the moment he won. He was under pres­sure before he won because peo­ple knew what kind of Demo­c­rat he was — from the cor­po­rate wing of the Demo­c­ra­t­ic Par­ty. The protests have been relentless.
Rahm's wife Amy Rule said in an inter­view a few days ago that ​"it's no fun for [his fam­i­ly] hav­ing their front yard pick­et­ed." We're sup­posed to feel sor­ry for him because of that state­ment, when in fact what that shows is that peo­ple were relent­less in push­ing back against him all the time, which is exhaust­ing and it can feel so futile. It can feel like people's suf­fer­ing is increas­ing and you're hav­ing to fight like hell but see­ing only min­i­mal pos­i­tive results.
There's just no ques­tion that the push from so many sec­tors and so many peo­ple is, in part, why he's not going to run, why he's quit­ting. We also need to acknowl­edge the fact that it was not one group of peo­ple that was respon­si­ble for this. It wasn't just the Chica­go Teach­ers Union or the nurs­es or who­ev­er; it's not one group that pres­sured him. These sev­en years have actu­al­ly been a great demon­stra­tion of the amount of push­back that can hap­pen across mul­ti­ple sec­tors with lots and lots of dif­fer­ent groups fight­ing all the time. It's a great illus­tra­tion of move­ment work.
Sarah: What do you think the pub­lic should remem­ber about Emanuel's polit­i­cal lega­cy — and the lega­cy of the protests and orga­niz­ing against him?
Mari­ame: I think peo­ple should know a few things about him. The term ​"neolib­er­al poli­cies" gets thrown around quite a bit. But neolib­er­al­ism is just cap­i­tal­ism at its core. The poli­cies Rahm pushed and tried to imple­ment are so emblem­at­ic of what peo­ple mean when they talk about neolib­er­al pol­i­tics. He was 100 per­cent about using the state to remake com­mu­ni­ties in favor of those with resources over those with­out. At every oppor­tu­ni­ty, he favored pri­va­tiz­ing the commons.
He used the pow­ers that he had, includ­ing may­oral con­trol of the schools, to basi­cal­ly dec­i­mate the Chica­go Pub­lic Schools sys­tem, and to vast­ly increase the num­ber of char­ter schools. He over­saw the most mas­sive school clo­sure in the his­to­ry of the Unit­ed States, clos­ing 50 schools as of 2013. Those trau­mat­ic events gal­va­nized the Chica­go teach­ers' union to real­ly become, as they call it, a social jus­tice union. And there was the big teach­ers' strike in 2012. His poli­cies and the ways that he was oper­at­ing in his job real­ly gal­va­nized the teach­ers. I think he mis­cal­cu­lat­ed in think­ing the pub­lic would turn on the teach­ers. We didn't.
At the start of his first term, he imme­di­ate­ly began the pri­va­ti­za­tion of men­tal health care by clos­ing down half of the men­tal health clin­ics in the city of Chica­go. Com­mu­ni­ty push­back against this move was fierce. This was sup­posed to save the city mon­ey. The mon­ey it was sup­posed to save was neg­li­gi­ble, but the pain suf­fered by peo­ple who lost their pub­lic men­tal health clin­ic was incalculable.
Then there's the com­plete and utter mis­man­age­ment of pub­lic hous­ing and the Chica­go Hous­ing Author­i­ty, which peo­ple almost nev­er pay atten­tion to, but is incred­i­bly crit­i­cal, as afford­able hous­ing is crit­i­cal to any com­mu­ni­ty. There's the decrease of Black peo­ple liv­ing in Chica­go dur­ing his tenure, which pre­cedes him, and has become much more acute dur­ing his tenure. You could go through so many dif­fer­ent effects of his tenure that have led to the fur­ther immis­er­a­tion of the pop­u­la­tion, par­tic­u­lar­ly peo­ple of col­or, on the South and West Sides of the city.
Peo­ple will say that his tenure also launched the recent spike of gun vio­lence in the city of Chica­go. That seems to be the thing that the con­ser­v­a­tives love to link him to. When they talk about Rahm Emanuel, they like to use ​"homi­cide" as a stand-in trope to basi­cal­ly do racial agi­ta­tion. It's all code for Black peo­ple are ani­mals and vio­lent savages.
I do want to say, how­ev­er, that this recent spike is after Chica­go had seen a pre­cip­i­tous drop in vio­lence over many years. This was a drop in homi­cides that peo­ple sen­sa­tion­al­ize, espe­cial­ly for peo­ple who are out­side of the city. Flash back to the 1990s, when I moved here in ​'95, the homi­cide rate was very high com­pared to the rates that we have today. And what we have in Chica­go is an inequal­i­ty of inter­per­son­al vio­lence in the sense that cer­tain com­mu­ni­ties have very, very high rates com­pared to oth­er com­mu­ni­ties that have much, much low­er rates. Homi­cides in Chica­go are uneven­ly dis­trib­uted like every­thing else in the city.
I think that the vio­lence that Rahm is actu­al­ly most respon­si­ble for is the destruc­tive struc­tur­al and eco­nom­ic forces that have been unleashed through his tenure. His mis­man­age­ment, or I wouldn't even call it mis­man­age­ment, his inten­tion­al siphon­ing of fund­ing from com­mu­ni­ties through TIF into down­town loca­tions. Extract­ing resources from com­mu­ni­ties that des­per­ate­ly need them, divest­ing from those com­mu­ni­ties, leav­ing those com­mu­ni­ties high and dry, which also then seeps into inter­per­son­al forms of vio­lence for those communities.
So I don't want to fall into the right-wing trap of char­ac­ter­iz­ing Chica­go as the wild wild, west, where Black inter­per­son­al vio­lence is ram­pant, and then blam­ing Rahm Emanuel for that. That's not the cor­rect nar­ra­tive. You should blame Emanuel for enabling sys­temic and struc­tur­al vio­lence that have been unleashed through his poli­cies on to poor com­mu­ni­ties of col­or. But this is not the nar­ra­tive about vio­lence in Chica­go that is uplift­ed nation­al­ly. It should be. Inter­per­son­al vio­lence mir­rors struc­tur­al vio­lence. Peo­ple like to focus on one to the exclu­sion of the other.
Sarah: As I'm sure you're aware, Rahm has tried to present him­self as part of the resis­tance against Trump, and tried to present Chica­go as a sanc­tu­ary city. Mean­while, social move­ments have been orga­niz­ing against his bru­tal cap­i­tal­ist poli­cies for a long time. Recent­ly, for exam­ple, No Cop Acad­e­my has been frus­trat­ed with just how dis­re­spect­ful and dis­mis­sive he is of the demands from young Black peo­ple that the city invest in pub­lic goods like schools and health care cen­ters rather than more polic­ing. Giv­en this dynam­ic, what do you think that Chica­go orga­niz­ing under the Emanuel admin­is­tra­tion can teach the rest of the country?
Mari­ame: I think there are so many lessons to learn from Chica­go orga­niz­ing and orga­niz­ers. I lived for over 20 years in this city, com­mit­ting and work­ing and mak­ing a com­mu­ni­ty for myself in the city. I no longer live there as of the last cou­ple years, but I think there are lessons to learn. It isn't about Democ­rats ver­sus Repub­li­cans. Chica­go is a demo­c­ra­t­ic city; there is only one Repub­li­can on the city council.
I think a les­son is to focus on issues instead of focus­ing on polit­i­cal par­ties. You need to push your issue. The can­di­date that exists — you should think of them as your inter­locu­tor; they are sim­ply a ves­sel to help you win your issue. Pol­i­tics is ulti­mate­ly about hav­ing enough pow­er to suc­cess­ful­ly influ­ence peo­ple to get them to do what you want. That's what raw pol­i­tics are. Pol­i­tics is about power.
I think we get into a mess when we per­son­al­ize pol­i­tics, for exam­ple, this per­son is a love­ly human being, or this per­son is the dev­il incar­nate. We need to focus on issues, because we learned, here in Chica­go, that a lot of Democ­rats, for years, have been neglect­ful of com­mu­ni­ties of col­or — have been com­plete­ly neglect­ful or some­times active­ly hor­ri­ble. Those Democ­rats' inter­ests are aligned with rich donors, and they have no prob­lem enact­ing their poli­cies. But for us, every­thing is a fight. We need to be clear on our issues and be clear on our tac­tics and strate­gies so that we can achieve our goals.
I think it's impor­tant to always know that the things that need to hap­pen won't nec­es­sar­i­ly hap­pen tomor­row. To have a longer view of the strug­gle and fight, to always be vig­i­lant as well about back­track­ing and back­slid­ing after elec­tions. You want peo­ple to take account­abil­i­ty for what they promised to do in the first place. It's not vot­ing that mat­ters above all, it's also the hold­ing elect­ed offi­cials account­able to promis­es. Vot­ing to me is a tac­tic. It's a tool in a larg­er tool­box of many oth­er things that can be used in order to win our issues. I find myself get­ting so annoyed when I hear peo­ple offer­ing vot­ing as the end all and be all to mak­ing social change. What we need to be doing every sin­gle day is to build a base of peo­ple who can demand what we want and orga­nize to get it.
In a city like Chica­go, it is in stark relief on a dai­ly basis that a lot of peo­ple are Democ­rats in their affil­i­a­tion, and they con­tin­ue to be anti­thet­i­cal to the well-being of the mass­es. And they are also not atten­tive to the key suf­fer­ings of the peo­ple — their pol­i­tics are not dri­ven by that.
Sarah: You said on Twit­ter that now is a crit­i­cal time to get orga­nized. Can you say what you mean by that and offer sug­ges­tions for con­crete next steps?
Mari­ame: Yes­ter­day was the moment, the day before was the moment, to make sure that we have orga­nized forces that can rise to the occa­sion of hav­ing this unex­pect­ed open­ing. We have a win­dow and we can try to get some­body in pow­er who can be pushed to deliv­er our orga­nized demands. This per­son is not going to be per­fect, not going to per­fect­ly align with us on every­thing, but it has to be some­body who can be pushed and some­body who at least has some lev­el of account­abil­i­ty to peo­ple. We can put some­body there who can actu­al­ly enact a sig­nif­i­cant por­tion of our agen­da, so that less peo­ple will suffer.
The peo­ple who can orga­nize and have a coali­tion of dif­fer­ent types of peo­ple, those folks are going to be able to win. Because there's chaos and peo­ple are try­ing to posi­tion them­selves, being orga­nized is going to be all the more impor­tant. I actu­al­ly have some faith that this is pos­si­ble, because of all the years of orga­niz­ing that already have hap­pened here in the city. There are mobi­lized, well-trained, smart peo­ple in this city who have been fight­ing for so many years who I think, with the right can­di­date, are in the good posi­tion to be able to win in Feb­ru­ary of next year. It's real­ly incum­bent to find that ves­sel: a can­di­date who is aligned with a set of orga­nized demands.
What are the four or five things that absolute­ly must be enact­ed in the first year of any new may­or? What are those things? Can peo­ple have some sem­blance of con­sen­sus around what those five things can be and who can train their atten­tion to hold­ing that per­son account­able for those five things? That's crit­i­cal­ly impor­tant in this moment: What is that agen­da and what will the pro­gram look like? Who's going to pull peo­ple togeth­er to hash that out as soon as possible?
It's not just about the may­or. There's the hor­rif­ic coun­cil, which has been a rub­ber stamp for this may­or for his entire time in office — and a rub­ber stamp for every sin­gle may­or in Chica­go. We don't have a coun­cil that's an inde­pen­dent check, that does any­thing that the may­or doesn't want. We've got to get rid of the peo­ple who are there too. So one of the strate­gic oppor­tu­ni­ties is to go after par­tic­u­lar­ly alder­peo­ple who have been par­tic­u­lar­ly friend­ly to Rahm, because Rahm's enablers have to also go.
And it doesn't take much in Chica­go to actu­al­ly move an alder­per­son out. Because so few peo­ple actu­al­ly vote in the wards. So can you imag­ine, if you get 2 per­cent more peo­ple out to vote, you can shift every­thing in your ward. It's going to be real­ly crit­i­cal to start get­ting some can­di­dates, or get­ting behind can­di­dates, who are already on the tru­ly pro­gres­sive end of things — and who can also be pushed when they get in, and have account­abil­i­ty to the peo­ple who got them to pow­er. That strat­e­gy has to go hand in hand with this may­oral elec­tion. And we have a cou­ple peo­ple already run­ning who are com­ing out of move­ments. We can push and hope­ful­ly get them into these kinds of pow­er posi­tions with­in the city of chica­go. So I think that's what peo­ple have got to do.
There's the fight over who gets in, but the next day, there's going to be con­tin­ued strug­gle — because that's real­ly real­ly impor­tant. And it's par­tic­u­lar­ly impor­tant that the left in the city is able to orga­nize enough to get a real pro­gres­sive per­son. Because the next day, all the monied inter­ests of the city will be com­ing after that per­son. The ques­tion is going to be: Who is there to back that per­son up? Who is there to push back against those monied inter­ests? Who is there to hold the new May­or account­able to the promis­es made?
Sarah: What are the crit­i­cal req­ui­sites for can­di­dates try­ing to undo the harm that the Emanuel admin­is­tra­tion has done?
Mari­ame: The stuff about edu­ca­tion and schools, that's going to be crit­i­cal to any sort of plat­form work. The stuff around the police and what is going on here, at the very least, they should push for the Civil­ian Police Account­abil­i­ty Coun­cil to go through. I think there's going to be a whole slew of things that need to hap­pen, and men­tal health clin­ics reopen­ing has to be at the top of that. This is con­nect­ed to the issue of policing.
There is also the ques­tion of how resources are dis­trib­uted. What is going on with the TIF (tax incre­ment financ­ing) fund? What is hap­pen­ing there? The Grass­roots Col­lab­o­ra­tive has been work­ing on that for the last few years.
The issue now is peo­ple get­ting pushed out of their neigh­bor­hoods — ris­ing rent and the demo­li­tion of pub­lic hous­ing. How are you going to cre­ate hous­ing that peo­ple can actu­al­ly afford in the city? How are you going to actu­al­ly pre­vent old com­mu­ni­ties from being uproot­ed because of gen­tri­fi­ca­tion. And it's more com­pli­cat­ed than gentrification.
I want to know about how this per­son is going to work on those things, and I think once some of that gets actu­al­ly achieved, so many oth­er things will get addressed. It'll be a domi­no effect. If peo­ple have a home that they can afford, they will be less like­ly to be sick. If peo­ple have their men­tal health needs addressed, and this is decou­pled from polic­ing, we're going to save more lives because so many peo­ple who are being shot and killed by the cops on a reg­u­lar basis are call­ing in for well­ness con­cerns. If we address the source of suf­fer­ing, this will actu­al­ly solve prob­lems, and that will allow peo­ple to live bet­ter lives, and more dig­ni­fied lives, and lives that allow them to be able to pur­sue their self deter­mi­na­tion. That's so crit­i­cal­ly important.
I think we need to can­cel the Cop Acad­e­my imme­di­ate­ly, as first busi­ness. We need to care for each oth­er in real ways. We need to ensure that the com­mons are built up so that we can actu­al­ly use the com­mons for address­ing the needs of the most mar­gin­al­ized with­in our com­mu­ni­ty, so that becomes a part of our culture.
Sarah: Is there any­thing you haven't said that you want to com­mu­ni­cate about this moment and the oppor­tu­ni­ties it offers?
Mari­ame: I want to say some­thing about the young peo­ple in the city of Chica­go who have been fight­ing like hell in the city since the first term, and faced the non-indict­ment of Dar­ren Wil­son and the killing of Trayvon Mar­tin, and the non-indict­ment of George Zim­mer­man. That class of young folks that got acti­vat­ed to action in those moments are the ones real­ly lead­ing us right now in these fights that are hap­pen­ing, whether it's orga­niz­ing or decid­ing to run them­selves for office. I want to say that not in a con­de­scend­ing or patron­iz­ing way at all, and not in a youth-will-save-us way. I don't believe that: I'm grown and I save myself every day. I have to fight for my own sur­vival, and my sur­vival is con­nect­ed to every­body else's.
But I want to say that, his­tor­i­cal­ly, young peo­ple have tak­en the lead to get more jus­tice in the world. I've seen this in Chica­go over the two decades I lived there. I have faith in young people's leadership.
I also want to make clear again that vot­ing is not a panacea, but it's about using it as a tac­tic as we push for rad­i­cal things. I hope that more young peo­ple get engaged in the may­oral and alder­man­ic elec­tions, because their voic­es mat­ter and because it can be good prac­tice in orga­niz­ing. They can use elec­toral orga­niz­ing as one way to focus on the issues they care about, get clear on that, and the plat­form they're going to be fight­ing for. The can­di­date, in my opin­ion, comes sec­ond to all that.
Those who are on the side­lines now should come into the fight. They're need­ed and they're want­ed. All the things that they bring to the mix are real­ly des­per­ate­ly sore­ly need­ed in this moment. So if they are on the side­lines, now is the time for them to come in. I hope that if they haven't already joined the fight, that they join now. I hope that they remem­ber that elec­toral orga­niz­ing is not the end-all-be-all of orga­niz­ing, but one sig­nif­i­cant lever in build­ing more pow­er to win their issues.
Amelia Diehl tran­scribed this interview.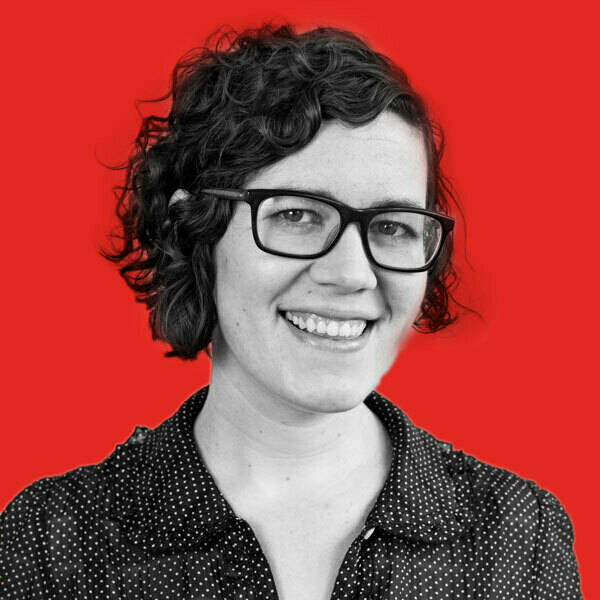 Sarah Lazare is web edi­tor at In These Times. She comes from a back­ground in inde­pen­dent jour­nal­ism for pub­li­ca­tions includ­ing The Inter­cept, The Nation, and Tom Dis­patch. She tweets at @sarahlazare.