Randall Terry Resurfaces
Christian right jumps into Terri Schiavo fray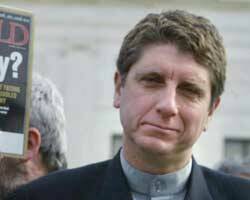 The so-called "Terri's Law" signed by Gov. Jeb Bush on October 21 might better be named "Terry's Law"—in honor of rabid anti-abortionist Randall Terry, who played a key role in mobilizing Christian fundamentalists to pressure Jeb and the Florida legislature to intervene in the heart-wrenching case of Terri Schiavo.

The case of the 39-year-old Schiavo, who has been in a persistent vegetative state for 13 years, raises emotionally difficult issues. But participants in the so-called right-to-life movement have little use for complexity, nuance and discussion. Flush with victory on various anti-abortion fronts, the movement has seized on the Schiavo case to rally the troops and push the view that this is just one more example of secular liberals (and Democrats) promoting a culture of death.

And Randall Terry—founder of Operation Rescue, pioneer in aggressive harassment of women seeking abortions and an advocate of a "Christian-based" nation—is in the thick of it.

National media have generally acknowledged that religious conservatives played a key role in pressuring the Florida legislature to jump into the Schiavo case. But few have publicized the central role of Terry.

No less an authority than Bob Schindler, Schiavo's father, has acknowledged Terry's crucial support.

"Our family asked Randall Terry to come, and we gave him carte blanche to put Terri's fight in front of the American people," Schindler said. "He did exactly what we asked, and more. Randall organized vigils and protests, he coordinated the media, he helped us meet with Governor Bush."

Terry was a leader in the anti-abortion movement's campaign in the '80s and early '90s to put clinics out of business through intimidation, harassment and violence.

In a 1995 speech, for example, Terry reportedly said of doctors who perform abortions, "When I, or people like me, are running the country, you'd better flee, because we will find you, we will try you and we will execute you."

Following an anti-racketeering lawsuit by the National Organization for Women, he agreed in 1998 to a permanent injunction against any future actions against clinics.

But Terry is back. He resurfaced last summer in Ponte Vedra Beach in northern Florida and formed a new organization, The Society for Truth and Justice. His first campaign was against the U.S. Supreme Court's 6-3 decision striking down anti-sodomy laws, and he launched an "Impeach the Twisted Six" campaign with a rally in Jacksonville on August 9.

Turnout was low, however. But then came the Schiavo case and a ready-made platform for Terry's demagoguery.

Regardless of how the courts may rule in the Schiavo case, Terry has warned that the anti-abortion movement will continue its campaign. "Life is life," he said. But in an era of increasingly sophisticated medical technology, such slogans do little to answer complicated questions.

Many people, even conservatives, have taken the lesson from the Schiavo case that everyone should have a living will. But if religious extremists get their way, living wills may not be worth the paper they are written on.

When living will legislation first gained support in the '70s and '80s, the anti-abortion movement was adamantly opposed to demands for "death with dignity." As the National Right to Life notes on its Web site (www.nrlc.org), living wills are used "to condition public acceptance of assisted suicide, mercy killing, and euthanasia."

By and large, religious extremists lost their fight against living wills legislation. But Schiavo's case appears to have re-energized the movement's opposition to living wills, in the guise of opposition to euthanasia and assisted suicide.

Father Frank Pavone, director of Priests for Life, an extremist anti-abortion group involved in the Schiavo case, calls living wills "unnecessary and dangerous for patients, doctors and society." And R. Albert Mohler, Jr., in an article for the Baptist Press News on October 20, warned that the Schiavo case is proof "that the culture of death is gaining new ground" and that "what has been styled as 'voluntary' euthanasia is now turning into involuntary euthanasia."

Legislation currently before the Wisconsin Senate allows doctors, nurses, pharmacists and other medical personnel who morally disagree with the guidelines regarding feeding and hydration tubes to ignore living wills and advance directives. The legislation already has passed the Republican-controlled Assembly and is likely to pass the Republican-controlled Senate.

How this will all play out is unclear. But history has shown that Republicans are more than willing to align with the likes of Randall Terry if it suits their political purposes. In an election year, anything is possible.