Rats, Student Blocs and Solidarity Swarms: What to Expect on May Day 2013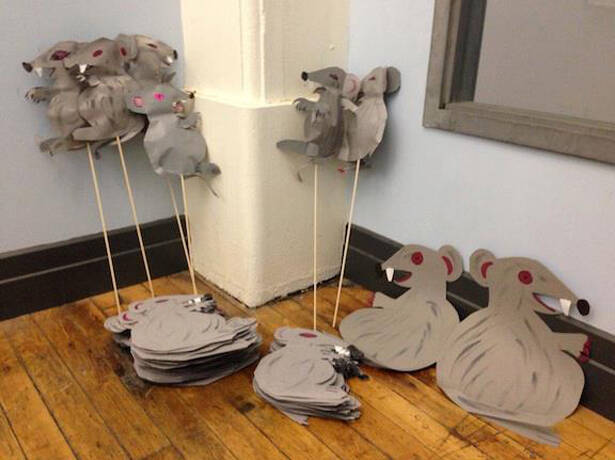 The buildup to May Day in New York has been quieter this year. Last year's ​"general strike" rhetoric is gone, and there are fewer heated tactical arguments among activists spilling onto social media. This year's graffiti is subtler too, but you still find it: ​"May Day 2013" scrawled in bar bathrooms and on mailboxes and abandoned buildings. Posters in English and Spanish still dot the city. And like last year — when Occupy, community, labor and immigrant groups took the streets by the thousands — a slate of activities is planned for the international worker's holiday.
​"There's a lot of things fomenting," says Shawn Carrié, an Occupy Wall Street organizer. He expects a big turnout for the day's actions, pulled together by the traditional May 1 coalition of labor and immigrant rights groups, plus Occupy affinity groups, and students.
As Congress dithers over comprehensive immigration reform, immigrant workers will be on the streets of New York, calling attention to their struggles and stopping by Senator Chuck Schumer's office to call for swift action — and a bill that brings real change. May Day was born over a hundred years ago with immigrant workers in the U.S. and has held special meaning for present-day immigrants since 2006's nationwide ​"Day Without an Immigrant" actions.
This year's Immigrant Worker Justice Tour, like last year's, departs from Bryant Park at noon and will stop at locations around the city where immigrant workers and others are fighting for their rights. Stops will include Atlas Media, where workers have been waiting over two years for a contract after winning their vote to organize with the Writers Guild of America East (the company's named after Ayn Rand's Atlas Shrugged, which might explain the delay), and Capital Grille, where the Restaurant Opportunities Center New York has long been pressing for better treatment.
The best part of the immigrant worker march, says Sundrop Carter, an organizer with OWS working group 99 Pickets, is the 99 rat puppets that will be accompanying the march ​"to chase the rats of injustice out of New York." Modeled on Scabby the Rat, the 16-foot tall inflatable rat that's a familiar sight at union demonstrations, the mini-rat puppets are a symbol of worker solidarity.
After the stop at Schumer's office, the immigrant worker justice group will also be holding a ​"Solidarity Swarm," stopping at a Wendy's to support the Coalition of Immokalee Workers, the Frieze Art Fair to protest its use of non-union labor, and more.
The Young Workers group of the Transit Workers Union will also be on the streets on May Day, departing Bryant Park at 10:30 AM to hit locations where workers are fighting for contracts. According to Carrié, they're planning creative spectacle and perhaps even some civil disobedience on the route.
The centerpiece of the day is the traditional Union Square rally, followed by a march to City Hall. At Union Square, workers from campaigns that have shaken up the city in recent months, including the fast food strikes, will speak to the crowd. Immigrant workers from Brooklyn's grocery stores, who've been organizing with New York Communities for Change, will also be present.
​"The good thing about May Day is that it calls attention to working people, people who are just trying to take care of themselves and raise families," says Cara Noel of United NY, one of the groups putting together the event.
At City Hall, workers will once again converge to rally for labor rights and call attention to the fact that all the city's public sector unions have been working without contracts for years under the Bloomberg administration. From there, workers will move to Foley Square, where multiple assemblies will be held focusing on worker issues, austerity policies, stop and frisk and more.
There's another group of workers that will no doubt be out in force on Wednesday. As Allison Kilkenny reports at The Nation, police around the country and even the FBI have been preparing for May Day as well. ​"Police presence is always predictably obscene," says Carrié.
One May Day action in New York explicitly targets such police excess. The Kimani Grey memorial assembly, called for Zuccotti Park at 7:30 PM, remembers the teenager killed recently by the NYPD, whose death has become another touchstone for a city already too accustomed to police brutality. The Occupy movement, after its own experiences with the NYPD's often-overzealous policing, has developed a close — though at times fraught — relationship with the ​"Stop Stop and Frisk" movement fighting the NYPD tactic.
Students, too, will be out on May Day. The Cooper Union fight, where tuition will be imposed for the first time in the history of the famed arts university, is drawing out student action, and the Free University this year will be held at its feet, in Cooper Square. According to Carrié, the amount of student unity across universities this year is inspiring. The Students Bloc — made up of university students from Columbia, the City University of New York and others — will hold a convergence at Cooper Square after the Free University, join the main activities at Union Square, and then in the evening, hold what Carrié calls ​"a free-for-all roving dance party" throughout the streets.
As May Day winds down, some of the Occupy organizers are connecting to an international movement called Global May, in solidarity with actions against austerity in Spain, Greece, and across Europe. Carrié jokes that in Europe, ​"It's not about raising awareness, everyone's aware." Instead, as part of an escalation of the anti-austerity movement, New Yorkers will be coordinating actions with workers around the world, in Egypt and Tunisia as well as Europe.
May Day, Carrié says, is ​"an opportunity to build bridges between communities." This year, after the big day of action, he and his fellow organizers will turn to coordinating a month of action, hoping to roll some May Day momentum forward into the summer.
Sarah Jaffe is a Type Media Center Fellow, co-host (with Michelle Chen) of Dissent magazine's Belabored podcast, and a columnist at The New Republic and New Labor Forum. She was formerly a staff writer at In These Times and the labor editor at AlterNet. Her previous book is Necessary Trouble: Americans in Revolt, which Robin D.G. Kelley called ​"The most compelling social and political portrait of our age." You can follow her on Twitter @sarahljaffe.