"I'm afraid that if I watch a lot of TV, I will start to hate myself as an Arab, or as a Muslim or as a Palestinian," says Samar Dahmash-Jarrah, ​"because there is nothing out there except bias and stereotyping and hatred."
Jarrah, 42, is a long way from her year-and-a-half stint as a contributor to CNN's ​"World Report" in the late ​'80s, when she was filing three-minute spots every week from Jordan. Back then, she had hope that the fledgling world news network could bridge gaps of understanding between nations and cultures. Now, she's given up on the mainstream press, and has decided to personally act as a medium for the two cultures she calls home.
Since moving to the States more than a decade ago, Jarrah, a Kuwaiti-born Palestinian-American, has taught classes on Islam, history, media and international relations at the University of South Florida. ​"I ask my students to read books by Arabs before they go and read books by non-Arabs to explain the Arab mind," says Jarrah.
After 9/11, Jarrah found herself having to walk what she taught. She was asked to speak to church and community groups in her Port Charlotte, Fla., community. She earned praise and more invitations to speak with each appearance, but she soon realized that having lived in Lebanon, Saudi Arabia, Egypt and Jordan did not make her an expert on the post-9/11 Arab world.
"For three-and-a-half years, all I did was answer questions on behalf of Arabs and Muslims," she said. ​"Finally I said, ​'maybe it's about time that I let Arabs answer these questions that Americans keep asking me.' "
Jarrah sent out emails to every American she knew, soliciting the questions people wanted to ask an average Arab on the street, consolidating them into 100 questions in 7 categories: religion, 9/11, the war in Iraq, women's roles, Israel and Palestine, Arab and Muslim society and U.S. – Middle East relations.
Jarrah then traveled to Egypt, Jordan and Kuwait and interviewed a dozen random strangers: Women and men, Christians and Muslims, with a cross-section of education and accomplishment, ranging from ages 19 to 66. The transcripts of the answers to those questions have been compiled in her self-published book, Arab Voices Speak to American Hearts.
"I didn't expect people to be so consumed by the Arab-Israeli conflict," says Jarrah. ​"I was traveling soon after Abu Ghraib, and it was important, Iraq was important, Afghanistan was important, this attempt to defame Islam was important, but nothing seemed as urgent as the Arab-Israeli conflict."
Jarrah describes her target audience as ​"average Americans who don't know much about the Arab world and the Arab people." As a dozen Arabs talk about their families, fears and beliefs, the complexity of their personalities emerge, and the diversity of their views serves to bust the myth of a monolithic civilization.
A couple of interviewees supported the invasion of Iraq, although they unanimously don't like President Bush or how the war has been handled. The reader is reminded over and over that Arabs like Americans, but not the policies of the U.S. government. ​"We have no quarrel with the American people, but we need them to reclaim their country," says Dr. Khaled, a Jordanian professor and retired diplomat.
Hamed, 53, who owns a construction firm in Kuwait, criticizes religious fundamentalism in both Arab and American cultures. ​"To be a liberal, you have to put forth effort," he says. ​"You have to read, travel, it's a lot of work. But all a fundamentalist needs to do is go to a mosque all the time."
Jarrah made a conscious decision to exclude more extremist Arabs ​"because they have more airtime," she says. ​"The extremists – not only in the Arab world, but all over – they are most visible. You know their names and faces more than the millions and millions of people who are moderate, and who do not commit crimes."
Thus far, Jarrah has received inspiring feedback from readers. ​"A guy came up to me at a restaurant and said, ​'They keep telling me they hate us and they are the enemy and they are jealous, and finally I found a logical answer to all these questions.'"
In order to spur more dialogue, the back section of Arab Voices Speak to American Hearts contains the questions posed back to Americans by her Arab interview subjects. Those answers will make up Jarrah's next book, tentatively titled American Hearts Respond to Arab Questions. Find out more at www​.arab​voic​ess​peak​.com.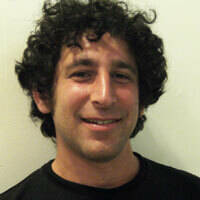 Andrew Stelzer
, a freelance journalist in Oakland, Calif., is a producer at ​
"
Making Contact," a weekly public affairs radio program. His reports have appeared on ​
"
The World," ​
"
Free Speech Radio News" and ​
"
Latino USA," among others. Stelzer has been a contributor to
In These Times
since
2005
, and can be contacted at
www​.andrew​stelz​er​.com.