Reality TV's Culture of Rape and Exploitation Extends Far Beyond The Bachelor
Contestants and workers are having traumatic experiences in an industry that lacks a standard of informed consent.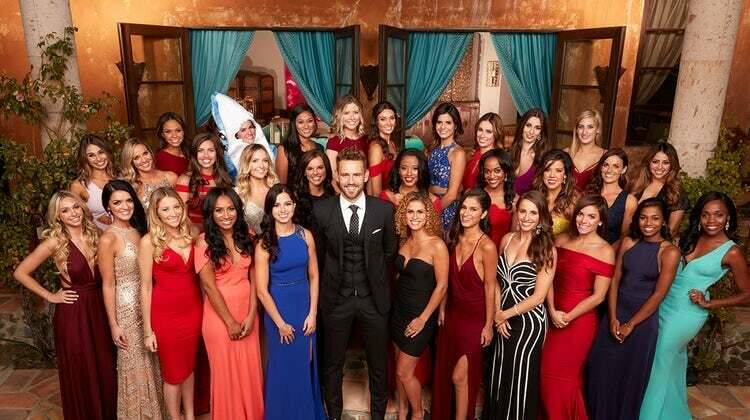 When I was liv­ing in Lon­don, I was invit­ed to audi­tion for ​"Big Broth­er," that show about the slow and steady break­down of your men­tal health charm­ing­ly named after the sur­veil­lance state in 1984. I'm slight­ly embar­rassed to say I con­sid­ered it for a minute. What stopped me was not that I wouldn't be allowed to write or read, or that I might be forced to eat slop.
In order to offer the sorts of protections exploited workers need for ethical and safety reasons, these shows would have to come clean about just how scripted they are. Would that lead to viewers being less intrigued?
It was the rumor I had heard about con­tes­tants receiv­ing six months of paid ther­a­py after the show, because it was that trau­mat­ic. Six months that were often not enough to even begin undo­ing the dam­age of the 24⁄7 obser­va­tion of a real­i­ty show.
As a porn per­former, I'm pret­ty accus­tomed to peo­ple assum­ing that my job and work­place is uneth­i­cal, emo­tion­al­ly dam­ag­ing and moral­ly cor­rupt. I've done a lot of research into the adult indus­try, and I've seen a lot of shit. Yet noth­ing pre­pared me for the world of real­i­ty tele­vi­sion, a work­place that depends on rid­ing the line between per­for­mance and the real world.
Real­i­ty tele­vi­sion is boom­ing, which isn't sur­pris­ing. It often costs far less to host a real­i­ty show than to have nar­ra­tive pro­gram­ming. One thing that's use­ful for keep­ing those costs low is that real­i­ty shows, while often nudged along and edit­ed to cre­ate nar­ra­tive arcs, don't offi­cial­ly declare them­selves as script­ed. This means that writ­ers aren't paid for orig­i­nal con­tent. Instead, ​"sto­ry edi­tors" are uncred­it­ed, often go with­out union sup­port or ben­e­fits and are paid far less for ​"sculpt­ing" the real­i­ty show storylines.
Anoth­er mon­ey-sav­ing mea­sure is that real­i­ty show stars or con­tes­tants are often paid far less and receive less legal work­place pro­tec­tions than an actor. On top of that, not all real­i­ty shows pay for dai­ly liv­ing expens­es. The Real World, for exam­ple, only paid the rent and docked par­tic­i­pants' pay if they refused to do what pro­duc­ers told them to.
The ques­tion of pro­duc­er coer­cion is a huge issue, one that has recent­ly come to light around the Bach­e­lor fran­chise. ​"Bach­e­lor in Par­adise" orig­i­nal­ly halt­ed film­ing because of an accu­sa­tion of sex­u­al assault while under the influ­ence between two of the con­tes­tants. I'm pret­ty late to the ​"Bach­e­lor" game, con­sid­er­ing I only start­ed watch­ing the fran­chise dur­ing the last cou­ple of months. I start­ed watch­ing it out of mor­bid curios­i­ty because of how fre­quent­ly my Twit­ter was flood­ed with peo­ple, most­ly women, com­ment­ing on the var­i­ous sto­ry­lines. But even in my brief sam­pling of this colos­se­um of het­ero­sex­u­al lust for sex and atten­tion, I could tell that there was a huge prob­lem with this real­i­ty show and con­sent cul­ture.
"Bach­e­lor in Par­adise," a show that revolves around get­ting a bunch of het­ero­sex­u­al folks drunk and encour­ag­ing them to awk­ward­ly hook up to pre­vent being kicked off, seems like it's always been a fer­tile ground for con­sent vio­la­tions. The alco­hol is free and plen­ti­ful, and sex­u­al behav­ior is what can keep you in the camera's spot­light — not only sav­ing you from elim­i­na­tion, but ensur­ing you get that valu­able screen time.
From the sea­son I watched, I could name mul­ti­ple instances where I would expect the intox­i­ca­tion lev­els of the cou­ple to be con­sid­ered legal­ly prob­lem­at­ic for con­sent. It made me won­der why the pro­duc­ers and crew, know­ing that this was a fes­ter­ing petri dish of rape cul­ture, would not have con­sid­ered the legal reper­cus­sions of film­ing poten­tial sex­u­al assaults under the influ­ence with­out intervening.
Espe­cial­ly con­cern­ing is the report that pro­duc­ers informed DeMario and Corinne that their sto­ry­line would involve hook­ing up. It seems coer­cive to inform par­tic­i­pants who and how they are to roman­ti­cal­ly and sex­u­al­ly engage with each oth­er in order to be part of the show. Is it pos­si­ble in such a sit­u­a­tion to give informed consent?
These devel­op­ments raise ques­tions about work­place pro­tec­tions for real­i­ty stars. Sure­ly par­tic­i­pants should, at the very least, feel phys­i­cal­ly safe, espe­cial­ly if their emo­tion­al break­downs serve as fod­der for view­ers. Yet, phys­i­cal and sex­u­al assaults have long been an issue on the sets of these shows, with cas­es often brushed under the rug — and those involved silenced. Child labor laws have come up as well, with­out a defin­i­tive answer on whether real­i­ty tele­vi­sion con­tes­tants are con­sid­ered work­ers or some­thing else.

This trend lays bare the biggest issue with the set of a real­i­ty tele­vi­sion show as a work­place. In order to offer the sorts of pro­tec­tions exploit­ed work­ers need for eth­i­cal and safe­ty rea­sons, these shows would have to come clean about just how script­ed they are. Would that lead to view­ers being less intrigued?
Would that lead to pro­duc­ers and crew being held more account­able when some­thing goes wrong as the peo­ple who direct­ed the action?
It's a tricky area, and one that is unlike­ly to find any clear solu­tions any­time soon. Per­haps we, the view­ers, are too uncom­fort­able with the reflec­tion we see in the mir­ror of real­i­ty tele­vi­sion, wish­ing to think we would han­dle it bet­ter if we were in front of the cam­era. Deep down, I think we all know that there, but for the grace of tem­po­rary fame in exchange for our san­i­ty, goes us.