Write Black Americans a Check Already
Direct payments to individuals are an important piece of any reparations program.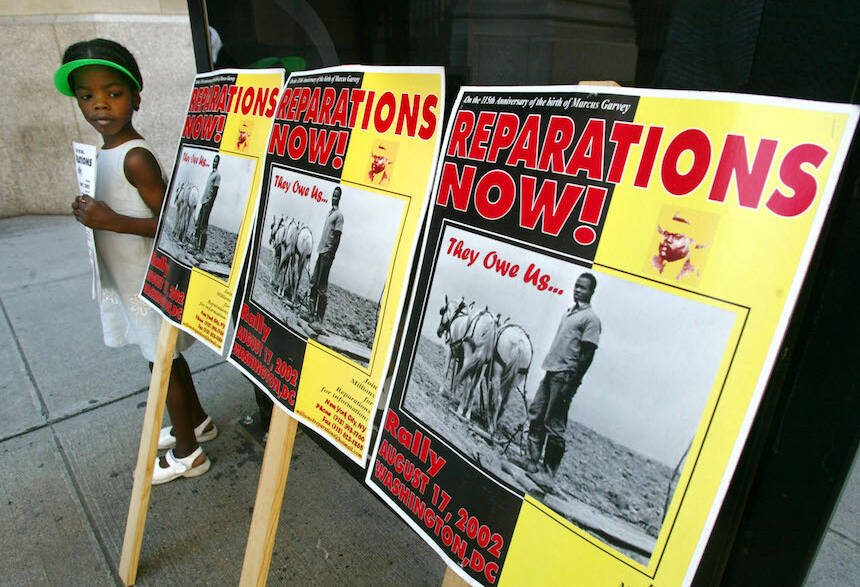 This piece is a response to ​"Uni­ver­sal Poli­cies, Not Repa­ra­tions, Are Need­ed To Counter Racis­m's Effects" and ​"The 2020 Can­di­dates Are Dodg­ing the Repa­ra­tions Question."
Ultimately, a sound program of reparations for black Americans must include a substantial direct payment to each eligible recipient.
Uni­ver­sal, race-neu­tral poli­cies are insuf­fi­cient to repair the past and ongo­ing harms of racial injus­tice. Whether or not repa­ra­tions are ​"divi­sive," they are the right and nec­es­sary thing to do. Indeed, the moral act is fre­quent­ly divi­sive. Oppo­si­tion to slav­ery was divisive.
Repa­ra­tions for native black Amer­i­cans must ful­fill three objec­tives: The U.S. gov­ern­ment must admit its wrongs (acknowl­edg­ment), restore the injured par­ties to the con­di­tion they might have attained had the harm nev­er occurred (redress) and reach an agree­ment with the injured that the debt has been paid (clo­sure).
The his­toric harms against black Amer­i­cans are many — from slav­ery to Jim Crow to mass incar­cer­a­tion. The recip­i­ents of repa­ra­tions should be those who can estab­lish they have at least one ances­tor who was enslaved in the Unit­ed States, and who iden­ti­fied as black, African-Amer­i­can, Negro or the equiv­a­lent for at least 10 years before the repa­ra­tions pro­gram begins. This is the group that most direct­ly bears the cumu­la­tive effects of cen­turies of oppression.
One major effect is racial wealth dis­par­i­ty. Data from the 2016 Sur­vey of Con­sumer Finances indi­cates that the mean black net worth per house­hold was $138,000, while mean white net worth was $934,000, a dif­fer­ence of close to $800,000.
Zaid and Leighton point out that the Lati­no-white wealth gap is sim­i­lar. Its caus­es, how­ev­er, are not the same. We encour­age Lati­nos (or any group) to devel­op their own claim for repa­ra­tions, if they so desire, based upon their unique his­tor­i­cal rela­tion­ships to the U.S. gov­ern­ment. But these claims should not be col­lapsed onto the black Amer­i­can claim.
Nor can uni­ver­sal pro­grams (such as ​"baby bonds") sub­sti­tute for repa­ra­tions. For one, they are not near enough to erase the $800,000 wealth gap. And the spe­cif­ic injus­tices toward black Amer­i­can descen­dants of the enslaved require a spe­cif­ic process of acknowl­edg­ment, redress and closure.
Sev­er­al Demo­c­ra­t­ic pres­i­den­tial can­di­dates have said that repa­ra­tions, if under­tak­en, should be some­thing oth­er than ​"cut­ting a check." How­ev­er, oth­er injured groups have received repa­ra­tions in the form of direct pay­ment, includ­ing Japan­ese Amer­i­cans unjust­ly incar­cer­at­ed dur­ing World War II and Holo­caust vic­tims and their fam­i­lies. We won­der why, when the sub­ject is native black Amer­i­cans, there is a sud­den aver­sion to ​"cut­ting a check."
We agree that a repa­ra­tions fund, once assem­bled, may be used for a vari­ety of pur­pos­es beyond pay­ments to indi­vid­u­als, includ­ing insti­tu­tion build­ing (e.g., pay­ments to his­tor­i­cal­ly black col­leges), neigh­bor­hood improve­ment efforts, or sub­si­dies for high­er edu­ca­tion or busi­ness devel­op­ment. But funds used this way may miss their intend­ed tar­gets; fund­ing for a his­tor­i­cal­ly black neigh­bor­hood, for instance, may end up pri­mar­i­ly ben­e­fit­ing white fam­i­lies due to gen­tri­fi­ca­tion.
Ulti­mate­ly, a sound pro­gram of repa­ra­tions for black Amer­i­cans must include a sub­stan­tial direct pay­ment to each eli­gi­ble recip­i­ent. (At least some of this pay­ment, too, should take the form of illiq­uid assets that can build long-term wealth.) The nation must ​"cut the checks."
Final­ly, we come to clo­sure. If a com­pre­hen­sive pro­gram of repa­ra­tions elim­i­nates the racial wealth gap and oth­er lega­cies of slav­ery, legal reforms undo hous­ing, pay and oth­er ongo­ing dis­crim­i­na­tion, and no new race-spe­cif­ic injus­tices arise, native black Amer­i­cans will make no fur­ther race-spe­cif­ic claims on the U.S. gov­ern­ment. Only then will the accounts of Amer­i­can his­to­ry have been settled.