Why Silicon Valley Won't Solve the World's Problems
In Geek Heresy, former Microsoft do-gooder Kentaro Toyama reconsiders tech-based social-change initiatives.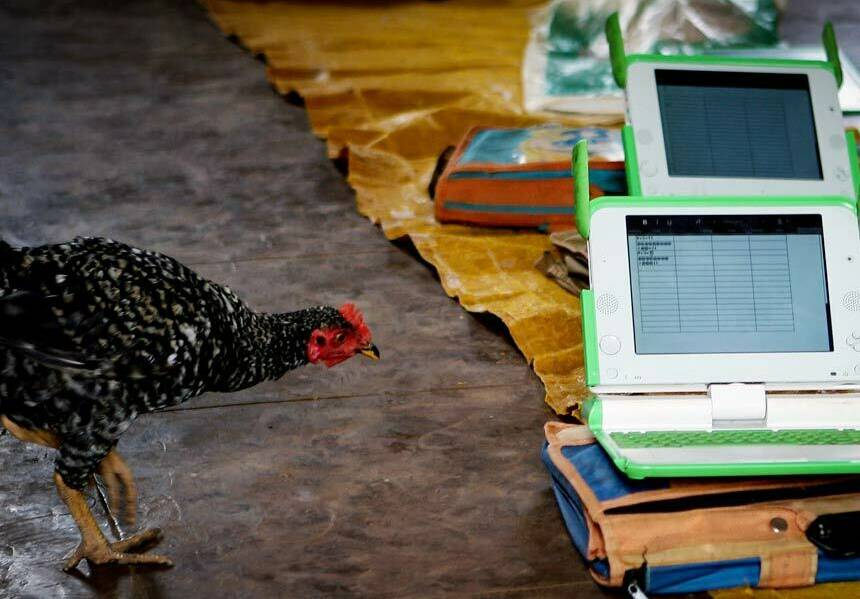 Slow­ly but sure­ly, tech savants are com­pil­ing edi­fy­ing field notes from their encoun­ters with the real world— though the results are still very much a work in progress. That, at any rate, is the con­clu­sion pro­voked by Ken­taro Toyama's Geek Heresy: Res­cu­ing Social Change from the Cult of Tech­nol­o­gy, a thought­ful but errat­ic cri­tique of tech-cen­tric social-change initiatives.
The chief problem with the tech-first approach, Toyama observes, is that it relies on "packaged interventions"—quick fixes that might perform well in middle-class societies with basic income, housing and education supports, but can seem like cruel and perverse afterthoughts in the developing world.
Toya­ma is a com­put­er sci­en­tist who moved to Ban­ga­lore, India, in 2004 as part of a Microsoft research group and cre­at­ed a series of nifty tech inter­ven­tions aimed at stub­born social ills, from video instruc­tion in farm­ing tech­niques to ever-fanci­er com­put­er appli­ca­tions for the class­room. In short order, he found that no amount of cool gad­getry could, by itself, ame­lio­rate the dam­age wrought by pover­ty in India:
Tech­nol­o­gy nev­er made up for a lack of good teach­ers … [and] school bud­gets didn't expand no mat­ter how many ​"cost-sav­ing" machines the schools pur­chased. If any­thing, these prob­lems were exac­er­bat­ed by the tech­nol­o­gy, which brought its own burdens.
The chief prob­lem with the tech-first approach, Toya­ma observes, is that it relies on ​"pack­aged inter­ven­tions" — quick fix­es that might per­form well in mid­dle-class soci­eties with basic income, hous­ing and edu­ca­tion sup­ports, but can seem like cru­el and per­verse after­thoughts in the devel­op­ing world.
Nicholas Negroponte's bal­ly­hooed ​"One Lap­top Per Child" ini­tia­tive, for instance, has been large­ly a bust because the MIT prophet didn't think it nec­es­sary to pro­vide train­ing on how to incor­po­rate the com­put­ers into edu­ca­tion; chil­dren are nat­ur­al learn­ers, he argued. Small won­der, then, that schools in Peru report­ed that the mas­sive influx of lap­tops from Negroponte's pro­gram yield­ed no mea­sur­able gains in learning.
The mis­ap­pli­ca­tion of tech largesse rep­re­sents more than just mis­guid­ed pol­i­cy; it has racked up glar­ing loss­es in oppor­tu­ni­ty costs. One study by Uni­ver­si­ty of Man­ches­ter schol­ar Richard Heeks found that glob­al spend­ing on one-off tech ini­tia­tives in the devel­op­ing world con­sumed ​"hun­dreds of mil­lions of U.S. dol­lars per year," and IT infra­struc­ture tens of bil­lions more. By con­trast, glob­al for­eign aid for edu­ca­tion totaled just $12 bil­lion in 2012.
For all of his astute cri­tiques, Toya­ma still shares a key blind spot with the tech­no­crat­ic inter­ven­tion­ists: a seem­ing aller­gy to approach­ing devel­op­ment pol­i­cy as a polit­i­cal issue. Poor com­mu­ni­ties are poor, after all, because they've been bypassed by the pres­ti­gious schools, cred­it net­works and ven­ture cap­i­tal firms that have pro­duced the tech elite's sense of enti­tle­ment. In lieu of direct­ly con­fronting the growth of glob­al dis­par­i­ties in wealth and oppor­tu­ni­ty that the tech elite has accel­er­at­ed, Toya­ma devotes the sec­ond half of Geek Heresy to what he dubs the gospel of ​"intrin­sic growth," in which the unfor­tu­nate class dynam­ics of dig­i­tal priv­i­lege become a mere aber­ra­tion on the path to a more high­ly evolved social order. ​"If the cre­ative class rep­re­sents mass self-actu­al­iza­tion," Toyama's pitch goes,
then it's tan­ta­liz­ing to imag­ine mass self-tran­scen­dence lead­ing to a com­pas­sion­ate class. Imag­ine a coun­try whose own needs are thor­ough­ly met and whose dom­i­nant aspi­ra­tions are world peace and pros­per­i­ty. Such a coun­try would … be a nation of self-suf­fi­cient, altru­is­tic peo­ple seek­ing to encour­age intrin­sic growth in them­selves and oth­ers, and not in the self-serv­ing or pros­e­ly­tiz­ing way of a neo­colo­nial White Man's Burden.
Toya­ma pro­ceeds to offer the Unit­ed States as the like­ly mod­el for such a com­pas­sion­ate utopia, cit­ing the growth of non­prof­it phil­an­thropy and report­ed rates of vol­un­teerism among mil­len­ni­als as tell­tale signs.
While such trends are wel­come, it's hard to see how they could out­weigh the excess­es of a mon­ey-besot­ted polit­i­cal estab­lish­ment that bears an increas­ing resem­blance to an out­right oli­garchy. Toyama's only invo­ca­tions of pol­i­tics are rhetor­i­cal and hol­low: ​"What is polit­i­cal will," he asks, ​"oth­er than mass intrin­sic growth?" No, actu­al­ly. To have any mean­ing for dis­fran­chised pop­u­la­tions like the ones Toya­ma aims to serve, polit­i­cal will has to be much more than that: It's a direct chal­lenge to unearned social priv­i­lege. But it's also not some­thing that you'll find much of in the oth­er­wise insight­ful pages of Geek Heresy.