To Resist the GOP's Attack on Healthcare, We Must Transform Our Political System
The Moral Movement is connecting the dots between racist voter suppression, poverty and lethal federal policies.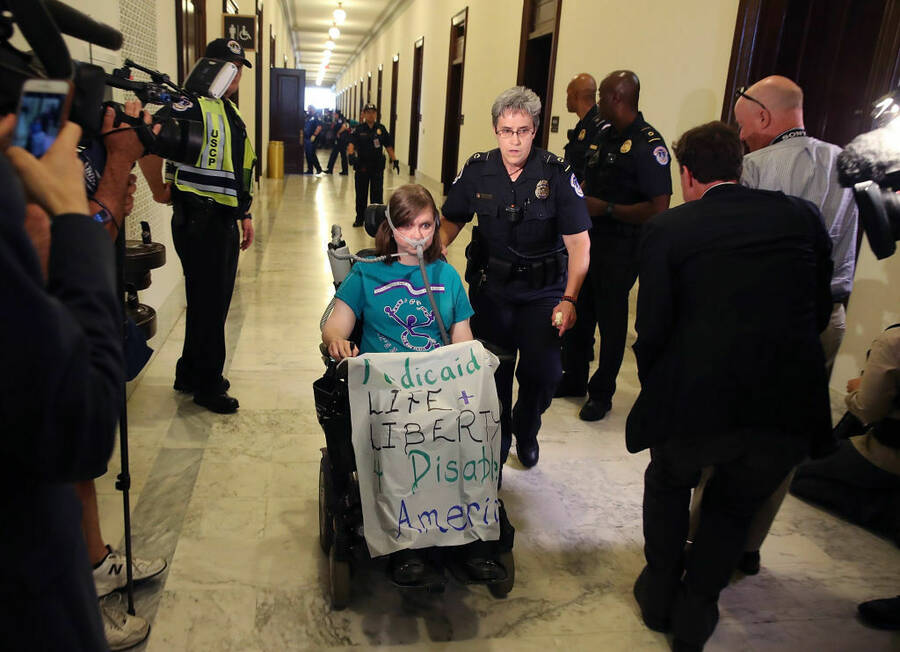 Wel­come to Inter­views for Resis­tance. Since elec­tion night 2016, the streets of the Unit­ed States have rung with resis­tance. Peo­ple all over the coun­try have wok­en up with the con­vic­tion that they must do some­thing to fight inequal­i­ty in all its forms. But many are won­der­ing what it is they can do. In this series, we'll be talk­ing with expe­ri­enced orga­niz­ers, trou­ble­mak­ers, and thinkers who have been doing the hard work of fight­ing for a long time. They'll be shar­ing their insights on what works and what does­n't, what has changed and what is still the same.
Obviously we're not sure what's going to happen around healthcare. We are sure that people are very motivated to try to stop bad things from happening.
Liz Theo­haris: My name is Rev. Dr. Liz Theo­haris, and I am the co-direc­tor of the Kairos Cen­ter for Reli­gions, Rights and Social Jus­tice at Union The­o­log­i­cal Sem­i­nary. I am co-chair with Rev. Dr. William J. Bar­ber of the Poor Peo­ple's Cam­paign, A Call for Moral Revival.
Sarah Jaffe: You have been part of a cou­ple of actions now around try­ing to stop whichev­er ver­sion of Trump­care is mov­ing through the Sen­ate and to fight against cuts to Med­ic­aid. Can you tell us a lit­tle bit about the actions?
Liz: Many folks have been com­ing togeth­er in lots of dif­fer­ent ways, includ­ing impact­ed peo­ple. Last Tues­day in Wash­ing­ton, D.C. in front of Sen­a­tor McConnel­l's office, [there were] cler­gy and oth­er impact­ed folks who are very upset both about the pro­posed cuts and changes as well as the lack of faith lead­ers stand­ing up against this kind of devalu­ing of life. Folks decid­ed to do civ­il dis­obe­di­ence in front of McConnel­l's office. Folks were led by Rev. Dr. William J. Bar­ber from the For­ward Togeth­er Moral Mon­days move­ment, Rev. Traci Black­mon from the Unit­ed Church of Christ Jus­tice and Wit­ness Min­istry, as well as Rev. Jen­nifer But­ler of Faith and Pub­lic Life, peo­ple of var­i­ous faiths and those that will be impact­ed if the ACA is repealed and if more health­care cuts are done. They staged a demon­stra­tion and took Com­mu­nion say­ing that we can't be silent any­more around these things, and we are join­ing with oth­ers across the coun­try who are speak­ing out about how these cuts are killing people.
Sarah: You said that part of the moti­va­tion was to call on faith lead­ers to speak up about this and talk a lit­tle bit more about why it's impor­tant as faith lead­ers to be part of the move­ment to stop Trump­care, the move­ment for uni­ver­sal health­care and all of that.
Liz: I think that part of why we see it as impor­tant for faith lead­ers to step up is because health­care and all of these issues are moral issues. For too long, moral­i­ty has been con­fined to a very small num­ber of issues, many of which are bare­ly dis­cussed in faith tra­di­tions and texts. They've been in the hands of folks who are try­ing to exclude and oppress. Instead, we're say­ing that if you look at var­i­ous reli­gious texts with­in the tra­di­tion of Chris­tian­i­ty that I come from, Jesus trav­eled around the coun­try­side heal­ing peo­ple for free. Clear­ly, Jesus had a uni­ver­sal health­care sys­tem. In this time, these kinds of health­care cuts, this kind of repeal of the ACA, is all being done in the name of and with the sup­port of many Chris­tians and politi­cians who claim to be Christian.
And so it's real­ly impor­tant for faith lead­ers to say, ​"No, this is a moral issue. It's a moral issue when­ev­er you kill peo­ple because you deny them Medicare and Med­ic­aid. When­ev­er you deny peo­ple health­care because they have pre­ex­ist­ing con­di­tions, that this is not okay in any of our sacred texts, and it is a respon­si­bil­i­ty of every­body." Espe­cial­ly our moral lead­ers in our cler­gy [need] to not just talk a good talk, but to be out there with peo­ple who are impact­ed fight­ing for the kind of health­care sys­tem that we want.
Sarah: The Repub­li­cans are not going to stop try­ing to kill the ACA. But tell us what comes next for you, both around health­care and on a broad­er scale?
Liz: Obvi­ous­ly, we're not sure what's going to hap­pen around health­care. We are sure that peo­ple are very moti­vat­ed to try to stop bad things from hap­pen­ing. We have to keep the pres­sure up and make it very clear to our politi­cians that health­care is an issue that unites a lot of us and we are com­mit­ted to fight around it.
We are also try­ing to link the issue of health­care to oth­er social jus­tice issues and things that are impact­ing peo­ple. Just the day before I was arrest­ed with oth­ers [recent­ly], we were par­tic­i­pat­ing in a ten­ants' rights march and, in jail, we actu­al­ly con­nect­ed up with folks who were com­mit­ting civ­il dis­obe­di­ence around anti-mil­i­tarism. Then, on Mon­day, Rev. Bar­ber and oth­ers led a group of cler­gy around a press con­fer­ence, and then we actu­al­ly had a meet­ing with the high com­mis­sion­er for human rights at the Unit­ed Nations, mak­ing the con­nec­tion between vot­er sup­pres­sion and the attack on our democ­ra­cy that is tak­ing place right now, includ­ing with this elec­tion integri­ty com­mis­sion that has been set up by Pres­i­dent Trump and is being vice chaired by some­one who the Sen­ate minor­i­ty leader has called the most racist per­son in the country
We are try­ing to see these con­nec­tions between vot­er sup­pres­sion, the denial of health­care and the low wages that peo­ple are fight­ing. We are try­ing to pull all of this togeth­er into what we're see­ing as the need for a poor peo­ple's cam­paign, a nation­al call for moral revival. We are con­nect­ing these dif­fer­ent issues and the groups that are impact­ed direct­ly by these issues and pulling them togeth­er into a large, a fusion move­ment that works across race and geog­ra­phy. We are doing some­thing that can be a pow­er­ful force and fin­ish some of the unfin­ished work that Rev. Dr. Mar­tin Luther King Jr. was doing in the last year of his life. Fifty years lat­er, we see that need to con­nect sys­temic racism, pover­ty and eco­log­i­cal dev­as­ta­tion into a large move­ment and cam­paign to bring peo­ple together.
Sarah: I was struck the oth­er day at the press con­fer­ence, where Rev. Bar­ber and oth­er folks were con­nect­ing the dots to vot­er sup­pres­sion and the lack of Med­ic­aid expan­sion, which is already deny­ing a lot of folks their med­ical care. It seems par­tic­u­lar­ly rel­e­vant to note the way polit­i­cal dis­en­fran­chise­ment leads to these actu­al mate­r­i­al con­se­quences for people.
Liz: Exact­ly. Part of the rea­son we went and met with the U.N. high com­mis­sion­er for human rights, who is grave­ly con­cerned about sys­temic racism and pover­ty in the Unit­ed States, is because we were try­ing to show the coun­try and the world that these are linked. A cen­tral pil­lar of the work that we're doing with the poor peo­ple's cam­paign will be the indi­vis­i­bil­i­ty of these rights. The fight against vot­er sup­pres­sion is for our democ­ra­cy, because when you sup­press votes, peo­ple get into office because of racist vot­er sup­pres­sion. They pass poli­cies that have a detri­men­tal impact on the poor and work­ing peo­ple of all races. This kind of divide-and-con­quer that has been a part of US pol­i­tics since our found­ing. We from the bot­tom are going to unite and build and see the con­nec­tions between vot­er sup­pres­sion and the attack on the ACA and all of our health­care. The bud­get right now will be, if passed, the largest trans­fer of wealth from the bot­tom up since the Civ­il War.
This is all con­nect­ed. If we don't just see vot­er sup­pres­sion over there and health­care over here and hous­ing cuts over there, and don't actu­al­ly see that the same peo­ple who are deny­ing us health­care are sup­press­ing our vote and are mak­ing us home­less, then we will nev­er be smart enough to come togeth­er and do some­thing that will change the con­di­tions in the Unit­ed States and make the major­i­ty of us who are poor or one or two pay­checks away from being poor, into some­thing that's a pow­er­ful force in this country.
Sarah: How can peo­ple keep up with you and the cam­paigns you're work­ing on?
Liz: Folks can check out the Kairos Cen­ter, kairoscen​ter​.org, on social media and our web­site, as well as poor​peo​plescam​paign​.org. There will be more and more announce­ments about six­teen pub­lic events that the Poor Peo­ple's Cam­paign is doing in the next cou­ple of months all over the coun­try. In Decem­ber of this year, we'll announce the major plans that we have for the spring of 2018 to do a mas­sive mobi­liza­tion in states across the coun­try and in the nation's capital.
Inter­views for Resis­tance is a project of Sarah Jaffe, with assis­tance from Lau­ra Feuille­bois and sup­port from the Nation Insti­tute. It is also avail­able as a pod­cast on iTunes. Not to be reprint­ed with­out permission.
Sarah Jaffe
is a for­mer staff writer at
In These Times
and author of
Nec­es­sary Trou­ble: Amer­i­cans in Revolt
, which Robin D.G. Kel­ley called ​
"
The most com­pelling social and polit­i­cal por­trait of our age." You can fol­low her on Twit­ter
@sarahljaffe
.