Politicians Keep Promising Free Trade Agreements Can Protect Workers. We Should Stop Believing Them.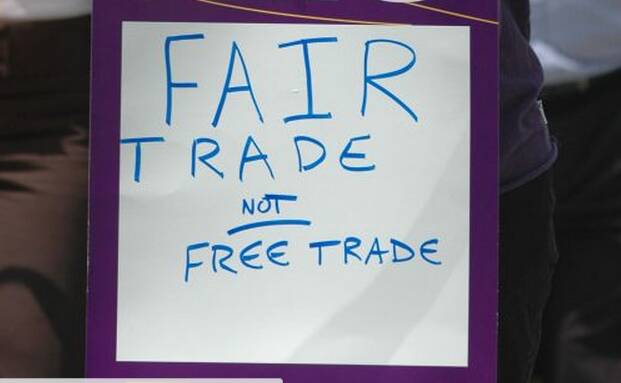 That is true — if the busi­ness­es are in Amer­i­ca. There's not much point in Amer­i­can can­di­dates solic­it­ing votes from work­ers at fac­to­ries that U.S. cor­po­ra­tions closed here and moved over­seas with the help of free trade agree­ments (FTAs). Decade after decade of free trade, pres­i­dents promised work­ers that the deals set the high­est stan­dards for labor. And decade after decade, the fed­er­al gov­ern­ment failed at enforce­ment, plac­ing Amer­i­cans in com­pe­ti­tion with child labor­ers, under­paid and over­bur­dened for­eign work­ers and vic­tims of human trafficking.
On trade, Sen. Paul got it right for work­ing peo­ple. He opposed Fast Track­ing approval of the 12-coun­try Trans-Pacif­ic Part­ner­ship (TPP) through Con­gress. He was on the los­ing side of that vote, though. So the Fast Track plan for Con­gress to relin­quish its respon­si­bil­i­ty to review and amend trade agree­ments awaits action this week in the U.S. House of Rep­re­sen­ta­tives. House Repub­li­cans who believe in sup­port­ing Amer­i­can work­ers, not just pan­der­ing to them, should join Sen. Paul in vot­ing no on Fast Track.
From Bill Clin­ton to Barack Oba­ma, Repub­li­can and Demo­c­ra­t­ic pres­i­dents have pledged to work­ers that some new free trade scheme would pro­tect Amer­i­cans from unfair and immoral for­eign competition.
Clin­ton claimed the North Amer­i­can Free Trade Agree­ment (NAF­TA) was the first deal ever con­tain­ing teeth to enforce labor stan­dards. George W. Bush's U.S. Trade Rep­re­sen­ta­tive (USTR) con­tend­ed the Cen­tral Amer­i­can Free Trade Agree­ment (CAF­TA) had the strongest labor pro­vi­sions ever nego­ti­at­ed. Oba­ma admin­is­tra­tion offi­cials assured Amer­i­cans that the Peru, Colom­bia and Pana­ma agree­ments, and now the TPP, have the great­est work­er pro­tec­tions of all time.
They all swore the stan­dards would be strict­ly enforced. But none of it was true. The deals did not pro­tect Amer­i­can work­ers. And they didn't pro­tect for­eign work­ers either.
Now Amer­i­can work­ers over­whelm­ing­ly oppose the free trade brand of glob­al­iza­tion. They've seen its ter­ri­ble results for them. They've suf­fered as cor­po­ra­tions closed Amer­i­can fac­to­ries, destroyed Amer­i­can jobs and com­mu­ni­ties, and shipped that work overseas.
Amer­i­cans have found them­selves com­pet­ing with chil­dren coerced to work in for­eign fac­to­ries, traf­ficked and forced labor, and for­eign work­ers so mis­treat­ed that they jump to their deaths from fac­to­ry build­ings. Amer­i­can con­sumers find them­selves buy­ing prod­ucts made in unsafe build­ings that col­lapse or burn, killing thou­sands of for­eign workers.
The USTR, who is sup­posed to enforce the labor pro­vi­sions of trade agree­ments, along with the U.S. Depart­ment of Labor (DOL) and Depart­ment of State, has failed. That's accord­ing to two reviews by the U.S. Gov­ern­ment Account­abil­i­ty Office (GAO). After a damn­ing GAO report in 2009, the USTR promised action. A sec­ond GAO analy­sis in 2014 report­ed lit­tle change.
Here's the bot­tom line from that report: ​"Since 2009, USTR and DOL, with State's assis­tance, have tak­en steps intend­ed to strength­en mon­i­tor­ing and enforce­ment of FTA part­ners' com­pli­ance with FTA labor pro­vi­sions, but their mon­i­tor­ing and enforce­ment remains limited."
In oth­er words, no mat­ter what those agree­ments say about labor, it's not being enforced.
For exam­ple, five years after Guatemala entered CAF­TA, the Inter­na­tion­al Trade Union Con­fed­er­a­tion (ITUC) named Guatemala the most dan­ger­ous coun­try in the world for trade union­ists. That's because of the large num­ber of union activists mur­dered, tor­tured, kid­napped and threat­ened there.
This was a star­tling devel­op­ment because Colom­bia had a lock on the inglo­ri­ous title of most dan­ger­ous for years. Colom­bia dropped from first place even while mur­ders of trade union­ists con­tin­ued there.
Since Colom­bia final­ized a free trade agree­ment with the U.S. in 2011, two dozen Colom­bians try­ing to improve the lives and wages of work­ers through col­lec­tive bar­gain­ing have been mur­dered every year. And these mur­ders are com­mit­ted with impuni­ty. There are vir­tu­al­ly nev­er arrests or con­vic­tions for killing trade union­ists in Colom­bia. Colombia's trade deal with the U.S. and its ​"enforce­ment" by the USTR, DOL and the State Depart­ment have done noth­ing to change that.
And as in Guatemala, trade union activists in Colom­bia con­tin­ue to be threat­ened, tor­tured and kid­napped. The free trade agree­ment is no shield for them. For exam­ple, a para­mil­i­tary group threat­ened the daugh­ters of Martha Cecil­ia Suarez, the pres­i­dent of the San­tander pub­lic ser­vants association.
In 2013, the para­mil­i­tary group Coman­do Urbano de los Ras­tro­jos sent her two dolls marked with her daugh­ters' names. They were cov­ered in red paint, one miss­ing a leg, the oth­er an arm.
The 14 free trade agree­ments that the Unit­ed States has signed with 20 coun­tries con­tain pro­vi­sions allow­ing groups or indi­vid­u­als to file com­plaints about such vio­la­tions of the labor stan­dards. The 2014 eval­u­a­tion by the GAO sug­gests that only a tiny num­ber of com­plaints have been filed because the Labor Depart­ment has failed to inform stake­hold­ers of this process and few with­in the for­eign coun­tries know about it.
The GAO also found that the Labor Depart­ment has failed to meet its own dead­lines for inves­ti­gat­ing and resolv­ing the com­plaints it has accept­ed. Seri­ous alle­ga­tions, includ­ing human traf­fick­ing and child labor, remain unset­tled for years.
In addi­tion to the crit­i­cal 2014 GAO report, U.S. Sen. Eliz­a­beth War­ren detailed the fail­ure of the Unit­ed States to imple­ment FTA labor pro­vi­sions in a report issued by her office late last month titled Bro­ken Promis­es. It says, ​"the Unit­ed States repeat­ed­ly fails to enforce or adopts unen­force­able labor stan­dards in free trade agreements."
Admit­ted­ly, this is a titan­ic chal­lenge. What the Unit­ed States is try­ing to do is tell oth­er coun­tries, often ones far less wealthy, how their busi­ness­es should treat work­ers. The Unit­ed States hard­ly would take kind­ly to Guatemala telling it that the U.S. min­i­mum wage is so low that it amounts to forced labor.
But pres­i­dent after pres­i­dent has promised Amer­i­can work­ers that the Unit­ed States will com­pel for­eign nations to meet high labor stan­dards estab­lished in FTAs.
They haven't accom­plished that. They prob­a­bly can't. They should stop say­ing it. And Amer­i­can work­ers and politi­cians should stop buy­ing it. The Unit­ed States can sign trade agree­ments with coun­tries after they stop mur­der­ing trade union­ists and coun­te­nanc­ing child labor. Enter­ing agree­ments with coun­tries that per­mit these grotesque prac­tices demeans Amer­i­can work­ers and consumers.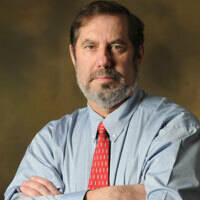 Leo Ger­ard is inter­na­tion­al pres­i­dent of the Unit­ed Steel­work­ers Union, part of the AFL-CIO. The son of a union min­er; Ger­ard start­ed work­ing at a nick­el smelter in Sud­bury, Ontario, at age
18
, and rose through the union's ranks to be appoint­ed the sev­enth inter­na­tion­al pres­i­dent Feb.
28
,
2001
. For more infor­ma­tion about Ger­ard, vis­it
usw​.org
.