Rhode Island Elected A Slate of Progressives in 2016. Now Centrists Are Coming for Them.
The Democratic Party establishment is launching a counterinsurgency.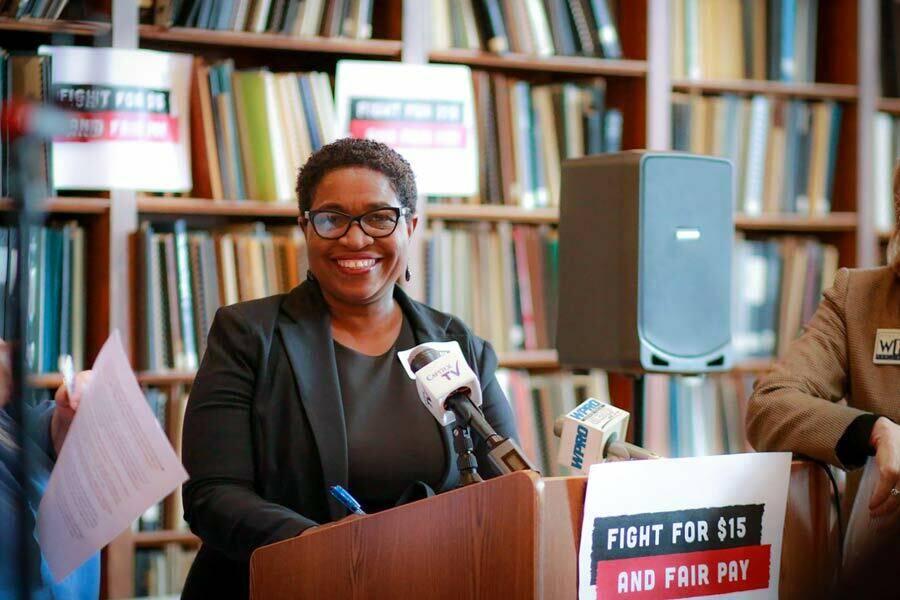 PROV­I­DENCE, R.I. — ​"I am the only can­di­date in Dis­trict Five who is fight­ing to pro­tect a woman's choice," said incum­bent state Rep. Mar­cia Ran­glin-Vas­sell, a black woman, Jamaican immi­grant and pro­gres­sive Demo­c­rat, to more than a dozen vol­un­teers in her back­yard July 14. ​"I believe that women should have access to safe abortions."
Ranglin-Vassell was passed over for endorsement in favor of Holly Taylor Coolman, an antichoice Providence College theology professor who identifies as a "traditional" Democrat.
Ran­glin-Vas­sell and her sup­port­ers were prepar­ing for a long day of can­vass­ing. ​"Mar­cia trusts women," cam­paign vol­un­teer Car­olyn Mor­gan wrote to In These Times in an email. ​"I adore her!"
Ran­glin-Vas­sell ​'s trust in women stands in stark con­trast to a Rhode Island Demo­c­ra­t­ic Par­ty that, in June, endorsed a slate of cen­trist Democ­rats — sev­er­al with ques­tion­able records on women's issues — over pro­gres­sive women. For a ​"blue" state, Rhode Island has long been con­ser­v­a­tive on issues such as guns, abor­tion and even vot­er ID. (It is the only state with a vot­er ID law passed by a Demo­c­ra­t­ic-major­i­ty leg­is­la­ture.) Ran­glin-Vas­sell was passed over for endorse­ment in favor of Hol­ly Tay­lor Cool­man, an anti­choice Prov­i­dence Col­lege the­ol­o­gy pro­fes­sor who iden­ti­fies as a ​"tra­di­tion­al" Democrat.
The term ​"tra­di­tion­al Demo­c­rat" comes from John­ston, R.I., May­or Joseph Polise­na, who coined it in May in a sur­pris­ing­ly blunt address before a state par­ty plat­form com­mit­tee meet­ing. ​"Many [tra­di­tion­al Democ­rats] are pro-life, many believe in the Sec­ond Amend­ment," Polise­na said. ​"They want … to reduce the bur­den­some state and fed­er­al reg­u­la­tions." They also oppose car­bon tax­es and tax­es meant to fund sin­gle-pay­er health­care, he added.
Polise­na was con­trast­ing his views with an insur­gent pro­gres­sive wing of which Ran­glin-Vas­sell is part. Two years ago, with the endorse­ment of the Rhode Island Work­ing Fam­i­lies Par­ty (WFP), she oust­ed pro-gun, pro-tax cut R.I. House Major­i­ty Leader John DeS­i­mone by a mere 17 votes in the Demo­c­ra­t­ic pri­ma­ry. DeS­i­mone had held that seat for 24 years. Ranglin-Vassell's elec­tion was a huge upset and a pro­gres­sive shot across the bow of the state's Demo­c­ra­t­ic Par­ty pow­er struc­ture. Three oth­er WFP-endorsed can­di­dates also won that year.
That pow­er struc­ture fired back in June with its endorse­ments. In House Dis­trict 3, Trump vot­er Michael Earn­hart was endorsed over WFP-backed state Rep. Moira Walsh. In state Sen­ate Dis­trict 35, Gre­go­ry Accia­r­do, a for­mer state sen­a­tor who has been accused of domes­tic vio­lence (charges were dropped) and con­vict­ed of drunk dri­ving, was endorsed over pro­gres­sive can­di­date Brid­get Valverde, the vice pres­i­dent of the Rhode Island Demo­c­ra­t­ic Par­ty Women's Caucus.
After wide­spread back­lash, the par­ty rescind­ed these endorse­ments, but oth­er dubi­ous choic­es remain, includ­ing the endorse­ment of Cool­man and John Carnevale. Cool­man, a Catholic the­olo­gian, oppos­es the pro-choice Repro­duc­tive Health Care Act, and Carnevale has faced alle­ga­tions of sex­u­al assault (charges were dropped upon the victim's death) and domes­tic violence.
The party's sus­pect endorse­ments can be linked to its unusu­al and arcane process. Every House and Sen­ate dis­trict has a Dis­trict Com­mit­tee, at least in the­o­ry, whose sole pur­pose is to make endorse­ments — but there is lit­tle trans­paren­cy. Ranglin-Vassell's Dis­trict Com­mit­tee was full of holdovers loy­al to the pre­vi­ous office-hold­er, includ­ing DeSimone's old­er broth­er. Where com­mit­tees are defunct — as in Trump sup­port­er Earnhart's dis­trict — the endorse­ment deci­sion is made uni­lat­er­al­ly by the state par­ty chair­man, though after this year's con­tro­ver­sies he is abdi­cat­ing this role.
The Rhode Island Demo­c­ra­t­ic Par­ty says that to receive a par­ty endorse­ment, a can­di­date must ask for it. Cool­man, how­ev­er, insists she nev­er asked, and found out about the endorse­ment read­ing the local newspaper.
An endorsed can­di­date gets a star next to their name on the bal­lot and free access to the Vot­er Acti­va­tion Net­work (VAN), a vot­er data­base essen­tial to Demo­c­ra­t­ic cam­paigns. Unen­dorsed can­di­dates pay $1,600 to access the sys­tem. In small races, that's a lot of money.
"Giv­en all the facts sur­round­ing the endorse­ments, I respect­ful­ly ask my oppo­nent to return the ​'unre­quest­ed endorse­ment,' " tweet­ed Ranglin-Vassell.
"I will con­sid­er that sug­ges­tion," Cool­man tells In These Times. ​"My con­cern is that, now, peo­ple who are huge sup­port­ers [of mine] and have giv­en time, ener­gy, etc., are very hap­py about this."
The pri­ma­ry is Sep­tem­ber 12.
Steve Ahlquist
is a Prov­i­dence-based inde­pen­dent reporter and edi­tor of Upris​eRI​.com.