Hated on the Left, the TPP Draws Conservative Foes
A ragtag right-wing coalition opposes fast-tracking the deal they call 'Obamatrade.'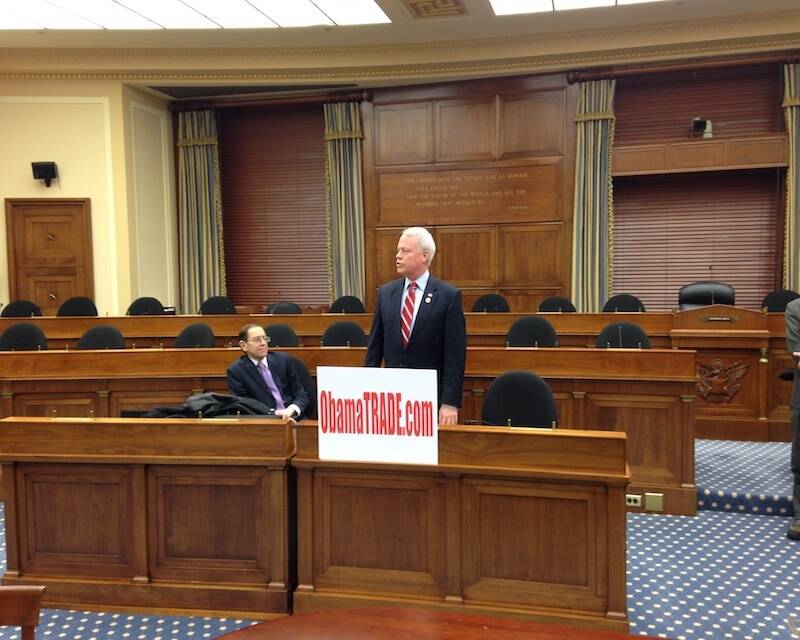 ​"The Pres­i­dent said, if you like your health insur­ance, you can keep it," says Cur­tis Ellis of the Amer­i­can Jobs Alliance, a small con­ser­v­a­tive group based in Vir­ginia that oppos­es the out­sourc­ing of U.S. jobs over­seas. ​"Now essen­tial­ly, with Oba­ma­trade, he's say­ing, if you like your job, you can keep it."
Most of the TPP critiques were on constitutional grounds: Speakers condemned how fast-track delegates trade negotiating authority to the executive branch and, to a lesser extent, how TPP's extreme investor protections chip away at American sovereignty by allowing corporations to sue governments in third-party courts. Mixed in with this criticism, though, was a healthy dose of anti-Obama rancor.
If ​"Oba­ma­trade" catch­es on as a right-wing ral­ly­ing cry against the Trans-Pacif­ic Part­ner­ship (TPP) — a trade agree­ment cov­er­ing the Pacif­ic Rim economies of Aus­tralia, Japan, Malaysia, among oth­ers — it will prob­a­bly have some­thing to do with a sparse­ly attend­ed press con­fer­ence on Tues­day in the House Sci­ence Com­mit­tee hear­ing room. That's where the Amer­i­can Jobs Alliance and the Unit­ed States Busi­ness and Indus­try Coun­cil—pro-busi­ness groups wary of trade's impact on America's nation­al inter­ests — joined with Tea Par­ty Nation and the social­ly con­ser­v­a­tive Eagle Forum to rail against the TPP and Pres­i­dent Obama's sup­port for ​"fast-track­ing" the mea­sure. The leg­isla­tive pro­ce­dure would pre­vent Con­gress from amend­ing the agree­ment once it's com­plet­ed by inter­na­tion­al nego­tia­tors. With­out fast-track, Con­gress is con­sid­ered unlike­ly to approve the deal in its cur­rent form.
On Wednes­day, Sen­ate Major­i­ty Leader Har­ry Reid came out against the exist­ing fast-track bill, but that doesn't quite mean it's dead. A ​"yes" vote in the House could put enough pres­sure on the Sen­ate to take action or leg­is­la­tors could choose to craft a gen­tler ver­sion of the bill that appeals to Reid — one that allows more time for debate, for example.
Most oppo­si­tion to the TPP has come from the orga­nized Left, which wor­ries that ​"NAF­TA on steroids" will under­mine key envi­ron­men­tal and health pro­tec­tions and has­ten the flight of good-pay­ing jobs abroad. Ear­li­er this week, a coali­tion of more than 550 dif­fer­ent labor unions, envi­ron­men­tal groups and con­sumer advo­ca­cy orga­ni­za­tions con­demned fast-track in a let­ter to Con­gress. That's in addi­tion to Reid and the 151 House Democ­rats who came out against the pro­ce­dure in Novem­ber. By con­trast, only 23 House Repub­li­cans have done so.
But the Oba­ma­traders hope to light a fire under Con­gres­sion­al Repub­li­cans. Tuesday's pro­ceed­ings were trans­mit­ted live on a con­fer­ence call to sev­er­al Tea Par­ty groups and local affil­i­ates of the 9⁄12 Project—an orga­ni­za­tion found­ed by Glenn Beck and named for the moment of patri­ot­ic uni­ty that fol­lowed Sep­tem­ber 11, 2001.
From the begin­ning of the con­fer­ence, it was clear the coali­tion is tar­get­ing vot­ers and elect­ed offi­cials whose pol­i­tics vary sub­stan­tial­ly from its tem­po­rary allies on the Left. ​"Before we get start­ed this after­noon, I thought it might be appro­pri­ate that we take a moment of silence to hon­or a friend that has passed away," Tea Par­ty Nation pres­i­dent Jud­son Phillips told the audience.
For a fleet­ing moment, I think he is about to pay homage to Pete Seeger, the icon­ic com­mu­nist folk artist who passed away ear­li­er in the day. But then Phillips fin­ish­es the sentence.
​"Glob­al warm­ing," he says, to laughter.
Most of the TPP cri­tiques were on con­sti­tu­tion­al grounds: Speak­ers con­demned how fast-track del­e­gates trade nego­ti­at­ing author­i­ty to the exec­u­tive branch and, to a less­er extent, how TPP's extreme investor pro­tec­tions chip away at Amer­i­can sov­er­eign­ty by allow­ing cor­po­ra­tions to sue gov­ern­ments in third-par­ty courts. Mixed in with this crit­i­cism, though, was a healthy dose of anti-Oba­ma rancor.
​"He has lied to the Amer­i­can peo­ple time and time again — Beng­hazi, the IRS scan­dal, Fast and Furi­ous, the list goes on," Philips said. ​"We can't trust Barack Oba­ma to nego­ti­ate a good deal or be truth­ful to the Amer­i­can peo­ple about it.
Rep. Paul Broun (R‑Ga.), the only con­gress­man in atten­dance, stressed that he's not against free trade in the­o­ry. Nor is he actu­al­ly opposed to the TPP, as he clar­i­fied when asked by In These Times. Broun, in fact, has vot­ed for four sep­a­rate FTAs with Colom­bia, Pana­ma, Peru and South Korea.
​"As an orig­i­nal intent con­sti­tu­tion­al­ist, I believe very firm­ly in that idea of free and open trade," Broun said. ​"But fast-track author­i­ty is a prob­lem, par­tic­u­lar­ly with this Pres­i­dent. We've seen him over and over again make promis­es … some­one who has not been truth­ful cer­tain­ly should not have this fast-track authority."
Glyn Wright, exec­u­tive direc­tor of the Eagle Forum, the orga­ni­za­tion found­ed by Phyl­lis Schlafly and best known for fight­ing the Equal Rights Amend­ment in the 1970s, shared those con­cerns. But her reser­va­tions about the TPP have more to do with her Chris­t­ian faith than her lack of faith in Obama.
​"Some of the coun­tries in this part­ner­ship are noto­ri­ous for their pros­e­cu­tion of Chris­tians," Wright said. ​"In Brunei, Malaysia and Viet­nam, Chris­tians and cler­gy are harassed at every turn, spies attend almost every Chris­t­ian gath­er­ing, and Brunei's con­sti­tu­tion even states that the reli­gion of Brunei shall be the Mus­lim reli­gion — which means that Islam­ic sharia law super­sedes all oth­er law. … Why are we look­ing to merge our economies with coun­tries that rep­re­sent the absolute antithe­sis of the Amer­i­can way?"
Tak­ing anoth­er tack, Ellis of the Amer­i­can Jobs Alliance, who has an aver­sion to multi­na­tion­al cor­po­ra­tions that can come off as vague­ly anti-cap­i­tal­ist at times, argued that this isn't even about ​"free trade."
​"This is essen­tial­ly pro­tect­ed mar­kets grant­i­ng monop­oly pow­er to cer­tain large cor­po­ra­tions — Mouse­witz, Dis­ney — so that Mick­ey Mouse will live for­ev­er," Ellis tells In These Times, in a ref­er­ence to the TPP's intel­lec­tu­al prop­er­ty chap­ter. ​"It's man­aged trade to grant priv­i­leges to the cor­po­ratist insid­ers who have lob­by­ists, who are sit­ting at the nego­ti­at­ing table and have access."
With­in the larg­er scope of the con­ser­v­a­tive move­ment, or of busi­ness lob­by­ist cir­cles, the coali­tion rep­re­sents a small minor­i­ty with lim­it­ed polit­i­cal pow­er. Despite its por­ten­tous title, the U.S. Busi­ness and Indus­try Coun­cil is no Cham­ber of Com­merce — it rep­re­sents com­pa­nies com­mit­ted to the ​"nation­al inter­est," not the agen­da of large multi­na­tion­als intent on max­i­miz­ing glob­al prof­its. The Eagle Forum, a cou­ple of decades removed from its hey­day, is no Her­itage Foun­da­tion. The lat­ter, which main­tains con­sid­er­able sway over House Repub­li­cans, has praised the TPP and oth­er free trade agree­ments. (Her­itage did not respond to a request for com­ment on this story.)
TPP oppo­nents, though, will take sup­port from wher­ev­er they can get it. Basic arith­metic dic­tates that block­ing fast-track requires a sub­stan­tial chunk of Repub­li­can votes in the House.
​"Oppo­si­tion to the TPP is grow­ing dai­ly, as more peo­ple are learn­ing about its dis­as­trous con­se­quences," says Rep. Alan Grayson (D‑Fla.), who has helped lead Demo­c­ra­t­ic oppo­si­tion to the deal. ​"Whether you're a Demo­c­rat or a Repub­li­can, a lib­er­al or a con­ser­v­a­tive, it's clear that the TPP is [a] sell-out to for­eign cor­po­ra­tions that will gut our man­u­fac­tur­ing base, and make our trade deficits soar."
Mark Pocan (D‑Wis.), who has ral­lied fel­low first-term Democ­rats against the deal, says the space of con­ver­gence doesn't even have to be as broad as that.
​"While Democ­rats and Repub­li­cans may approach trade issues from dif­fer­ent per­spec­tives, we should all be opposed to abdi­cat­ing our Con­sti­tu­tion­al pow­er to over­see for­eign trade deals," he says.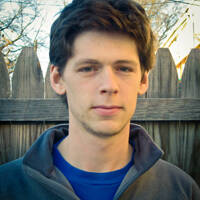 Cole Stan­gler
writes about labor and the envi­ron­ment. His report­ing has also appeared in The Nation, VICE, The New Repub­lic and Inter­na­tion­al Busi­ness Times. He lives in Paris, France. He can be reached at cole[at]inthesetimes.com. Fol­low him
@colestangler
.