Riot Police Called In To Arrest Peaceful Protesters Outside Walmart Warehouse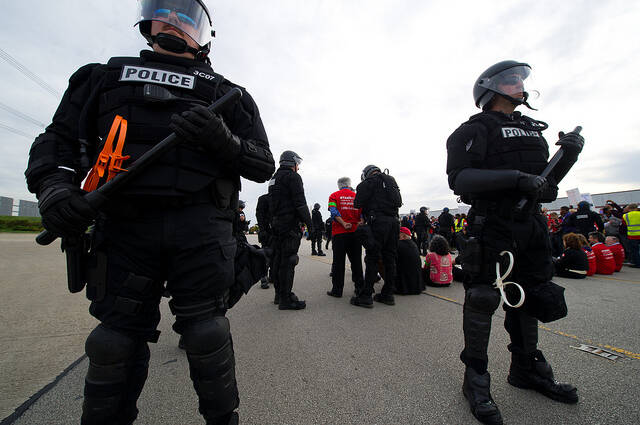 Several hundred supporters of strikers at a giant Walmart warehouse near Chicago converged on the tiny town of Elwood, IL, on Monday, effectively shutting down this key hub of the big retailer's distribution center for most of the day.
​"Today's CPH — zero," cheered warehouse worker Phil Bailey, using the managers' abbreviation of ​"cartons per hour," the dreaded standard for the seemingly always more intensified pace of work in the warehouse. Warehouse Workers For Justice (WWFJ), an organization launched and supported by the United Electrical Workers (UE) to raise standards for the industry, reported that managers had sent the day's workforce home early.
Union and community organization members, clergy, Walmart retail workers, and civic leaders rallied in a nearby parking lot and marched around the two big buildings, before 17 leaders from the supportive constituencies sat down in the late afternoon across Centerpoint Drive, outside the main gate
A couple dozen police officers, clad in heavy black helmets and riot gear, and backed by military-style vehicles, assembled on Walmart's property. Their equipment — which seemed like overkill for a protest negotiated in advance — had all been purchased with money from the Illinois Terrorism Task Force, specifically for this ​"mobile force team" jointly operated by a consortium of local police forces, according to Elwood police Chief Fred W. Hayes.
The riot police marched trough the main gate of the warehouse, then handcuffed and arrested the non-violent sit-down protestors on minor traffic obstruction charges, as both they and other demonstrators sang, ​"We shall not be moved."
On September 15 a small group of workers walked out of the non-union facility after management fired — then later changed tactics and ​"suspended" — some key leaders, including Bailey. He is one of four named plaintiffs in a class action suit that lawyers working with WWFJ filed two days earlier. Workers charged their immediate employer, Roadlink Workforce Solutions, with committing wide-ranging wage theft and related violations of state and federal employment law.
Although Walmart owns the warehouse, it contracts with Schneider Logistics to manage operations, including the further subcontracting of actually providing workers to temporary employment firms like Roadlink, which employs about 125 people at Elwood.
In a situation made more chaotic by management's actions, more workers were fired or suspended on September 15 when they tried to present a petition about their grievances to management. About 30 Roadlink workers initially, now up to 38, said they were striking over unfair labor practices — management penalties for engaging in legally protected collective action — as well as the issues in the lawsuit and petition.
This may be the first warehouse strike in the huge warehousing operations that have grown rapidly over the past three decades in the southwest suburbs of Chicago, which according to World Business Chicago is the world's third-largest intermodal transportation hub.
The Walmart warehouse is located in a logistics business park, in an isolated and largely rural spot, connected to the nearby interstate highway by roads jammed with trucks even on a day when Walmart was not operating. Yet people, let alone protests, are rarely visible.
​"I was like, ​'Wow!' on Monday when I saw people picketing, and I joined in," Mike Patton, 45, said. ​"I couldn't believe someone was taking a stand. It's nice to see people came around to doing what's right. You work like a dog in there — faster and faster, and then they cut your hours."
Many workers complain about the unpredictable hours as well as the low pay – $10 an hour with no prospect of a raise — for heavy work in harsh temperatures. Striker Mike Compton told the solidarity rally that managers routinely referred to workers as ​"bodies" that were deployed in an endless quest for a higher CPH, deprived of breaks, and exposed to dangers.
​"The carts we use are suppose to have brakes, but they're broken," he said. ​"All of us have bruises on our legs that never heal. … What we asked for is some basic rights. When they illegally fired some of us, we started picketing. We'd had enough."
The demonstration of solidarity included relatively large groups from unions such as SEIU (Service Employees) and UFCW (Food and Commercial Workers), supporters from the OUR Walmart organization of retail workers and from Action Now, a Chicago community group, and an elected commissioner of the Will County Board, the county's governing body. ​"I believe elected officials should stand up to corporate power for our constituents," Jacki Traznere said as she sat in front of the warehouse awaiting arrest.
There was also one representative from the Sensata factory in northwest Illinois. Bain Capital, formerly led by Mitt Romney, owns Sensata and is in the process of closing the plant and outsourcing the factory's well-paid jobs to China.
​"Your present is our future," Sensata worker Ted Gaulrap told the strikers, ​"crappy jobs and no benefits. But remember that working people standing together can do anything."
But the complex subcontracting and high turnover in the warehouse industry makes it harder for workers to pursue the obvious path of forming a union. UE national director of organizing Bob Kingsley says Warehouse Workers for Justice is trying to ​"develop a model" that will work in the industry.
It will involve, he says, ​"straight-up organizing" of temp and permanent employees but will probably require changes in labor laws as well. UE strongly emphasizes relying on the warehouse workers themselves in making decisions and ​"leading the struggle," he says. Much as UE did decades ago in organizing at General Electric, he says, workers may form organizations that function as unofficial unions for long periods before seeking formal recognition.
But ​"we have got to have some breakthroughs to engage and empower warehouse workers," Kingsley says, expressing pleasure with the size and diversity of the turnout. ​"That's why what's happening here is so important."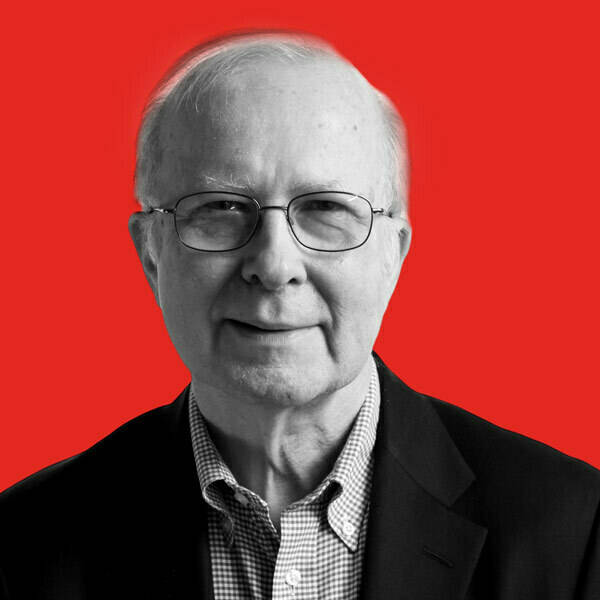 David Moberg, a former senior editor of In These Times, was on staff with the magazine from when it began publishing in 1976 until his passing in July 2022. Before joining In These Times, he completed his work for a Ph.D. in anthropology at the University of Chicago and worked for Newsweek. He received fellowships from the John D. and Catherine T. MacArthur Foundation and the Nation Institute for research on the new global economy.