Why the Democratic Socialists of America Won't Stop Growing
The inside story of DSA's dramatic ascent.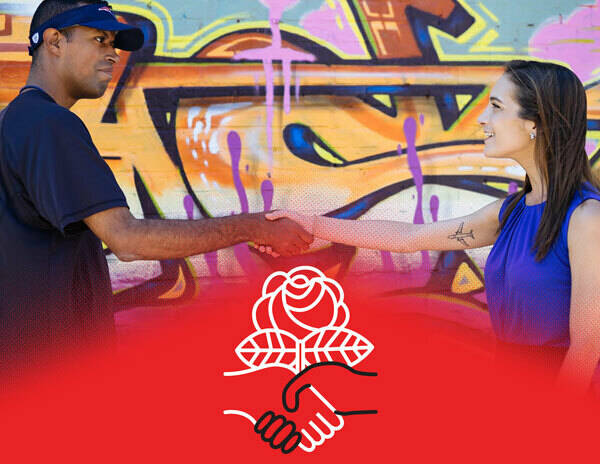 Vis­it­ing Julia Salazar's north Brook­lyn cam­paign office one warm July week­end, I'm greet­ed by a vol­un­teer with a spread­sheet. Like near­ly every­one else in the con­vert­ed cof­fee shop, she's a mem­ber of the Demo­c­ra­t­ic Social­ists of Amer­i­ca (DSA), and she asks me cheer­i­ly if I'm there to can­vass. I'm not, but if I were, I would be instruct­ed to make my way to a train­ing ses­sion on the sun­bathed patio out back that is scat­tered with half-full bot­tles of sun­screen. After that — in the span of just a halfhour — I would know every­thing I need to know about how to help elect a card-car­ry­ing social­ist to the New York state Senate.
When you go to black communities, we really are more inclined to socialism. We don't always have that language ... but we know that these policies are what's needed for our communities.
If Salazar makes it to Albany, she will join the ranks of 42 DSA-endorsed can­di­dates who are now or will soon be serv­ing in offices from the Moor­head, Minn., school board to Capi­tol Hill (that is, if Alexan­dria Oca­sio-Cortez wins the gen­er­al elec­tion as hand­i­ly as she did her pri­ma­ry in New York's 14th Con­gres­sion­al Dis­trict). So far this year, local chap­ters have endorsed at least 110 candidates.
By the time this arti­cle goes to press, DSA may well have 50,000 mem­bers across 200 local groups in all 50 states — up from 6,000 mem­bers in 2015. The surge in fresh­ly mint­ed social­ists came in three waves: First, those ener­gized by Bernie Sanders' pri­ma­ry run; sec­ond, those brought in by Don­ald Trump's elec­tion and the Women's March; and third, those inspired by 28-year-old DSA mem­ber Ocasio-Cortez's pri­ma­ry vic­to­ry in May over incum­bent — and Demo­c­ra­t­ic heavy­weight — Joe Crowley.
So what is DSA, exact­ly, and what is it doing with this grow­ing army?
DSA's elec­toral work has attract­ed nation­al media atten­tion in the wake of Ocasio-Cortez's his­toric win. Yet it's just one part of a bot­tom-up approach to pol­i­tics that sees the bal­lot box and state pow­er as tools for advanc­ing toward a more rad­i­cal­ly demo­c­ra­t­ic soci­ety. Mem­bers — most of them mil­len­ni­als, in small towns and big cities in every cor­ner of the coun­try — are engaged in every­thing from occu­py­ing Immi­gra­tion and Cus­toms Enforce­ment (ICE) offices to evan­ge­liz­ing about Medicare for All. Many reporters have tried to divine what DSA believes, be that the group's pol­i­cy pre­scrip­tions or its ide­ol­o­gy. DSA, though — to crib from Karl Marx — isn't look­ing mere­ly to inter­pret the world, but to change it, cam­paign by cam­paign, door by door. What's made DSA's ascen­dance remark­able is less its analy­sis of cap­i­tal­ism than its abil­i­ty to put peo­ple angry about cap­i­tal­ism to work.
IT'S TELLING THAT, UNLIKE MOST SOCIAL­ist groups, DSA was formed out of a merg­er — not a sec­tar­i­an split. In 1982, at the dawn of the Rea­gan era, the Demo­c­ra­t­ic Social­ist Orga­niz­ing Com­mit­tee (DSOC) and the New Amer­i­ca Move­ment (NAM) com­bined forces. DSOC had been found­ed in 1973 by social­ist intel­lec­tu­al Michael Har­ring­ton and oth­er mem­bers of the Social­ist Par­ty who had grown dis­en­chant­ed with polit­i­cal irrel­e­vance. NAM, found­ed in 1972 by for­mer mem­bers of Stu­dents for a Demo­c­ra­t­ic Soci­ety (SDS), was root­ed in ​'60s coun­ter­cul­ture, the New Left and sec­ond-wave fem­i­nism. (In 1976, mem­bers of DSOC and NAM moved to Chica­go to found In These Times, and for the next decade the then-news­pa­per report­ed dili­gent­ly on the ins and outs of DSOC, NAM and DSA.)
The 1980s would prove a tough decade for left pol­i­tics, the 1990s and 2000s even more so. DSA shed mem­bers and closed chap­ters around the coun­try as a few loy­al­ists and a steady trick­le of young recruits kept the orga­ni­za­tion running.
Enter Bernie Sanders' pri­ma­ry cam­paign and his stal­wart iden­ti­fi­ca­tion as a ​"demo­c­ra­t­ic social­ist," a sur­prise boon for an orga­ni­za­tion with those two words in its name. DSA's com­mit­ment to being a plu­ral­is­tic, ​"mul­ti-ten­den­cy" orga­ni­za­tion also meant it was open enough to accom­mo­date thou­sands of newcomers.
Demo­c­ra­t­ic social­ism itself has always been a het­ero­dox term, encom­pass­ing every­one from ide­o­log­i­cal Trot­sky­ists to New Deal Democ­rats. The surge of new, most­ly 20-some­thing mem­bers include anar­chists, Marx­ist aca­d­e­mics and— most numer­ous­ly — polit­i­cal neo­phytes excit­ed about Sanders' mes­sage and frus­trat­ed with the Demo­c­ra­t­ic establishment.
DSA isn't keen to enforce a strict def­i­n­i­tion of ​"demo­c­ra­t­ic social­ism" — although main­stream media out­lets new­ly hip to DSA are des­per­ate­ly look­ing for one. On its web­site, DSA writes:
At the root of our social­ism is a pro­found com­mit­ment to democ­ra­cy, as means and end. As we are unlike­ly to see an imme­di­ate end to cap­i­tal­ism tomor­row, DSA fights for reforms today that will weak­en the pow­er of cor­po­ra­tions and increase the pow­er of work­ing people …

Our vision is of a soci­ety in which peo­ple have a real voice in the choic­es and rela­tion­ships that affect the entire­ty of our lives. We call this vision demo­c­ra­t­ic social­ism — a vision of a more free, demo­c­ra­t­ic and humane society.
Mem­bers I spoke with took this to mean every­thing from tak­ing pub­lic goods like health­care off the pri­vate mar­ket (along the lines of Scan­di­na­vian social democ­ra­cies) to work­er-own­er­ship of the means of pro­duc­tion. Cen­tral Iowa DSA co-chair Car­o­line Schoonover was among many to say that demo­c­ra­t­ic social­ism means ​"tak­ing pow­er from the few and giv­ing it to the many." All saw small‑d democ­ra­cy — peo­ple hav­ing a say in the deci­sions that affect them — as cen­tral, both in pol­i­tics and work­places, and in DSA itself.
For this sto­ry, I spoke with around two dozen DSA mem­bers from chap­ters around the coun­try. The pri­ma­ry source of their excite­ment was that DSA chap­ters seemed to be active­ly work­ing on some­thing, not just sit­ting around read­ing Marx. Like the cit­i­zen action group Indi­vis­i­ble, which also explod­ed after the elec­tion, DSA let peo­ple shake off a feel­ing of help­less­ness about the polit­i­cal cli­mate and roll up their sleeves.
DSA also offers a com­mu­ni­ty. Chap­ters host reg­u­lar beach days, par­ties, fundrais­ers and social events, like Metro D.C. DSA's recent ​"No ICE Cream Social." If Indi­vis­i­ble was able to con­nect many alien­at­ed, mid­dle-class sub­ur­ban­ites jarred out of their polit­i­cal com­fort zone, DSA has pro­vid­ed a home for tens of thou­sands of down­ward­ly-mobile, debt-rid­den mil­len­ni­als grap­pling with a sys­tem that sim­ply isn't work­ing for them.
Adam Shuck and Arielle Cohen, 32 and 29, joined Pitts­burgh DSA in its infan­cy; Shuck was among the sev­en peo­ple who first met at a bar in 2016 to talk about get­ting the chap­ter togeth­er. Each was ener­gized by Barack Obama's 2008 pres­i­den­tial cam­paign but dis­il­lu­sioned by his pres­i­den­cy. ​"I thought we were going to see some kind of New Deal," Shuck says. The frus­tra­tion led him at first to join the Inter­na­tion­al Social­ist Orga­ni­za­tion before the Sanders cam­paign brought him to DSA. While a stu­dent at SUNY Pur­chase, Cohen grew dis­il­lu­sioned with the sausage-mak­ing and com­pro­mise that cre­at­ed the Afford­able Care Act, and orga­nized with Occu­py Wall Street before mov­ing to Pitts­burgh and find­ing her way to DSA. Now, Shuck and Cohen co-chair the Pitts­burgh chapter.
Pitts­burgh DSA held its first gen­er­al meet­ing in Decem­ber 2016 with around 100 peo­ple. Now it has a dizzy­ing num­ber of work­ing groups: a health jus­tice com­mit­tee cam­paign­ing for Medicare for All; read­ing groups tack­ling Marx and Engels; an anti-impe­ri­al­ism com­mit­tee lob­by­ing for leg­is­la­tion crit­i­ciz­ing Israel's occu­pa­tion of Pales­tine; a social­ist fem­i­nist work­ing group expos­ing cri­sis preg­nan­cy cen­ters; an ecoso­cial­ist group fight­ing the pri­va­ti­za­tion of the city's water and sew­er sys­tem; a hous­ing rights group push­ing for pro­tec­tions for renters; and a num­ber of inward-fac­ing groups han­dling tasks like recruit­ment and communications.
The chap­ter also brought the new­ly revived DSA one of its ear­ly elec­toral vic­to­ries, rat­tling the local Demo­c­ra­t­ic machine. In Decem­ber 2017, the group threw its weight behind Sum­mer Lee's cam­paign to rep­re­sent House Dis­trict 34. In the May pri­ma­ry, with the help of DSA and groups like Our Rev­o­lu­tion and the Sier­ra Club, Lee, 30, a recent law school grad, beat Paul Cos­ta, 57, a 19-year incum­bent and mem­ber of a dynas­tic Pitts­burgh Demo­c­ra­t­ic family.
Lee had expe­ri­ence work­ing on school board races and on a coor­di­nat­ed cam­paign to elect Katie McGin­ty gov­er­nor and Hillary Clin­ton pres­i­dent in the 2016 gen­er­al elec­tion, and she was impressed with DSA's elec­toral work on Mik Pap­pas' judi­cial cam­paign. Pap­pas ran on a plat­form of end­ing cash bail and work­ing to end mass incar­cer­a­tion, and won in a land­slide, with the help of a ded­i­cat­ed grass­roots turnout effort staffed in part by DSA members.
"They were run­ning 20 or more can­vass­ing shifts a week," says Lee. ​"I had nev­er seen that type of ener­gy around mag­is­trate elec­tions. I real­ized that ide­o­log­i­cal­ly we aligned." She joined DSA short­ly there­after and sought them out as her first endorsement.
It wasn't easy. DSA's can­di­date endorse­ment process is a micro­cosm of its baked-in com­mit­ment to direct democ­ra­cy. For every deci­sion, at every lev­el, there's delib­er­ate space for mem­bers to duke things out, com­bined with a com­mit­ment to ulti­mate­ly sup­port­ing the group deci­sion rather than split­ting off into rival fac­tions. The very ques­tion of whether to engage in the elec­toral process — and in par­tic­u­lar, to work with­in the Demo­c­ra­t­ic Par­ty — remains fraught, with many mem­bers skep­ti­cal of invest­ing lim­it­ed orga­ni­za­tion­al resources into elec­tions rather than base-building.
New York City DSA hot­ly debat­ed whether to endorse Gov. Andrew Cuomo's chal­lenger from the left, Cyn­thia Nixon, after she declared her­self a demo­c­ra­t­ic social­ist. Sev­er­al dozen DSA mem­bers signed a ​"vote no" state­ment argu­ing that uni­ver­sal health­care and rent con­trol will be won not by elect­ing can­di­dates to office but by ​"build­ing work­ing-class pow­er that holds [them] account­able," cit­ing the suc­cess­ful teach­ers' strikes in Repub­li­can states. As this issue went to press, NYC-DSA chap­ters were vot­ing on the endorsement.
"We have folks who dis­trust elec­toral work, and even among those that don't, there are dif­fer­ent ways of think­ing of how to approach it," says DSA Nation­al Direc­tor Maria Svart, 38, a for­mer SEIU orga­niz­er. ​"Every­body appre­ci­ates that elec­toral suc­cess only comes when you have an orga­nized base. Hav­ing all these ten­den­cies in con­ver­sa­tion means that every­body learns from each other."
While the endorse­ment process varies from chap­ter to chap­ter, in some cas­es — includ­ing Lee's — the first step is fill­ing out a lengthy form with quest ions from each of t he chapter's work­ing groups. Typ­i­cal­ly, one is whether the can­di­date iden­ti­fies as a social­ist. Mem­bers weigh that along­side spe­cif­ic pol­i­cy ques­tions ("Do you sup­port uni­ver­sal rent con­trol? Abol­ish­ing the police?") and a range of oth­er con­cerns: How much of an impact could the chap­ter have on the race? How will it build the chapter's capac­i­ty and the move­ment to chal­lenge the cap­i­tal­ist class?
Next comes the inter­view process. After fill­ing out Pitts­burgh DSA's ques­tion­naire, Lee was inter­viewed by a room­ful of mem­bers. The group vot­ed to endorse both Lee and Sara Innamora­to, a state rep­re­sen­ta­tive can­di­date, and the two sup­port­ed one another's campaigns.
Oca­sio-Cortez, in New York, jumped through even more hoops. Because her con­gres­sion­al dis­trict spans the Bronx and Queens DSA chap­ters, she had five inter­views: with the elec­toral com­mit­tees and mem­ber­ship of each branch, and then the city­wide con­ven­tion. ​"We put her through hell," jokes Michael Kin­nu­can, a DSA mem­ber now comanag­ing the state Sen­ate cam­paign of Julia Salazar (whom the orga­ni­za­tion endorsed along­side Oca­sio-Cortez in a par­al­lel process).
Abdul­lah Younus, co-chair of NYC-DSA and a mem­ber of DSA's Nation­al Elec­toral Com­mit­tee, explains that the exten­sive endorse­ment process isn't just a means of vet­ting can­di­dates, but of build­ing mem­bers' com­mit­ment to them. ​"It makes it a lot eas­i­er to have the same folks who write the ques­tions come out and knock for those can­di­dates," he says. ​"They're talk­ing about work they're invest­ed in."
SALAZAR, 28, ESTI­MATES THAT SOME 800 DSA MEM­bers live in and around her dis­trict, which has trans­lat­ed into hun­dreds of vol­un­teers spread­ing the word about her Sep­tem­ber pri­ma­ry. Even in her short time with the group (she joined in late 2016), she's seen a change in how fel­low left­ists relate to elec­toral pol­i­tics. ​"I think part of it is peo­ple see­ing the term ​'demo­c­ra­t­ic social­ist' nor­mal­ized in the elec­toral realm, through Bernie most­ly, at least ini­tial­ly, and so see­ing it as an actu­al­ly viable strat­e­gy," she told me between knock­ing doors.
Though she'd worked on leg­isla­tive cam­paigns as a staff orga­niz­er with Jews for Racial and Eco­nom­ic Jus­tice, Salazar only recent­ly began to think about elec­toral work. ​"It's not some­thing I ever thought about before — not just for myself, but in see­ing lead­er­ship devel­op­ment in com­mu­ni­ty orga­niz­ing as a path toward seiz­ing state pow­er," she says. ​"That sounds like a jump, right? But ulti­mate­ly that's the goal."
Thanks in part to the Sanders cam­paign and Ocasio-Cortez's stun­ning upset, that goal feels more with­in reach now than it has since the days of the Social­ist Party's Eugene Debs. Big, uni­ver­sal pro­grams like a fed­er­al job guar­an­tee or Medicare for All draw over­whelm­ing pop­u­lar sup­port. And small, local races offer an oppor­tu­ni­ty for the grass­roots to tip the balance.
Estab­lish­ment can­di­dates in Demo­c­ra­t­ic-con­trolled cities effec­tive­ly depend on low turnout. Their polit­i­cal con­sul­tants tend to rely more on adver­tis­ing and glossy mail­ers, and less on actu­al­ly talk­ing to peo­ple — par­tic­u­lar­ly peo­ple who don't usu­al­ly vote. Mobi­liz­ing even a few thou­sand new vot­ers in that con­text, then, is a fair­ly straight­for­ward for­mu­la for vic­to­ry. When DSA mem­ber Lee Carter won a seat in Virginia's House of Del­e­gates in Novem­ber 2017, he beat his Repub­li­can oppo­nent by 9 points — a mar­gin of 1,850 votes.
"Our par­ty struc­ture pro­tects incum­ben­cy, and relies on an igno­rant elec­torate," Sum­mer Lee says, not­ing how much time her cam­paign spent edu­cat­ing vot­ers about the elec­tion itself. ​"If every­body were vot­ing, we'd have a com­plete­ly dif­fer­ent system."
Depend­ing on the city, DSA can offer a large, self-orga­nized vol­un­teer base to can­di­dates who nav­i­gate its endorse­ment process. Pitts­burgh DSA esti­mates that its vol­un­teers knocked on some 70,000 doors through the course of Lee's cam­paign. Turnout in Lee's dis­trict was 14 per­cent high­er than in oth­ers around Alleghe­ny Coun­ty and 54 per­cent high­er than in the last midterm election.
Still, it'd be near­ly impos­si­ble for DSA-endorsed can­di­dates for high­er offices to make do with only DSA's sup­port, and they often work along­side oth­er orga­ni­za­tions like Jus­tice Democ­rats, Our Rev­o­lu­tion and the Work­ing Fam­i­lies Par­ty — espe­cial­ly for big­ger races. Jus­tice Democ­rats and Brand New Con­gress, for exam­ple, con­vinced Oca­sio­Cortez to run and helped staff her cam­paign, and she gained the back­ing of Black Lives Mat­ter-Bronx and Peo­ple for Bernie Sanders, among oth­ers. Ocasio-Cortez's cam­paign reached 120,000 doors overall.
By being an orga­ni­za­tion that does much more than cam­paign for can­di­dates, DSA hopes to upend the noto­ri­ous­ly trans­ac­tion­al, short-term nature of elec­toral work, enabling its mem­bers and elect­ed offi­cials to build rela­tion­ships with and com­mit­ments to their com­mu­ni­ties that extend beyond elec­tion day. DSA is still fig­ur­ing out how to build inde­pen­dent polit­i­cal orga­ni­za­tions to hold the politi­cians it helps elect account­able. Thus far they've relied on their close ties with dyed-in-the-wool DSA mem­bers-turned-can­di­dates like Lee Carter. DSA, Carter says, has ​"been the core of my sup­port since I've been in the leg­is­la­ture. I still go to meet­ings when­ev­er I can, and they help me get in con­tact with oth­er groups."
DSA mem­ber, Hawai'i state rep­re­sen­ta­tive and now U.S. House can­di­date Kaniela Ing says he hopes that DSA remains ​"part of an inde­pen­dent Left, and does not get too caught up in elec­toral and leg­isla­tive pol­i­tics" — and that it holds politi­cians to account, him­self included.
"I'm a move­ment can­di­date," Ing says. ​"Hope­ful­ly my role is to help push what­ev­er move­ments are build­ing over the fin­ish line. Elect­ed offi­cials real­ly like to take too much cred­it for bills they pass that are real­ly the result of the pub­lic wak­ing up and forc­ing politi­cians to act." He says he hopes to have reg­u­lar check-ins with DSA should he make it to Washington.
ELEC­TORAL WORK ALSO FEEDS INTO DSA'S OTH­ER cam­paigns. Pitts­burgh DSA's mem­ber­ship swelled in the wake of Lee and Innamorato's wins. "[Email] list build­ing, data track­ing, how to talk to peo­ple at the doors— that all helps build the mus­cle that can also help with can­vass­ing for hous­ing jus­tice," Shuck says.
"When we can­vass an area, we're often knock­ing a door many times, whether for a can­di­date, for Medicare for All or for hous­ing jus­tice," Cohen adds. ​"At this point, peo­ple know us when we come to the door, and they know what DSA is."
NYC-DSA's Abdul­lah Younus sees elec­toral work as a train­ing ground. He says that can­vassers for the New York Health Act, leg­is­la­tion to cre­ate a statewide sin­gle-pay­er sys­tem, ​"got skilled on this kind of work by going through the elec­toral work­ing group."
For all the recent atten­tion to DSA's upstart elec­toral suc­cess, it's only one part of the group's work nation­wide. Many chap­ters don't engage at all with elec­tions, or are just start­ing to think about whether they would like to run can­di­dates. Michael I. Esealu­ka, co-chair of New Orleans DSA, says, ​"It would be dif­fi­cult for us as a small chap­ter to devel­op the type of account­abil­i­ty mech­a­nisms we need to hold peo­ple [we elect] account­able to our social­ist vision."
Pri­or to the vic­to­ries of Carter, Lee and then Oca­sio­Cortez, DSA was per­haps best known for agi­tat­ing to push Medicare for All into the nation­al spot­light — a cam­paign adopt­ed by del­e­gates from around the coun­try at DSA's bien­ni­al con­ven­tion in August 2017 as one of three nation­al polit­i­cal pri­or­i­ties, along­side build­ing elec­toral pow­er and stronger and more mil­i­tant unions. Forty-five chap­ters across 20 states held a week­end of action for Medicare for All in April, tabling at farm­ers' mar­kets, host­ing pub­lic events and, as always, can­vass­ing. On the labor front, DSA chap­ters in West Vir­ginia, Ken­tucky and Okla­homa raised mon­ey for strike funds to sup­port the mil­i­tant teacher walk­outs this spring, and the nation­al DSA sent an email encour­ag­ing mem­bers around the coun­try to con­tribute what they could.
Many indi­vid­ual chap­ters have their own pri­or­i­ties, reflect­ing local con­cerns and polit­i­cal cli­mates. Prov­i­dence DSA, for exam­ple, is cam­paign­ing for more demo­c­ra­t­ic con­trol over investor-owned elec­tric util­i­ties. New Orleans DSA has focused on base-build­ing work that includes run­ning clin­ics to help peo­ple deal with med­ical debt, coor­di­nat­ing with the AFL-CIO in devel­op­ing young rank-and-file labor lead­ers, and mend­ing bro­ken brake lights, an excuse used by police in the traf­fic stops that can be ​"espe­cial­ly per­ilous and life-dis­rupt­ing to undoc­u­ment­ed immi­grants and PoC [peo­ple of col­or]," as the chap­ter explains on Facebook.
Because there are big DSA chap­ters in cities with expen­sive hous­ing stock — Los Ange­les, Chica­go and the Bay Area, for instance — the fight for afford­able hous­ing has emerged as a major pri­or­i­ty. ​"Hous­ing jus­tice is prob­a­bly the biggest issue in Los Ange­les; the home­less­ness cri­sis is at a tip­ping point," says Arielle Sal­lai, a mem­ber of DSA Los Ange­les' steer­ing com­mit­tee. DSA-LA and oth­er Cal­i­for­nia chap­ters are can­vass­ing to pass Propo­si­tion 10, an ini­tia­tive on the bal­lot in Novem­ber that would loosen a statewide lim­it on rent con­trol. Sim­i­lar­ly, Chica­go DSA is sup­port­ing a cam­paign to over­turn Illi­nois' rent con­trol ban, with the back ing of A lder man and DSA mem­ber Car­los Ramirez-Rosa.
On many issues, includ­ing hous­ing and home­less­ness, DSA chap­ters are well aware that their mem­bers often don't look like the pop­u­la­tions most direct­ly affect­ed. Although DSA does not have up-to-date mem­ber demo­graph­ics, it has his­tor­i­cal­ly leaned white and male.
Coali­tion-build­ing is one way to cor­rect for this. ​"Hous­ing work is a great chance to be part of a rad­i­cal coali­tion and talk to as many indi­vid­u­als as pos­si­ble," Sal­lai says. DSA-LA has teamed up with local groups like the LA Ten­ants Union that have been work­ing for years against gentrification.
Esealu­ka, a black woman, is frank about the fact that New Orleans DSA is a major­i­ty white orga­ni­za­tion in a major­i­ty black city. ​"It's a prob­lem, obvi­ous­ly, but it's noth­ing that can't be over­come," she says. ​"It's not like we have to write DSA off because it's major­i­ty white and major­i­ty male. … Because we have 45,000 mem­bers [nation­wide], we have so much poten­tial to do good in this coun­try. It's just a mat­ter of being more inten­tion­al about embed­ding our­selves into things that mat­ter to work­ing-class people."
Not­ing the high pro­por­tion of women tak­ing on lead­er­ship roles in her chap­ter, Esealu­ka sug­gests that all chap­ters equip mem­bers with the orga­niz­ing skills to devel­op the lead­er­ship of women and peo­ple of col­or. Inter­nal­ly, many chap­ters have also cre­at­ed spe­cif­ic spaces, such as the nation­al Afroso­cial­ist Cau­cus or Social­ist Fem­i­nist work­ing groups, for DSA mem­bers who aren't white or male to feel wel­come and build community.
THOUGH SEN. TAM­MY DUCK­WORTH (D‑ILL.) INFA­mous­ly said after Ocasio-Cortez's pri­ma­ry win that social­ist pol­i­tics can't work in the Mid­west, they've cer­tain­ly found an audi­ence in the heart­land. Iowa, for instance, has the high­est num­ber of DSA chap­ters per capi­ta of any state. Mem­bers in chap­ters out­side of big blue coastal cities may talk about social­ism a lit­tle dif­fer­ent­ly than their coun­ter­parts and run dif­fer­ent cam­paigns, but they agree on the basics of what they're fight­ing for. Chap­ters in blue cities like Den­ver are quick to say they don't auto­mat­i­cal­ly find a warm recep­tion just because they're talk­ing to Democ­rats, and chap­ters in red or pur­ple states note they don't nec­es­sar­i­ly face open hos­til­i­ty. For the past two years, Cen­tral Iowa DSA has marched in the state fair parade through Des Moines, flanked by Trump floats and those from local busi­ness­es. ​"You get thumbs up about Medicare for All and every­body need­ing health­care," says cochair Joe Eller­broek. ​"You might get a mid­dle fin­ger at an ICE protest every once in a while."
After decades of social­ism being nonex­is­tent in main­stream polit­i­cal debates, how­ev­er, most peo­ple sim­ply are not famil­iar with the term itself. ​"I didn't know I was a demo­c­ra­t­ic social­ist when I decid­ed to run, and I didn't know that this group exist­ed," says Sum­mer Lee. ​"I just knew that these poli­cies are poli­cies that we need. When you go to black com­mu­ni­ties, we real­ly are more inclined to social­ism. We don't always have that lan­guage in our com­mu­ni­ties, but we know that these poli­cies are what's need­ed for our communities."
Asked how they talk about demo­c­ra­t­ic social­ism with vot­ers, all sev­en DSA-endorsed can­di­dates I inter­viewed offered some vari­a­tion on the same answer: ​"I don't lead with that."
Oca­sio-Cortez says she opts instead to ​"show peo­ple what we're fight­ing for. What I talk about is Medicare for All, tuition-free pub­lic col­lege and hous­ing as a human right. In my inter­pre­ta­tion of what demo­c­ra­t­ic social­ism is, it is the fight for a basic lev­el of dig­ni­ty that our soci­ety refus­es to violate."
Ing says, ​"Usu­al­ly, when I talk about mon­ey in pol­i­tics or the gov­ern­ment not rep­re­sent­ing us, that tran­scends any left-right val­ues. Most peo­ple see the world from bot­tom ver­sus top: Are you with us, or them?"
DSA can­di­dates run­ning for office and DSA mem­bers knock­ing doors, then, artic­u­late social­ism as a com­mon sense set of prac­tices and beliefs: swear­ing off cor­po­rate dona­tions, sup­port­ing big, uni­ver­sal pro­grams that promise to redis­trib­ute society's resources more equi­tably, and return­ing deci­sions to the hands of the peo­ple most direct­ly affect­ed. As DSA makes inroads sell­ing the pub­lic on the virtues of demo­c­ra­t­ic social­ism and infil­trat­ing the halls of pow­er, it will also fig­ure out what to do once it gets there.
For the moment, DSA mem­bers and can­di­dates are mak­ing the road to a 21st-cen­tu­ry Amer­i­can social­ism by walk­ing it — and knock­ing on a few hun­dred thou­sand doors along the way.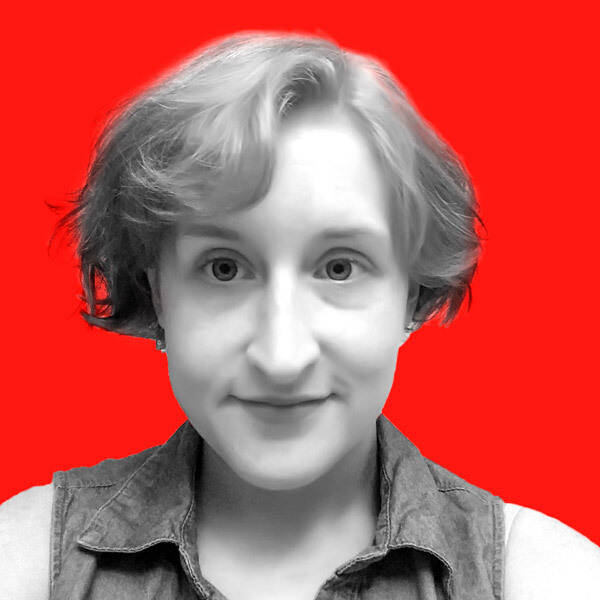 Kate Aronoff
is a Brook­lyn-based jour­nal­ist cov­er­ing cli­mate and U.S. pol­i­tics, and a con­tribut­ing writer at The Inter­cept. Fol­low her on Twit­ter @katearonoff.