Risking Everything for Europe
Industrial fishing off the African coast ruins livelihoods and sends fishermen on a perilous journey across desert and sea.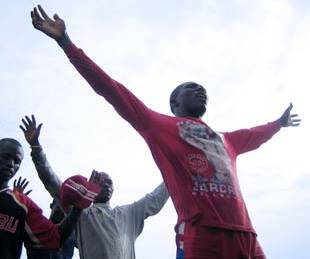 Before set­ting out across the Mediter­ranean Sea from Libya to Italy, the Ghana­ian human traf­fick­ers who had hired Samuel and his two friends to cap­tain the boat in exchange for their pas­sage warned them not to sail with more than 90 immi­grants aboard – nor to trust the Libyan police.
But under the cov­er of night, when a freez­er truck deliv­ered them to the beach they real­ized that cor­rupt local cops had filled the leaky, stolen fish­ing boat with more than 100 sub-Saha­ran Africans. Samuel and his friends, fish­er­men from a coastal vil­lage in Ghana, were respon­si­ble for reach­ing Euro­pean shores, alive. What were they to do now?
"If the sun rose and we were dis­cov­ered, who knows what prob­lems could have arisen," says Samuel, whose name was changed to pro­tect his identity.
Samuel is one of the tens of thou­sands of Africans who have sought to reach Italy by boat in recent years. Last year about 22,000 immi­grants arrived on Italy's shores – pri­mar­i­ly the islands of Lampe­dusa and Sici­ly – close to dou­ble the num­ber from 2004. Though more ille­gal immi­grants enter Italy through the coun­try's north­ern bor­der with Slove­nia – which is used as an entry point for those from East­ern Europe, the Mid­dle East, the Indi­an sub­con­ti­nent and the rest of Asia – the leaky boats from North Africa draw the most atten­tion. And the dan­ger­ous trip across the Mediter­ranean fol­lows an even dead­lier jour­ney through the Sahara Desert to reach North Africa.
Samuel comes from Senya Beraku, a vil­lage of about 12,500 on the Gulf of Guinea, about an hour dri­ve west of the cap­i­tal, Accra. Fish­ing was once the dom­i­nant indus­try there, but fish off the Atlantic coast are dis­ap­pear­ing at an alarm­ing rate. Experts sug­gest sev­er­al caus­es for the fish­ing indus­try's plight. The fish­er­men use nets with holes that are too small, or catch fish with elec­tric lights and dyna­mite – unsus­tain­able prac­tices that exhaust fish pop­u­la­tions. In addi­tion, the grow­ing coastal pop­u­la­tion has put pres­sure on the food sup­ply. But cen­tral to the prob­lem are the indus­tri­al trawlers sub­si­dized by the Euro­pean Union, pri­mar­i­ly from Spain, which has acquired fish­ing rights off West African ter­ri­to­r­i­al waters. And indus­tri­al fish­ing great­ly affects the catch clos­er to shore that the local com­mu­ni­ties rely on for survival.
Euro­pean trawlers now fish off the coasts of nine West African coun­tries – from Moroc­co in the north to Gabon in the south – a devel­op­ment crit­i­cized by the Unit­ed Nations as well as envi­ron­men­tal orga­ni­za­tions like Green­peace and the World Wildlife Fund, which ques­tion the sus­tain­abil­i­ty of the practice.
In April 2006, Green­peace observed and inter­cept­ed a Span­ish trawler, the Binar 4, en route to Las Pal­mas in the Canary Islands after ille­gal­ly fish­ing with­in the ter­ri­to­r­i­al waters of Guinea. The trawler intend­ed to sell its catch at Las Pal­mas, which Green­peace calls the ​"fish laun­der­ing cap­i­tal of the world."
"Some say the lull is nat­ur­al, and that the fish will come back at some point, but this is now the third year in a row that we aren't catch­ing enough fish," says Chief Mortey, who pre­sides over Senya Beraku's fish­ing industry.
The fish­er­men typ­i­cal­ly leave at day­break. Between five and six in the morn­ing, the sounds of out­board motors from the beach pierce every ear in the vil­lage before the fish­er­men jump, 20 per boat, into their large paint­ed canoes. But where­as they were once able to remain in the bay, Senya Beraku's fish­er­men now go far­ther out to sea. Sky­rock­et­ing gas prices haven't made their lives any eas­i­er, and many crews trav­el around with seri­ous gaso­line debt hang­ing over their heads.
In the after­noon the canoes return from the ocean. But even before they have reached land, the vil­lagers can see that the fish­er­men have returned emp­ty-hand­ed. ​"They sit and hang their heads," explains Mortey. ​"If they have a good catch, you'd see them stand­ing up and cheer­ing in the canoe. But there has­n't been much cheer­ing lately."
Mortey has tried to con­vince the vil­lage's youth not to risk their lives to reach Europe, but sev­er­al of them have returned from Italy with enough mon­ey saved to build a house or buy a car, and that kind of wealth impress­es the oth­er fishermen.
Death in the desert
The trip from Ghana to Europe begins with a jour­ney across the Sahara Desert that those from the coastal areas fear. Out on the high seas fish­er­men believe they can deal with what­ev­er goes wrong, but in the desert they feel helpless.
The trip from Accra to Tripoli that Samuel and his friends endured is almost 1,900 miles long and takes about a month. It cross­es Burk­i­na Faso, Niger and some­times Alge­ria. The first part of the jour­ney – by bus, to Oua­gadougou, the cap­i­tal of Burk­i­na Faso, and then onto Niamey, the cap­i­tal of Niger – is usu­al­ly prob­lem-free. Then it gets tough. The bor­der areas of north­ern Niger, Alge­ria, Libya and Chad are noto­ri­ous­ly unsafe. The car­a­vans of peo­ple head­ed for Europe are easy tar­gets for the armed ban­dits that patrol this des­o­late region.
"I don't cry eas­i­ly," says Samuel. ​"I did­n't cry when my sis­ter died. But I cried in the desert. I was sure that we would all die."
Samuel left Dirk­ou, the last city in Niger before the Sahara, in a car­a­van con­sist­ing of four trucks with around 30 peo­ple packed in each. He had con­vinced Mar­tin, a friend from their vil­lage in Ghana, to join him on the jour­ney. But some­where in the desert, their dri­ver aban­doned Samuel, Mar­tin and 28 oth­er pas­sen­gers, dri­ving away ear­ly one morn­ing with all of their water and food while they lay on the ground sleep­ing. They quick­ly got up and ran to one of the oth­er four-wheeled trucks in the car­a­van that had­n't left yet. They tried to climb aboard before the truck drove off – but it was filled to the brim with oth­er immi­grants. The dri­ver promised he would return and get them once he'd dri­ven his own pas­sen­gers to the bor­der. But he did­n't keep his promise. Deject­ed, Samuel and the oth­ers began wan­der­ing across the Sahara.
"We did­n't know which direc­tion to go," says Samuel. ​"So we fol­lowed the tire tracks in the sand. But the peo­ple weren't strong enough and they began to fall down – the old ones first. We walked day and night, but quick­ly ran out of water and were forced to begin drink­ing our own urine, which we mixed with sug­ar. We were around 30 peo­ple when we began to walk, but it did­n't take long before there were only eight of us left. The weak­est ones asked us to wait for them, but we could­n't wait for any­one, oth­er­wise we would all die.
"At one point while we lay and rest­ed, one guy sud­den­ly got up and said he could see a city in the dis­tance. He walked three steps and fell back into the sand. It was as if he found new strength just before he died. The rest of us con­tin­ued to walk, and the next day at around six in the evening we met a car that helped us with food and water. The only pas­sen­gers still alive were Mar­tin, myself and two oth­er young guys. We were very lucky to sur­vive that journey."
They final­ly reached Libya, found their way to Tripoli and began look­ing for a con­nec­tion to Europe.
"We met a few oth­ers from our home vil­lage. Because of the desert sun we were very dark and the skin had fall­en from our bod­ies. They looked at us and asked what had hap­pened. We answered that we had died but come back to life."
Dan­ger on the high sea
Once in Tripoli, Samuel and his friends made a deal with a Ghana­ian smug­gler who put them up in a house in Zuwarah, a Libyan port city near the Tunisian bor­der, from which ille­gal immi­grants cross to Europe. They agreed that Samuel and his friends would cap­tain the boat to Lampe­dusa in exchange for their pas­sage. The smug­glers want­ed a good crew because they feared busi­ness would be lost if too many of their boats dis­ap­peared at sea. Rumors of cap­sized boats and drowned immi­grants cir­cu­late quick­ly among the Africans look­ing for pas­sage to Italy.
The amount of mon­ey at stake is not small. A tick­et to Europe costs around $1,000 per per­son, mak­ing Samuel and oth­er West African fish­er­men valu­able com­modi­ties to the human traf­fick­ers. Dur­ing their time in Zuwarah, the smug­glers offered Samuel and his friends what­ev­er food and drinks they want­ed, and even tempt­ed them with prostitutes.
A week lat­er they learned that they were to leave for Italy that very night. The Ghana­ians began to fast and pray. One of the cap­tains, Eric, a tall fish­er­man who was reli­gious and versed in the Bible, took the con­fes­sions of the oth­ers. Noth­ing was to stand in the way of a safe journey.
Samuel knew that 12 young men from his vil­lage had already dis­ap­peared at sea, and hun­dreds of pas­sen­gers with them. Samuel believed the deaths could have been caused by bad weath­er or poor equip­ment – as it's well known among cap­tains that Libyan human smug­glers show them one boat in the day­light, but when they return to the beach at night for the depar­ture, it's been switched for a leaky ver­sion that is already over­flow­ing with passengers.
When he reached the beach and saw the boat he was to sail across the Mediter­ranean, Samuel gri­maced. ​"I was afraid. I thought, ​'Oh God, what have I done?' I thought of all the peo­ple whose lives were now in my hands. But we did­n't want to show any­one that we were afraid, so we tried to remain cheer­ful and keep our heads up. I told them just to wait and see. I would make them Euro­pean this very year."
The human smug­glers escort­ed them out to sea in their speed­boat and remind­ed Samuel to fol­low the com­pass, then turned around and dis­ap­peared into the dark. The boat head­ed straight for Italy – a jour­ney that would take about 24 hours if every­thing went accord­ing to plan. Even though the motor was poor, they moved slow­ly for­ward, pass­ing Libya's off­shore oil­rig plat­forms with Mal­ta on the star­board side and Tunis on the port side. Samuel knew that the key to a safe jour­ney was to avoid pan­ic. If pas­sen­gers began to move around, the boat might capsize.
"When I looked over the side to see what con­di­tion the boat was in, I saw that it sat so deep in the water that I could­n't see any­thing oth­er than the pas­sen­gers," Samuel says. ​"Water kept com­ing in over the rail­ing and we had to begin bail­ing it out.
"All went well ear­ly on, and the pas­sen­gers remained calm. One pas­sen­ger declared that he would take sleep­ing pills and fall asleep – if the boat went down he would die with­out suffering.
"But when we got out to sea and the waves grew larg­er, peo­ple began to move around. They refused to sit where water was enter­ing the boat. It was a very dan­ger­ous sit­u­a­tion. I told them that if they did­n't sit back in their seats, the boat would cap­size and we would all drown. Some of the pas­sen­gers would­n't lis­ten. They said we did­n't know what we were doing. So I asked an old­er man among them to keep order, and he con­vinced them to sit back down."
Forty-eight hours lat­er, they reached the har­bor of Lampe­dusa, the small Ital­ian cliff island 190 miles north of Libya. Samuel and his friends had sur­vived the jour­ney to Europe. And back in Senya Beraku, anoth­er wave of Ghana­ian fish­er­men was begin­ning to look north.
Hans Lucht
is a Dan­ish jour­nal­ist and anthro­pol­o­gist at the Uni­ver­si­ty of Copen­hagen. This sto­ry was trans­lat­ed into Eng­lish by Jacob Wheeler.