Diag­nos­ing America's jour­nal­ism cri­sis has become some­thing of a cot­tage indus­try for media pun­dits, foun­da­tions and schol­ars —espe­cial­ly since the finan­cial cri­sis in 2008 accel­er­at­ed the demise of the news­pa­per indus­try, trig­ger­ing round after round of lay­offs and a steady death knell of shut­tered news­rooms.
And it's not just news­pa­pers strug­gling to sur­vive: the Wash­ing­ton Post Com­pa­ny put Newsweek up for sale in ear­ly May, more proof the for-prof­it busi­ness mod­els that have long sup­port­ed Amer­i­can print pub­li­ca­tions are with­er­ing into obsolescence.
As many small towns adapt to life with­out news­pa­pers, the cho­rus of con­cerned cit­i­zens clam­or­ing for action is grow­ing loud­er. But what, exact­ly, can and should be done to save and sus­tain real report­ing? The most rad­i­cal cri­tiques of America's media sys­tem have long been com­ing from the pro­lif­ic pens of Robert McCh­es­ney and John Nichols, who have co-authored four books on the subject.
Their lat­est, The Death and Life of Amer­i­can Jour­nal­ism, offers a brisk eulo­gy for the cor­po­rate media sys­tem, a dis­missal of the Internet's pow­er to revive it, and a call for what they see as a return to gov­ern­ment-sup­port­ed U.S. media. The stakes for Amer­i­can democ­ra­cy are too high to leave to a ​"free mar­ket" that no longer wants to invest in jour­nal­ism, McCh­es­ney and Nichols argue. If Amer­i­cans real­ly want pub­lic-inter­est jour­nal­ism to sur­vive in the 21st cen­tu­ry, they must finan­cial­ly sup­port it — to the tune of $35 bil­lion annu­al­ly, which they note is close to what some Euro­pean nations spend on media sub­si­dies on a per capi­ta basis.
I caught up with McCh­es­ney and Nichols — a Uni­ver­si­ty of Illi­nois at Urbana-Cham­paign pro­fes­sor and Wash­ing­ton D.C. cor­re­spon­dent for The Nation, respec­tive­ly — in Chica­go a few months after their book was pub­lished in Jan­u­ary 2010, just before they spoke to a packed DePaul Uni­ver­si­ty audi­to­ri­um about what must be done to deal with journalism's crisis.
—In These Times Web Editor/​Associate Edi­tor Jere­my Gantz
In The Death and Life of Amer­i­can Jour­nal­ism, you chal­lenge the con­ven­tion­al wis­dom of blam­ing the Inter­net for killing off news­pa­pers and print media. How and why does the cri­sis pre­date the ascent of the Internet?
McCh­es­ney: The lay­offs of jour­nal­ists, the clos­ing of [news] bureaus, the declin­ing qual­i­ty of jour­nal­ism all pre­date Google, even the World Wide Web. They go back to the 70s. Fun­da­men­tal­ly, it can be attrib­uted to increas­ing con­glom­er­ate cor­po­rate chain own­er­ship and non-com­pet­i­tive mar­kets, which made it very prof­itable to gut news­rooms and make more mon­ey by low­er­ing your costs and gut any con­se­quences in the marketplace.
And this was hid­den from peo­ple until very recent­ly because the prof­its were boom­ing for these com­pa­nies and in Amer­i­ca we say if someone's mak­ing a lot of mon­ey they must know what they're doing, they must be doing some­thing right, when in fact they were just strip­ping it for parts.
But I would add this, the impor­tant argu­ment of our book is that the entire com­mer­cial sys­tem of jour­nal­ism was an anom­aly in some respects, because it was pred­i­cat­ed on this enor­mous amount of adver­tis­ing to sub­si­dize it. And that era of adver­tis­ing pro­vid­ing 60 to 100 per­cent of the rev­enues to sup­port jour­nal­ism, and make it a com­mer­cial­ly viable area, that is in the process of declin­ing, if not ending.
Nichols: The rise of the Inter­net in com­bi­na­tion with a seri­ous turn in our econ­o­my has accel­er­at­ed trends that a lot of the big cor­po­ra­tions thought that they could ride out or at least ride down gra­cious­ly. And they can't. And the real­i­ty is that now they're in cri­sis, and they took so much debt to buy these insti­tu­tions, buy these news­pa­pers and oth­er out­lets, that they're in a ter­ri­ble mess…
They can­not afford to sus­tain their debt, they made a bad busi­ness deci­sion, and now rather than accept that they made some bad deci­sions and gut it out, do what tra­di­tion­al­ly busi­ness­es might have done, they're just say­ing ​'oh we know how to save some mon­ey, we'll get rid of jour­nal­ism.' … But to blame the Inter­net or to even to blame the econ­o­my, would be like blam­ing the per­son who has a lot of fun­da­men­tal health prob­lems and then dies of pneu­mo­nia at the end; the fun­da­men­tal health prob­lems were there long before the ail­ment came.
Why have the respons­es or sup­posed solu­tions to journalism's cri­sis up until now been inad­e­quate, and why do you think they will con­tin­ue to be inadequate?
Nichols: What we say in the book is that there are two types of folks who still think they have the answer. One is old-media fan­ta­sists. We still once in awhile run into some­body who says, ​'Oh well, adver­tis­ing is going to come back,' they lit­er­al­ly aren't buy­ing into the real­i­ty. And then [there are] new-media fab­u­lists who think that it's just a mat­ter of time before every­thing comes togeth­er. … The new media fab­u­lists are still kind of in the game, and they ped­dle about every six months some the­o­ry on how things are going to go.
What's weird about it is that an idea will crash and burn, and we'll all think, ​'Oh we buried it, it's dead.' And then it will come back. The clas­sic is pay-walls. They tried pay walls awhile back and it was a com­plete fail­ure and every­body said well this is the stu­pid­est thing ever done, it crashed and burned and now Rupert Murdoch's brought it back. And the New York Times is say­ing next year they're going to start doing some sort of pay-to-read sce­nario. But the truth is that these are such ridicu­lous approaches.
On the pay walls, they're at war with the basic con­cept of the Inter­net. … [A pay wall] denies the log­ic of plat­form, but more impor­tant­ly and per­haps more dan­ger­ous­ly is, it is insert­ing a hor­ri­ble class bias into our com­mu­ni­ca­tions. Because if the only qual­i­ty com­mu­ni­ca­tions … can only be accessed by peo­ple who can pay for it on the Inter­net, right off the bat you're knock­ing out tens of mil­lions of peo­ple that don't even have any kind of real­is­tic Inter­net access. 54 per­cent of rur­al Amer­i­cans at this point don't have broad­band, 36 per­cent of Amer­i­cans gen­er­al­ly. And so there's a real cri­sis there of who you cut out of the sys­tem, and then if you're say­ing online, well you've got to pay for it, again you're cut­ting peo­ple out.
Your most rad­i­cal idea is respond­ing to the cri­sis with gov­ern­ment sub­si­dies or tax-sup­port­ed gov­ern­ment pro­grams to make sure jour­nal­ists keep work­ing and more are hired. Why should Amer­i­cans not be afraid of gov­ern­ment action to sup­port and reju­ve­nate news organizations?
McCh­es­ney: They should just look at the real his­to­ry and the real evi­dence. I think most Amer­i­cans make two false assump­tions, and I did too when I was raised and before I stud­ied it. One is that Amer­i­ca has always had a free mar­ket press sys­tem where there's been no sub­si­dies at all, and two, that gov­ern­ments that do have sub­si­dies of jour­nal­ism invari­ably become like Stalin's Prav­da or Pol Pot's Cam­bo­dia. And if you held those two beliefs as true, then the idea of using gov­ern­ment sub­si­dies would be an anath­e­ma. But as we chron­i­cle in detail in the book– even nau­se­at­ing, exhaus­tive detail…
Nichols: Actu­al­ly I think it's in bril­liant, and high­ly enjoy­able, detail.
McCh­es­ney: Very read­able chapter.
Nichols: Like a Har­ry Pot­ter book.
McCh­es­ney: Swashbuckler.
Nichols: Swash­buck­ling tale!
McCh­es­ney: Of dar­ing do.
Nichols: A page-turner.
McCh­es­ney: Star­ring Tom­my Jef­fer­son and Jim­my Madi­son as our heroes, like Tom Sawyer and Huck Finn…
As we chron­i­cle, in the Amer­i­can press sys­tem in the pre-adver­tis­ing years, the first hun­dred years of Amer­i­can his­to­ry, there was no illu­sion or no belief by any­one – it was unthink­able – that the pri­vate sec­tor could pro­vide all the jour­nal­ism we'd want, we just had to unleash them to make mon­ey. That was not even remote­ly thought, real­ly, until the begin­ning of the 20th cen­tu­ry in the Unit­ed States. And we insti­tut­ed enor­mous press sub­si­dies – print­ing and postal sub­si­dies which we chron­i­cle in the book – which our entire press sys­tem was built upon, it gave us this very rich, diverse set of voic­es that wouldn't have exist­ed oth­er­wise, it was the basis of our democracy.
So that's the real Amer­i­can his­to­ry. And once we under­stand that, we look at, ​'Gee, how did they do that so that you didn't have cen­sor­ship, how did they do that to encour­age dis­sent, not to squash it?' When you look at it you see that actu­al­ly you can have poli­cies that are real­ly pro­gres­sive, that don't favor one polit­i­cal view­point over anoth­er but raise them all, and let peo­ple con­trol the qual­i­ty of media, but give them the resources to do it so they're effective.
The response of peo­ple when they learn the actu­al real his­to­ry of Amer­i­can jour­nal­ism is like, ​'Wow, that is real­ly amaz­ing, I had no idea.' And in fact it becomes even more strik­ing when you read the Supreme Court deci­sions on the First Amend­ment and free­dom of the press, every sin­gle one says the first duty of the gov­ern­ment is to make sure you have the inde­pen­dent, cred­i­ble fourth estate, oth­er­wise the Con­sti­tu­tion can't work. The gov­ern­ment has to make sure it exists. Now that the market's not doing it, that means it's back to square one.
The oth­er half of that is sim­ply that the idea that if you have gov­ern­ment sub­si­dies, invari­ably you end up with Prav­da or Pol Pot's Cam­bo­dia. Our argu­ment is we're look­ing at the wrong coun­tries. Those real­ly aren't the rel­e­vant coun­tries to com­pare to the Unit­ed States. Why don't we look at the coun­tries that are sim­i­lar to us eco­nom­i­cal­ly, sim­i­lar to us polit­i­cal­ly, have sim­i­lar free­doms and lib­er­ties and con­sti­tu­tions like us? So why don't we look at Cana­da, Britain, Ger­many, France, Scan­di­na­vian coun­tries, Switzer­land, Japan, South Korea, even India? And what we find of all those coun­tries, with­out excep­tion, they have huge press and pub­lic media sub­si­dies — and com­pared to the Unit­ed States, enor­mous ones. And what was real­ly strik­ing in our research is that the coun­tries with the very largest press sub­si­dies … are ranked by The Econ­o­mist mag­a­zine as being the most demo­c­ra­t­ic nations in the world, way ahead of the U.S.
And the coun­tries with the largest press sub­si­dies, nation­al gov­ern­ment sub­si­dies to sup­port jour­nal­ism or pub­lic media, are regard­ed by Free­dom House as hav­ing the most flour­ish­ing, uncen­sored pri­vate media in the world, so they're not contradictory.
Nichols: Just to add to it, I've been doing jour­nal­ism since I was 11 years old. I start­ed get­ting paid on my week­ly news­pa­per when I was eleven. I have run major metro dai­ly news­rooms. … If I thought for one sec­ond that what we're propos­ing posed even the most min­i­mal threat to the abil­i­ty of a sin­gle jour­nal­ist to do his or her job, I would lead the oppo­si­tion to it…passionately. …
Any­body who's been pay­ing atten­tion knows that their lives are shaped far more today by cor­po­ra­tions than they are by gov­ern­ment. And if the gov­ern­ment is an exten­sion of us, if we shape our gov­ern­ment, if our tax­es and our votes shape our gov­ern­ment, I'd much rather have the gov­ern­ment in there. In a con­tent neu­tral, jour­nal­ism sus­tain­ing way, I'd much rather have the gov­ern­ment in there mak­ing sure that every­body has access to infor­ma­tion, rather than leav­ing it to some, at this point, fan­ta­sy of a free-mar­ket solution.
Pol­i­tics
That deliv­ers me to my next ques­tion. We've seen how dif­fi­cult it was for the cur­rent Con­gress to deliv­er any real action on health­care reform, and how polar­iz­ing and per­sis­tent ​"gov­ern­ment takeover" rhetoric is. What have you heard from peo­ple cur­rent­ly in office about the government's role in deal­ing with the jour­nal­ism crisis?
McCh­es­ney: Well, it's an issue that's very much in flux. A year ago, when the ini­tial wave news­pa­per clos­ings and lay­offs real­ly hit, and the prof­its were plum­met­ing, it became a big news sto­ry. At that point both the House and Sen­ate each called con­gres­sion­al hear­ings to dis­cuss it, and John Nichols tes­ti­fied at the house hear­ing. But the tenor of those hear­ings was very much like, ​'Here's a cri­sis, I don't know if there's any­thing we can do about it but it's so impor­tant we aught to talk about it.'
But what we've seen in the last year has real­ly been a sea change in the under­stand­ing of the cri­sis and I think it's real­ly moved much in the direc­tion of what we write in the book, which is an under­stand­ing that the core com­mer­cial sys­tem of jour­nal­ism is fail­ing and that it's not com­ing back. … And I think we've got­ten to a point in Wash­ing­ton now where the Fed­er­al Trade Com­mis­sion and the Fed­er­al Com­mu­ni­ca­tions Com­mis­sion both have explic­it study groups work­ing on the cri­sis of journalism. …
And so I think there's a much more real­is­tic under­stand­ing of the depth of the cri­sis and that it's going to require gov­ern­ment involve­ment. Now we're still at the very begin­ning of this process – what that gov­ern­ment involve­ment is, is still a sen­si­tive issue. But I think it's under­stood there's going to be gov­ern­ment involvement. …
Nichols: Let me offer one oth­er notion too – one of the great chal­lenges here is not mere­ly con­gres­sion­al buy-in, because any­body who fol­lows pol­i­tics knows that Con­gress and the fed­er­al bureau­cra­cy doesn't respond unless it's get­ting pres­sure from some­place. Now, clear­ly, there are old media com­pa­nies and some play­ers that [have pres­sured] gov­ern­ment to do things that will con­tin­ue to ben­e­fit them. I mean, obvi­ous­ly the government's high­ly involved already. These are the people's air­waves and yet they're pret­ty well col­o­nized by big media com­pa­nies. So there's going to be a lot of fight here, this is going to be a long-term strug­gle. But clear­ly break­throughs are being made in this cri­sis moment. … The oth­er thing that we're doing right now is going out to the con­stituen­cies that we think actu­al­ly care about jour­nal­ism. In April I [spoke] to the Amer­i­can Soci­ety of News­pa­per Edi­tors. The notion that our ideas would be seri­ous­ly con­sid­ered by what's real­ly a very cau­tious group is a big deal.
They usu­al­ly would nev­er enter­tain gov­ern­ment intervention.
Nichols: I'm not sure they're going to. I don't know if they'll give me a stand­ing ova­tion. … [W]hat's hap­pen­ing is that in this cri­sis moment there is an open­ing on the part of core con­stituen­cies for a dia­logue both inside the fed­er­al gov­ern­ment struc­tures but also at the edges of them among the peo­ple whose voic­es are often heard.
Cul­ture
How do you respond to Chris Hedges' arti­cle in Truthdig in Feb­ru­ary, which said basi­cal­ly, the cri­sis of jour­nal­ism isn't just a finan­cial and eco­nom­ic cri­sis, it's also a cul­tur­al cri­sis – peo­ple don't val­ue jour­nal­ism any­more, and there­fore wouldn't want to pay for it. Do you think that's not true?
McCh­es­ney: We love Chris. I trea­sure his cri­tique, but I think he has a very pes­simistic view of our species at this point in time, espe­cial­ly the Amer­i­can vari­ant of our species. And I think if you have that atti­tude it becomes a self-ful­fill­ing prophe­cy. You can find exam­ples of everyone's life where – oh that per­son real­ly is a moron, they're watch­ing Jer­ry Springer, they're going to wrestling, they're lis­ten­ing to loud music, they're inca­pable of ratio­nal thought, and it's hope­less. The forces of dark­ness have over­whelmed the forces of lit­er­a­cy, and rea­son, and light, and all the good things. And I think Chris can find that, that's some­thing he demon­strates [in his 2009 book Empire of Illusion]…the end of literacy.
But I mean I would say in my view, and I think human beings are far more com­plex than that, and I'm sure he would reject that as a sim­plis­tic view. But I would say that – maybe com­plex isn't the right term – but rather that some­one can watch the Jer­ry Springer show or go to a wrestling match, and also be con­cerned about the qual­i­ty of their life and their com­mu­ni­ty. That it's not like there's one road or the oth­er, and if you go down the Jer­ry Springer road you're hope­less­ly lost to any sort of sane life.
I think most Amer­i­cans aren't even in that grim sce­nario where they don't real­ly care at all. Most Amer­i­cans do care. They'll say give me the infor­ma­tion that's real­ly good and I'll start pay­ing more atten­tion. I think my expe­ri­ence is that the peo­ple in this coun­try des­per­ate­ly care but they've felt powerless. …
Nichols: What Chris says is some­thing that we've heard at every event we've done. At every sin­gle event we've done. And so this is the inter­est­ing thing: Peo­ple who will rouse them­selves from their life, from watch­ing what­ev­er on tele­vi­sion to come to a pub­lic event, will say ​"You know, I care. But I don't think those folks out there care." And I think in a sense that's what Chris is say­ing. Chris cares very deeply, but he's start­ing to have his doubts about whether the folks out there care.
Our expe­ri­ence is, that is a very com­mon cri­sis on the left right now. Right? We have a lot of pro­gres­sives who real­ly are very frus­trat­ed with Oba­ma, they're see­ing the Tea Par­ty get all the atten­tion in a failed media sys­tem that loves a Tea Par­ty, and they're start­ing to feel like wow, it's just, this is over­whelm­ing. But what we're try­ing to do is sort of bridge that and say look, you know if you came to this event, if you care enough to still rouse your­self and come, there's hope. I mean, we can build from that. Every­thing that ever hap­pened in this coun­try was built through peo­ple gath­er­ing in a room and say­ing I care, I object.
And the oth­er thing too is that … an awful lot of Amer­i­cans who will not con­sume the New York Review of Books, or even The Nation —or heav­en for­bid In These Times! — still are glad that it's there, and that's some­thing real­ly, real­ly vital. That the watch­dog role of jour­nal­ism func­tions in a way that soci­ety val­ues very, very deeply even if soci­ety doesn't con­sume every arti­cle, every day. So, when we start to under­stand jour­nal­ism as a pub­lic good, it is a nec­es­sary part of this demo­c­ra­t­ic expe­ri­ence. Not every­body has to con­sume every bit of it for peo­ple to under­stand that it is absolute­ly vital. And that if we lose it, what do we have? What's our sit­u­a­tion? 24 – 7 com­mu­ni­ca­tions – we're not going to be with­out infor­ma­tion, we're not going to be with­out bells and whis­tles. We're going to have 24 – 7 com­mu­ni­ca­tion pro­duced by pow­er. And pow­er will tell us what to buy, what to think, and how to vote.
McCh­es­ney: It'll be pub­lic rela­tions pri­mar­i­ly. What we're see­ing in Amer­i­can news today – I hes­i­tate to use the term jour­nal­ism, because that still has some dig­ni­ty attached to it – is that the ratio of reporters to pub­lic rela­tions peo­ple, or pub­lic rela­tions peo­ple to reporters, which used to be 1:1, the his­tor­i­cal ratio in the mid­dle twen­ti­eth cen­tu­ry, grad­u­al­ly nudged up to 1.2 pub­lic rela­tions peo­ple to one jour­nal­ist in 1980. Today it's 4:1. There are four peo­ple try­ing to doc­tor the news … to rep­re­sent the inter­ests of their cor­po­rate or gov­ern­ment pay­mas­ter, to get a sto­ry to look like legit­i­mate news, for every work­ing jour­nal­ist try­ing to cov­er the news.
It's a com­plete mis­match and at cur­rent rates of change in decline in jour­nal­ists and increase of pub­lic rela­tions employ­ment, we're look­ing at a like­li­hood of a ratio of 7:1 or 8:1 in a few years.
Media
So let's say noth­ing you sug­gest in the book is done dur­ing the next 10 or 20 years, what do you see our jour­nal­ism land­scape look­ing like?
McCh­es­ney: It's not even that long. This isn't glob­al warm­ing where we can wait anoth­er gen­er­a­tion before we lose the coastal areas. We're los­ing our coastal areas right now.
Nichols: On tour [McCh­es­ney and I] do some­thing we don't always do, which is watch­ing cable tele­vi­sion. … While we were tour­ing Tiger Woods was going on and on about being a Bud­dhist. The Greek econ­o­my is col­laps­ing, poten­tial­ly tak­ing down the Euro and ulti­mate­ly the dol­lar, and it's like, ​'But we don't have time for that because of Tiger Woods.'
So, where are we head­ed? We're head­ed to where we're at right now, on steroids. And that is that, there will be a point ten years from now – if we do not inter­vene – where any ratio­nal per­son will look back and say I wish for the glo­ry days, I wish for those won­der­ful days when we got all that great cov­er­age of OJ Simp­son, and Brit­ney Spears, and Tiger Woods. Because as bad as things are now, it will be so much worse, and the ugli­est part of it is, in that moment it will be high­ly pack­aged with anchors and pret­ty peo­ple telling us so.
But the one place where we will take that final drop, if you will, off the cliff is that you will see our seri­ous polit­i­cal and gov­ern­men­tal cov­er­age move over and be com­plete­ly pro­duced for the elites. It will be like the Wall Street Jour­nal for investors, and pol­i­tics will be an investor sport, the real polit­i­cal life. And there will be an elite media that serves them at a very high cost, but for the rest of us it will be a spec­ta­tor sport and all that we will do is watch as every deci­sion about whether our chil­dren are sent to die in wars, whether we have jobs, whether our com­mu­ni­ties live or die, will be made at such a far reach from us that it will be what we learn about after it has happened.
It's a night­mar­ish sce­nario, it is absolute­ly Orwellian. In fact, we say that if Orwell could look at the cur­rent cir­cum­stance, he'd scrap 1984. He'd say, ​'I used to think the scary thing was Big Broth­er was watch­ing you, but the scary thing is you'll be watch­ing Big Brother.'
What would you say – if you can boil it down to one sen­tence – to some­one who's young and grown up on the Inter­net with this para­dox of hav­ing this huge amount of free infor­ma­tion – why should they pay through their tax­es for what you're talk­ing about?
McCh­es­ney: Just hav­ing some­thing that is data — bits and bytes — doesn't make it jour­nal­ism. Jour­nal­ism – cov­er­age of the world with pub­lic affairs – requires skilled paid labor, com­pet­ing news­rooms, requires factcheck­ers, proof­read­ers, copy edi­tors, qual­i­ty con­tent. That doesn't come for free. Jour­nal­ism is manda­to­ry for self-gov­ern­ment to work. There's no way around it, no mat­ter how many bits and bytes you have of mate­r­i­al you can wade through about any sub­ject – that doesn't answer the jour­nal­ism issue. That requires actu­al journalists.
Per­son­al
My last ques­tion is more per­son­al. You guys have writ­ten four books togeth­er now. How does the process work?
McCh­es­ney: John does all the writ­ing and I put my name on it.
Nichols: Peo­ple think it's odd to col­lab­o­rate. … But I will tell you that my favorite part about it is the occa­sion­al review that says, oh wow, we've got this kind of work­ing jour­nal­ist, scrap­py jour­nal­ist, and this high falutin' aca­d­e­m­ic. And then they'll quote some line from the book, and they'll say well there's a very well writ­ten line, that must be by Nichols. And in fact it will invari­ably be a line that Bob put in.
The truth of the mat­ter is that we've been work­ing togeth­er for a very long time, and you get a rel­a­tive­ly seam­less web, a lot of shared ideas. We're bring­ing two sides to this, as you've seen in the inter­view. I've done jour­nal­ism for a very long time, in very prac­ti­cal ways. Bob has too, he's run pub­li­ca­tions and done things, but he is an aca­d­e­m­ic and a bril­liant researcher. … Ulti­mate­ly, when you're try­ing to com­mu­ni­cate with peo­ple, your core goal is not mere­ly to give a bunch of facts, it's to make a human sto­ry. What we've writ­ten in this book is a very human sto­ry of a cri­sis in our democ­ra­cy. We're not writ­ing a his­to­ry of the cri­sis, we're writ­ing a call to action.
This inter­view was edit­ed for clar­i­ty and concision.

—May 18, 2010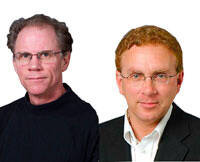 John Nichols
is
The Nation
​
'
s Wash­ing­ton D.C. cor­re­spon­dent and the asso­ciate edi­tor for the
Cap­i­tal Times
in Madi­son, Wisc. His arti­cles have appeared in many newspapers.
Robert W. McCh­es­ney
is a pro­fes­sor of com­mu­ni­ca­tion at the Uni­ver­si­ty of Illi­nois at Urbana-Cham­paign and a for­mer edi­tor of
Month­ly Review
. He is the author of many books, includ­ing
Rich Media, Poor Democ­ra­cy: Com­mu­ni­ca­tion Pol­i­tics in Dubi­ous Times
. He hosts
Media Mat­ters
on WILL-AM radio.
McCh­es­ney and Nichols have co-authored the books
It's the Media, Stu­pid!
(Sev­en Sto­ries),
Our Media, Not Theirs
(Sev­en Sto­ries),
Tragedy and Farce: How the Amer­i­can Media Sell Wars, Spin Elec­tions, and Destroy Democ­ra­cy
(The New Press) and, most recent­ly,
The Death and Life of Amer­i­can Jour­nal­ism
(Nation Books). McCh­es­ney and Nichols are the co-founders of Free Press, the nation's media-reform network.