Robert Reich: The GOP Tax Bill Is Everything That's Wrong With Our Democracy
The Republican plan will hurt the poor, enrich the wealthy and make GOP campaign donors very happy.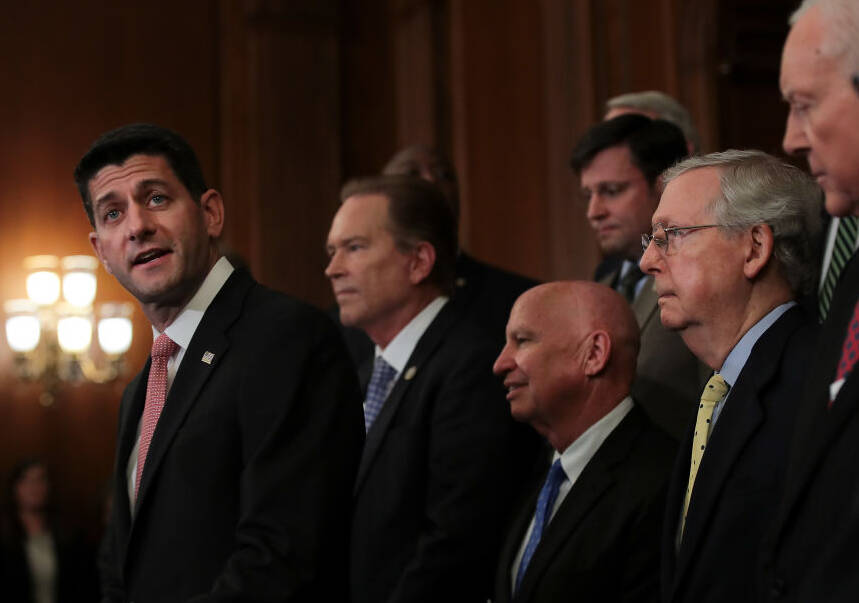 Sell­ing the Trump-Repub­li­can tax plan should be awk­ward for an admin­is­tra­tion that has made patri­o­tism its cen­tral theme.
The reason Republicans give for enacting the plan is "supply-side" trickle-down nonsense. The real reason is payback to the GOP's mega-donors.
That's because patri­o­tism isn't most­ly about salut­ing the flag and stand­ing dur­ing the nation­al anthem. It's about tak­ing a fair share of the bur­den of keep­ing Amer­i­ca going.
But the tax plan gives Amer­i­can cor­po­ra­tions a $2 tril­lion tax break, at a time when they're enjoy­ing record prof­its and stash­ing unprece­dent­ed amounts of cash in off­shore tax shel­ters. And it gives America's wealth­i­est cit­i­zens tril­lions more, when the rich­est 1 per­cent now hold a record 38.6 per­cent of the nation's total wealth, up from 33.7 per­cent a decade ago.
The rea­son Repub­li­cans give for enact­ing the plan is ​"sup­ply-side" trick­le-down non­sense. The real rea­son is pay­back to the GOP's mega-donors.
A few Repub­li­cans are start­ing to admit this. Last week, Gary Cohn, Trump's lead eco­nom­ic advi­sor, con­ced­ed in an inter­view that ​"the most excit­ed group out there are big CEOs, about our tax plan." Repub­li­can Rep. Chris Collins admit­ted that ​"my donors are basi­cal­ly say­ing, ​'Get it done or don't ever call me again.'" Repub­li­can Sen. Lind­sey Gra­ham warned that if Repub­li­cans failed to pass tax reform, ​"the finan­cial con­tri­bu­tions will stop."
Repub­li­can mega-donors view the tax pay­back as they do any oth­er invest­ment. When they bankrolled Trump and the GOP, they expect­ed a good return.
The biggest like­ly ben­e­fi­cia­ries are busi­ly invest­ing an addi­tion­al $43 mil­lion to pres­sure spe­cif­ic mem­bers of Con­gress to pass it, accord­ing to The Wall Street Jour­nal. They include the 45Committee, found­ed by bil­lion­aire casi­no oli­garch Shel­don Adel­son and Todd Rick­etts, whose fam­i­ly owns the Chica­go Cubs; and the Koch Broth­ers' groups, Amer­i­cans for Pros­per­i­ty and Free­dom Partners.
They're not doing this out of love of Amer­i­ca. They're doing it out of love of money.
How do you think they got so wealthy in the first place? As more of the nation's wealth has shift­ed to the top over the past three decades, major recip­i­ents have poured some of it into pol­i­tics – buy­ing them­selves tax cuts, spe­cial sub­si­dies, bailouts, lenient antitrust enforce­ment, favor­able bank­rupt­cy rules, extend­ed intel­lec­tu­al prop­er­ty pro­tec­tion, and oth­er laws that add to their wealth. All of which have giv­en them more clout to get addi­tion­al legal changes that enlarge their wealth even more.
Forty years ago, the estate tax was paid by 139,000 estates, accord­ing to the non-par­ti­san Tax Pol­i­cy Cen­ter. By 2000, it was paid by 52,000. This year it will be paid by just 5,500 estates. Under the House tax plan, it will be elim­i­nat­ed altogether.
Why do Amer­i­cans pay more for phar­ma­ceu­ti­cals than the cit­i­zens of every oth­er advanced econ­o­my? Because Big Phar­ma has altered the laws in its favor. Why do we pay more for inter­net ser­vice than most oth­er nations? Big cable's polit­i­cal clout. Why can pay­day lenders get away with pay­day rob­bery? The polit­i­cal heft of big banks.
Mul­ti­ply these exam­ples across the econ­o­my and you get a huge hid­den upward redis­tri­b­u­tion from the pay­checks of aver­age work­ing peo­ple and the poor to top exec­u­tives and investors. All this is ter­ri­ble for the Amer­i­can economy.
More and bet­ter jobs depend on increas­ing demand for goods and ser­vices. This must come from the mid­dle class and poor because the rich spend a far small­er share of their after-tax income. Yet the mid­dle class and poor have steadi­ly lost pur­chas­ing pow­er. Part­ly as a result, a rel­a­tive­ly low share of the nation's work­ing-age pop­u­la­tion is employed today and the wages of the typ­i­cal work­er have been stuck in the mud.
The Repub­li­can tax plan will make all this worse by bur­den­ing the mid­dle class and the poor even more. A slew of analy­ses, includ­ing Congress's own Joint Com­mit­tee on Tax­a­tion, show that the GOP plan will raise tax­es on many mid­dle-class families.
It will also require cuts in gov­ern­ment pro­grams that mid­dle and low­er-income Amer­i­cans depend on, such as Medicare and Med­ic­aid. And the plan will almost cer­tain­ly explode the nation­al debt, even­tu­al­ly caus­ing many mid­dle class and poor fam­i­lies to pay high­er inter­est on their auto loans, mort­gages, and cred­it cards.
I don't care whether the top exec­u­tives of big cor­po­ra­tions, Wall Street moguls, and heirs to vast for­tunes salute the flag and stand for the nation­al anthem. But they enjoy all the advan­tages of being Amer­i­can. Most couldn't have got to where they are in any oth­er country.
They have a patri­ot­ic duty to take on a fair share of the bur­den of keep­ing Amer­i­ca going. And Trump and his enablers in Con­gress have a patri­ot­ic respon­si­bil­i­ty to make them.
This arti­cle first appeared on RobertRe​ich​.org
Robert B. Reich, Chancellor's Pro­fes­sor of Pub­lic Pol­i­cy at the Uni­ver­si­ty of Cal­i­for­nia at Berke­ley, was Sec­re­tary of Labor in the Clin­ton admin­is­tra­tion.
Time
mag­a­zine named him one of the ten most effec­tive cab­i­net sec­re­taries of the
20
th
cen­tu­ry. He has writ­ten thir­teen books, includ­ing the best­sellers
After­shock
and
The Work of Nations.
His lat­est,
Beyond Out­rage
, is now out in paper­back. He is also a found­ing edi­tor of the
Amer­i­can Prospect
and chair­man of Com­mon Cause. His new film,
Inequal­i­ty for All
, is now avail­able on Net­flix, iTunes, DVD and On Demand.