Robert Reich: Without Reeling In Wall Street, the Middle Class Is Doomed
It's nice that presidential aspirants are talking about rebuilding America's middle class. But to be credible, candidates must take clear aim at Wall Street.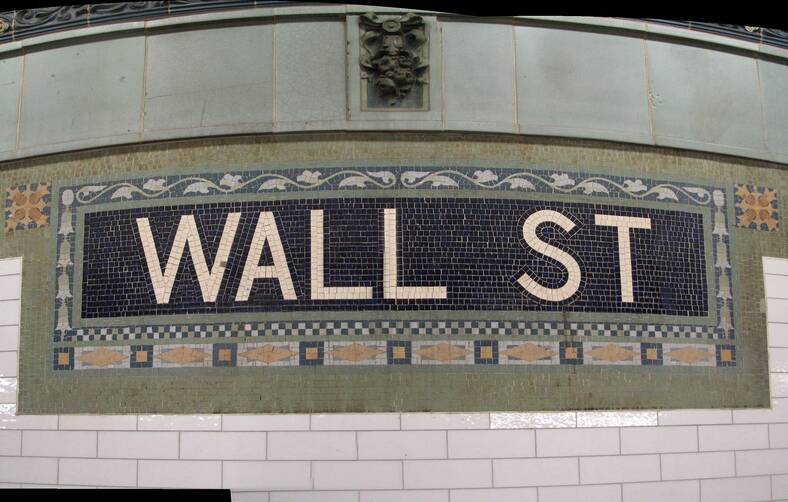 This post orig­i­nal­ly appeared at RobertRe​ich​.org.
Both parties have been drinking at the Wall Street trough. In the 2008 presidential campaign, the financial sector ranked fourth among all industry groups giving to then-candidate Barack Obama and the Democratic National Committee. In fact, Obama reaped far more in contributions from the Street than did his Republican opponent.
Pres­i­den­tial aspi­rants in both par­ties are talk­ing about sav­ing the mid­dle class. But the mid­dle class can't be saved unless Wall Street is tamed.
The Street's excess­es pose a con­tin­u­ing dan­ger to aver­age Amer­i­cans. And its ongo­ing use of con­fi­den­tial cor­po­rate infor­ma­tion is defraud­ing mil­lions of mid­dle-class investors.
Yet most pres­i­den­tial aspi­rants don't want to talk about tam­ing the Street because Wall Street is one of their largest sources of cam­paign money.
Do we real­ly need remind­ing about what hap­pened six years ago? The finan­cial col­lapse crip­pled the mid­dle class and poor — con­sum­ing the sav­ings of mil­lions of aver­age Amer­i­cans, and caus­ing 23 mil­lion to lose their jobs, 9.3 mil­lion to lose their health insur­ance, and some 1 mil­lion to lose their homes.
A repeat per­for­mance is not unlike­ly. Wall Street's biggest banks are much larg­er now than they were then. Five of them hold about 45 per­cent of America's bank­ing assets. In 2000, they held 25 percent.
And mon­ey is cheap­er than ever. The Fed con­tin­ues to hold the prime inter­est rate near zero.
This has fueled the Street's eager­ness to bor­row mon­ey at rock-bot­tom rates and use it to make risky bets that will pay off big if they suc­ceed, but will cause big prob­lems if they go bad.
We learned last week that Gold­man Sachs has been on ashop­ping binge, buy­ing cheap real estate stretch­ing from Utah to Spain, and a vari­ety of companies.
If not tech­ni­cal­ly a vio­la­tion of the new Dodd-Frank bank­ing law, Goldman's binge sure­ly vio­lates its spir­it.
Mean­while, the Street's lob­by­ists have got­ten Con­gress to repeala pro­vi­sion of Dodd-Frank curb­ing exces­sive spec­u­la­tion by the big banks.
The lan­guage was draft­ed by Cit­i­group and per­son­al­ly pushed by Jamie Dimon, CEO of JPMor­gan Chase.
Not inci­den­tal­ly, Dimon recent­ly com­plained of being ​"under assault" by bank regulators.
Last year JPMorgan's board vot­ed to boost Dimon's pay to $20 mil­lion, despite the bank pay­ing out more than $20 bil­lion to set­tle var­i­ous legal prob­lems going back to finan­cial crisis.
The Amer­i­can mid­dle class needs stronger bank reg­u­la­tions, not weak­er ones.
Last sum­mer, bank reg­u­la­tors told the big banks their plans for order­ly bank­rupt­cies were ​"unre­al­is­tic." In oth­er words, if the banks col­lapsed, they'd bring the econ­o­my down with them.
Dodd-Frank doesn't even cov­er bank bets on for­eign exchanges. Yet recent tur­bu­lence in the for­eign exchange mar­ket has causedhuge loss­es at hedge funds and brokerages.
This comes on top of rev­e­la­tions of wide­spread manip­u­la­tion by the big banks of the for­eign-exchange market.
Wall Street is also awash in inside infor­ma­tion unavail­able to aver­age investors.
Just weeks ago a three-judge pan­el of the U.S. court of appeals that over­sees Wall Street reversed an insid­er-trad­ing con­vic­tion, say­ing guilt requires proof a trad­er knows the tip was leaked in exchange for some ​"per­son­al ben­e­fit" that's ​"of some consequence."
Mean­ing that if a CEO tells his Wall Street golf­ing bud­dy about a pend­ing merg­er, the bud­dy and his friends can make a bun­dle — to the detri­ment of small, typ­i­cal­ly mid­dle-class, investors.
That three-judge pan­el was com­posed entire­ly of appointees of Ronald Rea­gan and George W. Bush.
But both par­ties have been drink­ing at the Wall Street trough.
In the 2008 pres­i­den­tial cam­paign, the finan­cial sec­tor ranked fourth among all indus­try groups giv­ing to then can­di­date Barack Oba­ma and the Demo­c­ra­t­ic Nation­al Com­mit­tee. In fact, Oba­ma reaped far more in con­tri­bu­tions from the Street than did his Repub­li­can opponent.
Wall Street also sup­plies both admin­is­tra­tions with key eco­nom­ic offi­cials. The trea­sury sec­re­taries under Bill Clin­ton and George W. Bush – Robert Rubin and Hen­ry Paul­son, respect­ful­ly, had both chaired Gold­man Sachs before com­ing to Washington.
And before becom­ing Obama's trea­sury sec­re­tary, Tim­o­thy Gei­th­n­er had been hand­picked by Rubin to become pres­i­dent of Fed­er­al Reserve Bank of New York. (Gei­th­n­er is now back on the Street as pres­i­dent of the pri­vate-equi­ty firm War­burg Pincus.)
It's nice that pres­i­den­tial aspi­rants are talk­ing about rebuild­ing America's mid­dle class.
But to be cred­i­ble, he (or she) has to take clear aim at the Street.
That means propos­ing to lim­it the size of the biggest Wall Street banks; res­ur­rect the Glass-Stea­gall Act (which used to sep­a­rate invest­ment from com­mer­cial bank­ing); define insid­er trad­ing the way most oth­er coun­tries do – using infor­ma­tion any rea­son­able per­son would know is unavail­able to most investors; and close the revolv­ing door between the Street and the U.S. Treasury.
It also means not depend­ing on the Street to finance their campaigns.
Robert B. Reich, Chancellor's Pro­fes­sor of Pub­lic Pol­i­cy at the Uni­ver­si­ty of Cal­i­for­nia at Berke­ley, was Sec­re­tary of Labor in the Clin­ton admin­is­tra­tion.
Time
mag­a­zine named him one of the ten most effec­tive cab­i­net sec­re­taries of the
20
th
cen­tu­ry. He has writ­ten thir­teen books, includ­ing the best­sellers
After­shock
and
The Work of Nations.
His lat­est,
Beyond Out­rage
, is now out in paper­back. He is also a found­ing edi­tor of the
Amer­i­can Prospect
and chair­man of Com­mon Cause. His new film,
Inequal­i­ty for All
, is now avail­able on Net­flix, iTunes, DVD and On Demand.