Rural Emergency: Hospital Closures Are Putting Farmers Out of Business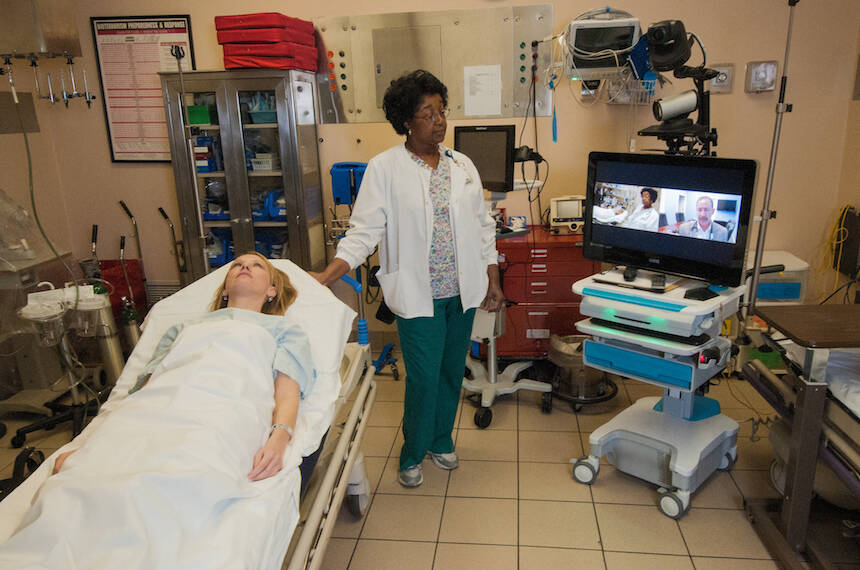 Kendra Col­burn spent a decade unin­sured. Dur­ing those years, she worked as a car­pen­ter near her home­town in rur­al Ver­mont, earn­ing just enough that she didn't qual­i­fy for low-income health care, but not enough to afford health insur­ance on her own. While unin­sured, she suf­fered two major work injuries that land­ed her in the emer­gency room — once, a nail shot through three of her fin­gers, and anoth­er time, a piece of wood kicked back on the table saw and sliced her arm. When she was unable to pay the emer­gency room costs, her cred­it took a hit for years.
Today, Col­burn works on her brother's farm and is cov­ered by Med­ic­aid. As a man­u­al labor­er, Col­burn has devel­oped nerve dam­age, which flares up in her hands and wrists with overuse. ​"I cut back my hours to deal with it. I can't afford to not be able to use my hands," she says. ​"That's how I make all of my money."
As a child who grew up in a farm­ing com­mu­ni­ty, Col­burn says she observed that pain is just a part of being a farmer. ​"It's tak­en for grant­ed that your body hurts every day, that your back always hurts." That's true for work­ers employed in some of the most dan­ger­ous jobs: Many man­u­al labor­ers with high rates of injury and repet­i­tive stress injuries are also more like­ly to be unin­sured. In fact, a 2015 study found that 65 per­cent of com­mer­cial farm­ers iden­ti­fied health insur­ance costs as the most seri­ous threat to their farms.
Alana Knud­son, co-direc­tor of the Walsh Cen­ter for Rur­al Health at NORC at the Uni­ver­si­ty of Chica­go, prefers to dis­cuss rur­al health care in terms of strengths, but she does rec­og­nize the real bar­ri­ers demon­strat­ed by sta­tis­tics. ​"Over­all, we know that peo­ple who live in rur­al com­mu­ni­ties are like­ly to have low­er incomes than their urban coun­ter­parts," she says. Rur­al res­i­dents are also more like­ly to have mul­ti­ple chron­ic con­di­tions and low­er edu­ca­tion­al attain­ment, and they're more like­ly to face bar­ri­ers in access­ing trans­porta­tion to med­ical care.
But there are also less tan­gi­ble bar­ri­ers. Col­burn says that many peo­ple she knows don't feel com­fort­able nav­i­gat­ing the com­pli­cat­ed web of pro­fes­sion­al med­ical inter­ven­tions when expe­ri­enc­ing health issues. And the Med­ic­aid sys­tem can often lack effi­cien­cy. Col­burn says her state's web­site often doesn't work, and she still hasn't fig­ured out how to find a pri­ma­ry care doc­tor who takes her insur­ance. Once, a com­put­er glitch result­ed in her being removed from her insur­ance plan, and she was charged hun­dreds of dol­lars in out-of-pock­et expens­es. Even though it was an error on Medicaid's part, Col­burn was still respon­si­ble for the bill. ​"Gen­er­al­ly when we're talk­ing about rur­al health care issues, we're talk­ing about access, as if once you get access that actu­al­ly means some­thing. But when you get access, it still can be a night­mare," she says.
Faced with whether to seek med­ical atten­tion or ​"make do," Col­burn says many peo­ple sim­ply don't go. She notes that farm­ers espe­cial­ly have a hard time leav­ing their farm oblig­a­tions to take care of them­selves. They also spend sig­nif­i­cant time out­doors, and it's dif­fi­cult to imag­ine a hos­pi­tal stay. Col­burn says, ​"I have treat­ed myself or not gone a mil­lion times." One spring, she stepped on a pota­to fork and punc­tured her foot. Instead of going to the doc­tor, she spoke with a com­mu­ni­ty herbal­ist, used an herbal tinc­ture, and soaked her foot in salt water.
"I know for a fact that I need a root canal," Col­burn says, ​"It used to hurt and now it doesn't hurt, so I just deal with it." She paus­es. ​"I know a lot of peo­ple who just get their teeth pulled. And the den­tal piece is impor­tant because what your teeth look like has [a] direct impact on what oppor­tu­ni­ties you have."
This real­i­ty is echoed by rur­al jour­nal­ist Sarah Smarsh. ​"In the past year, the Afford­able Care Act, or ​'Oba­maCare', has changed many lives for the bet­ter — mine includ­ed," she wrote in an essay for Aeon. ​"But its omis­sion of den­tal cov­er­age, a result of polit­i­cal com­pro­mise, is a dan­ger­ous, absurd com­part­men­tal­iza­tion of health care, as though teeth are apart from and less impor­tant than the rest of the body."
The fab­ric of rur­al Amer­i­ca is shift­ing, in large part due to changes in agri­cul­ture. Knud­son grew up in North Dako­ta and says she's seen that change first­hand. ​"Our neigh­bors are farm­ing our land and they seed over 10,000 acres. A lot of the small farms are not there anymore."
Many chil­dren of farm­ers choose not to take over the farm. Land is then sold or leased to larg­er farms. Small busi­ness­es that once depend­ed on a crit­i­cal mass of farm fam­i­lies as cus­tomers also go out of busi­ness. The effects of this rur­al migra­tion are par­tic­u­lar­ly severe on rur­al elder­ly with com­plex med­ical needs — and no younger gen­er­a­tion remain­ing in the area to care for them.
Last year, a pho­tog­ra­ph­er and I drove across Kansas and Iowa to report on the hid­den cri­sis of farmer sui­cide. We vis­it­ed Ona­ga, Kan., a small town with a new­ly ren­o­vat­ed hos­pi­tal. Just blocks from the hospital's beau­ti­ful lob­by and squeaky-clean floors were emp­ty streets and board­ed up store­fronts. One doc­tor said the hos­pi­tal had a hard time attract­ing med­ical pro­fes­sion­als to prac­tice there. The ther­a­pist had left months ago, she said, and they were strug­gling to fill the position.
An online search for ​"ben­e­fits for rur­al med­ical pro­fes­sion­als" turns up a slew of sites about attract­ing med­ical tal­ent to rur­al com­mu­ni­ties. Rur­al med­ical estab­lish­ments are advised to adver­tise the low­er cost of liv­ing and abil­i­ty to buy acreage, less traf­fic, a qui­eter life, stu­dent loan for­give­ness in cer­tain under­served areas, ​"the poten­tial to become the ​'town hero,'" more time spent with patients, and increased pro­fi­cien­cy due to physi­cians see­ing ​"a broad­er scope of illness."
Still, rur­al com­mu­ni­ties are fac­ing the clo­sure of hos­pi­tals and clin­ics. In 2016, The Nation­al Rur­al Health Asso­ci­a­tion (NRHA) announced that 673 rur­al hos­pi­tals were at risk to close. Of those, 210 were at ​"extreme risk" of clo­sure. The NRHA warns that ​"Med­ical deserts are form­ing across the nation, sig­nif­i­cant­ly adding to the health care work­force short­age in rur­al com­mu­ni­ties. Sev­en­ty-sev­en per­cent of rur­al U.S. coun­ties are already con­sid­ered Pri­ma­ry Care Health Pro­fes­sion­al Short­age Areas."
Knud­son says the health care indus­try is under­go­ing a sig­nif­i­cant trans­for­ma­tion in terms of how med­ical care is being reim­bursed. ​"Our reim­burse­ment sys­tem is mov­ing from a vol­ume to val­ue," she says. ​"His­tor­i­cal­ly hos­pi­tals have been reim­bursed by the num­ber of hos­pi­tal­iza­tions they pro­vid­ed — you have 10 hos­pi­tal­iza­tions and you get reim­bursed for 10 stays. Our coun­try has real­ly shift­ed as much as pos­si­ble to out­pa­tient to make health care more affordable."
That means a decrease in admis­sions, more out­pa­tient pro­ce­dures, and less reim­bursable care for hos­pi­tals. Addi­tion­al­ly, Knud­son says many of the rur­al hos­pi­tals clos­ing are in states that have not expand­ed Med­ic­aid, which has led to a high­er num­ber of unin­sured patients. ​"When peo­ple are unin­sured, it's dif­fi­cult to col­lect pay­ment for that hospitalization."
Hos­pi­tal clo­sures can be dev­as­tat­ing to rur­al com­mu­ni­ties, cre­at­ing gaps in access to the detri­ment of res­i­dents. ​"Many of these hos­pi­tal clo­sures are hap­pen­ing in areas with the high­est con­cen­tra­tion of heart dis­ease and dia­betes, and in some of the poor­est com­mu­ni­ties in the coun­try," says Mag­gie Ele­hwany of the NRHA. ​"When that hos­pi­tal clos­es, it's like putting a nail in the cof­fin of that com­mu­ni­ty. You can't attract busi­ness­es or fam­i­lies with kids or keep retirees. So we're fight­ing not only for rur­al hos­pi­tals, but also for the economies of these rur­al com­mu­ni­ties as well."
In June 2017, Mis­souri Con­gress­man Sam Graves intro­duced the Save Rur­al Hos­pi­tals Act (H.R. 2957). The bill doesn't increase reim­burse­ments, but it does offer sta­bil­i­ty for ​"the clo­sure cri­sis" by elim­i­nat­ing cuts and Medicare Seques­tra­tion for rur­al hos­pi­tals. It also estab­lish­es a new Medicare pay­ment des­ig­na­tion, called the Com­mu­ni­ty Out­pa­tient Hos­pi­tal, that would guar­an­tee rur­al access to emer­gency care and give hos­pi­tals the choice to offer out­pa­tient care. The bill was co-spon­sored by 21 rep­re­sen­ta­tives (14 Repub­li­cans and 7 Democ­rats), but it is still wait­ing for a vote.
Rur­al res­i­dents can't afford to wait, so they are using the assets they have. Rur­al com­mu­ni­ties are known for being inno­v­a­tive, self-suf­fi­cient, and used to orga­niz­ing quick­ly in an emer­gency. Fam­i­lies may have been root­ed in one area for gen­er­a­tions, which man­i­fests in a deep know­ing of their neigh­bors, as well as each other's tal­ents and stres­sors. And rur­al com­mu­ni­ties are often filled with peo­ple who want to help one another.
One sto­ry Alana Knud­son tells me goes like this: One win­ter, in a north­ern rur­al com­mu­ni­ty, an elder­ly man was treat­ed for chron­ic uri­nary tract infec­tions. He was treat­ed and advised by med­ical staff to flush his kid­neys as much as pos­si­ble by drink­ing water. But he soon returned with anoth­er infec­tion. When a com­mu­ni­ty health work­er vis­it­ed his home, she dis­cov­ered the man lived in the back of a shed, did not have an indoor toi­let, and had to haul his own potable water.
At last, the uri­nary tract infec­tions made sense. Knud­son says, ​"It was not easy for this elder­ly man to tra­verse the snow and the cold in the dark to access the out­door restroom, so he lim­it­ed his flu­id intake which con­tributed to reoc­cur­ring UTIs."
To serve the health care needs of the near­ly 60 mil­lion Amer­i­cans who live in rur­al com­mu­ni­ties, Knud­son says ​"it takes an entire team." Ide­al­ly, Knud­son says com­mu­ni­ty health work­ers are part of that team. As pub­lic health work­ers who are also trust­ed mem­bers of the com­mu­ni­ty, com­mu­ni­ty health work­ers are par­tic­u­lar­ly equipped to pro­vide valu­able con­nec­tions between health or social ser­vices and the com­mu­ni­ty. Pri­ma­ry care providers, phar­ma­cists, social work­ers, health depart­ments, and even agri­cul­ture exten­sions are crit­i­cal mem­bers of the rur­al health care team. Knud­son says, ​"A lot of dif­fer­ent enti­ties come togeth­er and com­ple­ment each oth­er. We can't afford the lux­u­ry of dupli­ca­tion, so we real­ly work together."
"Peo­ple come togeth­er to sup­port oth­ers," she says. ​"In my home com­mu­ni­ty in North Dako­ta, we had a neigh­bor who had a heart attack dur­ing har­vest, and all of us got togeth­er and fin­ished the har­vest for him. If you need­ed the help, you could count on your neigh­bors doing that."
This frame is impor­tant, Knud­son says, as much of the media atten­tion about rur­al com­mu­ni­ties has been neg­a­tive. As a result, she says, ​"There is such dystopia about rur­al Amer­i­ca. We're hear­ing from some rur­al com­mu­ni­ties that poten­tial busi­ness­es are say­ing ​'we're not inter­est­ed in invest­ing in rur­al America.'"
(​"Hos­pi­tals Are Leav­ing Rur­al Amer­i­ca. Rur­al Amer­i­cans Are Stay­ing Put." was pub­lished by TalkPover​ty​.org and is repost­ed on Rur­al Amer­i­ca In These Times in accor­dance with their Reuse Pol­i­cy.)
Deb­bie Wein­garten is a writer and edi­tor based in Tuc­son, Ari­zona, with a back­ground in food sys­tems, agri­cul­ture, and com­mu­ni­ty orga­niz­ing. Her jour­nal­ism and cre­ative non­fic­tion has appeared in the New York Times, The New York Review of Books, The Guardian, the Eco­nom­ic Hard­ship Report­ing Project, Guer­ni­ca, and Lon­greads, and else­where. She was a final­ist for the James Beard Award in Inves­tiga­tive Reporting.