Tech Shakeups Disrupt Food Stamp Services in Farmers Markets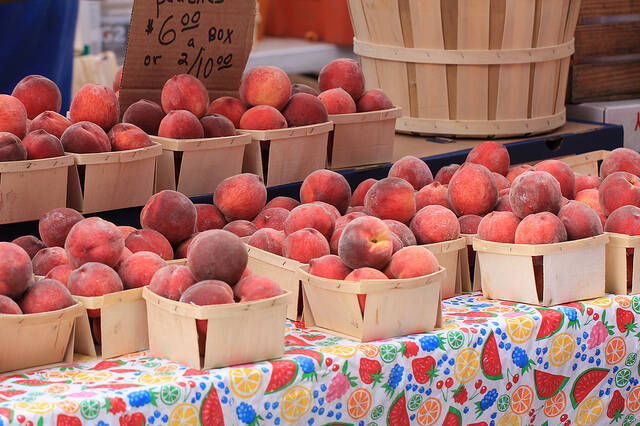 By July, farm­ers' mar­kets across the coun­try are in full swing. But for many farm­ers' mar­ket man­agers, the mid-sea­son momen­tum turned to con­fu­sion and scram­ble on July 9, after The Wash­ing­ton Post report­ed that a change in gov­ern­ment con­tracts could leave 1,700 farm­ers' mar­kets with­out the abil­i­ty to accept SNAP dol­lars from low-income customers.
Nova Dia Group, an Austin-based tech provider, process­es up to 40 per­cent of all farm­ers' mar­ket SNAP trans­ac­tions nation­wide. But two weeks ago, they announced they would dis­con­tin­ue the ser­vice on July 31 (this dead­line has since been extend­ed by anoth­er month). While Novo Dia has large­ly received the brunt of everyone's frus­tra­tions these last two weeks, it hard­ly seems their fault. Instead, the deba­cle expos­es a tan­gle of fed­er­al, state, and pri­vate enti­ties and a fail­ure to coor­di­nate gov­ern­ment tech­nol­o­gy in a rapid­ly evolv­ing landscape.
SNAP cus­tomers use Elec­tron­ic Ben­e­fits Trans­fer (EBT) cards just like a cred­it card. When a cus­tomer pays for gro­ceries with an EBT card, the trans­ac­tion infor­ma­tion is sent from the gro­cery store to the state pro­cess­ing agency, and funds are deduct­ed from the SNAP customer's account. With the emer­gence of pro­grams aimed at encour­ag­ing SNAP cus­tomers to spend their ben­e­fits at farm­ers' mar­kets, a mobile solu­tion for card pro­cess­ing had to be cre­at­ed. That's where Nova Dia's Mobile­Mar­ket Plus app comes in — it's cur­rent­ly the only app that works on Apple systems.
Because mobile devices were often too expen­sive for mar­kets to afford, the USDA began a pro­gram in 2012 to pro­vide free devices, includ­ing tablets and card read­ers, to farm­ers' mar­kets. The agency out­sources the man­age­ment of that pro­gram through a bid­ding process. Until last Novem­ber, that con­tract was award­ed to the Farm­ers Mar­ket Coali­tion, which hired tech com­pa­nies, includ­ing Novo Dia, to devel­op the nec­es­sary soft­ware and equip­ment. But in March, a new $1.3 mil­lion man­age­ment con­tract was award­ed to a Vir­ginia-based tech com­pa­ny Finan­cial Trans­ac­tion Man­age­ment (FTM). FTM had been formed just two months pre­vi­ous­ly and reports only one employ­ee. While Novo Dia stat­ed that they had hoped to con­tin­ue as a ser­vice provider under the new man­age­ment, it seems that FTM either chose not to work with Novo Dia, or was unre­spon­sive to Novo Dia's request to bid. With­out the gov­ern­ment con­tract to sus­tain it, Novo Dia Pres­i­dent Josh Wiles announced they would be shut­ting down their SNAP pro­cess­ing system.
Once Novo Dia clos­es up shop, the 1,700 farm­ers' mar­kets out­fit­ted specif­i­cal­ly for Novo Dia's sys­tem will be unable to take EBT cards, a prob­lem that could leave thou­sands of farm­ers and hun­dreds of thou­sands of low-income cus­tomers in a lurch. Mar­kets must now wait for FTM to roll out its new devices and soft­ware, a process rumored to take up to six months.
In the wake of the shake­up, a loud out­cry from farm­ers' mar­ket man­agers, advo­cates, cus­tomers, and farm­ers has caught the atten­tion of offi­cials. A state­ment by USDA Food and Nutri­tion Ser­vice Admin­is­tra­tor Bran­don Lipps on July 14 promised to "[explore] all avail­able options in an attempt to avoid a ser­vice dis­rup­tion." Two days lat­er, four­teen Demo­c­ra­t­ic sen­a­tors sent a let­ter to Lipps express­ing con­cerns. ​"Any dis­rup­tion in EBT ser­vice at these mar­kets would have dev­as­tat­ing impacts on SNAP fam­i­lies as well as farm­ers who sell their prod­ucts to these local fam­i­lies," they wrote. ​"We ask that the Food and Nutri­tion Ser­vice explore every pos­si­ble option to ensure there is no dis­rup­tion in EBT ser­vice at farm­ers mar­kets dur­ing this crit­i­cal mar­ket time."
By July 19, a tem­po­rary solu­tion was reached when the Nation­al Asso­ci­a­tion of Farm­ers Mar­ket Nutri­tion Pro­grams (NAFM­NP) stepped in to pro­vide Novo Dia with oper­a­tional fund­ing for an addi­tion­al 30 days. A well-known non­prof­it that advo­cates for farm­ers' mar­kets, NAFM­NP says it's com­mit­ted to work­ing with the USDA to find a per­ma­nent solu­tion to the prob­lem, but for now, affect­ed mar­kets have at least been bought anoth­er month.
In March, I wrote about how Dou­ble­Up SNAP pro­grams at farm­ers' mar­kets were pro­vid­ing much-need­ed eco­nom­ic sup­port for small-scale grow­ers. If a ser­vice lapse were to occur, not only would count­less num­bers of low-income cus­tomers lose access to food, but farm­ers would lose crit­i­cal dol­lars in SNAP sales at farm­ers' mar­kets that they've come to count on. Adri­enne Udarbe of Pin­na­cle Pre­ven­tion, the group that man­ages Arizona's statewide Dou­ble­Up pro­gram, says that while Ari­zona is less impact­ed by Novo Dia's depar­ture than some oth­er states, ​"even hav­ing just one mar­ket impact­ed is not okay."
When Udarbe heard the news, she imme­di­ate­ly reached out to sev­er­al farm­ers mar­kets in Ari­zona con­tract­ed with Novo Dia to offer sup­port. She says the mar­kets were left with two choic­es: Wait for the free equip­ment to be dis­trib­uted by FTM, basi­cal­ly ensur­ing a dis­rup­tion in ser­vices, or find a way to pur­chase new equip­ment on their own, to the tune of approx­i­mate­ly $1,000 per mar­ket. The lat­ter option means for­go­ing the USDA free equip­ment pro­gram and con­tract­ing with one of the more than 30 oth­er com­pa­nies that process EBT cards.
Through Pin­na­cle Pre­ven­tion, Udarbe launched an emer­gency crowd­fund­ing cam­paign to help the mar­kets pur­chase new tech­nol­o­gy. The fundrais­er gen­er­at­ed pri­vate dona­tions and caught the atten­tion of two orga­ni­za­tions, the Val­ley of the Sun Unit­ed Way and Vit­a­lyst Health Foun­da­tion, that cov­ered the remain­der of the costs. Udarbe says the Ari­zona mar­kets hope to have funds in place, equip­ment ordered, and con­tracts with new com­pa­nies final­ized by this week.
While the Ari­zona mar­kets were able to fundraise to avoid wait­ing for the free equip­ment pro­gram, oth­er farm­ers' mar­kets may not have that option — the irony being that the low­est-income farm­ers' mar­kets are more like­ly to face dis­rup­tions in serv­ing their low-income cus­tomers, because there are few­er com­mu­ni­ty mem­bers with extra mon­ey to donate to the cause.
Udarbe says that any dis­rup­tion in ser­vices for SNAP cus­tomers has the poten­tial to erode a foun­da­tion­al ele­ment of these pro­grams — trust. ​"Build­ing trust with both farm­ers and fam­i­lies has been years in the mak­ing," she says. ​"Farm­ers now trust that SNAP is an income source they can rely on to feed their fam­i­lies, and SNAP cus­tomers now put their trust in us and in the mar­ket to pro­vide them food. When you break that trust, it does a lot of dam­age and there's a lot of repair that has to hap­pen." Udarbe also notes the ​"trick­le effect" a dis­rup­tion could have on oth­er incen­tive pro­grams, such as Dou­ble­Up Food Bucks, which allows cus­tomers to swipe their EBT card for $20 and receive an addi­tion­al $20 from the mar­ket to pur­chase local­ly grown fruits and vegetables.
At last week's mar­ket in Payson, the market's co-founder Lori­an Roeth­lein says a sin­gle moth­er came up to the infor­ma­tion booth, hav­ing been sent by the Ari­zona Depart­ment of Eco­nom­ic Secu­ri­ty (DES). After Roeth­lein explained how the Dou­ble Up pro­gram worked, the woman began to cry. ​"She said, ​'Would it be okay if I hugged you?'" says Roeth­lein. ​"Peo­ple who need this pro­gram just so des­per­ate­ly need it."
("How A Ques­tion­able Tech Con­tract Jeop­ar­dized Food Stamps at Farm­ers' Mar­kets" was orig­i­nal­ly pub­lished on Talk Pover­ty. It has been repost­ed on Rur­al Amer­i­ca In These Times thanks to a Cre­ative Com­mons license.)
Deb­bie Wein­garten
is a TalkPover­ty Fel­low, for­mer veg­etable farmer, and a free­lance writer based out of Tuc­son, Ariz. Fol­low her on Twit­ter @cactuswrenwrite.