Is Russia a Red Herring?
A debate over whether the Left should focus on collusion between Trump and Russia.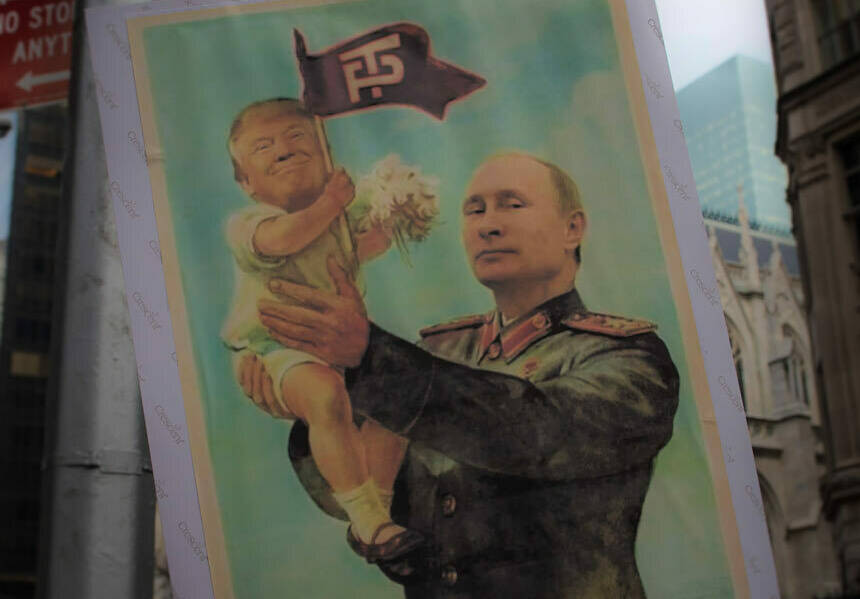 On Feb. 13, Nation­al Secu­ri­ty Advis­er Michael Fly­nn ten­dered his res­ig­na­tion to Pres­i­dent Don­ald Trump after weeks of con­tro­ver­sy over his alleged com­mu­ni­ca­tion with Russ­ian offi­cials while serv­ing on the Trump cam­paign. The com­mu­ni­ca­tion report­ed­ly includ­ed the drop­ping of U.S. sanc­tions on Rus­sia. The next day, the New York Times report­ed that inter­cept­ed phone calls show that oth­er top mem­bers of Trump's cam­paign were in com­mu­ni­ca­tion with senior Russ­ian intel­li­gence offi­cials through­out the year lead­ing up to the pres­i­den­tial elec­tion. Since, calls have increased from Democ­rats in Con­gress and for­mer U.S. nation­al secu­ri­ty offi­cials for fur­ther inves­ti­ga­tions into the Trump administration's deal­ings with Russia.
This scan­dal fol­lows news that leaked in Decem­ber of an explo­sive CIA brief­ing to Con­gress alleg­ing that Rus­sia had inter­vened in the elec­tion with the express intent of help­ing Trump win. The CIA, accord­ing to the brief­ing, had deter­mined that who­ev­er was respon­si­ble for hack­ing the Demo­c­ra­t­ic Nation­al Com­mit­tee (DNC) and leak­ing thou­sands of emails to Wik­iLeaks had ties to the Russ­ian government.
The alle­ga­tions made sense: Don­ald Trump's uncon­ven­tion­al­ly pro-Russ­ian for­eign pol­i­cy views and his brand of author­i­tar­i­an far-right pol­i­tics lined up with Vladimir Putin's inter­ests. Many in the media — and many Democ­rats — have since leapt on the nar­ra­tive of a med­dling Putin installing a pup­pet in the White House.
On Jan­u­ary 6, the intel­li­gence com­mu­ni­ty released a report on the hack­ing to the pub­lic, con­clud­ing that Putin direct­ly ordered cyber-espi­onage aimed at help­ing Don­ald Trump. The cir­cum­stan­tial evi­dence is com­pelling, but many, under­stand­ably skep­ti­cal of the CIA, demand more proof.
Many on the Left are not entire­ly sure how to respond to these devel­op­ments. On the one hand, for­eign tam­per­ing threat­ens the integri­ty — and thus legit­i­ma­cy — of U.S. demo­c­ra­t­ic insti­tu­tions, and pro­vides a poten­tial avenue for under­min­ing the Trump régime. On the oth­er hand, even if Putin did order the hack­ing, it is not clear that the emails — while at times unflat­ter­ing for the Clin­ton cam­paign— played a deci­sive role in the elec­tion. Nor is it clear that focus­ing on the Trump administration's rela­tion­ship with Rus­sia rather than its hard right-wing poli­cies is a win­ning polit­i­cal strategy.
In These Times asked Chris Edel­son, an assis­tant pro­fes­sor of gov­ern­ment at Amer­i­can Uni­ver­si­ty, and Bhaskar Sunkara, found­ing edi­tor of Jacobin mag­a­zine, to weigh in on how seri­ous­ly we should take the Rus­sia alle­ga­tions — and whether it's a dis­trac­tion from the polit­i­cal bat­tles ahead.
CHRIS: These are extra­or­di­nary times. Our pres­i­dent took office under a cloud of sus­pi­cion that Rus­sia helped him gain his very nar­row elec­tion vic­to­ry. The U.S. intel­li­gence com­mu­ni­ty seems to agree on that point. Then, uncon­firmed reports sur­faced that Rus­sia may pos­sess com­pro­mis­ing infor­ma­tion it could use to black­mail Trump. Buz­zfeed pub­lished a dossier — nei­ther ver­i­fied nor reject­ed by U.S. intel­li­gence — con­tain­ing lurid details about the infor­ma­tion Rus­sia may pos­sess, includ­ing descrip­tions of an encounter between Trump and pros­ti­tutes in a Moscow hotel.
This all cries out for inves­ti­ga­tion. The Sen­ate Armed Ser­vices Com­mit­tee, chaired by Sen. John McCain (R‑Ariz.), began hold­ing hear­ings in Jan­u­ary on Russ­ian inter­fer­ence in the elec­tion. That's a good start, but not enough. As McCain him­self has acknowl­edged, an inde­pen­dent, non­par­ti­san inves­ti­ga­tion is essen­tial. Com­mit­tees like McCain's divide along par­ti­san lines — as does Con­gress itself, of course. It is impos­si­ble to feel con­fi­dent about the impar­tial­i­ty of an inves­ti­ga­tion con­duct­ed as part of nor­mal con­gres­sion­al busi­ness. As for­mer U.S. ambas­sador to Rus­sia Michael McFaul put it, the ​"only way we get to the bot­tom of this is a bipar­ti­san, inde­pen­dent inves­ti­ga­tion, like we had after 9⁄11."
That makes a lot of sense. We're in an uncer­tain, poten­tial­ly dan­ger­ous sit­u­a­tion. As David Ignatius of the Wash­ing­ton Post puts it, ​"peo­ple must be won­der­ing if some­thing is rot­ten in the state of our democracy."
There are three pos­si­ble sce­nar­ios: (1) the intel­li­gence assess­ments and oth­er report­ing are accu­rate, mean­ing Rus­sia inter­vened in the U.S. elec­tion to help Trump win and pos­sess­es com­pro­mis­ing infor­ma­tion about him; (2) the intel­li­gence assess­ments and oth­er report­ing are incor­rect, and Trump has been unfair­ly maligned; or (3) some of the infor­ma­tion is cor­rect, but not all of it.
If I were Don­ald Trump, I would pub­licly call for an inde­pen­dent inves­ti­ga­tion to clear this all up — unless, of course, I had some­thing to hide. But Trump and most Repub­li­cans in Con­gress are not call­ing for an inde­pen­dent inves­ti­ga­tion. Instead, Trump promised on Jan­u­ary 13, ​"My peo­ple will have a full report on hack­ing with­in 90 days!"
Even assum­ing we could take Trump's tweet­ed dec­la­ra­tion at face val­ue, this would offer no com­fort. If Clin­ton had been elect­ed, would Trump have accept­ed the valid­i­ty of a probe into charges against her that was con­duct­ed by her loyalists?
Here's the imme­di­ate prob­lem we face. If Rus­sia does indeed have embar­rass­ing infor­ma­tion con­cern­ing Trump, it is in the driver's seat. It could decide to make this pub­lic at a time of its choos­ing. Or it could hold the infor­ma­tion over Trump's head indef­i­nite­ly. If no such infor­ma­tion actu­al­ly exists, then Rus­sia is ben­e­fit­ing from false reports that add a mys­tique to its espi­onage capabilities.
No mat­ter what the case is with regard to the alle­ga­tions involv­ing Rus­sia, Trump and the elec­tion, McFaul is right that we need to get to the bot­tom of this as soon as pos­si­ble. The longer we wait, the more harm we do to an already deeply trou­bled U.S. polit­i­cal cli­mate. Only Rus­sia would ben­e­fit from that.
BHASKAR: Chris is absolute­ly cor­rect about one thing — Trump should call for an inde­pen­dent inves­ti­ga­tion over Russia's role in the election.
No coun­try can match the Amer­i­can record at elec­tion inter­fer­ence, but that's no rea­son for lib­er­als and left­ists to com­plete­ly dis­miss con­cerns that Putin's Rus­sia — an impe­ri­al­ist pow­er in its own right — put its fin­ger on the scale for Trump.
Our dif­fer­ence, then, is one of empha­sis. In the days fol­low­ing Trump's shock vic­to­ry, lib­er­als were final­ly ask­ing some tough ques­tions. Hillary Clin­ton faced a gaffe-prone can­di­date and had a huge finan­cial advan­tage, as well as the sup­port of vir­tu­al­ly every sec­tor of both the country's busi­ness elite and orga­nized pop­u­lar forces. It was her elec­tion to lose — and she lost.
She told us that ​"Love Trumps Hate" and that Amer­i­ca was already great, but spent less time stat­ing what she could offer work­ing Amer­i­cans. If the last 30 years have seemed eco­nom­i­cal­ly bleak, ​"I've been in pol­i­tics for 30 years" is not the best pitch.
Savvy com­men­ta­tors began to ques­tion the dom­i­nant Demo­c­ra­t­ic Par­ty approach of offer­ing lit­tle more to vot­ers than a mar­riage between neolib­er­al eco­nom­ics and the rhetoric of social inclu­sion. Robert Reich, for exam­ple, made the case after the elec­tion that Democ­rats could not neglect white work­ers. But even among black and Lati­no vot­ers, turnout was low­er than in the Oba­ma years. Most Demo­c­ra­t­ic vot­ers didn't flock to Trump, but they weren't moti­vat­ed to show up for Clinton.
We had seen a glimpse of a dif­fer­ent sort of pol­i­tics — the broad left pop­ulism of fig­ures like Bernie Sanders and Eliz­a­beth War­ren. That pol­i­tics seemed like the pos­si­ble new face of a stag­gered Demo­c­ra­t­ic Par­ty. Pro­gres­sives appeared to be start­ing a twofront war against both a dis­cred­it­ed Clin­tonite cen­ter and the dan­ger­ous incom­ing Trump administration.
And then came Putin. A new nar­ra­tive emerged, with Don­ald Trump play­ing the role of a Russ­ian pre­tender king and the CIA — despite decades of blood on its hands — cast as demo­c­ra­t­ic heroes. News agen­cies like CNN and NBC referred to Russia's ​"elec­tion hack­ing," lead­ing some to believe that actu­al vote counts had been manip­u­lat­ed. And the lessons of the failed Clin­ton cam­paign were cast by the wayside.
I am wor­ried about the role Rus­sia could have played in the DNC hacks. But the influ­ence of that for­eign gov­ern­ment was like­ly far less than the role played by many U.S. actors. It should nev­er have been a close race to begin with. The longer we keep blam­ing the igno­rance of vot­ers or for­eign machi­na­tions — instead of thor­ough­ly reject­ing Clin­ton­ism — the bet­ter chance we have of it hap­pen­ing again in 2020.
David Ignatius is right. Some­thing is rot­ten with our democ­ra­cy. But what's rot­ten is that vot­ers were giv­en a choice between two can­di­dates who didn't rep­re­sent their inter­ests. Enough of them, ratio­nal­ly enough, decid­ed to stay at home or try their chances on a buf­foon­ish out­sider. Blam­ing Putin doesn't help build an alternative.
CHRIS: Bhaskar makes an essen­tial point: We can­not allow seri­ous con­cerns over Russ­ian inter­ven­tion to be an excuse for over­look­ing the Demo­c­ra­t­ic Party's fail­ure to offer a bona fide pro­gres­sive alter­na­tive to Trump's pho­ny pop­ulism. As Bhaskar observes, the elec­tion should nev­er have been close enough for Russ­ian inter­fer­ence to make a dif­fer­ence. It's also a mis­take to cre­ate the false impres­sion that Vladimir Putin has the uni­lat­er­al pow­er to dic­tate elec­toral outcomes.
But per­haps it is pos­si­ble to accom­plish both objec­tives — to hold an inde­pen­dent inves­ti­ga­tion while also reshap­ing the Demo­c­ra­t­ic Par­ty. In fact, I believe it's nec­es­sary. If we don't find out what hap­pened and take steps to pre­vent any repeat, why won't Putin inter­fere again in this year's Vir­ginia guber­na­to­r­i­al elec­tion, or in nation­al elec­tions in 2018 and 2020? He is already tar­get­ing French, Ger­man and Dutch elec­tions with mis­in­for­ma­tion, accord­ing to an EU task force. We also need to be sure U.S. jour­nal­ists don't keep offer­ing Putin a mega­phone for his sab­o­tage, as in 2016.
It would indeed be a mis­take to con­clude that Putin won the elec­tion for Trump and that the Demo­c­ra­t­ic Par­ty does not need to make dra­mat­ic changes. For 25 years, since Bill Clinton's emer­gence as a New Demo­c­rat, the Demo­c­ra­t­ic Par­ty has made itself into a cen­ter-Right par­ty that is dif­fi­cult to dis­tin­guish from the Repub­li­cans on eco­nom­ic issues. As Bhaskar argues, it is past time to embrace a proud, unapolo­getic pop­ulism of the Left.
Democ­rats must become the par­ty of mid­dle- and work­ing-class Amer­i­cans of all col­ors and back­grounds, not the par­ty of Wall Street. If they don't, they'll make it easy for Trump to keep play­ing his pho­ny pop­ulism game for all it's worth. But to give the Democ­rats the space and oppor­tu­ni­ty to cam­paign on sub­stan­tive pro­gres­sive issues, we first must be sure that future elec­tions can't be hijacked.
BHASKAR: Pol­i­tics can be a zero­sum game. The Left has lim­it­ed resources and ener­gy, and join­ing John McCain's cru­sade against Putin is not a good use of them.
Some of our dis­agree­ment here is the extent of the Russ­ian threat: I don't believe that the specter of Putin is haunt­ing every demo­c­ra­t­ic elec­tion in this coun­try, at least in any seri­ous way that is like­ly to shape the out­come. I do believe that the specter of Trump­ism is. And join­ing the cru­sade against Rus­sia rein­forces the notion that this is pri­mar­i­ly a move­ment against an ​"ille­git­i­mate pres­i­dent," rather than for alter­na­tive poli­cies. Our ene­my is at home, and the polit­i­cal bat­tles we have to win are, too.
I would add that, espe­cial­ly in light of the attacks on the media com­ing from the Trump admin­is­tra­tion, claim­ing that Amer­i­can jour­nal­ists gave Putin a mega­phone is the wrong sort of rhetoric. The pub­lic deserves to know just how bank­rupt so many Amer­i­can insti­tu­tions are. Out­lets were right to report on the DNC leak and its impli­ca­tions, what­ev­er the source.
With Trump's attacks esca­lat­ing by the day, we owe it to our­selves to stay laser-focused on pre­sent­ing our own alter­na­tive to his pres­i­den­cy — and that isn't served by echo­ing the ​"Rus­sia-did-it" rhetoric of our class enemies.
Chris Edel­son is an assis­tant pro­fes­sor in the Depart­ment of Gov­ern­ment at Amer­i­can University's School of Pub­lic Affairs.Bhaskar Sunkara is the found­ing edi­tor of Jacobin mag­a­zine. Fol­low him on Twit­ter: @sunraysunray.