Police Union Is Lobbying To Expand Powers To Tase People Who Don't Pose a Threat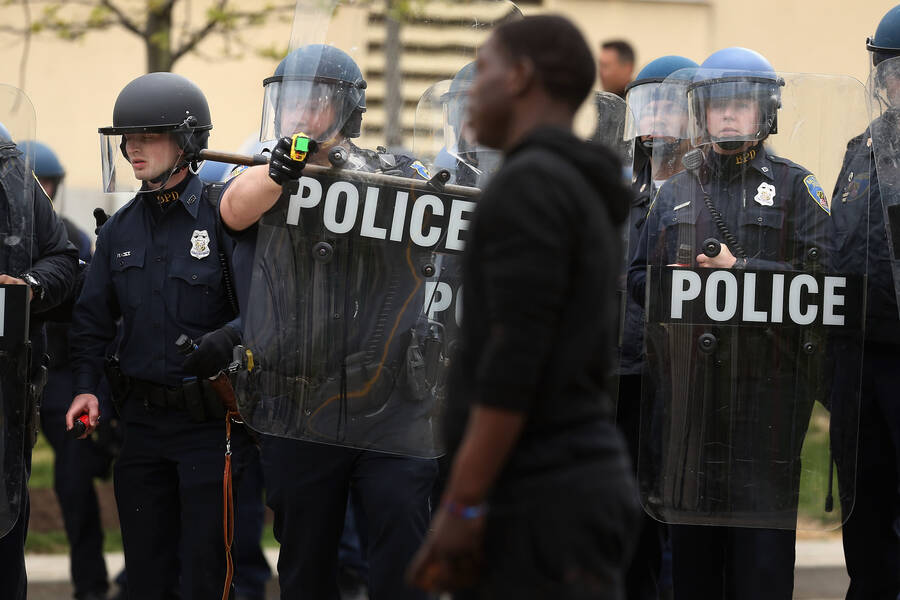 The San Fran­cis­co Police Offi­cers Asso­ci­a­tion is aggres­sive­ly push­ing a bal­lot mea­sure that would allow police to use tasers on mem­bers of the pub­lic even if they aren't vio­lent­ly resist­ing. If passed, the city's police offi­cers would be able to elec­tro­cute peo­ple who pose no phys­i­cal threat or resist arrest as a result of men­tal illness.
Last Novem­ber, San Francisco's Police Com­mis­sion approved tasers for the city's police. This March, it final­ized a pol­i­cy for how those tasers should be used. That pol­i­cy, which is backed by Police Chief Bill Scott and San Fran­cis­co May­or Mark Far­rell, requires police to imple­ment de-esca­la­tion tac­tics before using their tasers. How­ev­er, the San Fran­cis­co Police Offi­cers Asso­ci­a­tion, with a mem­ber­ship ofrough­ly 2,200, believes that these cri­te­ria are too nar­row. They want the lan­guage expand­ed so that they're legal­ly able to use their tasers on peo­ple who are ​"active­ly resist­ing," not just ​"vio­lent­ly resisting."
The union was able to col­lect more than 19,000 sig­na­tures in sup­port of this change, which means that res­i­dents will get to vote on the issue as a bal­lot mea­sure on June 5. The union and its back­ers have raised almost a quar­ter-mil­lion dol­lars to build sup­port for the mea­sure, Propo­si­tion H, while its oppo­nents have raised $41,000.
Prop H crit­ics say that the union has been dis­hon­est in its cam­paign­ing, fram­ing the mea­sure as if it's sim­ply a call to arm offi­cers with tasers as opposed to a loos­en­ing of the rules that reg­u­late their use. A pro-Prop‑H mail­er that was obtained by In These Times calls on vot­ers to ​"keep our streets safe" by vot­ing for the mea­sure. ​"This June, vote to equip San Fran­cis­co police offi­cers with Con­duct­ed Ener­gy Devices, com­mon­ly known as tasers," the mail­er states. ​"This com­mon­sense tool has been proven to reduce injury, save lives, and enable offi­cers to effec­tive­ly do their job: pro­tect and defend all San Fran­cis­cans." It doesn't men­tion that the police com­mis­sion already vot­ed to equip cops with tasers last year.
Anoth­er mail­er obtained by In These Timesclaims that the use of tasers has been held up for years as a result of ​"bureau­cra­cy." In actu­al­i­ty, it took years for San Fran­cis­co police offi­cers to be issued tasers because the com­mu­ni­ty resist­ed the effort. The mea­sure to arm police with stun guns had to be intro­duced five times before it final­ly became a real­i­ty. When the San Fran­cis­co Police Com­mis­sion vot­ed in favor of the mea­sure last Novem­ber, they were met by shouts of ​"Shame!" from local activists.
Although tasers are fre­quent­ly iden­ti­fied by police as a nec­es­sary alter­na­tive to avoid dead­ly force, a 2017 Reuters inves­ti­ga­tion found that, since the ear­ly 2000s, more than 1,000 peo­ple have died after the police stunned them. In 153 of these killings, the use of a stun gun was cit­ed in the autop­sy as a cause or con­tribut­ing fac­tor to the death. Reutersalso dis­cov­ered that nine out of every ten peo­ple killed by a taser were unarmed and one of every four suf­fered from men­tal illness.
Stud­ies also indi­cate that the police are more like­ly to elec­tro­cute Black and Lati­no sus­pects. In 2016, the Asso­ci­at­ed Press obtained data on the use of tasers by Con­necti­cut offi­cers from the pre­vi­ous year. It found that tasers were used 60 per­cent of the time in alter­ca­tions involv­ing white sus­pects, 69 per­cent for Lati­no sus­pects and 80 per­cent for Black suspects.
A.J. Bahnken is a mem­ber of the No On Prop H Com­mit­tee, a group spon­sored by the ACLU of North­ern Cal­i­for­nia. He told In These Times that he believes the police union is test­ing a new method of gain­ing pow­er with the bal­lot push. ​"If the police fig­ure out that they can uti­lize bal­lot mea­sures and a bunch of mon­ey to gain addi­tion­al pow­er or gain back pow­er that was tak­en away, then they are def­i­nite­ly going to do it," said Bahnken.Prop H is also opposed by a num­ber of local orga­ni­za­tions, includ­ing SEIU Local 1021, Unit­ed Edu­ca­tors of San Fran­cis­co and the San Fran­cis­co Ten­ants Union.
Bahnken not­ed that Offi­cers for Jus­tice, a San Fran­cis­co orga­ni­za­tion com­prised main­ly of African-Amer­i­can cops, oppos­es Prop H because they believe it to be too extreme.
John Crew, a for­mer attor­ney and a leader of the No on Prop. H Com­mit­tee, recent­ly told the San Fran­cis­co Chron­i­cle, ​"They're choos­ing to spend an enor­mous amount of mon­ey to take away the pow­er of the chief and the Police Com­mis­sion to reg­u­late how a dan­ger­ous weapon is used."
"
Michael Arria
is the U.S. cor­re­spon­dent for Mon­doweiss. Fol­low him on Twit­ter: @michaelarria.