Some­times they call them­selves cha­pu­lines.
It's a Oax­a­can inside joke. Cha­pu­lines are small insects, like grasshop­pers. When they're toast­ed with lime and gar­lic, they're a del­i­ca­cy that's as much a part of Oax­a­can indige­nous cul­ture as mez­cal or big tlayu­da tortillas.
One work­er stand­ing in line in the edge of a San Joaquin Val­ley blue­ber­ry field laughed at the name. ​"We're very hum­ble, like cha­pu­lines, and there are a lot of us, like we're all piled up togeth­er on a plate." Anoth­er rea­son he liked the sim­i­lar­i­ty was the col­or: a plate of cha­pu­lines is red­dish brown. Point­ing down the line of work­ers, he ges­tured: ​"Look at all the t‑shirts."
Hun­dreds of work­ers had lined up in two long rows in the pre-dawn dark­ness, ready to vote in a union elec­tion last Sat­ur­day morn­ing. So many were wear­ing red t‑shirts embla­zoned with the black eagle of the Unit­ed Farm Work­ers that the few peo­ple with­out them stood out conspicuously.
As the sun came up, the lines slow­ly moved toward the bal­lot box­es, and work­ers began to vote.
By 11:00 a.m., it was over. Blue­ber­ry pick­ers in their red t‑shirts poured out of the rows of bush­es, and then gath­ered in a semi­cir­cle to watch an agent of the Agri­cul­tur­al Labor Rela­tions Board make the count.
As he announced it, 347 to 68 in favor of the union, the cheer­ing start­ed. The cha­pu­lines had won.
Work­ers may make jokes about their indige­nous iden­ti­ty, but a far less pleas­ant real­i­ty led to their deci­sion to orga­nize a union.
"The major­i­ty of the peo­ple here are from Oax­a­ca — Mix­te­cos and Zapote­cos," explains Pauli­no More­los, who comes from Put­la. Like many of the 165,000 indige­nous Mex­i­can migrants in Cal­i­for­nia fields, a large pro­por­tion don't speak Span­ish well.
"The fore­man humil­i­ates them," he says. ​"He makes fun of them and says they work like tur­tles. Even if some­one is slow, we're work­ing on piece rate, not by the hour, so you only get paid for the work you do. But he's always push­ing them to work faster. Carmela, anoth­er fore­man, says Oax­a­cos are no good." ​"Oax­a­co" and ​"Oax­aquito" are deroga­to­ry terms for indige­nous peo­ple from Oax­a­ca, which More­los says he hears a lot.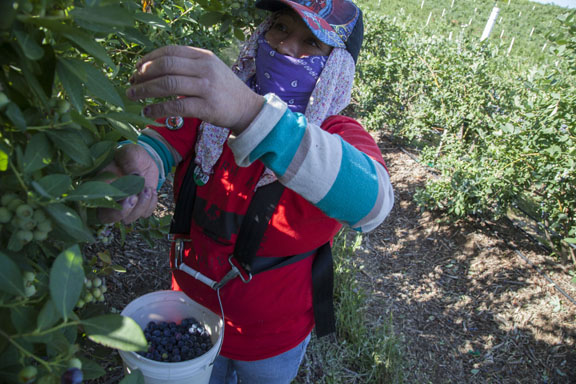 (David Bacon)
Con­flict about the piece rate led to a work­ers' rebel­lion. At the begin­ning of the blue­ber­ry pick­ing sea­son in April, the com­pa­ny was pay­ing pick­ers 95¢ per pound. By mid-May, the price had dropped to 70¢, and then 65¢. Final­ly, on Mon­day, May 16, the com­pa­ny announced it was drop­ping it again, to 60¢. Work­ers refused to go in to pick and called on the com­pa­ny to change its decision.
The far­m's own­er, the Klein Man­age­ment Com­pa­ny, pro­duces clamshell box­es of blue­ber­ries sold under the Gourmet Trad­ing Com­pa­ny label. Like most large Cal­i­for­nia grow­ers, it does not employ work­ers direct­ly. Instead, it uses a labor con­trac­tor, Rigob­er­to Solorio.
In a dra­mat­ic con­fronta­tion filmed by work­ers on their cell­phones, Solorio told a crowd at the edge of the field, ​"What I can say is this, boys. We can not raise the price. We gave the price we could. We're not going to raise it. If you want to stay, stay." He was then inter­rupt­ed by shouts of ​"Vamenos!" — ​"Let's go!"
In anoth­er crew, More­los says, ​"Carmela told us, ​'If you don't want to work, get out.' I saw cars leav­ing the field, so I told her, ​'We're leav­ing too.' One fore­man said, ​'You can take the peo­ple out, but don't come back.' We left anyway."
The strike was on.
Strik­ers went to the local UFW office, and the fol­low­ing morn­ing, union orga­niz­ers met with the work­ers as they all gath­ered at the edge of the field. A group then went to the offices of the Agri­cul­tur­al Labor Rela­tions Board, which admin­is­ters Cal­i­for­ni­a's farm labor law. They asked for a union rep­re­sen­ta­tion elec­tion with­in 48 hours, which the law pro­vides dur­ing strikes.
Board agents then went to the field and count­ed the num­ber of strik­ers, deter­min­ing that 424 of the com­pa­ny's employ­ees were involved — far more than the required major­i­ty. After fur­ther dis­cus­sions, the elec­tion was set for the fol­low­ing Sat­ur­day. Mean­while, the work­ers returned to work.
Jes­si­ca Ruiz, who led the first group of work­ers out of the fields, says ​"We also had a prob­lem because they'd low­er the price after we'd start­ed work. We would­n't even know what the price was when we start­ed, only at the end of the day they'd tell us."
While the piece rate cut was the most imme­di­ate cause of the strike, work­ers had oth­er com­plaints as well. Ruiz says the wage cut would have cost her more than $50 a week, out of an aver­age $700 pay­check. And to get that pay­check, she and her cowork­ers pick sev­en days a week.
"They did­n't even let us take Moth­ers Day off," she charges. ​"My son is only 6 months old, and this was my first Moth­ers Day. They told me, if you don't work Sun­day, you can't come to work on Monday."
Despite a recent court deci­sion hold­ing that even piece rate work­ers must be giv­en paid breaks, the first paid break in the Klein fields came on the day of the union elec­tion. Ruiz and More­los both com­plained about the water pro­vid­ed by the com­pa­ny. More­los says it tast­ed like deter­gent, while to Ruiz, ​"the water tastes like oil."
The strike and union cam­paign at Klein Man­age­ment are part of a larg­er move­ment among indige­nous Mex­i­can farm work­ers, which is sweep­ing through the whole Pacif­ic coast. Work stop­pages by Triqui and Mix­te­co blue­ber­ry pick­ers have hit Saku­ma Farms in Burling­ton, Wash­ing­ton, for the past three years. Work­ers there orga­nized an inde­pen­dent union, Famil­ias Unidas por la Jus­ti­cia, and launched a boy­cott of Driscol­l's, the world's largest berry distributor.
In the San Quintin Val­ley of Baja Cal­i­for­nia, thou­sands of blue­ber­ry and straw­ber­ry pick­ers walked out for three weeks a year ago, orga­niz­ing an inde­pen­dent union as well. They joined the boy­cott of Driscol­l's, which also dis­trib­utes berries from the area's largest grow­er, BerryMex.
The indige­nous Mex­i­can work­force along the Pacif­ic Coast comes from sev­er­al dozen towns in Oax­a­ca and parts of Puebla, Guer­rero, Chi­a­pas and Michoa­can. Work­ers have sis­ters, broth­ers, uncles, aunts, par­ents and chil­dren work­ing through­out the coast's agri­cul­tur­al val­leys. So many peo­ple from Oax­a­ca have come to Cal­i­for­nia to work that their nick­name for the state is Oaxacalifornia.
News, there­fore, about labor con­flict in one area spreads fast to oth­ers. When work­ers in Baja Cal­i­for­nia went on strike, Ros­alia Mar­tinez, a pea pick­er in Green­field in Cal­i­for­ni­a's Sali­nas Val­ley, says she learned about it on Face­book. ​"I worked down there for a num­ber of years, pick­ing toma­toes. We agree with what they did. We come from the same towns. We are indige­nous peo­ple, and we have to do what­ev­er we can to keep our chil­dren eat­ing, no mat­ter what they pay. But if we don't work and har­vest the crops, there's noth­ing for the grow­ers either."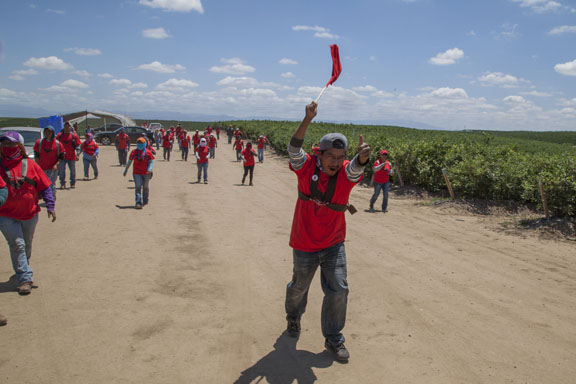 (David Bacon)
Work­ers at Klein Man­age­ment weren't inspired go on strike by strikes else­where, how­ev­er, but by the bru­tal eco­nom­ic facts fac­ing indige­nous farm work­ers in Cal­i­for­nia. Of all the state's agri­cul­tur­al labor­ers, indige­nous peo­ple, because they're the most recent arrivals, are paid the least. Accord­ing to the Indige­nous Farm Work­er Study, car­ried out by demog­ra­ph­er Rick Mines, the medi­an fam­i­ly income in 2008 was $13,750 for an indige­nous fam­i­ly and $22,500 for a mes­ti­zo (non-indige­nous) farm work­er fam­i­ly. Nei­ther is a liv­ing wage, but the dif­fer­en­tial reflects struc­tur­al dis­crim­i­na­tion against indige­nous people.
Mines found that a third of the indige­nous work­ers he sur­veyed earned above the min­i­mum wage, a third report­ed earn­ing exact­ly the min­i­mum and a third report­ed earn­ing below the min­i­mum — an ille­gal wage. Low wages in turn have a dra­mat­ic effect on liv­ing con­di­tions. Most indige­nous fam­i­lies live crowd­ed in apart­ments, motel rooms, garages and trail­ers. In some val­leys peo­ple live out­side in shacks, tents or even under trees or in the fields themselves.
Like sev­er­al UFW orga­niz­ers help­ing the McFar­land work­ers, Aquiles Her­nan­dez shares the Oax­a­can migrant expe­ri­ence. His fam­i­ly migrat­ed from San­ta Maria Tin­du, and he worked as a child in the sug­ar cane fields of Ver­acruz. Lat­er he became a teacher in Mex­i­co City, and belonged to the left­wing cau­cus in the Mex­i­can teach­ers' union, the Coordinadora.
"We had a plan­tón [an Occu­py-style encamp­ment] out­side the Sec­re­tary of Edu­ca­tion," he recalls. ​"Three of us were fired — they took away our class­es because we were active in the protests, and I was in prison for 72 days."
Con­cep­cion Gar­cia, a Mix­tec immi­grant from Coate­cas, Oax­a­ca, was sent in by the UFW when the McFar­land strike start­ed. She under­stood the pres­sure on the strik­ers because she expe­ri­enced the same his­to­ry. ​"I worked in Sinaloa when I was a kid, start­ing when I was nine years old," she remem­bers. ​"I've seen a lot of kids in the fields, a lot of need and suf­fer­ing. So I love teach­ing our peo­ple about their rights. We're not in Mex­i­co now, and we're not liv­ing in those times.
"I've seen a lot of humil­i­a­tion and dis­crim­i­na­tion against indige­nous peo­ple," she adds. ​"My whole fam­i­ly works in the fields in Madera, and I've seen a lot of injus­tice. Peo­ple get hurt, and go to work any­way. If you have no papers, the fore­man threat­ens to fire you if you don't do as he wants."
Gar­cia has worked at Pacif­ic Triple E, a large toma­to grow­er, for two years. Because there's a union con­tract at the com­pa­ny, she can take a leave from her job to work on a union cam­paign. That's also the case with two oth­er orga­niz­ers sent to McFar­land. Edgar Urias is the gen­er­al sec­re­tary of the union com­mit­tee at the Coun­try­side mush­room shed in Gilroy, which he helped orga­nize in 2001. Juan Mauri­cio has worked with his wife in Dole Cor­po­ra­tion's straw­ber­ry fields since 2005. ​"For the same work I do," he says, ​"work­ers here earn much less."
Before Sat­ur­day's elec­tion, UFW vice-pres­i­dent Arman­do Elenes told the Bak­ers­field Cal­i­forn­ian, ​"If they vote to union­ize, we will deal with the issue of wages imme­di­ate­ly. Then we'd prob­a­bly nego­ti­ate a con­tract dur­ing the off-sea­son." A com­pa­ny state­ment on the first day of the strike pre­dict­ed that only three weeks of pick­ing were left.
The lop­sided union major­i­ty in the elec­tion may con­vince the com­pa­ny to nego­ti­ate. But Buck Klein, own­er of Klein Man­age­ment, told the Cal­i­for­ni­an's reporter, Lois Hen­ry, ​"The mar­ket is the mar­ket. That's what dic­tates our prices. Even if there's a union con­tract and we nego­ti­ate a price with them, it's the same thing. The mar­ket is the market."
The union does have a tool it can use, how­ev­er, which may make nego­ti­a­tions more fruit­ful. Cal­i­for­nia has a manda­to­ry medi­a­tion law, which says that if the union and man­age­ment can't agree on a first-time con­tract, the union can call in a medi­a­tor. The medi­a­tor weighs the pro­pos­als from each side, and then issues a rec­om­men­da­tion for an agree­ment. If the Agri­cul­tur­al Labor Rela­tions Board upholds it, then the medi­a­tor's report becomes a union contract.
That mea­sure was added to the state's orig­i­nal Agri­cul­tur­al Labor Rela­tions Act in 2002. The Act itself dates from 1975. Manda­to­ry medi­a­tion, how­ev­er, has been chal­lenged by one of Cal­i­for­ni­a's largest grow­ers, Ger­awan Farms, and the case is now before the state's Supreme Court.
In the days before the elec­tion, Klein man­age­ment hired a labor con­sul­tant and the same well-known anti-union lawyer Tony Raimun­do, who was accused of uneth­i­cal behav­ior in the Ger­awan Farms case. Nev­er­the­less, the Klein state­ment declared, ​"The Com­pa­ny prides itself on pro­vid­ing good, high pay­ing jobs every season."
Jes­si­ca Ruiz responds: ​"We work in the sun all day, and we work hard. I have no prob­lem with the work, though. My prob­lem is with the things they do to us. I've been wait­ing for this for a long time. I'm very proud of my peo­ple and what we've done. One of the own­ers said they'd send me to jail when I took the peo­ple out. But they're not going to stop us."