Sanders and Warren Demand Bezos Answer for Amazon's "Potentially Illegal" Union Busting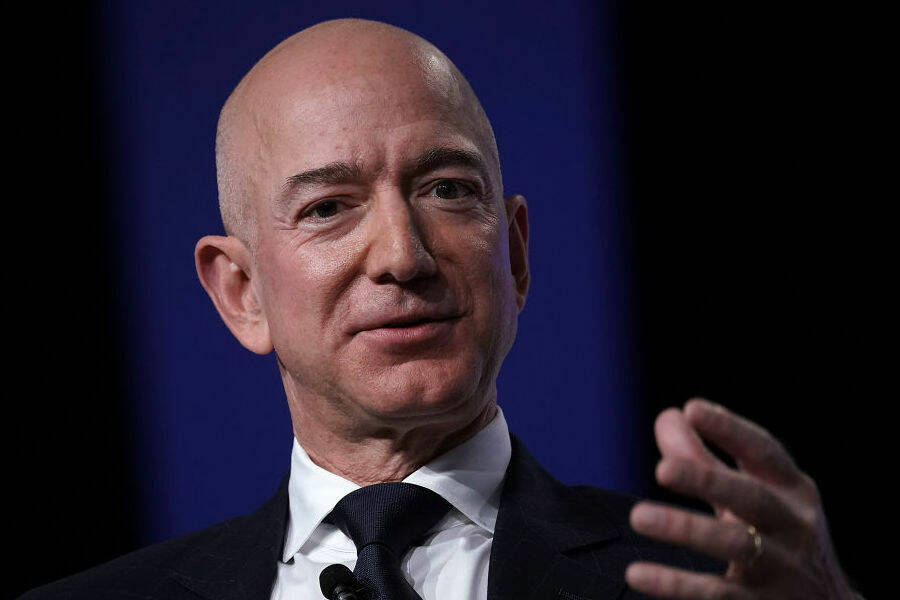 "We write to express our alarm at recent reports that your com­pa­ny is dis­trib­ut­ing anti-union mate­ri­als to Whole Foods man­agers that directs and encour­ages poten­tial­ly ille­gal inter­fer­ence with the rights of thou­sands of workers."
After a leaked train­ing video pro­vid­ed a rare glimpse into the aggres­sive tac­tics Ama­zon deploys to pre­vent its work­ers from orga­niz­ing and bar­gain­ing for bet­ter work­ing con­di­tions, Sens. Eliz­a­beth War­ren (D‑Mass.) and Bernie Sanders (I‑Vt.) sent a let­ter to CEO Jeff Bezos on Wednes­day express­ing alarm at his tril­lion-dol­lar com­pa­ny's ​"poten­tial­ly ille­gal anti-union behav­ior" and demand­ing a copy of the full video.
"It is impor­tant to rec­og­nize that work­ers' rights do not stop at the min­i­mum wage, and rais­ing the pay of your low­est-paid work­ers, while impor­tant, does not give you a free pass to engage in poten­tial­ly ille­gal anti-union behav­ior," the sen­a­tors wrote, ref­er­enc­ing Ama­zon's recent deci­sion to raise the min­i­mum wage of its U.S. employ­ees to $15 an hour in the face of mas­sive grass­roots pressure.
"It is also impor­tant to note that, absent a union, Ama­zon remains free to uni­lat­er­al­ly can­cel the increase or make oth­er cuts to com­pen­sa­tion," Sanders and War­ren con­tin­ued. ​"Unfor­tu­nate­ly, Ama­zon's recent con­duct pro­vides a telling exam­ple: imme­di­ate­ly after announc­ing the wage increase, Ama­zon cut bonus­es and elim­i­nat­ed stock options for ware­house workers."
As Com­mon Dreams report­ed last month, the 45-minute train­ing video — which was dis­trib­uted to man­agers at the Ama­zon-owned Whole Foods — instruct­ed com­pa­ny lead­ers on how to spot ​"ear­ly warn­ing signs" of poten­tial union­iza­tion efforts among employees.
Two such warn­ing signs, accord­ing to Ama­zon's video, are work­ers ​"sud­den­ly hang­ing out togeth­er" and using ​"union words" like ​"liv­ing wage."
It speaks vol­umes to how Ama­zon views its work­ers when they use para­noid rhetoric toward union­iz­ing like ​"unusu­al group behav­ior" pic​.twit​ter​.com/​O​p​e​6​U​r53tb

 — Michael Saina­to (@msainat

1

) Sep­tem­ber

27

,

2018
In their let­ter, Sanders and War­ren also demand­ed that Bezos explain ​"dis­turb­ing alle­ga­tions" that Ama­zon has recent­ly fired work­ers who have raised con­cerns about the com­pa­ny's low pay and poor work­ing conditions.
Such retal­i­a­tion, the sen­a­tors note, would con­sti­tute a seri­ous vio­la­tion of fed­er­al labor law.
"Pro­tec­tions for work­ers to join togeth­er in their work­places to fight for high­er wages, stronger ben­e­fits, and bet­ter con­di­tions — with or with­out a union — are fun­da­men­tal to law­ful labor-man­age­ment rela­tions and have been enshrined in fed­er­al law for near­ly a cen­tu­ry," Sanders and War­ren con­clud­ed. ​"Enforce­ment of these pro­tec­tions is cru­cial for ensur­ing that work­ing peo­ple have the basic tools to express them­selves and their con­cerns, to do so col­lec­tive­ly with oth­er work­ers if they choose, and to have mean­ing­ful oppor­tu­ni­ties to fight for a bet­ter life for them­selves and their families."
This sto­ry was first pub­lished on Com­mon Dreams.