Flip the Frog in "Fiddlesticks" Ub Iwerks was one of the pioneers of character animation. Historian Leonard Maltin, in his book Of Mice and Magic, reports that when Walt Disney launched his own studio in 1922, Ub was the first man hired. He was the creator of Mickey Mouse, and "animated the first Mickey cartoon, Plane Crazy, completely by himself in less than two weeks." He also animated the two landmark Mickey cartoons, Steamboat Willie and Skeleton Dance, "almost single-handed." Iwerks left Disney in 1930 to start a studio of his own, funded by distributor Pat Powers, and Flip the Frog was the first character he developed. Fiddlesticks was the first Flip cartoon. And it was produced using two-color Technicolor. (It would be two more years before Disney made his first color cartoon). Maltin observes that of the total thirty seven Flip cartoons none was particularly memorable, because Iwerks "lacked Disney's story sense and comic know-how." The Flip cartoons are yet notable for their technical excellence. And Iwerks' studio employed several of the profession's most accomplished talents. Among others, Iwerks hired animator Grim Natwick (who created Betty Boop), musical director Carl Stalling, and a young cel washer named Chuck Jones.
For a limited time: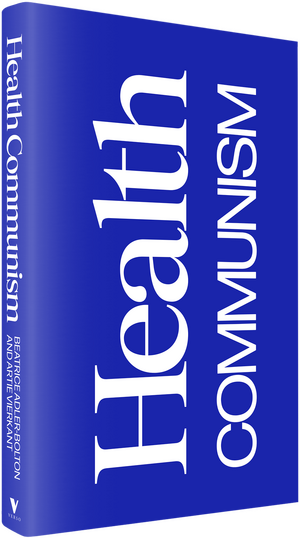 Donate $25 or more to support In These Times and we'll send you a copy of Health Communism.
A searing analysis of health and illness under capitalism from hosts of the hit podcast "Death Panel," Health Communism looks at the grave threat capitalism poses to global public health, and at the rare movements around the world that have successfully challenged the extractive economy of health.
"This is a book you should read before you die, because the ideas synthesized by Adler-Bolton and Vierkant could save our collective lives." –Jon Shaffer