First You Bomb and Starve a Country. Then You're Praised for Sending in Aid.
The perverse diplomatic charade of Saudi Arabia starting a fire then getting credit for providing fire blankets.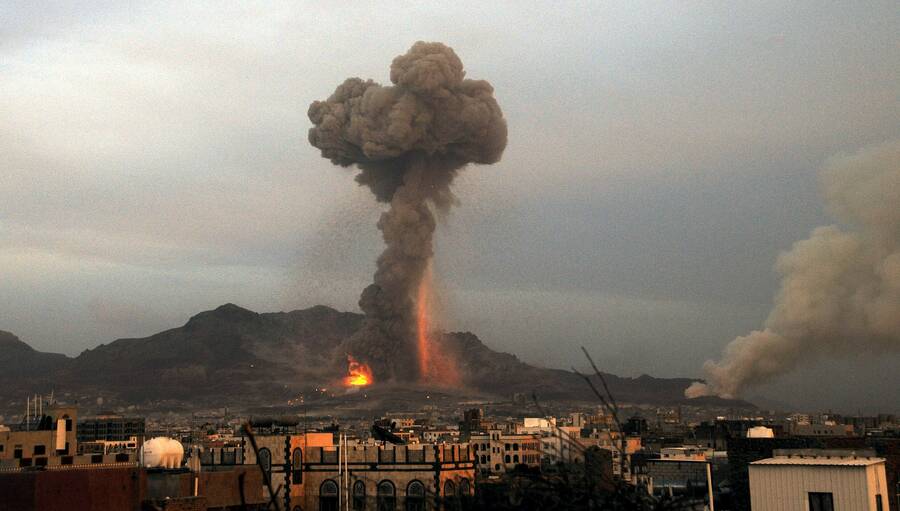 The Unit­ed Nations describes itself in its char­ter as an inter­na­tion­al moral author­i­ty cre­at­ed to ​"save suc­ceed­ing gen­er­a­tions from the scourge of war." But activists who are try­ing to end the U.S. war on Yemen say that, in a dark twist on this mis­sion, the inter­na­tion­al body is with­hold­ing crit­i­cism from the U.S.-Saudi mil­i­tary coali­tion, and effu­sive­ly prais­ing its lead­ers, to avoid jeop­ar­diz­ing dona­tions to human­i­tar­i­an funds aimed at help­ing ease the suf­fer­ing cre­at­ed by that war. As Jehan Hakim, the chair of the Yemeni Alliance Com­mit­tee, puts it, ​"The same hand we're ask­ing to feed Yemen is the same hand that is help­ing bomb them."
By shielding the United States and Saudi Arabia from even the most modest political consequences for a war that has unleashed the worst humanitarian crisis in the world, it has used its institutional power to enable this onslaught.
On June 15, UN Sec­re­tary-Gen­er­al António Guter­res removed the U.S.-Saudi mil­i­tary coali­tion, which has been wag­ing war in Yemen for more than five years, from an inter­na­tion­al black­list of states and armed groups respon­si­ble for killing and maim­ing chil­dren, in a huge P.R. win for Sau­di Ara­bia. He cit­ed a sup­posed decrease in child killings, even as he acknowl­edged the coali­tion was respon­si­ble for killing 222 chil­dren last year, 171 of them from bomb­ings — a num­ber that cer­tain­ly does not include the toll of famine and dis­ease out­breaks (includ­ing Covid-19) wors­ened by the war and block­ade. The UN's move pro­voked instant rebuke from anti-war and human­i­tar­i­an orga­ni­za­tions, par­tic­u­lar­ly as it coin­cid­ed with reports that, the same day the report came out, the U.S.-Saudi coali­tion had bombed a vehi­cle in north­ern Yemen, killing 13 civil­ians, four of them children.
Has­san El-Tayyab, lead lob­by­ist on Mid­dle East pol­i­cy for the Friends Com­mit­tee on Nation­al Leg­is­la­tion, a pro­gres­sive lob­by orga­ni­za­tion, tells In These Times that the move has a sim­ple expla­na­tion. ​"To me," he says, ​"it's real­ly clear what they're try­ing to do: They're try­ing to cur­ry favor so that Sau­di Ara­bia will pony up more mon­ey for Yemen to keep human­i­tar­i­an aid going."
El-Tayyab's the­o­ry is sup­port­ed by a num­ber of indi­ca­tors. In June 2016, for­mer UN Sec­re­tary-Gen­er­al Ban Ki-moon pub­licly admit­ted that he removed Sau­di Ara­bia from the same ​"child-killer list" in the UN's 2015 report in response to unspec­i­fied threats to pull fund­ing from UN pro­grams. (Media out­lets found these threats came from Sau­di Ara­bia, one of the largest UN donors in the Mid­dle East.) ​"The report describes hor­rors no child should have to face," Ban said at a press con­fer­ence in 2016. ​"At the same time, I also had to con­sid­er the very real prospect that mil­lions of oth­er chil­dren would suf­fer griev­ous­ly if, as was sug­gest­ed to me, coun­tries would defund many UN pro­grams." Despite this admis­sion, Ban did not imme­di­ate­ly restore the U.S.-Saudi coali­tion to the black­list, although it was even­tu­al­ly returned.
But there are more recent indi­ca­tors to draw on. On June 2, the UN co-host­ed a vir­tu­al donors' sum­mit with Sau­di Ara­bia to raise mon­ey for human­i­tar­i­an relief in Yemen, which is being dev­as­tat­ed by Covid-19, in large part because the U.S.-Saudi coali­tion has dec­i­mat­ed its hos­pi­tal sys­tem, and a Sau­di-led block­ade is cut­ting off crit­i­cal med­ical sup­plies. Guter­res, who made the recent deci­sion to scrub Sau­di Ara­bia from the black­list, gave the open­ing remarks for the event. ​"I thank the Gov­ern­ment of Sau­di Ara­bia for co-host­ing this pledg­ing event, and for your con­tin­ued com­mit­ment to human­i­tar­i­an aid to the peo­ple of Yemen," he said. Sau­di Ara­bia was the high­est donor at the event, pledg­ing a token $500 mil­lion in aid, the exact amount of mon­ey Sau­di Arabia's de fac­to ruler, Prince Mohammed bin Salman, spent on his per­son­al yacht. The Unit­ed States pledged $225 mil­lion, or less than the cost of three of the numer­ous F35 fight­er jets the U.S. mil­i­tary has pur­chased from Lock­heed Martin.
These num­bers also pale in com­par­i­son to the val­ue of the arms the Unit­ed States ships to Sau­di Ara­bia — amount­ing to at least $3 bil­lion in 2019 — despite calls for a glob­al embar­go due to Sau­di atroc­i­ties in Yemen. Yet the event, the glob­al equiv­a­lent of a GoFundMe cam­paign for Yemen aid, fell $1 bil­lion short of its goal, or rough­ly the equiv­a­lent of only two of the Leonar­do Da Vin­ci paint­ings bin Salman bought for him­self in 2017.
El-Tayyab says he is con­cerned about whether the U.S. aid that was pledged will be sent to Houthi-held areas, where a major­i­ty of Yemen's pop­u­la­tion lives. ​"We don't know if the aid is going to get to north Yemen," he said. ​"A major stick­ing point is what is actu­al­ly hap­pen­ing to Houthi-held ter­ri­to­ry. Is the aid get­ting to where the major­i­ty of the coun­try lives?"
Shireen Al-Adei­mi, Yemeni-Amer­i­can anti-war activist, board mem­ber of Just For­eign Pol­i­cy, and fre­quent con­trib­u­tor to In These Times, agreed with El-Tayyab's expla­na­tion for why the coali­tion was removed from the UN black­list. Accord­ing to Al-Adei­mi, the UN lives in fear that the very coun­tries respon­si­ble for unleash­ing human­i­tar­i­an crises will with­draw fund­ing for human­i­tar­i­an aid. ​"Any­time the UN has held any kind of fundrais­er for Yemen, they go out of their way to thank the coali­tion coun­tries for what­ev­er aid they pledge," she says. And indeed, on April 9, Mark Low­cock, the UN's Under-Sec­re­tary-Gen­er­al for Human­i­tar­i­an Affairs and Emer­gency Relief Coor­di­na­tor, tweet­ed, ​"Thank you to KSA [King­dom of Sau­di Ara­bia] for announc­ing anoth­er major con­tri­bu­tion to human­i­tar­i­an aid in Yemen! Your gen­eros­i­ty will ben­e­fit mil­lions of peo­ple who need help." This echoes sim­i­lar effu­sive praise he's giv­en the coali­tion for its human­i­tar­i­an dona­tions to Yemen (see here and here).
An April 2018 exchange between Guter­res and a reporter at a press event for a Yemen fundrais­ing con­fer­ence sheds light on this dynam­ic. The reporter asked Guter­res about the event, at which both Sau­di Ara­bia and the Unit­ed Arab Emi­rates, also part of the mil­i­tary coali­tion against in Yemen, were sig­nif­i­cant donors, ​"How do you see the con­tra­dic­tion of one coun­try pre­sent­ing itself as a main donor and a main helper of Yemen while it is strik­ing since three years the coun­try, includ­ing civil­ian areas?" Guter­res replied, ​"This coun­try is giv­ing mon­ey to repair what it is destroy­ing. Well, we all know that there is a war, we all know who are the par­ties to the war, but the two things need to be seen sep­a­rate­ly. Inde­pen­dent­ly of the fact that there is a war, there are human­i­tar­i­an oblig­a­tions that are assumed by coun­tries, and today we were exact­ly reg­is­ter­ing a very strong sup­port of the inter­na­tion­al com­mu­ni­ty to the peo­ple of Yemen."
One could argue that the UN is forced to per­form eth­i­cal gym­nas­tics, due the Trump administration's abrupt with­draw­al of tens of mil­lions of dol­lars in assis­tance from USAID, the World Food Programme's 50% cut to aid in Houthi-held areas, and threats to close crit­i­cal UN-run food aid pro­grams in Yemen, all as Covid-19 is bat­ter­ing the coun­try. The UN has no choice, there­fore, but to do what any fundrais­er must do: cavort with unsa­vory donors, and flat­ter the wealthy in hopes that they will keep the orga­ni­za­tion afloat.
But the UN is not just a pas­sive observ­er of the Yemen war: By shield­ing the Unit­ed States and Sau­di Ara­bia from even the most mod­est polit­i­cal con­se­quences for a war that has unleashed the worst human­i­tar­i­an cri­sis in the world, it has used its insti­tu­tion­al pow­er to enable this onslaught. In 2015, just six months into the war, Sau­di Ara­bia launched a diplo­mat­ic cam­paign to pre­vent the UN from launch­ing a human rights inves­ti­ga­tion, abet­ted by the silence of the Oba­ma admin­is­tra­tion. This effort was ulti­mate­ly suc­cess­ful. What if it had not been: Imag­ine if, more than five years ago, the war had been round­ly denounced on the glob­al stage.
Even activists who acknowl­edge the trag­ic irony of rely­ing on the per­pe­tra­tors of a war to pro­vide aid to vic­tims of that war are them­selves forced to call on the Unit­ed States to restore aid. In late May, more than 80 pro­gres­sive and anti-war orga­ni­za­tions signed a let­ter call­ing on chairs and rank­ing mem­bers of Con­gress to ​"do every­thing in your pow­er to press USAID to reverse its sus­pen­sion." The let­ter warns, ​"Mil­lions more are need­ed, in par­tic­u­lar, for emer­gency stocks of per­son­al pro­tec­tive equip­ment, ven­ti­la­tors, ICU beds, and oth­er vital sup­plies for Yemen's bat­tered health care system."
Hakim, who is part of a coali­tion of activist groups that is fight­ing to restore this aid, says the effort brings up dif­fi­cult polit­i­cal ques­tions. ​"It real­ly feels like a vio­la­tion of us, call­ing on this agency [USAID] that is part of the sys­tem that is prof­it­ing off of this war with arms sales and all this mil­i­tary sup­port." But, she says, U.S. activists face a stark real­i­ty: Abrupt with­draw­al of aid in the midst of a pan­dem­ic will cer­tain­ly kill numer­ous Yeme­nis. ​"Peo­ple ask us, ​'Why are you call­ing on USAID? They're prob­lem­at­ic.' And I'm like, I know, but what about the peo­ple who need the food right now? We're doing it for the people."
Unlike the UN, Hakim and her fel­low orga­niz­ers do not flat­ter the mil­i­tary coali­tion. And most impor­tant­ly, they are work­ing to end the war — the root of the suf­fer­ing, even after the Trump admin­is­tra­tion in 2019 vetoed an effort to end U.S. par­tic­i­pa­tion in the war. ​"We're in talks right now with a few oth­er orga­ni­za­tions to draft a fresh War Pow­ers Res­o­lu­tion," says Hakim. ​"This is the strongest vehi­cle we have to check U.S. involve­ment. With­out arms, mil­i­tary sup­port, intel­li­gence shar­ing and tar­get­ing assis­tance the U.S. is pro­vid­ing, the coali­tion can­not con­tin­ue to aggress in Yemen in the same way."
"We're going to keep push­ing," Hakim says.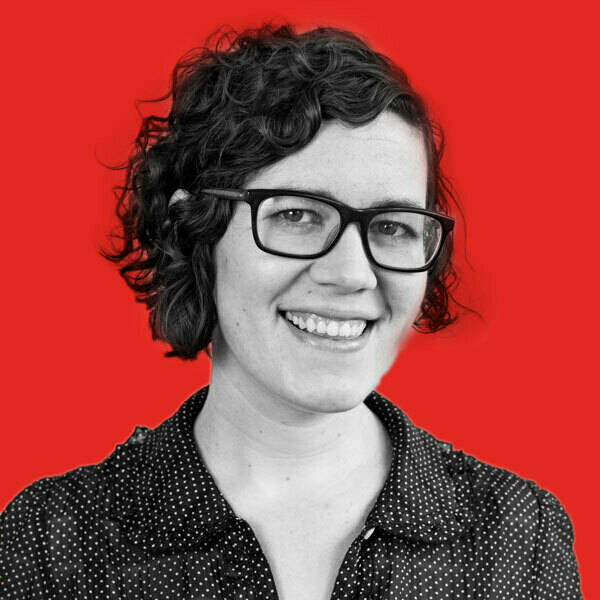 Sarah Lazare is web edi­tor at In These Times. She comes from a back­ground in inde­pen­dent jour­nal­ism for pub­li­ca­tions includ­ing The Inter­cept, The Nation, and Tom Dis­patch. She tweets at @sarahlazare.