Scathing Report Finds School Privatization Hurts Poor Kids
Rocketship, a fast-growing chain of charters, is serving low-budget, stripped-down schooling.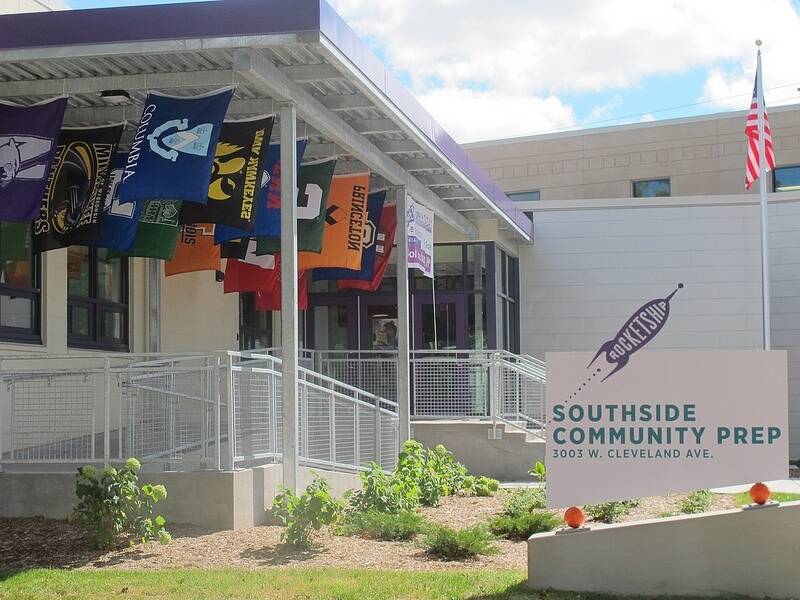 Gor­don Lafer, a polit­i­cal econ­o­mist and Uni­ver­si­ty of Ore­gon pro­fes­sor who has advised Con­gress, state leg­is­la­tures, and the New York City may­or's office, land­ed at the air­port in Mil­wau­kee, Wis­con­sin, late last night bring­ing with him a brief­ing paper on school pri­va­ti­za­tion and how it hurts poor kids.
In pushing these efforts, politicians, rightwing think tanks, chambers of commerce, and, most of all, the American Legislative Exchange Council are actually creating the very problem of failure in the school system they claim their privatization plans will help address.
Lafer­'s report, ​"Do Poor Kids Deserve Low­er-Qual­i­ty Edu­ca­tion Than Rich Kids? Eval­u­at­ing School Pri­va­ti­za­tion Pro­pos­als in Mil­wau­kee, Wis­con­sin," released today by the Eco­nom­ic Pol­i­cy Insti­tute, doc­u­ments the effects of both for-prof­it and non-prof­it char­ter schools that are tak­ing over strug­gling pub­lic schools in Milwaukee.
​"I hope peo­ple con­nect the dots," Lafer said by phone from the Mil­wau­kee airport.
Lafer­'s research, com­mis­sioned by the Eco­nom­ic Pol­i­cy Insti­tute to eval­u­ate the school-pri­va­ti­za­tion push in Mil­wau­kee, is a sweep­ing indict­ment of the grow­ing pri­vate char­ter school indus­try and oth­er schemes backed by rightwing groups and big busi­ness that siphon pub­lic funds out of pub­lic schools and enrich cor­po­rate investors at the expense of qual­i­ty edu­ca­tion for poor children.
Mil­wau­kee is ground zero for school pri­va­ti­za­tion, hav­ing pio­neered the use of pub­licly fund­ed pri­vate school vouch­ers in 1990.
In its last ses­sion, Wis­con­sin leg­is­la­tors pushed for­ward bills to close low-per­form­ing pub­lic schools and replace them with less account­able, pri­vate­ly run enter­pris­es. The Eco­nom­ic Pol­i­cy Insti­tute asked Lafer to ana­lyze the effects of pri­va­ti­za­tion on the chil­dren these schools serve.
The results are not pretty.
A pop­u­lar chain of char­ter schools called Rock­et­ship, which orig­i­nat­ed in Cal­i­for­nia and has spread to Wis­con­sin, with the enthu­si­as­tic sup­port of state leg­is­la­tors and the local cham­ber of com­merce in Mil­wau­kee, is ​"a low-bud­get oper­a­tion that relies on young and inex­pe­ri­enced teach­ers rather than more vet­er­an and expen­sive fac­ul­ty, that reduces cur­ricu­lum to a near-exclu­sive focus on read­ing and math, and that replaces teach­ers with online learn­ing and dig­i­tal appli­ca­tions for a sig­nif­i­cant por­tion of the day," Lafer writes.
Rock­et­ship is a pio­neer of the ​"blend­ed learn­ing" mod­el of schools that rely heav­i­ly on com­put­ers to cut staff costs. The fastest grow­ing, and most prof­itable, sec­tor of the char­ter school indus­try is online or vir­tu­al schools, with the ​"blend­ed learn­ing" mod­el, which com­bines online learn­ing with a reduced and low-paid staff, a close second.
With no gym, art class, librar­i­ans, or sig­nif­i­cant sci­ence or social stud­ies, Rock­et­ship pro­vides a stripped-down pro­gram of study with a heavy focus on stan­dard­ized tests.
​"The edu­ca­tion mod­el of the Rock­et­ship chain of schools, a com­pa­ny cen­tral to the edu­ca­tion reform push in Mil­wau­kee, is par­tic­u­lar­ly ill suit­ed to pro­vid­ing the city's chil­dren with a high-qual­i­ty edu­ca­tion," Lafer found.
Because of its extra­or­di­nar­i­ly high teacher turnover (the chain relies heav­i­ly on Teach for Amer­i­ca vol­un­teers), its large class­es, and reduc­tive cur­ricu­lum, Rock­et­ship sub­jects kids most in need of con­sis­tent, nur­tur­ing, adult atten­tion to low-qual­i­ty instruc­tion and neglect.
That mod­el, which is also on dis­play in Mil­wau­kee's low-per­form­ing vouch­er schools, is demon­stra­bly harm­ful to kids. But it has gen­er­at­ed big prof­its for wealthy investors.
From 2010 to 2013, Rock­et­ship increased it assets from $2.2 mil­lion to $15.8 mil­lion. And while it post­ed impres­sive test scores at its first schools in Cal­i­for­nia, over the last four years, test scores have fall­en at every Rock­et­ship school. All sev­en Rock­et­ship schools failed to make ade­quate year­ly progress accord­ing to fed­er­al stan­dards for the last school year.
​"Giv­en that Rock­et­ship places such a strong empha­sis on stan­dard­ized test­ing, it is telling that, even by this mea­sure, the com­pa­ny has faced strug­gles and dis­ap­point­ments," Lafer writes.
While Rock­et­ship is a non­prof­it, its busi­ness mod­el enrich­es its direc­tors through a deal with a licensed soft­ware com­pa­ny called ​"Dream­Box," sup­plied by for-prof­it ven­dors, who hap­pen to also sit on Rock­et­ship's board.
​"The more Rock­et­ship expands, the greater Dream­Box's prof­its," Lafer writes.
Accord­ing to a 2013 Depart­ment of Edu­ca­tion eval­u­a­tion, Dream­Box has ​"no dis­cernible effects on math­e­mat­ics achieve­ment for ele­men­tary school students."
Despite that fail­ing grade, Rock­et­ship con­tin­ues to use DreamBox.
​"It appears the ques­tion [Rock­et­ship] aims to answer is not sim­ply, ​'How can we do bet­ter by poor kids?' but rather, ​'How can we edu­cate poor kids while gen­er­at­ing a 15 per­cent rate of return for investors?'" Lafer writes.
​"These rela­tion­ships help explain the ven­ture cap­i­tal indus­try's antipa­thy to elect­ed school boards," Lafer suggests.
Both the rapid­ly grow­ing pri­vate char­ter indus­try and oth­er school pri­va­ti­za­tion efforts, Lafer shows, have failed to pro­duce qual­i­ty schools.
Worse, in push­ing these efforts, politi­cians, rightwing think tanks, cham­bers of com­merce, and, most of all, the Amer­i­can Leg­isla­tive Exchange Coun­cil are actu­al­ly cre­at­ing the very prob­lem of fail­ure in the school sys­tem they claim their pri­va­ti­za­tion plans will help address.
A recent pro­pos­al in the Wis­con­sin leg­is­la­ture, expect­ed to come up again next ses­sion, would man­date that 5 per­cent of all of the state's pub­lic schools receive ​"fail­ing" grades, which lead to clo­sure after the third ​"F." Schools deemed ​"fail­ing" would be replaced by char­ter shools such as Rock­et­ship. The char­ter schools, by con­trast, a major­i­ty of whom failed to meet state expec­ta­tions in 2012 – 2013, would get an eight-year grace peri­od before they were judged to have failed, and could not be closed until their ninth year, no mat­ter how many Fs they received.
By judg­ing schools only on stan­dard­ized test scores, even schools that serve the poor­est chil­dren with the most chaot­ic back­grounds, such skewed ​"account­abil­i­ty" sys­tems set them up to fail, Lafer found.
The resource drain from the pub­lic schools, as pub­lic funds go to more pri­vate busi­ness ven­tures, makes the prob­lem worse.
Lafer takes it a step fur­ther, point­ing out in his report that the same Cham­ber of Com­merce offi­cials who pro­mote Rock­et­ship in Mil­wau­kee send their own kids to enrich­ing, well-fund­ed schools with art, music, and small classes.
​"The fact that what's con­sid­ered the gold stan­dard for poor stu­dents in Mil­wau­kee is con­sid­ered unac­cept­able for kids in the sub­urbs is just wrong," Lafer said by phone.
Final­ly, in his report, Lafer out­lines how the cor­po­rate lob­by­ists and their allies push­ing school pri­va­ti­za­tion are man­u­fac­tur­ing fail­ure for poor com­mu­ni­ties in a broad, coor­di­nat­ed way, includ­ing ​"the dom­i­nant role of cor­po­rate lob­bies in pro­mo­tion of online learn­ing and pri­vate­ly run char­ter schools; the cor­po­rate lob­bies' sup­port for dra­mat­ic cuts in fund­ing for pub­lic ser­vices, includ­ing edu­ca­tion; and these same lob­bies' advo­ca­cy for an eco­nom­ic agen­da that makes it hard­er for many fam­i­lies to work their way out of poverty."
​"The idea that what Cham­ber of Com­merce lob­by­ists lie awake at night think­ing about is what will help poor kids … I mean, we're adults, right?" Lafer com­ment­ed by phone.
Wis­con­sin is on the lead­ing edge of school pri­va­ti­za­tion. But this is a nation­al issue. And Lafer­'s report has major nation­al implications.
​"When peo­ple under­stand what it is, the cor­po­rate agen­da for edu­ca­tion is broad­ly unpop­u­lar," Lafer points out.
In a tea par­ty dom­i­nat­ed elec­tion in Flori­da, for exam­ple, vot­ers reject­ed the repeal of Flori­da's small class sizes pro­mot­ed by cor­po­rate school ​"reform­ers."
​"Peo­ple want the same things for their kids: in-per­son instruc­tion, teach­ers who see what's spe­cial about their kid, and, even if they don't par­tic­u­lar­ly care about art and music, a gen­er­al sense of a broad­er edu­ca­tion that helps their kids to devel­op to their full poten­tial," Lafer says.
He com­pares sup­port for pub­lic edu­ca­tion to the min­i­mum wage, which also enjoys broad pub­lic support.
​"Peo­ple don't think they have a right to health care. They don't think they have a right to hous­ing, or even to food. But they do think they have a right to a decent edu­ca­tion," he says.
​"The Kochs and the Wal­tons are think­ing about advanc­ing an agen­da that makes life mate­ri­al­ly hard­er for the major­i­ty of the coun­try. How do you do it? One way is to con­tin­u­al­ly low­er expectations."
Hence the nar­ra­tive that pub­lic schools have ​"failed."
But a nation­al pro-pub­lic-school move­ment is push­ing back.
Lafer points to the Chica­go teach­ers' strike as par­tic­u­lar­ly sig­nif­i­cant, because it focused on qual­i­ty edu­ca­tion for kids.
​"It's not just what you are against but, for teach­ers, what's your vision for a humane, just school sys­tem," he says.
​"Teach­ers talk about what it means for kids to have big class­es and no ser­vices. But for a long time those con­ver­sa­tions only hap­pened on the side, not in the con­text of the union."
The Chica­go teach­ers' strike changed that.
​"Around the coun­try unions are think­ing we need to and we can put issues of edu­ca­tion­al qual­i­ty front and cen­ter in our cam­paign," Lafer says.
And he points to the grow­ing move­ment of par­ents who are oppos­ing stan­dard­ized test­ing and a stripped-down edu­ca­tion model.
This report gives that move­ment sig­nif­i­cant support.
Reprint­ed with per­mis­sion from The Pro­gres­sive. This report was made pos­si­ble by a gen­er­ous grant from the Voqal Fund.