School Choice
Planned Parenthoods look local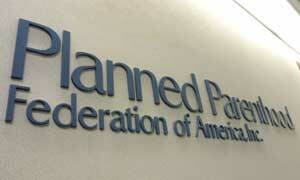 El Cerrito, California
—Thanks to a year-old Planned Parenthood program funded by a state health grant, a 15-year-old girl at California's El Cerrito High School can get an AIDS test, a prescription for birth control pills and a gynecological referral—all on her way to cheerleading practice.
The local program is a first for the national health care organization, and is seen by choice advocates as a local antidote to the increasing threat to reproductive rights from the White House and Republican-controlled Congress.
In this case, the innovative new program emerged from a direct health care need and a Planned Parenthood affiliate's ability to act quickly, says Planned Parenthood spokeswoman Adina Quijada. "The members of the Shasta-Diablo affiliate saw an opportunity to provide an indispensable service to a particular community, and they took it," she says. "It could be opening the door for other affiliates to do the same."
In the past, Planned Parenthood branches in California have offered teen pregnancy, substance abuse and HIV prevention programs at schools. Under the new clinical program at Bay Area schools, teens have access to birth control pills and screening for sexually transmitted diseases, and can make appointments for off-site exams. A registered nurse, supervised by a Planned Parenthood medical director, provides the clinical services, which are available after classes at each school's health center one day a week.
The program makes it much easier for teens to have access to quality health and reproductive care, says Joe Rose, associate vice president for community services and education at the Shasta-Diablo office. Teens may be reluctant or simply unable to travel to a Planned Parenthood clinic—or any other health clinic. Having clinical services available at school eliminates the transportation problem, and can go a long way toward solving a health crisis. While his organization has seen a recent decline in teen birth rates, the incidence of the sexually transmitted disease chlamydia has jumped 24 percent in the past five years for area teens. "This is a serious health issue," he says.
Planned Parenthood last year initiated the clinical services program at El Cerrito, a few miles north of Berkeley, and is now expanding it to other area high schools where health data show high rates of teen births and sexually transmitted diseases.
The program is the result of strong support at the state and local levels. In September, California officials also signed into law several other progressive measures, blocking public access to the names and addresses of clinics and patients to protect women's health clinics and their patients, and requiring all accredited medical schools to provide abortion training for future obstetricians and gynecologists.
In addition, emergency-room staff will now be required to inform victims of sexual abuse about emergency contraception, and administer it for free if asked. Nurses and midwives are also free to prescribe abortion drugs such as RU-486. Finally, the state formally reaffirmed its commitment to
Roe v. Wade,
even if stricter limits on abortion are imposed at the federal level.
California has typically recorded one of the nation's highest teen birth rates, but in 2001, teen birth rates declined throughout the state. In Contra Costa County, where El Cerrito High is located, teen birth rates dropped 7.5 percent, according to Heather Hoell, public affairs director at the Shasta-Diablo affiliate. Hoell says there is a direct correlation between her office's work in the school and the declining teen birth rate.
To date, no other Planned Parenthood affiliates have launched a similar program, though Quijada says many are watching how it fares. "Other affiliates want to be able to do this," she says.
In October of this year, school boards in the nearby towns of Vallejo and Crockett approved identical programs for their high schools, and at least two more high schools in the Bay Area are considering adopting the program, Rose says.
Bill Pendergast is the president of the Vallejo Board of Education, which unanimously approved the program. "Anything we can do to prevent unwanted pregnancies and help people make informed decisions," he says, "we should be doing."