Sci-Fi Iraq: Authors Envision Their Country in 2103, a Century After the U.S. Invasion
In a new collection, Iraqi writers explore their nation's future, and ridicule their former occupiers.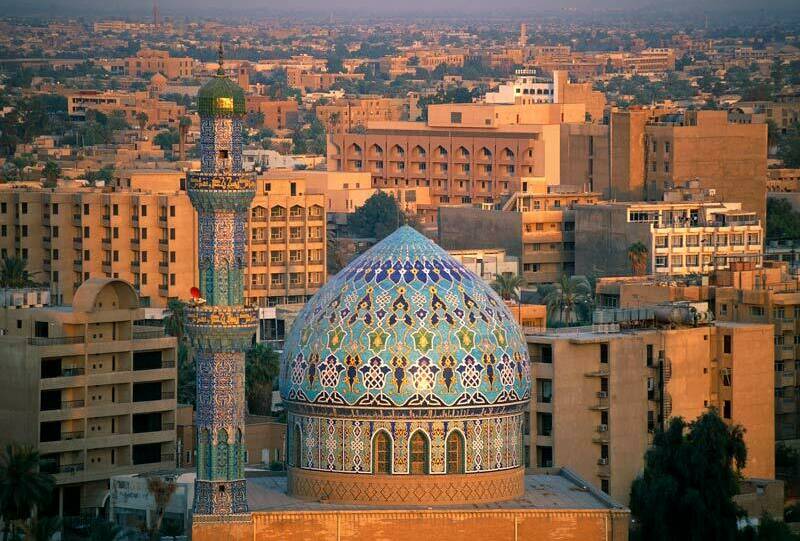 What might Iraq look like a cen­tu­ry from now? That ques­tion is the orga­niz­ing premise of Iraq + 100, a new short-sto­ry col­lec­tion edit­ed by award-win­ning Iraqi writer and film­mak­er Has­san Blasim. As Blasim notes in his intro­duc­tion, futur­is­tic fic­tion isn't a stan­dard form for Iraqi prose — typ­i­cal­ly, it tends toward grim con­tem­po­rary real­ism, his­tor­i­cal fic­tion or what trans­lates as ​"polit­i­cal fan­ta­sy": polit­i­cal fic­tion with ele­ments of mag­i­cal real­ism. Even Ahmed Saadawi's bound­ary-break­ing Franken­stein in Bagh­dad, forth­com­ing in Eng­lish next year, is firm­ly ground­ed in the present.
Considerably more sobering is a recurring theme in the collection of characters developing mysterious, incurable diseases.
As such, Iraq + 100 won't tell Amer­i­can read­ers much about the broad­er trends in Iraqi lit­er­a­ture. But it might well stretch the imag­i­na­tions of those accus­tomed to see­ing Iraq as a place of end­less vio­lence. An avowed lit­er­ary out­lier, Blasim has long been inter­est­ed in new pos­si­bil­i­ties of form and lit­er­ary cross-pol­li­na­tion. In 2013, he and Com­ma Press began com­mis­sion­ing sto­ries for Iraq + 100, set 100 years after George W. Bush's dec­la­ra­tion of ​"mis­sion accom­plished." Though futur­is­tic, the result­ing works can't all be called sci­ence fic­tion; some are noir, romance or satire.
Cur­rent­ly avail­able in Eng­lish with an Ara­bic edi­tion forth­com­ing, Iraq + 100 is a wel­come depar­ture from the steady stream of books about Iraq since 2003. Most focus on the war and were writ­ten by U.S. and U.K. vet­er­ans, jour­nal­ists or even tor­tur­ers, as with Eric Fair's 2016 mem­oir Con­se­quence. In these works, Iraqi lives serve as lit­tle more than a back­drop for the hero­ism or moral ago­nies of the Anglo pro­tag­o­nist. A few notable exam­ples fore­ground Iraqi per­spec­tives, includ­ing Elliott Colla's Bagh­dad Cen­tral, but it's hard to think of any­thing that affords Iraqis the chance to turn around and ridicule their invaders in quite the same way as Iraq + 100.
Each ver­sion of the year 2103 has a dif­fer­ent fla­vor. In Ibrahim al-Marashi's ​"Naj­u­fa," ter­ror­ism has moved to Amer­i­ca, where we find the humor­ous­ly named ​"CAKA, the Chris­t­ian Assem­bly of Kansas and Arkansas." ​"Kahra­mana," by the pseu­do­ny­mous Anoud, is the only sto­ry that imag­ines a future U.S./NATO pres­ence in Iraq. Here, the tit­u­lar Kahra­mana escapes from the Islam­ic Empire just before her mar­riage to its leader, a man whom the state news­pa­per refers to as ​"the great, the brave lion, the sword of Allah, Amir Mul­lah Hashish." The West­ern­ers make a big show of the beau­ti­ful Kahra­mana, putting her on a bill­board and giv­ing her a ​"Coura­geous Women's Award." But in the end, the fick­le media for­get her and her bid for asy­lum in the U.S. is qui­et­ly rejected.
Oth­er sto­ries depict Iraq under the boot of new occu­piers. In Khalid Kaki's ​"Oper­a­tion Daniel," trans­lat­ed by Adam Tal­ib, it's the Chi­nese who have tak­en over. The sto­ry bun­dles anx­i­ety about China's ten­ta­cles in poor­er coun­tries into a dystopi­an por­trait of a Sad­damist, tell-on-your-neigh­bor régime. It's for­bid­den to speak Syr­i­ac, Ara­bic, Kur­dish or even Eng­lish — a detail that echoes the past repres­sion of minor­i­ty tongues.
In Has­san Blasim's tech­no-utopia ​"The Gar­dens of Baby­lon," cor­po­rate rights seem to have unseat­ed nation­al empires. Chi­nese com­pa­nies have domin­ion, although they ​"have also giv­en the inhab­i­tants of Baby­lon the priv­i­lege of Chi­nese cit­i­zen­ship, so we Baby­lo­ni­ans can go and live in Chi­na as if it's our own coun­try." But all is not well in Babylon's tech­no-gar­dens, full of tiger droids and smart trees, as cor­po­ra­tions have tak­en over the water sup­ply and are fight­ing Water Rebels out­side the city.
Has­san Abdulrazzak's ​"Kusz­ib," which trans­lates to ​"Pussy­cock," is set in an even stranger future. The read­er slow­ly real­izes that the point-of-view char­ac­ters aren't humans; they're mid­dle-class space crea­tures who look down on humans and drink our blood, dis­tilled into alco­hol. In a macabre turn, the alien butch­er who gives a demon­stra­tion on how to hack apart humans is dressed in ISIS orange.
A mid­dle-class alien wife, who is a clear echo of a mid­dle-class Amer­i­can or Brit, has qualms about the enslave­ment and butch­ery of humans and won­ders if the poor things might, after all, have rich inte­ri­or lives. But she can't quite bring her­self to give up eat­ing these yum­my peo­ple and ulti­mate­ly decides that their inte­ri­or lives might not mat­ter so much.
While the satire in Iraq + 100 is aimed pri­mar­i­ly at occu­piers, its sto­ries also occa­sion­al­ly send up the aspi­ra­tions of the occu­pied. In Bader's inven­tive ​"The Cor­po­ral," a sol­dier named Sob­han who was killed dur­ing the Iraq War is sent back to earth by God — who, thanks to a vex­ing back­log in the queue of souls wait­ing to enter the after­life, is still work­ing his way through those who died in 471 B.C.E.
Way back in 2003, you see, Sob­han secret­ly want­ed the Amer­i­cans to beat his army. After all, wouldn't they turn Iraq into a par­adise, much like the ones he'd seen on TV? Sob­han even car­ried a flower in his pock­et to give to an Amer­i­can sol­dier, but was shot in the fore­head before he could get his hand out of his pock­et. When Sob­han is sent back to earth in 2103, he is stunned to find his coun­try in beau­ti­ful shape while his beloved Amer­i­ca has col­lapsed into sec­tar­i­an war. Iraq is now sec­u­lar and Amer­i­ca is ​"gripped by reli­gion" and has turned into a rogue state. ​"The Cor­po­ral" has a mem­o­rable laugh at both the Amer­i­cans' and the Iraqis' expens­es, while under­cut­ting Amer­i­can exceptionalism.
Con­sid­er­ably more sober­ing is a recur­ring theme in the col­lec­tion of char­ac­ters devel­op­ing mys­te­ri­ous, incur­able dis­eases. This motif has obvi­ous roots in the recent past. Iraq has seen sky­rock­et­ing can­cer rates since the inva­sion of 2003, dur­ing which the U.S. army employed deplet­ed ura­ni­um pro­jec­tiles, among oth­er known can­cer-caus­ing agents. An August 2016 report in the jour­nal Envi­ron­men­tal Mon­i­tor­ing and Assess­ment found ​"a vari­ety of birth defects, some nev­er seen before" in post-war Iraq.
Writer-doc­tor Alhaboby's ​"Bagh­dad Syn­drome," trans­lat­ed by Emre Ben­nett, is both romance and med­ical noir. In this sto­ry, pro­tag­o­nist Sudra Sen Sumer is an archi­tect hired to redesign what was once Baghdad's ​"lovers' square." Decades ear­li­er, the stat­ues at its cen­ter, Scheherazade and Shahryar, mys­te­ri­ous­ly dis­ap­peared. Sudra search­es for these stat­ues while he grows sick­er with the wide­spread but lit­tle-under­stood Bagh­dad Syn­drome, and the threat of per­ma­nent blind­ness hangs over him. Pow­er­less to under­stand the mech­a­nisms of his dis­ease, which is root­ed in the war of a for­mer era, Sudra is charged with the desire to know what hap­pened in one square, and to repair it.
Iraq is often por­trayed as a place that has always been vio­lent and always will be. By ger­mi­nat­ing new nar­ra­tive pos­si­bil­i­ties, Iraq + 100 pro­vides new ways of imag­in­ing the next cen­tu­ry that go beyond see­ing the present as eternal.
M. Lynx Qua­ley
is the founder of ArabLit​.org, as well as a lit­er­ary crit­ic, jour­nal­ist, edi­tor, ghost­writer, pub­lish­ing con­sul­tant and translator.