For a farmer, get­ting the news that you no longer have a mar­ket for your prod­uct is dev­as­tat­ing. I know — I got one of those let­ters a few months ago. It is espe­cial­ly prob­lem­at­ic if you are a dairy farmer, since cows need to be milked every day. So, in April, when 75 Wis­con­sin farm­ers were noti­fied by their milk buy­er, Grass­land Dairy Prod­ucts, that they would no longer have a mar­ket, state gov­ern­ment offi­cials took notice.
While our gov­ern­ment offi­cials appear to be con­cerned about the well-being and eco­nom­ic via­bil­i­ty of Wis­con­sin's dairy farm­ers, I won­der if they are real­ly more inter­est­ed in the via­bil­i­ty of the ​"dairy industry."
Are they con­cerned about fair farm prices and the envi­ron­ment, or keep­ing the eco­nom­ic engine rolling?
Gov. Scott Walk­er and the Wis­con­sin Depart­ment of Agri­cul­ture, Trade and Con­sumer Pro­tec­tion have done all they can to encour­age Wis­con­sin farm­ers to pro­duce more milk — nev­er ques­tion­ing how much milk might be too much — because their con­cern lies with a dairy indus­try that depends on cheap milk.
In 2003, the Wis­con­sin Leg­is­la­ture passed Act 235, a bill that lim­it­ed the abil­i­ty of local com­mu­ni­ties to oppose large farms.
In 2011, the State Assem­bly vot­ed to pro­vide dairy farm­ers tax cred­its for mod­ern­iz­ing or expand­ing their operations.
In 2012, Walk­er intro­duced his ​"30×20" plan to grow Wis­con­sin's milk pro­duc­tion, to 30 bil­lion pounds annu­al­ly by 2020, by offer­ing grants to dairy pro­duc­ers to help them grow their busi­ness­es and Wisconsin's dairy industry.
Dairy econ­o­mist Bob Cropp, pro­fes­sor emer­i­tus at the Uni­ver­si­ty of Wis­con­sin-Madi­son, thought the ini­tia­tive was a good idea and that it would not low­er milk prices. He appar­ent­ly agreed with the gov­er­nor, who not­ed: ​"The real­i­ty is, that the growth is not fast enough for the oppor­tu­ni­ties that are before us." But Wis­con­sin dairy farm­ers met the 30-bil­lion-pound goal last year. The pre­dic­tions of no down­side to the increased milk pro­duc­tion, how­ev­er, did not work out so well.
Over the past 10 years, the num­ber of Wis­con­sin dairy farms has fall­en from 14,265 to 9,230. Those that remain have got­ten larg­er, much larg­er. Con­cen­trat­ed ani­mal feed­ing oper­a­tions, or CAFOs, are now the pre­ferred mod­el for the future of dairy pro­duc­tion in Wis­con­sin. Their num­bers have grown from 50 in 2000 to 252 in 2016. But the sup­port for larg­er farms and more milk does not end with the gov­er­nor and Wis­con­sin Leg­is­la­ture. The Wis­con­sin Depart­ment of Nat­ur­al Resources (WDNR) seems to be very inter­est­ed in being a part­ner to large-scale farms. This isn't total­ly wrong, but the part­ner­ship must ensure envi­ron­men­tal pro­tec­tion stan­dards are followed.
As for­mer DNR Sec­re­tary George Mey­er not­ed, ​"The stan­dards aren't real­ly at stake, those are set in law." How­ev­er, com­plaints of non-enforce­ment by the DNR are increas­ing under the Walk­er admin­is­tra­tion. Since the gov­er­nor took office in 2011, he and the Repub­li­can-con­trolled Leg­is­la­ture have co-opt­ed the admin­is­tra­tive rule-mak­ing process, tak­ing that pow­er, basi­cal­ly, into their own hands. Even the Wis­con­sin attor­ney gen­er­al got into the act with his legal opin­ion stat­ing that the DNR had no author­i­ty to con­sid­er the cumu­la­tive effects of high-capac­i­ty wells on the waters of Wis­con­sin — a gift to CAFOs but a real prob­lem for the envi­ron­ment and the cit­i­zens of Wisconsin.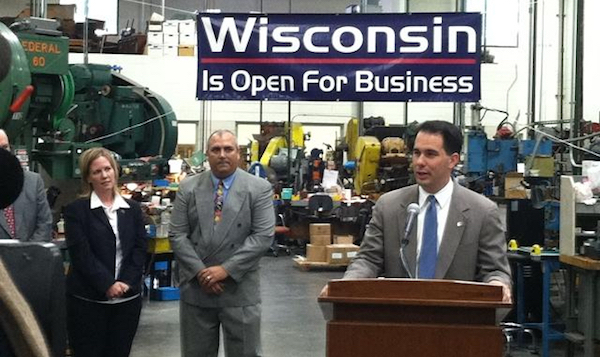 Gov. Walk­er on the cam­paign trail. (Pho­to: urban​mil​wau​kee​.com)
Wis­con­sin is open for business…the CAFO dairy business.
By doing all they can to sup­port the growth of dairy CAFOs — whether by gut­ting the DNR's enforce­ment capa­bil­i­ties through staff and bud­get cuts, or by appoint­ing a DNR sec­re­tary who says she has ​"brought cus­tomer-friend­ly pri­vate-sec­tor prin­ci­ples to the agency" — the gov­er­nor and state Leg­is­la­ture have encour­aged large dairies to locate and expand in Wis­con­sin and pro­duce as much milk as they can.
While far too much empha­sis has been placed on increas­ing milk out­put in Wis­con­sin and the rest of the nation, solu­tions to the con­se­quences are falling short. Gov­er­nor Walk­er blames Cana­da for sup­port­ing Cana­di­an dairy farm­ers over U.S. farm­ers. Not to be out­done in stu­pid­i­ty, the state Assembly's answer was send­ing a let­ter to Uni­ver­si­ty of Wis­con­sin Sys­tem Pres­i­dent Ray Cross, ask­ing him to direct some research funds into explor­ing alter­na­tive uses (beyond con­sump­tion) for milk.
They encour­age farm­ers to over­pro­duce, cry croc­o­dile tears over low prices and lost mar­kets, then, despite the $250 mil­lion they cut from the Uni­ver­si­ty of Wis­con­sin bud­get, they ask for research on alter­na­tive uses for milk…
What about just pro­duc­ing less milk?
Sup­ply man­age­ment would pro­mote fair prices for farm­ers, a sta­ble sup­ply for con­sumers and pos­si­bly some pro­tec­tion for the envi­ron­ment by lim­it­ing the growth of CAFOs. But no — that would make too much sense and might cut into indus­try profits.
Farm­ers have been duped into pro­duc­ing too much milk. Their prof­itabil­i­ty is gone and, as they are suf­fer­ing, so is the qual­i­ty of Wisconsin's environment.
("Jim Good­man: Wis­con­sin dairy farm­ers have been duped" was orig­i­nal­ly pub­lished on host​.madi​son​.com and is repost­ed on Rur­al Amer­i­ca In These Times with per­mis­sion from the author.)