How Politicians Are Using Faux Progressive Arguments to Lock Up Young People
For six years, Seattle activists battled with policymakers who are pushing for a costly new youth jail and court project.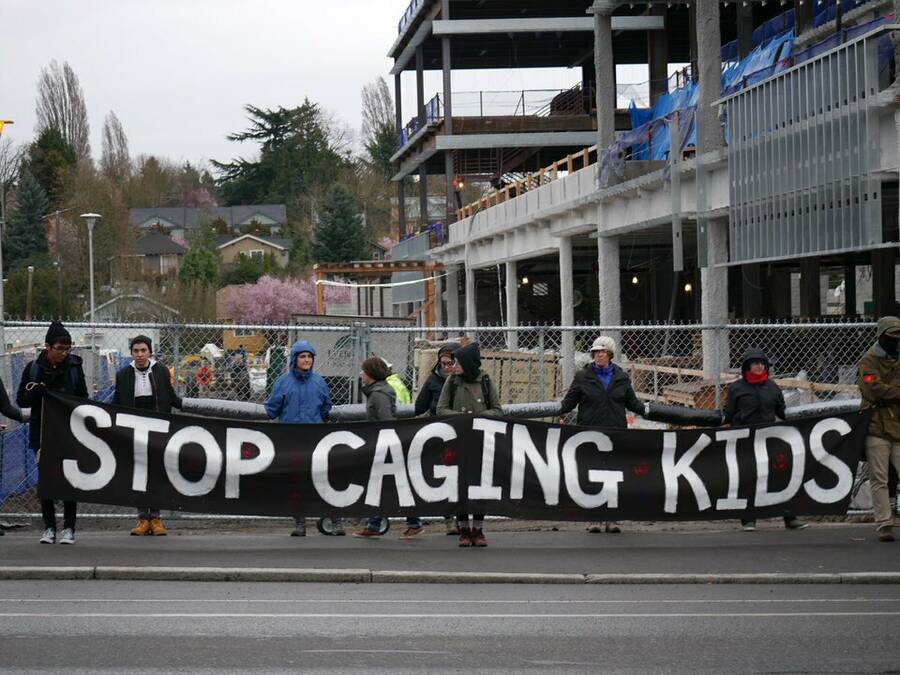 In Seat­tle, activists are enter­ing the sec­ond month of a new stage of esca­la­tion in a six-year cam­paign against the esti­mat­ed $225 mil­lion youth jail and court project being under­tak­en by King Coun­ty. On March 19, the No New Youth Jail Coali­tion — which con­sists of more than 60 orga­ni­za­tions work­ing on issues relat­ed to pover­ty, racism and youth ser­vices — deliv­ered a let­ter to King Coun­ty Exec­u­tive, Dow Con­stan­tine, the per­son who can stop the project. The let­ter from the Coali­tion, which I active­ly orga­nize with, details the last six years of resis­tance, in which many dif­fer­ent con­stituen­cies in the Coun­ty and lead­ing youth ser­vices orga­ni­za­tions have come out against the project. It high­lights the County's attempts to avoid hear­ing feed­back from con­stituents by can­cel­ing pub­lic events and chang­ing the Coun­ty Coun­cil rules to lim­it com­mu­ni­ty par­tic­i­pa­tion in hear­ings. It asks why the Coun­ty is con­tin­u­ing to rush this project to com­ple­tion when a law­suit has estab­lished that the tax levy fund­ing the project is ille­gal, so that if the Coun­ty does not win an appeal, the project will have to be paid for by the gen­er­al fund and under­mine key ser­vices and func­tions. The let­ter demands that Con­stan­tine declare a mora­to­ri­um on build­ing and nego­ti­ate with the com­mu­ni­ty to repur­pose the site and redi­rect resources toward human needs.
In the context of the Trump administration, it is even easier for politicians to promote themselves as social justice advocates and anti-racists while continuing to fund and build the infrastructure of state violence that anti-racist movements are fighting to dismantle.
On March 26, giv­en that Con­stan­tine had not declared a mora­to­ri­um on build­ing, the No New Youth Jail Coali­tion began the People's Mora­to­ri­um. Ear­ly that morn­ing, activists locked down to block all three of the gates to the con­struc­tion site to stop trucks from arriv­ing with more con­struc­tion sup­plies. The next morn­ing, activists occu­pied the lob­by of the Coun­ty Office Build­ing. Since then, the Coali­tion has been in con­stant action with ban­ner drops, protests at the con­struc­tion site and at Constantine's pub­lic appear­ances, and media advo­ca­cy. On April 20, peo­ple of faith and cler­gy led a protest at the con­struc­tion site that result­ed in nine arrests: three peo­ple who had locked down to beams inside the site, and six peo­ple who were part of prayer at one of the gates.
The events in Seat­tle are part of broad­er local and nation­al social move­ment work to halt invest­ment in polic­ing and impris­on­ment. In 2008, a coali­tion led by the home­less advo­ca­cy orga­ni­za­tion in Seat­tle defeat­ed plans for a new $200 mil­lion adult jail. In 2016, anti-police activists defeat­ed plans for a $149 mil­lion new police bunker in Seat­tle. In 2017, activists in Vir­ginia won their fight against a new youth prison in Chesa­peake. Activists in Rich­mond, Vir­ginia are cur­rent­ly fight­ing against more plans for youth prison build­ing. San Fran­cis­co anti-crim­i­nal­iza­tion activists are sim­i­lar­ly engaged in a strug­gle to stop a new jail from being built. Chica­go activists are engaged in a cam­paign to stop the build­ing of a $95 mil­lion police acad­e­my. Activists in Detroit are fight­ing against a $533 mil­lion crim­i­nal jus­tice cen­ter. Even small towns, like Northamp­ton, Mass­a­chu­setts, are see­ing res­i­dents rise up to oppose expan­sion of infra­struc­ture for polic­ing and crim­i­nal­iza­tion. These cam­paigns and the many oth­ers emerg­ing around the coun­try are exam­ples of how local activists are lever­ag­ing the anti-crim­i­nal­iza­tion momen­tum cre­at­ed by the #Black­Lives­Mat­ter move­ment to demand new pri­or­i­ties for local governments.
Mas­querad­ing as progressive
The sto­ry of how politi­cians are jus­ti­fy­ing Seattle's youth jail project with talk­ing points about racial jus­tice, pro­gres­sivism and even ​"zero youth deten­tion" is worth learn­ing from. In King Coun­ty and the City of Seat­tle, most politi­cians pro­mote them­selves as pro­gres­sive, even though the City and Coun­ty gov­ern­ments do many of the same things we see in any con­tem­po­rary city: raid home­less encamp­ments, arrest pro­test­ers, build up the cops and jails, court the tech indus­try and pan­der to real estate devel­op­ers. When the plans for the new youth jail and court build­ings were first announced, the talk­ing points of the projects' advo­cates focused pri­mar­i­ly on how the youth jail need­ed to be replaced so that youth could have improved con­di­tions for their jail­ing. Even though the cur­rent youth jail was built in 1992 and the County's own stud­ies say it is in ​"good con­di­tion," the project's pro­mot­ers con­sis­tent­ly framed it as decrepit and argued that any­one oppos­ing the invest­ment in a new jail was doing so at the expense of the well-being of youth. They made a Black Coun­ty Coun­cil mem­ber with a his­to­ry of activism, Lar­ry Gos­sett, into the project's spokesper­son. For the first few years of the fight, some oppo­nents were steered toward meet­ings with Gos­sett that were direct­ed toward help­ing plan the new jail, sup­pos­ed­ly in ways that would allay con­cerns. Over the years, Gos­sett has fad­ed from the front lines, per­haps because using him as the face of the project stopped being an effec­tive way to stem opposition.
Today, Con­stan­tine, the jail's main advo­cate, con­tin­ues to pro­mote the new jail as good for the youth who will be caged in it, using meth­ods that are increas­ing­ly sophis­ti­cat­ed and con­cern­ing. Con­stan­tine is effec­tive­ly deploy­ing the talk­ing points devel­oped by decades of anti-crim­i­nal­iza­tion advo­ca­cy in order to pro­mote his jail-build­ing. There is, of course, noth­ing new about jail and prison builders jus­ti­fy­ing their projects by say­ing they will be good for those caged inside them. This is the log­ic used to build pris­ons in the name of elim­i­nat­ing over­crowd­ing, build­ing ​"gen­der respon­sive" pris­ons, and imple­ment­ing oth­er inno­va­tions that expand the capac­i­ty to cage peo­ple. Con­stan­tine, how­ev­er, is devel­op­ing this frame­work in ways that are up-to-date with con­tem­po­rary anti-crim­i­nal­iza­tion strate­gies. In 2017, he announced that he has a goal of ​"zero youth deten­tion" and appoint­ed a staffer to lead the County's ​"zero juve­nile deten­tion efforts." In response to oppo­si­tion to the youth jail, the City Coun­cil passed a ​"zero youth deten­tion" res­o­lu­tion that is func­tion­al­ly only sym­bol­ic, but rep­re­sent­ed the sig­nif­i­cance of the pres­sure of the move­ment against the project. Con­stan­tine has now joined these talk­ing points. Coun­ty Coun­cil mem­bers have also dis­tanced them­selves from the project. Since the People's Mora­to­ri­um was declared, Con­stan­tine has fur­ther ramped up this tactic.
In an April 17 inter­view, Con­stan­tine argued that deten­tion is trau­mat­ic for youth, caus­es recidi­vism, dis­rupts school­ing and is a result of sys­temic racism. He said that the old facil­i­ty is going to be replaced with a ​"ther­a­peu­tic facil­i­ty that will be less trau­ma­tiz­ing for youth" and ​"help them get back on track." He tout­ed the County's diver­sion pro­grams. He argued that some day, when the goal of zero deten­tion is achieved, the facil­i­ty will be turned over for com­mu­ni­ty pro­grams. He argued that the Coun­ty should move toward a mod­el of a decen­tral­ized juve­nile deten­tion sys­tem cen­ter­ing high­ly trained social work­ers, only lock­ing young peo­ple up in rare cas­es. Dur­ing the recent ramp­ing up of the cam­paign, he also offi­cial­ly trans­ferred the youth jail facil­i­ty into the con­trol of the Depart­ment of Pub­lic Health, part of his refram­ing it as a health intervention.
The archi­tec­ture of white supremacy
King Coun­ty, Seat­tle and Con­stan­tine pro­vide a use­ful study of how the archi­tec­ture of white suprema­cy is expand­ing right now in the name of anti-racism. In the con­text of the Trump admin­is­tra­tion, it is even eas­i­er for politi­cians to pro­mote them­selves as social jus­tice advo­cates and anti-racists while con­tin­u­ing to fund and build the infra­struc­ture of state vio­lence that anti-racist move­ments are fight­ing to dis­man­tle. For exam­ple, in Decem­ber 2016, Wash­ing­ton politi­cians, includ­ing Seattle's May­or, Con­stan­tine and oth­ers, held a press con­fer­ence to declare Wash­ing­ton a ​"hate free state." The politi­cians made speech­es about their com­mit­ments to sup­port Mus­lims, the LGBT com­mu­ni­ty and oth­ers fac­ing new threats with the rise of the Right. The cloak of fake pro­gres­sivism is eas­i­er for politi­cians to put on to cov­er the real­i­ty of pro-crim­i­nal­iza­tion and anti-poor actions when the point of com­par­i­son in Trump.
Juris­dic­tions like King Coun­ty and Seat­tle, where social jus­tice brand­ing is near­ly uni­ver­sal, demon­strate the cut­ting-edge ver­sions of this strat­e­gy. The King Coun­ty Prosecutor's Office pro­motes its diver­sion pro­grams nation­al­ly as mod­els of pro­gres­sivism in pros­e­cu­tion, and has recent­ly expand­ed its staffing by employ­ing pros­e­cu­tors focused on restora­tive jus­tice strate­gies. The Seat­tle Police Depart­ment launched a pub­lic rela­tions cam­paign when it was under inves­ti­ga­tion by the Depart­ment of Jus­tice in which it mar­ket­ed a rain­bow police badge stick­er to be post­ed by busi­ness­es all over the City stat­ing that they are a ​"safe place" and will call the cops for LGBT peo­ple fac­ing harassment.
By spend­ing rel­a­tive­ly small sums on a few diver­sion pro­grams and stick­ers, the City and Coun­ty con­tin­ue to expand their capac­i­ty to put the lion's share of their bud­gets toward polic­ing and impris­on­ment. At this point, 73 per­cent of the County's bud­get is focused on ​"crim­i­nal jus­tice and pub­lic safe­ty." Mean­while, the famous diver­sion pro­grams that police, pros­e­cu­tors and politi­cians pro­mote all still focus on legit­imiz­ing arrests of poor peo­ple and peo­ple of col­or. While basic needs like hous­ing, trans­porta­tion, health­care, child­care, and edu­ca­tion remain under-fund­ed, a polic­ing-cen­tered approach to gov­er­nance and spend­ing is jus­ti­fied with a few ​"soft­er" options for what can be done with peo­ple after arrest. These same pro­grams are lift­ed up by Con­stan­tine to jus­ti­fy the build­ing of the youth jail. He argues that he is sup­port­ing such inno­v­a­tive pro­gram­ming, and is so ded­i­cat­ed to zero youth deten­tion that build­ing a new youth jail must be nec­es­sary or he would not be doing it. He mobi­lizes the lan­guage of trau­ma, ther­a­py, sys­temic racism, alter­na­tives to incar­cer­a­tion and restora­tive jus­tice to pro­mote a project that ensures ongo­ing caging of youth.
The fan­ta­sy of a ther­a­peu­tic cage
In this con­text, it is par­tic­u­lar­ly mean­ing­ful that activists are fram­ing resis­tance in terms of prison abo­li­tion. Reforms that cre­ate ​"soft­er" pun­ish­ment, diver­sion, or arrest-based pro­grams — and are run by social work­ers and health providers — are being deployed by those focused on fur­ther invest­ment in crim­i­nal­iz­ing infra­struc­ture. Abo­li­tion is the frame­work that allows us to dis­cern how pro­gres­sive-sound­ing ini­tia­tives are actu­al­ly expand­ing crim­i­nal­iza­tion. The Coun­ty funds ​"alter­na­tives" and diver­sion pro­grams, some of which are legit­i­mate com­mu­ni­ty-based pro­grams, at small lev­els pri­mar­i­ly to act as a fig leaf for their out­ra­geous expen­di­tures on polic­ing and impris­on­ment. Con­stan­tine con­sis­tent­ly argues that pro­test­ers from the No New Youth Jail Coali­tion refuse to dia­logue with him. What he is expe­ri­enc­ing is that the coali­tion refus­es to part­ner with him on design­ing a jail. The coali­tion refus­es to par­tic­i­pate in the fan­ta­sy of a ther­a­peu­tic cage, of a jail that would some­how work in part­ner­ship with non-prof­its that care about youth. Activists will not help devel­op talk­ing points for jus­ti­fy­ing the dis­as­trous deci­sion to put hun­dreds of mil­lions more dol­lars toward the trav­es­ty of youth impris­on­ment. The dia­logue he wants, where mem­bers of the pub­lic col­lab­o­rate under a shared fake-pro­gres­sive ban­ner to birth anoth­er project of jail and court-build­ing, is one he is find­ing less and less part­ners to join.
What remains to be seen is how sig­nif­i­cant our impact has been in the Coun­ty. Anoth­er city in King Coun­ty, Tuk­wila, is now fac­ing resis­tance to a new effort to build a police sta­tion and court build­ings. Has the coali­tion's six-year fight against the youth jail, the vic­to­ry of a stalled police bunker project and the defeat of the adult jail project decreased the via­bil­i­ty of more police, jail and prison infra­struc­ture in our Coun­ty? What will it take for the cur­rent cri­sis of legit­i­ma­cy fac­ing polic­ing and impris­on­ment to move from pro­vid­ing ratio­nales for expan­sion to actu­al­ly estab­lish­ing polit­i­cal con­di­tions that stop expan­sion? Con­stan­tine and the King Coun­ty Prosecutor's Office are use­ful case stud­ies for anti-crim­i­nal­iza­tion move­ments right now. They are work­ing to por­tray pros­e­cu­tion and jail-build­ing as ​"social jus­tice" projects, and are co-opt­ing anti-racist and anti-law enforce­ment lan­guage and analy­sis with great sophis­ti­ca­tion to do so. Their tac­tics indi­cate one path through the legit­i­ma­cy cri­sis for appa­ra­tus­es of state vio­lence — a path that cements and expands those appa­ra­tus­es using new takes on the old themes of health and rec­on­cil­i­a­tion. The #NoNewYouth­Jail campaign's abo­li­tion­ist prax­is is a test­ing ground for the pos­si­bil­i­ty of actu­al­ly stop­ping the expan­sion of polic­ing and impris­on­ment that has char­ac­ter­ized the last 40 years.
Dean Spade
is an Pro­fes­sor at Seat­tle Uni­ver­si­ty School of Law. His book, Nor­mal Life: Admin­is­tra­tive Vio­lence, Crit­i­cal Trans Pol­i­tics and the Lim­its of Law was pub­lished in
2015
by Duke Uni­ver­si­ty Press.