The Right Was Already Waging Economic War Against Transgender People. Trump Just Went Nuclear.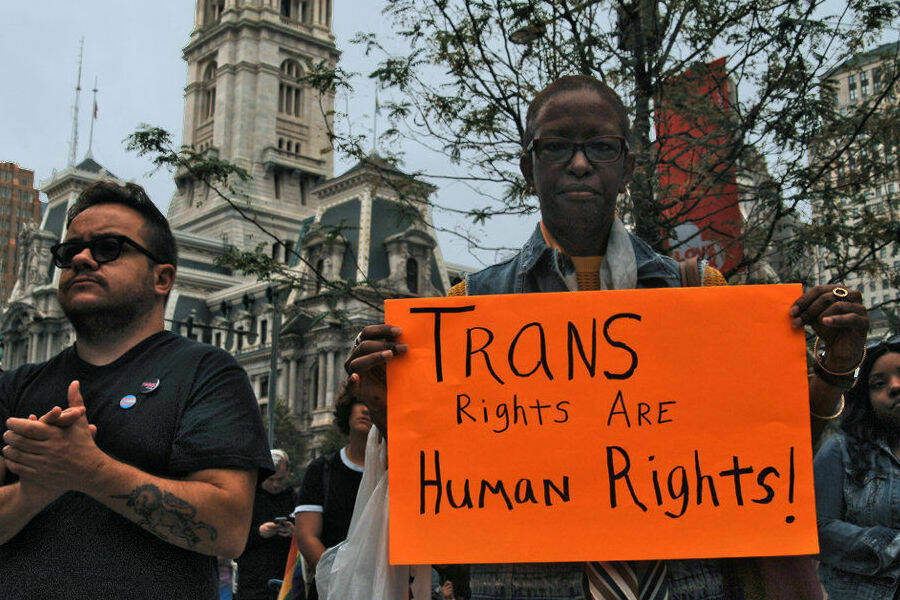 The Trump administration's lat­est attack on trans peo­ple is the most ter­ri­fy­ing yet: The Health and Human Ser­vices Depart­ment is now plan­ning to estab­lish a ret­ro­grade def­i­n­i­tion of gen­der aimed at mak­ing what­ev­er gen­der is assigned at birth unchange­able, accord­ing to a memo leaked to The New York Times.
For the last 16 years, I have been involved with efforts to reduce the enforce­ment of gen­der cat­e­gories on trans peo­ple and every­one. When I start­ed doing this work in 2002, many state and local agen­cies and fed­er­al admin­is­tra­tive regimes that keep gen­der mark­er data about peo­ple didn't have clear poli­cies, or didn't have any pol­i­cy at all, about whether some­one could change their gen­der mark­er, or even what evi­dence or doc­u­men­ta­tion the gen­der mark­er on someone's records or ID is based on. As trans legal orga­ni­za­tions began to emerge in the ear­ly 2000s, we worked to iden­ti­fy ways to reduce the harms trans peo­ple face because of gen­der norm enforcement.
As a pover­ty lawyer work­ing at the Sylvia Rivera Law Project, I saw this harm in my clients' lives. One client was kicked out of school when she and her friend showed up dressed as women, com­ing out to their peers and teach­ers. Anoth­er client had her wel­fare ben­e­fits ter­mi­nat­ed when she showed up at her manda­to­ry ​"work­fare" assign­ment because the super­vi­sor marked her as absent, say­ing she wasn't ​"work ready" if she dressed as a woman. Anoth­er client need­ed place­ment in a domes­tic vio­lence shel­ter but the shel­ters would not admit her because she was trans. One client was con­vict­ed on a drug charge and want­ed to serve part of it in the drug treat­ment pro­gram, but the pro­gram would not take him because he was trans.
Home­less women clients com­plained they couldn't go into the home­less shel­ter sys­tem because they would be placed at a men's intake shel­ter where they knew they would be tar­get­ed with vio­lence. Because they could not go into an intake shel­ter, they would not be able to get into oth­er hous­ing ser­vices avail­able after that ini­tial stage.
Many clients were try­ing to get ID that had a gen­der mark­er that matched their life and would not expose them as trans every time they had to show it to a prospec­tive employ­er or a cop. Many clients were hav­ing their med­ical needs reject­ed by Med­ic­aid because of their gender.
Over­all, my clients were being kept out of ser­vices they need­ed, blocked from employ­ment, and exposed to greater dan­ger of dis­crim­i­na­tion and vio­lence because of the ways that gen­der mark­ers get record­ed on our IDs and used to divide peo­ple up in sex-seg­re­gat­ed facilities.
Over the last two decades, advo­cates have worked hard to change these poli­cies and have won some vic­to­ries. In some cities, home­less shel­ters now have poli­cies that say they have to let trans women into women's shel­ters. In some places, Depart­ment of Motor Vehi­cles offices have adopt­ed poli­cies so that a trans per­son does not have to prove any­thing about their gen­i­tals to get their ID changed on a state-issued ID, such as a driver's license. Many uni­ver­si­ties have cre­at­ed all-gen­der bath­rooms so that peo­ple can use the bath­room with­out being harassed because some­one per­ceives them to be in the ​"wrong" place. In some juris­dic­tions, Med­ic­aid exclu­sions of trans health care have been removed.
Most of these improve­ments are just at their very begin­nings. In many cities with trans-friend­ly poli­cies about shel­ter place­ment, staff still deny trans women access because they do not know the poli­cies or do not want to enforce them. And most cities and coun­ties still don't have clear poli­cies about trans access to shel­ters or oth­er social ser­vices or any train­ing for staff about not dis­crim­i­nat­ing against trans peo­ple. ID poli­cies have improved in some places, regard­ing some pieces of iden­ti­fi­ca­tion, but IDs with appro­pri­ate gen­der mark­ers are still out of reach for many peo­ple because they require doc­tors' let­ters and many trans peo­ple do not have access to health care or to a friend­ly doc­tor. Thir­ty-one per­cent of trans peo­ple in the US lack access to any reg­u­lar health care. Trans women are still, with very few excep­tions, placed in men's pris­ons and jails.
Trans peo­ple are dis­pro­por­tion­ate­ly poor, espe­cial­ly trans peo­ple of col­or. The poor­er you are, the more like­ly your sur­vival is at the mer­cy of bureau­crats and low-lev­el staff in pris­ons, shel­ters, hos­pi­tals, group homes and wel­fare offices who can make deci­sions about your gen­der regard­less of what the law says or does not say. Being poor also means you are less like­ly to have access to a state ID or med­ical doc­u­men­ta­tion to fight these deter­mi­na­tions. It would be mis­lead­ing to say that trans advo­cates have even scratched the sur­face of these prob­lems in the last two decades of esca­lat­ing work on these poli­cies and prac­tices. We have made begin­nings, and we have reduced some harms to some peo­ple who live in some places, but the most vul­ner­a­ble peo­ple in our com­mu­ni­ties — peo­ple of col­or, poor peo­ple, peo­ple with dis­abil­i­ties, peo­ple in pris­ons and immi­grants — still face life-short­en­ing enforce­ment of the gen­der bina­ry through all kinds of admin­is­tra­tive systems.
And now comes the news that the Trump admin­is­tra­tion is work­ing on a strat­e­gy to estab­lish a ret­ro­grade def­i­n­i­tion of gen­der aimed at mak­ing what­ev­er gen­der is assigned at birth unchange­able. The Health and Human Ser­vices Department's leaked memo leaves a lot of ques­tions unan­swered, and there will be many bat­tles ahead of us as we work to fight any poli­cies the agency attempts to roll out. How­ev­er, even the rumors of such a pol­i­cy will be enough to stir increased trans­pho­bic action by low-lev­el staff and bureau­crats at shel­ters, wel­fare offices, DMVs, schools and oth­er places where peo­ple have the pow­er to make trans peo­ples' lives dif­fi­cult and dangerous.
For poor peo­ple sub­ject to the whims of hos­tile sys­tems, there is always a big gap between how sys­tems are sup­posed to work on paper, and what hap­pens in real life. When Trump was elect­ed, even before his admin­is­tra­tion had actu­al­ly changed any immi­gra­tion poli­cies or prac­tices, my immi­gra­tion lawyer friends report­ed that their clients were get­ting increased lev­els of bad treat­ment and harsh rul­ings in deten­tion cen­ters and immi­gra­tion courts. When trans­pho­bia gets bol­stered by sig­nals from the fed­er­al gov­ern­ment, low-lev­el enforcers of gen­der norms feel even more license to humil­i­ate and exclude trans peo­ple. We should assume that con­di­tions are already worse than they were, in mate­r­i­al terms, for vul­ner­a­ble trans peo­ple, before the memo was leaked to The New York Times.
The Trump administration's plans to rede­fine gen­der for admin­is­tra­tive pur­pos­es are a seri­ous threat to trans peo­ple. In areas where there has not been a clear def­i­n­i­tion or pol­i­cy regard­ing how gen­der is estab­lished or changed, these plans could cre­ate a norm that keeps trans peo­ple out of basic ser­vices and makes us more vul­ner­a­ble to dis­crim­i­na­tion and vio­lence. In areas where advo­ca­cy has led to improved poli­cies, it could roll those back. Trans peo­ple could see renewed and enhanced bar­ri­ers in health care, edu­ca­tion, employ­ment, ID and oth­er key areas.
The administration's attack should be under­stood not only as an attack on trans peo­ple, which it is, but also as part of a broad­er, ter­ri­fy­ing approach to race, gen­der and author­i­ty that char­ac­ter­izes the entire pres­i­den­cy. This memo shows how the admin­is­tra­tion aims to enhance the sig­nif­i­cance of legal gen­der and estab­lish nar­row def­i­n­i­tions to enforce it, which is part of a broad­er agen­da to roll back fem­i­nist reforms. One of the most fun­da­men­tal asser­tions of fem­i­nism is that the mean­ing of gen­der cat­e­gories is social­ly con­struct­ed and enforced through norms, and that gen­der assign­ments should not deter­mine how and what peo­ple can be, and do.
The Health and Human Ser­vices memo leak is aligned with a broad­er patri­ar­chal and author­i­tar­i­an ide­ol­o­gy about enforc­ing a gen­dered world­view that con­strains every­one, espe­cial­ly those most touched by state sys­tems that tar­get and con­trol the lives of poor peo­ple and peo­ple of col­or. This new move dove­tails with the administration's work to embold­en and expand resources to the mil­i­tary, police and immi­gra­tion enforce­ment. All of this strength­ens the vio­lent enforce­ment of race, gen­der and class hier­ar­chies in our lives. All of them will direct­ly result in increased sex­u­al and gen­der vio­lence in the lives of the poor­est people.
Many peo­ple feel ter­ri­fied of the con­tin­u­ing roll­out of the administration's poli­cies. We fear for our­selves and our loved ones. Just vot­ing, or send­ing mon­ey to orga­ni­za­tions we hope will win law­suits against the admin­is­tra­tion, feels inef­fec­tive, slow and too pas­sive for many of us. Watch­ing it all unfold in the head­lines and feel­ing help­less is dri­ving a lot of peo­ple into depres­sion and des­per­a­tion. Now is the time to help each oth­er out with the basic neces­si­ties that the gov­ern­ment is more and more effec­tive­ly elim­i­nat­ing, and to sup­port every­one who is caught in the crosshairs of the expand­ed tar­get­ing. Now is the time to start and join effec­tive mutu­al aid projects that do these two things.
What does mutu­al aid look like at this time? If we know trans women are being sent to men's pris­ons, and all trans pris­on­ers are vul­ner­a­ble to vio­lence, med­ical neglect and iso­la­tion, it looks like becom­ing pen pals with a trans pris­on­er through the lists pro­vid­ed by Black and Pink's prison pen pal pro­gram. Becom­ing pen pals with a pris­on­er can reduce the like­li­hood they will be tar­get­ed, help them have emo­tion­al sup­port through the tar­get­ing, and help them plan and find resources for when they are released. If we know the administration's poli­cies will fur­ther exclude trans peo­ple from home­less shel­ters and hous­ing pro­grams, we can work to cre­ate com­mu­ni­ty hous­ing-shar­ing pro­grams. We can form groups that plan hous­ing stays for trans peo­ple com­ing out of prison or aging out of fos­ter care, to help peo­ple tran­si­tion to sta­ble hous­ing as they find work or get ben­e­fits access in order to help address trans home­less­ness. Mutu­al aid can also include accom­pa­ni­ment pro­grams so that peo­ple don't have to go to court or doctor's appoint­ment or on pub­lic trans­porta­tion alone. We can cre­ate child care shares, bail funds, ride ser­vices for peo­ple vis­it­ing pris­on­ers and vol­un­teer chores ser­vices for peo­ple who are sick or disabled.
We are in a very des­per­ate time. Gov­ern­ment agen­cies have always enforced laws and poli­cies in ways that have endan­gered mar­gin­al­ized groups, but the Trump admin­is­tra­tion is ramp­ing this up on all fronts. Many peo­ple have felt pow­er­less, watch­ing the Kavanaugh con­fir­ma­tion to the Supreme Court, the pass­ing of the out­ra­geous defense bud­get, the ongo­ing attacks on immi­grants and impris­on­ment of migrant chil­dren, pipeline expan­sion and more. It is espe­cial­ly impor­tant in these moments to con­nect to what we can do, in our imme­di­ate sur­round­ings, to sup­port the peo­ple most harmed by these devel­op­ments, and to strength­en com­mu­ni­ty ties and fight iso­la­tion by fig­ur­ing out prob­lems and meet­ing needs togeth­er. Trump's attacks are not slow­ing down, and we all have skin in the game. This is the moment to turn our fear and rage into imme­di­ate action to sup­port the sur­vival of every­one in our com­mu­ni­ties — includ­ing trans peo­ple — whose exis­tence is threatened.
This sto­ry was orig­i­nal­ly pub­lished on Truthout.
Dean Spade
is an Pro­fes­sor at Seat­tle Uni­ver­si­ty School of Law. His book, Nor­mal Life: Admin­is­tra­tive Vio­lence, Crit­i­cal Trans Pol­i­tics and the Lim­its of Law was pub­lished in
2015
by Duke Uni­ver­si­ty Press.