Boston Airport Workers Strike, Join Growing Campaign to Unionize Subcontracted Airport Employees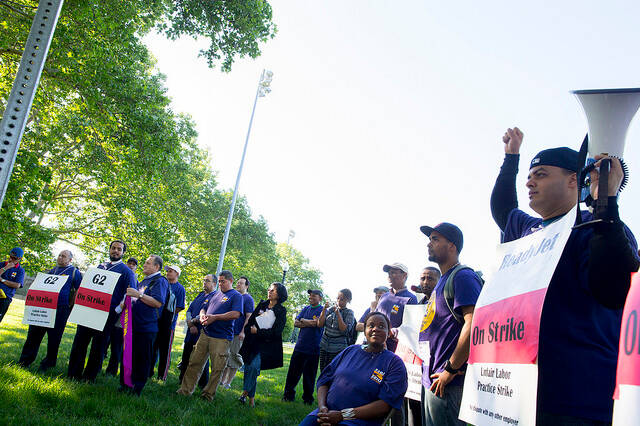 On the morning of June 17, a large group of non-union airport employees went on strike at Boston's Logan Airport, with about 100 of them picketing outside the facility. The contracted workers belong to G2 Secure Staff and ReadyJet Flight Support; workers accuse both companies of engaging in unsafe labor practices and say they are seeking a fairer work environment and a union.
The workers themselves aren't the only ones flagging improper working conditions. According to a 2014 OSHA investigation of ReadyJet, which examined just two terminals at Logan, the contractor did not provide their employees with gloves when they were asked to clean airport bathrooms or effectively train them on how to deal with hazardous chemicals. The investigation produced four citations and a $29,500 fine. ReadyJet is subcontracted by airlines like JetBlue and US Airways for cabin cleaning services.
The worker and governmental agency complaints weren't the first salvos in the battle over working conditions and pay at the airport. In October 2014, ticket agents, baggage handlers and cabin cleaners at Logan were finally able to obtain a wage standard of $10 an hour. They had been fighting for the initiative for three years, with the help of SEIU 32BJ. Shortly after this achievement, ReadyJet cut 25 of its full-time employees down to part-time. Since the beginning of 2014, the company has actually terminated almost a third of its employees. The National Labor Relations Board (NLRB) has issued a complaint in response to these developments, and the Occupational Safety and Health Administration (OSHA) is looking into whether the workers were illegally fired because of their involvement with the struggle for better wages.
In July 2014, then-Massachusetts Attorney General Martha Coakley's office discovered that ReadyJet had deducted money from 226 workers' paychecks between July 2012 and May 2014 to pay for TSA gear. The company was ordered to dish out $13,045 in back pay and hit with a $5,000 fine. The Attorney General's office also discovered that employees working 10-hour shifts were not being given the required amount of state-mandated breaks.
The NLRB has also issued a complaint against G2 Secure Staff for illegal handbook clauses, which were supposedly meant to thwart potential worker organizing. G2's employee handbook explained that it is against company policy to ​"promote support for any cause or organization" while anywhere within the airport. According to the NLRB, this rule restrains employees from exercising their legal rights and constitutes an unfair labor practice.
G2 workers' organizing efforts stem from what they say are miserable pay and conditions at the airport. During the summer of 2014, the Boston Globe ran a piece detailing the day-to-day lives of Boston's working poor. One of the stories was that of Larry McCain, a 52-year-old employee of G2.
McCain was making $9 an hour to inspect food and drink for health issues before it boarded airplanes. He was bumped to the 2:30 am shift, when public transportation doesn't run, and had to begin walking two-and-a-half miles to his job. McCain told the Globe that, after paying his rent, ​"People buy Starbucks coffee and three gallons of gas with what I have left."
The struggle to improve the conditions of airport workers isn't limited to Boston. In Fort Lauderdale, airport workers were able to establish a hotline to report employee concerns; in Minneapolis, they've obtained paid sick days; in Philadelphia, they've won a $12 minimum wage; and in Los Angeles they've received a living wage and gotten a Certified Service Provider program to enhance safety.
SEIU has helped organize airport workers throughout the country, including the most recent protests in Boston. Eugenio H. Villasante, Regional Communications Manager for New England's 32BJ SEIU, draws a link between all the airport worker struggles currently underway. ​"This is very much same fight throughout the country," he says. ​"These are workers helping people getting people from point A to point B…Our country depends on them."
The SEIU's efforts in Boston have been noticed by Massachusetts Senator Elizabeth Warren, who has made her support of the workers known.
"The men and women who work on the planes and in the terminals at Boston Logan International Airport do tough jobs that all our fliers depend on," she wrote in a letter to the union, ​"cleaning and restocking planes, making wheelchairs available, securing the terminals, and handling baggage safely. These workers have the right to be able to make a decision about whether to form or join a union without interference or fear of retaliation."
"
Michael Arria
is the U.S. correspondent for Mondoweiss. Follow him on Twitter: @michaelarria.