Senate Democrats Offer Little-to-No Opposition to Trump's Expansion of Syria Bombings
Ninety-two percent of Senate Democrats and Independents failed to substantively dissent against Trump's April 13 airstrikes.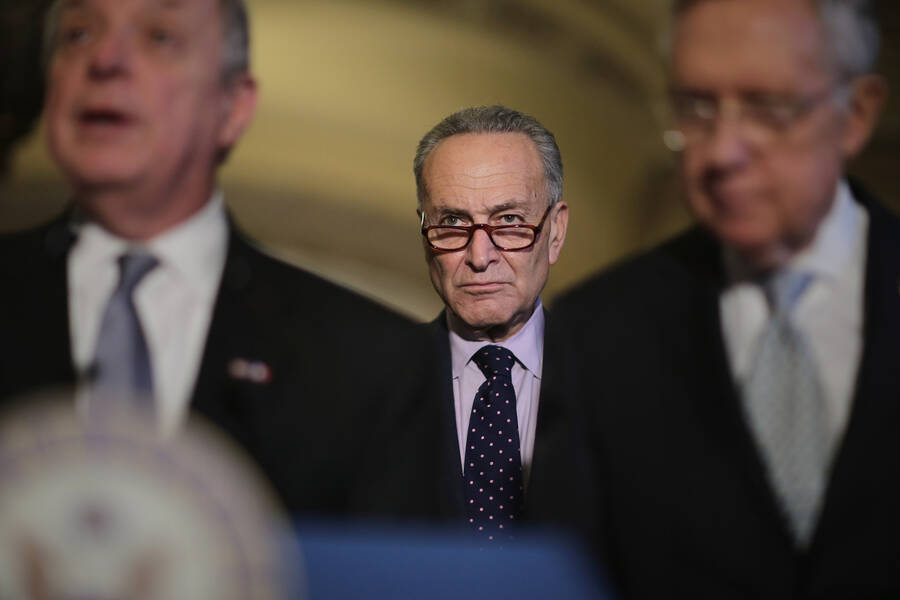 Sen­ate Democ­rats and Inde­pen­dents are reg­is­ter­ing lit­tle oppo­si­tion to Pres­i­dent Don­ald Trump's April 13 airstrikes on Syr­i­an gov­ern­ment tar­gets, with 92 per­cent declin­ing to strong­ly oppose the bomb­ings on prin­ci­ple and just three voic­ing unequiv­o­cal objec­tions to the strikes before they were car­ried out.
Where objec­tions are raised by Democ­rats and Inde­pen­dents, they most fre­quent­ly take the form of pro­ce­dur­al and legal com­plaints, which fall short of mak­ing a judge­ment on whether the mil­i­tary inter­ven­tion itself is good or bad.
The lack of dis­sent fol­lows four years of con­gres­sion­al fail­ure to stop — or even ques­tion — U.S. bomb­ings in Iraq and Syr­ia alleged­ly tar­get­ing ISIS and Al Nus­ra. Since 2014, a min­i­mum of 6,259 civil­ians have been killed by U.S. coali­tion bomb­ings in both coun­tries, accord­ing to the British mon­i­tor­ing orga­ni­za­tion Airwars.
It is not imme­di­ate­ly clear how many civil­ians were killed or wound­ed in the April 13 attack.
Just four out of 49 Demo­c­ra­t­ic and Inde­pen­dent sen­a­tors have expressed prin­ci­pled oppo­si­tion to Trump's bomb­ing cam­paign: Kirsten Gilli­brand (D‑N.Y.), Edward Markey (D‑Mass.), Christo­pher Mur­phy (D‑Conn.) and Bernie Sanders (I‑Vt.). Markey only vocal­ized his oppo­si­tion after the strikes took place, and Mur­phy simul­ta­ne­ous­ly used one of his state­ments to sig­nal sup­port for the bomb­ing cam­paign against ISIS. ​"Now is the time for the U.S. to com­plete our mis­sion against ISIS inside Syr­ia, and then pull back our mil­i­tary effort, and focus on par­tic­i­pat­ing in a diplo­mat­ic process by which this war can be brought to a con­clu­sion," Mur­phy said in a state­ment issued April 14.
Sanders stands out for releas­ing a state­ment on April 11, well ahead of Trump's bomb­ings, in which he sig­naled his oppo­si­tion to U.S. mil­i­tary esca­la­tion in gen­er­al, although steered clear of specifics relat­ed to Syr­ia. ​"We have been in Afghanistan for 17 years and Iraq for 15 years," he said. ​"The result has been mas­sive region­al insta­bil­i­ty, ter­ri­ble loss of life and a cost of tril­lions of dollars."
Yet, 20 Sen­ate Democ­rats expressed full-throat­ed sup­port for the bomb­ings, with­out rais­ing mean­ing­ful legal objec­tions to the strikes. Chuck Schumer (D‑N.Y.), who vot­ed in 2002 to give George W. Bush the author­i­ty to invade Iraq, exem­pli­fies how this camp is hand­wring­ing over Trump's lack of strat­e­gy while still, ulti­mate­ly, send­ing a pro-war mes­sage. Schumer declared on Fri­day, ​"A pin­point­ed, lim­it­ed action to pun­ish and hope­ful­ly deter Assad from doing this again is appro­pri­ate, but the admin­is­tra­tion has to be care­ful about not get­ting us into a greater and more involved war in Syr­ia." Mean­while, Doug Jones (D‑Ala.) said on April 14: ​"I ful­ly sup­port the President's actions."
Per­haps most notable is the fail­ure of many law­mak­ers to say any­thing at all about the bomb­ings. Of Sen­ate Democ­rats and Inde­pen­dents, 10 issued state­ments in which they dodged ques­tions of sub­stance but raised often vague pro­ce­dur­al objec­tions. And remark­ably, five —Joe Manchin (D‑W. Va.), Jon Tester (D‑Mont.), Chris Van Hollen (D‑Md.), and Ron Wyden (D‑Ore.) and Deb­bie Stabenow (D‑Mich.) — declined to com­ment at all on their offi­cial web­sites or social media accounts about the April 13 bombings.
Ten Demo­c­ra­t­ic and Inde­pen­dent sen­a­tors raised pro­ce­dur­al or legal con­cerns while sup­port­ing mil­i­tary inter­ven­tion on sub­stance. Among them are ris­ing stars in the so-called Demo­c­ra­t­ic ​"resis­tance" to Trump — Eliz­a­beth War­ren (D‑Mass.) and Kamala Har­ris (D‑Calif.) — both of whom aired con­cerns about the lack of autho­riza­tion and legal ratio­nale after the bomb­ings had already tak­en place. While Jack Reed (D‑R.I.), Dick Durbin(D‑Ill.) and Bob Menen­dez (D‑N.J.) each failed to chal­lenge the strikes on prin­ci­ple, they did write a joint let­ter to Trump rais­ing legal con­cerns before the bomb­ings occurred.
In con­trast, mem­bers of the U.S. House of Rep­re­sen­ta­tives have issued slight­ly stronger joint let­ters. The Con­gres­sion­al Pro­gres­sive Cau­cus released a state­ment on April 10 declar­ing, ​"Syria's civ­il war con­tin­ues to be a com­plex region­al con­flict, and it has become increas­ing­ly clear that U.S. mil­i­tary inter­ven­tions will like­ly add to the mass suf­fer­ing in Syr­ia." And on April 13, a bipar­ti­san group near­ly 90 U.S. rep­re­sen­ta­tives released a let­ter call­ing on Trump to ​"con­sult and receive autho­riza­tion from Con­ress before order­ing addi­tion­al use of U.S. mil­i­tary force in Syria."
Absent a strong push against war itself, how­ev­er, it is unclear what impact legal objec­tions will have, giv­en that Con­gress has failed to rein in either for­mer Pres­i­dent Barack Oba­ma or Trump for wag­ing an open-end­ed war on ISIS with­out con­gres­sion­al approval.
The 2001 Autho­riza­tion for Use of Mil­i­tary Force (AUMF), which green-light­ed U.S. retal­i­a­tion for the Sep­tem­ber 11 attacks, has since been invoked to jus­ti­fy at least 37 mil­i­tary actions in 14 coun­tries: Afghanistan, Geor­gia, Yemen, Dji­bouti, Cuba, the Philip­pines, Kenya, Ethiopia, Eritrea, Iraq, Soma­lia, Libya, Turkey and Syr­ia. Scat­tered efforts by law­mak­ers to chal­lenge these actions on the grounds that the AUMF is being broad­ly — and unlaw­ful­ly — inter­pret­ed have made lit­tle progress.
At any point, law­mak­ers can invoke the 1973 War Pow­ers Res­o­lu­tion to attempt to force the Con­gress to halt U.S. inter­ven­tion in Syr­ia, as recent­ly exem­pli­fied by the effort of Sens. Sanders and Mike Lee (R‑Utah) to halt U.S. sup­port for the Sau­di-led war on Yemen. Emer­gency mea­sures to pre­vent and stop U.S. wars are tak­ing on new urgency now that John Bolton — who has called for U.S. mil­i­tary attacks against Iran and North Korea — is Trump's new nation­al secu­ri­ty advi­sor. Giv­en law­mak­ers' over­whelm­ing unwill­ing­ness to chal­lenge the pro-war con­sen­sus, it appears that strong grass­roots pres­sure will be required to stop any future mil­i­tary actions by the Trump administration.
In These Times eval­u­at­ed state­ments by Demo­c­ra­t­ic and Inde­pen­dent sen­a­tors and clas­si­fied them to the best of our abil­i­ty, giv­en the vague­ness of many law­mak­ers' remarks.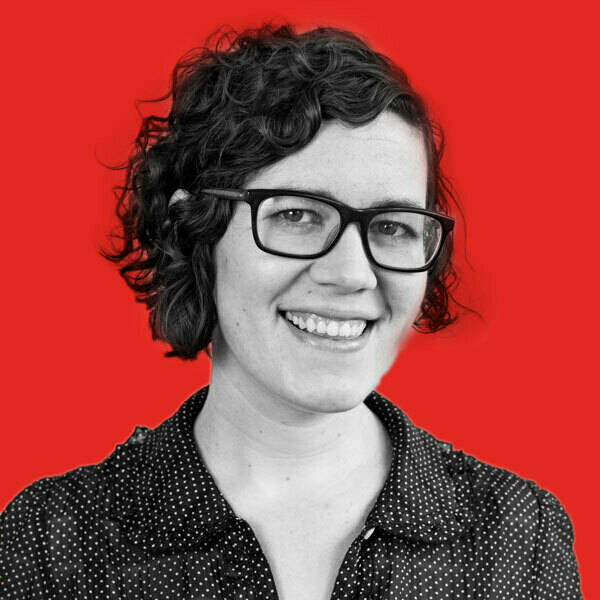 Sarah Lazare is web edi­tor at In These Times. She comes from a back­ground in inde­pen­dent jour­nal­ism for pub­li­ca­tions includ­ing The Inter­cept, The Nation, and Tom Dis­patch. She tweets at @sarahlazare.