Nurses—and a City Council Member—Brave Arrest To Stop SUNY Hospital Closing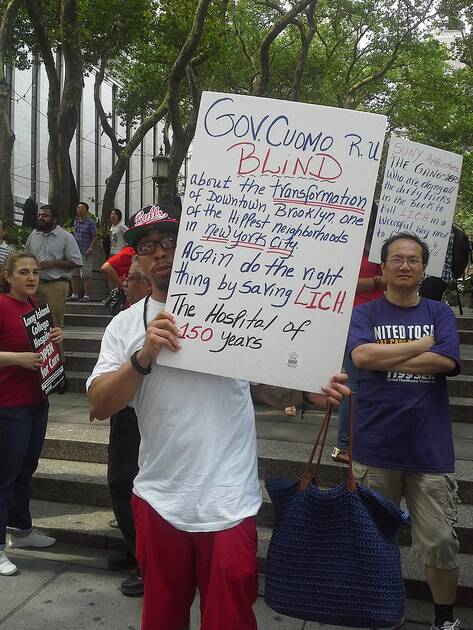 The sidewalk outside of the State University of New York School of Optometry in Midtown Manhattan was choked with people on Wednesday at 10 a.m. — nurses from New York State Nurses Association in white scrubs or red T-shirts, hospital workers in 1199 SEIU purple, community members in the orange T-shirts of New York Communities for Change, and even a few elected officials (and would-be elected officials) in their business-casual best.
And, of course, there were the NYPD officers, plastic zip-cuffs dangling from their belts.
They were assembled to deliver a nearly 7,000-signature petition to SUNY Downstate Chancellor Nancy Zimpher's New York City office demanding she stop the process of closing Long Island College Hospital (LICH), which SUNY Downstate has been attempting to shut down since February. But when a SUNY representative refused to comment on the ongoing situation, the crowd turned to civil disobedience. A group that included nurses, hospital staffers, community members, NYSNA executive director Jill Furillo and even City Councilmember Stephen Levin and mayoral candidate/​Public Advocate Bill de Blasio blocked the doors to the building and refused to move until police took them away in cuffs.
While the battle to keep the hospital open drags on in the courts — a contempt of court hearing is scheduled for Monday, July 15 to look into the ongoing diversion of ambulances away from LICH — the hospital staff and community are determined to keep drawing attention to their cause. The unions and community groups at the core of the fight were joined Wednesday by a group of politicians: mayoral hopefuls John Liu (the city comptroller), Anthony Weiner and de Blasio; Councilmember Letitia James, a candidate for Public Advocate; and of course Councilmember Levin, who represents part of the area served by LICH.
​"I had always said, ​'Look, if you guys need me to get arrested I'll do it,' " Levin told In These Times after his release from jail. ​"This is an initiative that is important to me. I think [the action] was effective today in calling some real attention to the issue."
Surrounded by about 100 protestors, the small group willing to risk arrest stood behind Levin, their arms linked, as he attempted to hand a folder containing the petition to a SUNY official. Among them was Leonicha Williams, an intensive care nurse who has worked at LICH for 14 years. ​"Never in my life have I been arrested, I was terrified," she told In These Times after her release. ​"I felt like that at the front of the building, but I got encouraged by my other coworkers, we just held hands and bravery spread."
​"We had to make a statement for our patients so we decided to do it," she added.
The hospital workers were inspired by the willingness of community supporters and high-profile elected officials to get arrested alongside them, and the raucous support of the rally. ​"It felt like we were finally being heard," Williams said.
Miriande Philistin, a nurse in LICH's stroke unit, told In These Times that she and her colleagues show up every day to work, in solidarity with their community, despite SUNY's continued diversion of ambulances to other hospitals. The Department of Health, according to Philistin, had provided a letter to the union saying that the hospital did not have unsafe staffing levels — as SUNY claimed — and calling for the diversion to be lifted. ​"That was about three or four Mondays ago," she said.
​"What they've done in terms of diverting the ambulances further destabilizes healthcare here," Levin said. ​"It's a very dangerous course of action that they're taking," For patients in critical condition sent to distant, crowded hospitals via ambulance, dangers increase with each second of delay. Meanwhile, staff at Brooklyn Hospital and New York Methodist Hospital say they're ​"overflowing" with patients, according to Williams.
Susan Raboy was once rushed to LICH in an ambulance; now she's creating a network of present and former LICH patients to demand the hospital remain open. ​"LICH saved my life a year and a half ago," she said. ​"I was in intensive care for a month." She and several former patients were at the Wednesday rally, singing, dancing and chanting on the sidewalk as arrestees were loaded into police vans.
Patients who do get to LICH — by walking in or being privately driven — are still receiving excellent care, according to the nurses. Jeanie Segall, a respiratory therapist at LICH, commented on the ​"eeriness" of being in the mostly-empty building, waiting for patients. She called it a ​"slow death that's been imposed on the hospital."
Monday, Justice Johnny Lee Baynes of the Supreme Court of New York will hear arguments as to why SUNY and its representatives should not be held in contempt of court for diverting ambulances against the judge's instructions. To the nurses, it's time for someone to be held responsible for what's happening. ​"SUNY is the one to be jailed. They're the one in contempt of court. Whatever the judge has said has not been followed," Philistin argued.
Levin concurs. ​"There is some irony in the fact that we were the ones in a jail cell today."
But he's not sorry he did it. ​"This is one of those things where you have to fight tooth and nail every step of the way because if it's lost, it's gone for good. From the community's perspective, you really can't give an inch."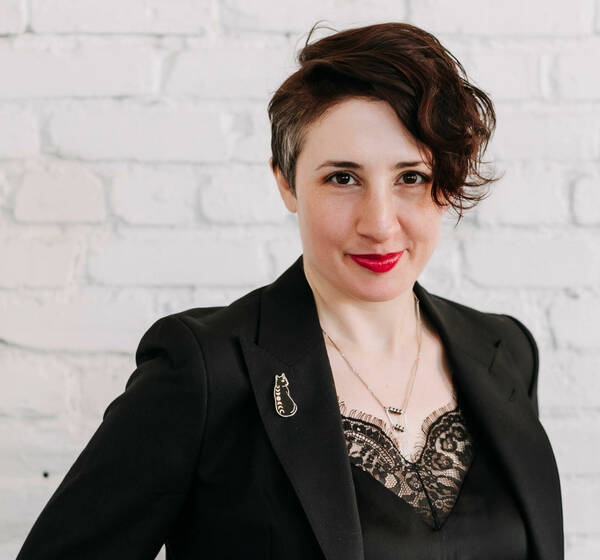 Sarah Jaffe is a Type Media Center Fellow, co-host (with Michelle Chen) of Dissent magazine's Belabored podcast, and a columnist at The Progressive. She was formerly a staff writer at In These Times and the labor editor at AlterNet. Her previous books are Work Won't Love You Back: How Devotion to Our Jobs Keeps Us Exploited, Exhausted and Alone and Necessary Trouble: Americans in Revolt, which Robin D.G. Kelley called ​"The most compelling social and political portrait of our age." You can follow her on Twitter @sarahljaffe.