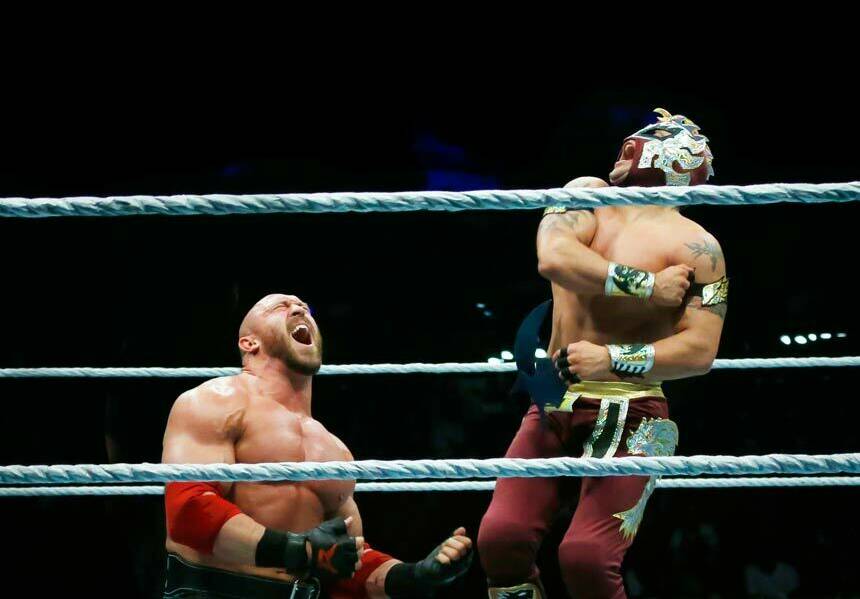 On May 3, the wrestler Ryback, a gener­ic strong­man notable for his pen­chant for quot­ing The Secret, revealed on Tum­blr that he had asked to be removed from World Wrestling Enter­tain­ment (WWE) tele­vi­sion over eth­i­cal con­cerns about the dis­par­i­ty in wrestlers' pay. ​"It blows my mind," he wrote, ​"how in a sport which is pre-deter­mined from a com­pa­ny stand­point, win­ners are paid so much more than the losers."
Wrestlers are inexperienced at labor advocacy but have mainstream legitimacy. Porn actors lack mainstream legitimacy but have a head start on organizing. Together, they'd make a formidable tag team.
Ryback's speak­ing out has once again encour­aged hope of labor action with­in the sport. As wrestling jour­nal­ist Abbey Arthur not­ed in an op-ed in Top Rope Press, ​"It's long past time these men and women real­ize that no pro­mot­er can pun­ish them or hold them back or hold them down if they present a unit­ed front."
In the 1980s, Jesse " The Body" Ven­tu­ra tried to union­ize WWF wrestlers over issues regard­ing the abuse of con­trac­tor sta­tus. (In 2002, after a legal bat­tle with the World Wildlife Fund, the com­pa­ny changed its name to WWE.) Wrestlers were barred from work­ing for oth­er com­pa­nies even though they were not employ­ees and most received no health­care or oth­er ben­e­fits. The WWE has a near monop­oly on pro wrestling and sets the indus­try standards.
Ventura's orga­niz­ing effort was quashed by Vince McMa­hon, then-own­er of the WWF, when Hulk Hogan revealed Ventura's plans to com­pa­ny man­age­ment. Four decades lat­er, con­di­tions remain the same and a cul­ture of silence has descend­ed over the indus­try — a silence bro­ken when Ryback stepped up to say the emper­or had no clothes.
Before Ryback's post, I was not his biggest ​"mark" (fan, in wrestling par­lance). I found his char­ac­ter unimag­i­na­tive and his tagline, ​"feed me more," vague­ly Ran­di­an. But as a wrestling jour­nal­ist and occa­sion­al per­former myself, I'm increas­ing­ly con­cerned about sus­tain­abil­i­ty and work­er safe­ty. Ryback's post struck a chord and remind­ed me of anoth­er per­former who recent­ly broke the silence in anoth­er indus­try in which I work: pornography.
In Novem­ber 2015, porn per­former Stoya tweet­ed that fel­low megas­tar and ex-boyfriend James Deen had raped her: ​"James Deen held me down and fucked me while I said no, stop, used my safe word. I just can't nod and smile when peo­ple bring him up any­more," she wrote. Nine oth­er women in the indus­try came for­ward with sim­i­lar sto­ries about Deen, and more were inspired to speak about male sex­u­al vio­lence in the broad­er indus­try. Deen was nev­er charged, but the sud­den surge of per­form­ers shar­ing their sto­ries led to the cre­ation of the Inter­na­tion­al Enter­tain­ment Adult Union, the first porn indus­try union. It was grant­ed Nation­al Labor Rela­tions Board recog­ni­tion in May.
Rape in porn and pay dis­par­i­ties in wrestling may seem far a field, but the two indus­tries have much in com­mon. As wrestlers gear up for orga­niz­ing, I sug­gest they'd do well to ​"tag in" the porn indus­try for sol­i­dar­i­ty and insight.
Both indus­tries use free­lance sta­tus to put per­form­ers through gru­el­ing sched­ules and scenes while evad­ing respon­si­bil­i­ty for their safe­ty and health- care. Porn pro­duc­ers and wrestling pro­mot­ers prof­it from per­form­ers' abil­i­ty to care for and con­di­tion their bod­ies — their most pre­cious asset — but fail to pro­vide the resources or pro­tec­tions to pre­serve those bodies.
Most wrestlers, even those who work for the WWE, don't receive health­care. Abscond with the steel chairs and the top rope and you're still left with peo­ple at peak human con­di­tion pre­tend-hit­ting each oth­er hard enough to sus­pend dis­be­lief, even if only for the dura­tion of a bel­ly-to-back suplex. Addic­tion to painkillers and steroids (both used in the heal­ing of work-relat­ed injuries) is widespread.
Each of these habits can be fatal: opi­oids most com­mon­ly through over-dose and steroids through heart dis­ease. Male wrestlers ages 45 to 54 have a mor­tal­i­ty rate 2.9 times that of men in the wider U.S. pop­u­la­tion. In 2011, The Wrestling Observ­er pub­lished a report com­par­ing the lifes­pans of wrestlers to those of oth­er ath­letes. Four­teen of the 51 per­form­ers from Wrestle­Ma­nia VII (1991) had died — nine from drug over­dose or heart attacks — where­as the start­ing line­up of that year's Super Bowl were all alive, and only two of the 44 box­ers to hold a major world cham­pi­onship in 1991 (WBC, WBA, IBF and WBO) were dead.
Sim­i­lar­ly, porn pro­duc­ers and com­pa­nies use free­lancer sta­tus to over­look on-set abuse, under­pay tal­ent and coerce per­form­ers to take drugs (such as injecta­bles to help main­tain erec­tions) to ensure com­ple­tion of a scene. Porn per­form­ers do not receive health­care from stu­dios and are often respon­si­ble for pay­ing for their req­ui­site STI tests.
And thanks to the blur­ring between real­i­ty and script, man­age­ment in both of these indus­tries also have out­size con­trol of their per­form­ers' next-most- valu­able asset: their pub­lic personas.
In pro wrestling, with out­comes script­ed and pre­de­ter­mined, a wrestler's skill and val­ue are large­ly depen­dent on how a ​"match" is staged. Despite this, the ​"win­ners" are paid more. Should a wrestler leave or be let go from the WWE, their abil­i­ty to draw work on the inde­pen­dent cir­cuit relies on those fab­ri­cat­ed win-loss ratios. Lose enough and you are pigeon­holed as a los­er, or ​"job­ber," for the rest of your career. If pro­mot­ers want to under­mine a wrestler's career, they can sad­dle the wrestler with embar­rass­ing gim­micks, book the wrestler to repeat­ed­ly lose in promi­nent match­es and, in the WWE's case, con­fine the wrestler to non-tele­vised matches.
Imag­ine, if you will, that Sean Bean (Ned Stark in Game of Thrones) is audi­tion­ing for a movie role, and the pro­duc­er tells him, ​"Sean, thanks for show­ing up. Unfor­tu­nate­ly, since you were killed on Game of Thrones, I don't think our view­ers will find you believ­able." This is an occu­pa­tion­al con­sid­er­a­tion in wrestling, where the need to pro­tect their per­ceived skill leads many wrestlers, most notably union-bust­ing Hulk Hogan, to avoid (at all cost) sce­nar­ios where they ​"lose clean" (lose a match with­out out­side inter­fer­ence or cheating).
This con­trol not only gives man­age­ment the upper hand, but encour­ages infight­ing among work­ers Wrestlers can sab­o­tage each oth­er via ​"no-sell­ing" (act­ing unfazed by an opponent's move and mak­ing them appear weak), refus­ing to lose a match when told to, or ​"stretch­ing" (pur­pose­ly try­ing to hurt or even injure an oppo­nent, often at the behest of a dis­pleased pro­mot­er or as a haz­ing technique).
Porn, too, has baked-in hier­ar­chies that put new­er — or more mar­gin­al­ized — per­form­ers at the mer­cy of stars. To rise in the indus­try, you're as good as who you've worked with. That lets alleged abusers such as James Deen set an unwrit­ten indus­try stan­dard that acqui­es­cence is the cost of admis­sion to porn's high­er echelons.
To para­phrase Oscar Wilde: Every­thing is about sex, except sex, which is about pow­er. Engag­ing with soci­etal atti­tudes and prej­u­dices toward cer­tain types of bod­ies is inescapable as sex work­ers under cap­i­tal­ism. As a trans woman who has worked in both wrestling and porn, I can attest to know­ing oth­er­wise ​"pro­gres­sive" porn per­form­ers who won't work with trans women for fear of dis­gust­ing friends and fam­i­ly or for fear of turn­ing off loy­al fans or pro­duc­ers who would offer them future work. These dis­crim­i­na­to­ry dynam­ics not only val­i­date soci­etal prej­u­dices, but pose tan­gi­ble bar­ri­ers to effec­tive union­iz­ing: How can you be expect­ed to stand togeth­er when you can't be seen together?
As Jesse Ven­tu­ra learned back in the 1980s, an indus­try that runs on inde­pen­dent con­trac­tors makes a poten­tial com­peti­tor of any peer an orga­niz­er might con­fide in. You could, as porn stars like Randy Spears have, turn to anti-porn groups like Fight the New Drug to tell your sto­ry, but this comes at the price of par­tic­i­pat­ing in the stigma­ti­za­tion of your own livelihood.
Both the porn and wrestling indus­tries lean on society's pre­con­cep­tions of their busi­ness — degrad­ing and gross or meat-head­ed and dan­ger­ous — to ensure lit­tle pub­lic con­cern about the rights and fates of the performers.
Still, despite fac­ing greater stig­ma, sex work­ers have made more advances in labor advo­ca­cy than mus­cled men who hit each oth­er for a liv­ing. This is why it's impor­tant to con­nect Ryback's Tum­blr post to Stoya's tweets about James Deen: When you work in an indus­try that has denied you recourse for exploita­tion, you have to make a scene to get shit done. Stoya's call­out of James Deen not only embold­ened her peers but also prompt­ed Kink​.com, a San Fran­cis­co-based BDSM porn stu­dio, to over­haul its con­sent policy.
The Inter­na­tion­al Enter­tain­ment Adult Union (IEAU) is still get­ting off the ground and has yet to estab­lish locals. But one of its first acts was to write inter­nal dis­ci­pli­nary pro­ce­dures to pre­vent per­former-on-per­former abuse and sex with peo­ple under 18. The union is also push­ing for unem­ploy­ment insur­ance, which would safe­guard per­form­ers from being coerced by finan­cial neces­si­ty to work for pro­duc­ers who won't abide by safe­ty mea­sures. Basic Labor 101 stuff.
The IEAU is run large­ly by retired per­form­ers, how­ev­er, which rais­es con­cerns around how well it can rep­re­sent the active work­force. Its pres­i­dent, Sean Michael, announced in late May that he will be push­ing for a min­i­mum age of 21 for per­form­ers. This excludes work­ers between 18 and 20 who make up a large por­tion of the indus­try — teen/​barely legal being a con­sis­tent­ly pop­u­lar sub­genre — and who are par­tic­u­lar­ly vul­ner­a­ble to exploitation.
Many wrestlers like­wise remain silent about the exploita­tive nature of their busi­ness. It's like­ly that they not only fear hav­ing their liveli­hoods threat­ened, but also fear being seen as a vic­tim. Wrestlers are sup­posed to be strong, almost super­hu­man, and male wrestlers are sup­posed to be hyper­mas­cu­line. We're more com­fort­able see­ing a man kicked in the head until uncon­scious than hear­ing him admit he has been tak­en advan­tage of, harmed or vic­tim­ized by his cor­po­rate employer.
Yet as the sex indus­try has shown us, strength comes in iden­ti­fy­ing what threat­ens you, encour­ag­ing oth­ers to do the same and stand­ing togeth­er to push back against it. And my fel­low work­ers and I are doing this with­out any of the legit­i­ma­cy afford­ed wrestling. A wrestler, after all, became the gov­er­nor of Min­neso­ta; no porn star ever has.
The WWE's stock has fluc­tu­at­ed wild­ly of late, but in 2014, it was esti­mat­ed to be worth $1.25 bil­lion. In the Unit­ed States, porn is a $10 bil­lion to $12 bil­lion indus­try. These are indus­tries that reap a lot of cap­i­tal from the sweat — and oth­er bod­i­ly flu­ids — of inde­pen­dent con­trac­tors. With aggres­sive (and open-mind­ed) out­reach from the labor move­ment, these work­ers could unite, push back against exploita­tion and, frankly, be a huge boost for the vis­i­bil­i­ty of unions in the Unit­ed States.
But for this move­ment to grow, work­ers must speak up against injus­tice with con­fi­dence in their own sol­i­dar­i­ty and know­ing that they will be tak­en seri­ous­ly by the media and the labor move­ment. To that end, wrestlers and porn per­form­ers would do well to turn to each oth­er as kin­dred work­ers — and per­haps even start a new ​"extreme enter­tain­ers" union. There is strength in num­bers, both in dis­pelling stig­ma and in lob­by­ing against abuse of con­trac­tor sta­tus and the with­hold­ing of health­care benefits.
Wrestlers are inex­pe­ri­enced at labor advo­ca­cy but have main­stream legit­i­ma­cy. Porn actors lack main­stream legit­i­ma­cy but have a head start on orga­niz­ing. Togeth­er, they'd make a for­mi­da­ble tag team.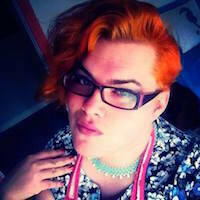 Jet­ta Rae
is a writer and edi­tor based in Oak­land. She delights in bring­ing inter­sec­tion­al pol­i­tics into pro wrestling, pin­ball, kai­ju films and oth­er seem­ing­ly friv­o­lous pursuits.